An interview with Stefan Schumacher, April 23, 2007
The sky is the limit for Schumacher
In 2006, Stefan Schumacher showed that he had the time trialing and climbing ability to be a potential new German contender for the Grand Tours. But on Sunday, he also showed that he is hard enough to take a classic. Brecht Decaluwé caught up with Schumacher on the Cauberg in Valkenburg, Netherlands after the Gerolsteiner star won Amstel Gold.
Stefan Schumacher (Gerolsteiner)
Photo ©: Luc Claessen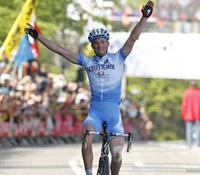 Amstel Gold was once again granted a magnificent winner in Stefan Schumacher. "For sure this is the greatest win of my career," the 25 year-old German from Ostfildern-Ruit (near Stuttgart) said at the post-race press conference on top of the Cauberg.
It was on that very climb that Schumacher first tried to make his mark on the race; going 20 seconds clear. But he then suffered a problem with his gears. "I hesitated thinking if I would use my big or small chainring and eventually decided to drop my chain to the small but that didn't work out well." The rider lost some of his momentum and was only 700 metres from the finish. "I was in such a good position to win on the Cauberg I thought I blew it. Luckily, I got the chain back on the big chainring again."
It seems that if you want to win the Amstel Gold Race you need a disturbed preparation shortly before the Dutch classic. Last year's winner Fränk Schleck crashed hard in the Basque country and couldn't train for a week leading up to the race. Schumacher had a similar problem. "I crashed on my knee during the last stage in the Basque country ending up with a big wound," he said. "I needed 12 stitches and the next day my knee was twice as thick. I had to rest for four days while I couldn't do anything else than taking care of the injury. On Wednesday, I started training again and that went well.
Schumacher says he wasn't sure how much fitness he might have lost in the down time. " I thought I was maybe at 90 or 95 percent but it was clearly 100 percent," he laughed. "Cycling sometimes is such a crazy sport. When you're 100 percent things don't work out but when you're not 100 percent things can turn out great."
An exhausting effort
Photo ©: Luc Claessen

Besides fitness, another important factor in racing is tactics; which means a rider needs a strong team to be successful. The Gerolsteiner team climbed the all-important Eyserbosweg with three men in the leading group of eight. Fabian Wegmann sacrificed his chances by pulling hard to make sure the break stayed away, then the team had Davide Rebellin for the sprint and Schumacher for the attacks. "Actually both of us attacked," Schumacher said. "Rebellin tried on the Keuterberg and then I went later but it's true Rebellin was our man for the sprint. It turned out perfect with a one-two result for us. We are all in great shape so we have a really strong team for these races."
Looking forward to the rest of the classics...
If you can win the Amstel Gold Race then it's possible to win Flèche Wallonne and Liège-Bastogne-Liège as well. "Maybe I'll be on the podium again in the next two races or maybe I'll win again," Schmacher said. "But for now, this is the biggest victory of my career, a dream come true."
Since turning professional with Deutsche Telekom back in 2002, Stefan Schumacher has shown flashes of his talent. After his strong first year - where he won the U23 competition in the Peace Race and the Niedersachsen Rundfahrt - he couldn't confirm in 2003 and his contract wasn't extended. Schumacher took two steps down to the third division Lamonta team where he found his winning legs again. The next year he was transferred to the Dutch Shimano team - in the second division. "It wasn't an easy time but I learned a lot, mainly how I could win races," Schumacher said. "With Telekom and as an amateur I wasn't thinking about the victory, I was happy if I was in the attacks or if I had ridden strong. The teams worked for me and I learned how to deal with the pressure. It was a really nice time when I was with the Shimano team; we had lots of fun... it was a super team. After my time with Telekom I realized that I had to do really well to get back in a first category team."
At the 2006 Giro (Gerolsteiner)
Photo ©: Sirotti

While riding with Lamonta, Schumacher won the Druivenkoers Overijse and he was the surprising second in the German national championships behind Andreas Klöden. In 2005 he did more than confirm his comeback as he went on to win three 2.1 stage races - the Ster Elektrotoer (beating Nuyens by 1" in the final stage), the Niedersachsen Rundfahrt and the Rheinland-Pfalz Rundfahrt. During that last event the young talent also won no less than four stages.
Soon after that victory, bad news arrived in the form of a positive doping test; for an illegal substance in his blood during the time trial which he had won. He was cleared soon after as he could prove that he had asked the UCI beforehand if he could use the substance; the UCI initially he had received the answer that it was a non-banned substance. It's sad that a UCI blunder will link Schumacher with doping whenever he performs well.
At the press conference Schumacher was asked about another doping story, the one from German star Jan Ullrich. "It's sad to see what happened to him," Schumacher said. "As a fifteen year-old, I watched Ullrich when he won the Tour de France as the first ever German to do so, he was my idol... it's a sad story."
...And worlds
The Giro win that put Schumi in the Giro leader's jersey last year
Photo ©: Sirotti
Maybe Stefan Schumacher can step into the footsteps of his namesake Michael and become a German super-hero by winning the world championships in Stuttgart. "Actually that is the biggest goal of my season," Schumacher said in a shy way, probably because he's able to win the not-so-big goals. "Stuttgart is the chance of a lifetime to win on home soil. The parcours suits me very well and I hope to be even stronger by then."
Schumacher's classics win will no doubt boost Germany's cycling pride. "German cycling is growing and huge crowds showed up at our two classics, just like the crowds here and I sincerely hope it stays like that. We have strong young guys, I'm looking forward to the future with a positive mind."
During 2006, Schumacher continued to develop his talent and was signed by German ProTour team Gerolsteiner. He thanked his team by winning two stages and wearing the leaders jersey in the Giro d'Italia; a nice debut during his first ever grand tour.
During the prologue of the Giro, Schumacher finished fourth among the serious Giro contenders; showcasing his talent for the time trial. He added the GC victory in Poland and the Tour of Benelux to his palmares also in 2006 and Gerolsteiner rewarded the gold they had in their hands by extending the young rider's contract for three more years.
Add that TT talent to his climbing abilities and it's clear that Germany has another possible grand tour winner. "We'll see," he said coyly. "My first participation in the Tour de France is coming up so we'll see how it goes."