Australian Junior and Teams Road Championships - NE
Sunshine Coast, Australia, September 2-September 10, 2006
Main Page Results Overall standings Previous Race Next Race
Race 7 - September 9: Teams Road Championships Road Race
Breakaway success as Lapthorpe wins national teams road race
Drapac double in second leg of teams championship
By John Michael Flynn in Yandina, Sunshine Coast
Darren Lapthorne
Photo ©: John Flynn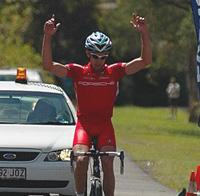 Victorian Darren Lapthorpe continued the impressive run of form for Melbourne's Drapac Porsche Cycling Team today, with a well deserved breakaway victory in the inaugural Australian Teams Championship road race on Queensland's Sunshine Coast.
"A fair dinkum win," was how fellow breakaway protagonist Stuart Cowin (Team Triple Play SEQ) described the ride by the emerging Melbourne cyclist, which dripped with credibility, not to mention a touch of class.
Lapthorpe was part of a three man move which went up the road at the 70 kilometre mark of the 169 kilometre race, and contributed better than his share of turns before finishing the stronger of the trio, which included Cowin and FRF Couriers strongman Joe McDonnell.
"It's always nice to come away with a win, especially after yesterday as well, we had a tough T.T.," Lapthorpe told Cyclingnews. "Very happy, couldn't be happier, just to see my team-mate (Mitch Docker) come along and get second place as well, it's a great day really."
How it unfolded
If the vision behind the new Australian Teams Championship was to create exciting racing and unpredictable outcomes, then organizers of the inaugural event probably had cause to celebrate today.
With ten teams competing, the moves came early and not unexpectedly it was Troy Glennan of the FRF Couriers Excelpro team, who launched the first serious attack.
The circumstances were similar to last year's National Club Road Championships (contested on the same course) when Glennan sacrificed himself in an ill-fated breakaway. This time around, the solo effort produced the same result.
"It wasn't really the plan but it happened," Glennan said of his impulse to attack. "I had a bit of bad luck out there, I punctured while I was by myself and later on I punctured again."
The move that mattered came at seventy kilometres in, when Team Triple Play SEQ's veteran stager Stuart Cowin formed a promising combination with FRF Couriers' powerhouse McDonnell and Drapac's Lapthorpe.
Cowin, who was unlucky not to be awarded the Queensland Road Race Title in a photo finish two weeks ago, once again took the race to his younger rivals, before his aging legs eventually had the final say. When cramp set in with twenty kilometres and two laps of the course remaining, the Queenslander was forced to withdraw.
"I gave it a nudge, I started it, I couldn't finish it, just a bit old I think," a disappointed Cowin said at race end. "I would have thought we'd have seven or eight riders with us (in the breakaway), not three. Credit to the young guy from the Porsche Drapac team, that was a fair dinkum win."
McDonnell also provided valuable support to the breakaway effort. A podium finisher on the same course at last year's National Club Road Championships, the FRF cyclist played a key role in establishing a lead of close to four minutes.
"Joe was pulling some big turns, he was coming into the straight in the windier sections, and Stu was good up the climb," Lapthorpe said of his breakaway companions. "I think the three of us working together helped us get that lead."
But like Cowin, McDonnell just couldn't hold on. The FRF toughman, who last year managed to finish the demanding Crocodile Trophy, couldn't stay with the Drapac cyclist at the death.
"Such a long day, just pretty disappointing in the end," McDonnell told Cyclingnews. "Drapac got one-two and we were up there but Darren was pretty strong and that's the way it was."
With two and a half laps to go, the short, testing pinch climb of Yandina's Old Coach Road got the better of McDonnell, who tried in vain to hold on for second before being swallowed up by the next chase group a few kilometres from home.
"To be caught with three or four k's to go is a bit disappointing," McDonnell admitted. "I was sort of hurting on the climb a fair bit, I just didn't have it in the legs."
Mitch Docker made it a Drapac one-two when he won the sprint for second. The result capping off a great weekend so far for the Victorian team, which also won yesterday's Teams Time Trial.
"We're rapt, we set it up for Darren to get the win today, he had really good legs to hold it out there all day in the heat," Docker said.
Photography
For a thumbnail gallery of these images, click here
Images by John Flynn/Cyclingnews.com
Results
Men 
 
1 Darren Lapthorne (Drapac Porsche)               4.11.14
2 Mitchell Docker (Drapac Porsche)                   3.13
3 Joshua Marden (Frf Couriers)                           
4 Joe Mcdonnell (Frf Couriers)                           
5 Peter Mcdonald (Frf Couriers)                          
6 Craig Mackie (Tripleplay Glen Corp)                3.48
7 Johnnie Walker (Victorian Institute Of Sport)          
8 Stuart Shaw (Drapac Porsche)                       5.29
9 Daniel Furmston (Praties)                              
10 Jack Anderson (Pensar - Uni)                          
11 Brendan Hill (Wilson Htm Cycling)                     
12 Peter Thompson (Triple Play Ophans)                   
13 Patrick Shaw (Victorian Institute Of Sport)           
14 David Betts (Tripleplay Glen Corp)                    
15 Richie Porte (Praties)                                
16 Brett Roland (Flight Centre Cycling)                  
17 Mark O'brien (Victorian Institute Of Sport)           
18 Michael England (Triple Play Ophans)                  
19 Scott Kilmartin (Triple Play Ophans)                  
20 Tony Mann (Scott Spin City)                           
21 Peter Herzig (Frf Couriers)                           
22 Christopher Wilding (Praties)                     7.54
23 Kurt Dutton (Merida)                                  
24 Christoper Williams (Merida)                          
25 Gilbert Gutowski (Merida)                             
26 Robert Cater (Frf Couriers)                       9.48
27 Benjamin Holland (Scott Spin City)                    
28 Andrew Hanigan (Praties)                         10.38
29 Peter Garrone (Pensar - Uni)                          
30 Jarrod Harman (Praties)                          17.46
DNF Adam Connelly (Balmoral Cycling Club)                
DNF Andrew Grady (Balmoral Cycling Club)                 
DNF Tim Grover (Balmoral Cycling Club)                   
DNF Jim Heaslop (Balmoral Cycling Club)                  
DNF Zakkari Dempster (Drapac Porsche)                    
DNF Dean Windsor (Drapac Porsche)                        
DNF Shem Guthrie (Flight Centre Cycling)                 
DNF Cameron Rogers (Flight Centre Cycling)               
DNF Nathan Waddell (Flight Centre Cycling)               
DNF Matthew Wood (Flight Centre Cycling)                 
DNF Troy Glennan (Frf Couriers)                          
DNF Jeremy Betts (Merida)                                
DNF Brendan O'connell (Merida)                           
DNF Jai Crawford (Praties)                               
DNF William Evans (Pensar - Uni)                         
DNF Benjamin Manson (Pensar - Uni)                       
DNF Ross Cattle (Scott Spin City)                        
DNF Leighton Jefferson (Scott Spin City)                 
DNF Dominic Osborne (Scott Spin City)                    
DNF Stuart Cowin (Tripleplay Glen Corp)                  
DNF Steven George (Tripleplay Glen Corp)                 
DNF Victor Costa (Victor Broncos)                        
DNF Mark Hastie (Victor Broncos)                         
DNF Chris Kelly (Victor Broncos)                         
DNF Rodney Sparrow (Victor Broncos)                      
DNF Ken Woods (Victor Broncos)                           
DNF Casey Munro (Victorian Institute Of Sport)           
DNF David Pell (Victorian Institute Of Sport)            
DNF Nicholas Sanderson (Victorian Institute Of Sport)    
DNF Mark Ledgerwood (Wilson Htm Cycling)                 
DNF Darren Nightingale (Wilson Htm Cycling)              
DNF Simon Small (Wilson Htm Cycling)                     
DNF Jonathan Coulter (Triple Play Ophans)               

Back to top