Australian Junior and Teams Road Championships - NE
Sunshine Coast, Australia, September 2-September 10, 2006
Race 1 - September 2: Junior Road Championships Road Races
Meyer on fire at national junior road championships
By John Michael Flynn at Yandina, Sunshine Coast Australia
Cameron Meyer
Photo ©: John Flynn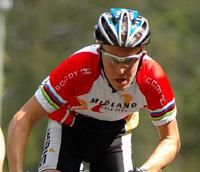 Western Australian Cameron Meyer today added to his recent haul of three rainbow jerseys at the World Junior Track Titles, by surging to victory in the Under 19 Men's Road Race at the Australian Junior Road Cycling Championships on Queensland's Sunshine Coast.
Lining up alongside four World Championship winning team-mates from the Junior World's in Belgium, including brother Travis, Jack Bobridge, Hayden Josefski and Leigh Howard, there was strike power across the board from every state, for Australia's junior cyclist of the moment to contend with.
Meyer produced yet another stellar effort, biding his time in the pack for the first half of the race, before bridging across to a breakaway established by Western Australian team-mates Mitchell Brooks and Todd Francis, along with Victorian Daniel Braunsteins.
The Midlands cyclist from Perth then showed his World Champion qualities, with an unmatched acceleration in the final bunch sprint.
"Biggest month of my career, to have three World Titles and then come here and start with a National road title is great," an ecstatic Meyer said as post-race celebrations began.
"Now I've got tomorrow (Time Trial), I've already won three National Championships in the time trial, going for my fourth, so hopefully I can make it two golds tomorrow."
For those who witnessed Meyer's performance today, betting against the UCI junior world individual pursuit, teams pursuit and madison champion in tomorrow's time trial would verge on lunacy - not that anyone would be crazy enough to offer odds.
The ease with which the Perth cyclist accelerated across to the breakaway on the punishing climb of Yandina's Old Coach Road (with only fellow teams pursuit World Champion Jack Bobridge strong enough to hold his wheel), left rivals demoralized and his coach Rick Lee reaching, once again, for superlatives.
"Bloody fantastic, true champion," the Western Australia coach said after observing the gold medal ride.
"The idea was, we sent two West Australians (Brooks and Francis) away early and that would take the pressure of Travis and Cameron (the Meyer Brothers), and then when the real hit came, probably with three laps to go, Cameron would come across and then hopefully take our other guys too."
For the most part, the Western Australian team tactics went to plan, but there was a setback when Travis Meyer, with whom Cameron won the World Junior Madison and Teams Pursuit championships just weeks ago, suffered a mechanical.
With two team-mates up the road, however, the scenario played out to Meyer's liking. He quickly reeled in a classy looking group of three which included dangerous New South Wales climber Tim Guy, before bridging across to his team-mates, Francis and Brooks.
Neither were able to hold on following their early effort, but the job had been done in setting up the race for the "heavy hitters".
"Ducks and drakes," was how th W.A. coach described the final five kilometres of the race as a game of cat and mouse ensured between the nine cyclists still left in the race.
Meyer at first pretended to be suffering, then attacked his opponents with a couple of kilometres to go.
In the end, it came down to a sprint, where the World Champion blasted home over the top of Braunsteins and Stuart Grimsey.
"Cameron attacked and I just tried to hang on up the main straight," Grimsey, who won silver, told Cyclingnews at race end.
"Gave it everything I had and my legs were cramping towards the end, just lucky to be there."
An understatement perhaps from the Essendon cyclist, for whom 'Death in Brunswick' could have been a real scenario, after being hit by a car just two weeks ago.
"Wasn't sure if I'd even be right for today," Grimsey said.
I've got bruised hip and grazes everywhere all over my back, I'm just glad to be here and to get the result's awesome.
Le Lay wins under 19 women's race in sprint finish
Courtney Le Lay
Photo ©: John Flynn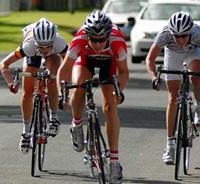 The Under 19 Women's Road Race Championship also came down to a sprint finish between Queensland's Courtney Le Lay, South Australian Tiffany Cromwell and Victorian Peta Mullins.
The three leading talents in the under 19 women's age group dropped their rivals on the opening lap, setting up an interesting tactical battle between cyclists with differing skill sets.
With Mullins and Cromwell recently returned from the World Road Championships, it was Le Lay who appeared to have the fresher legs on the day, but not fresh enough to drop her fellow protagonists on the pinch climb of Old Coach Road.
"I struggled up that hill today but Courtney rode really well, she was just too strong," Mullins admitted at race end.
The Victorian gave it everything in the sprint finish, but was outgunned by the Brisbane based cyclist , who stormed home to win back to back National Road Race Championships.
"Pretty much a sprinter over the other two girls, had it in the bag," the supremely confident Le Lay said post race.
"I just went out there with a positive attitude, have ridden the course many times before so I knew that I just had to hang in there with the other two girls and have a positive mind throughout the whole race."
Cycling newcomer wins under 17 title
Michael Matthews
Photo ©: John Flynn

A newcomer to cycling, who has been on the bike just five months, used a surprise attack to his advantage to win the Under 17 National Road Race title.
Michael Matthews who hails from the Australian Capital Territory, made his move early and held on for the final three laps, with team-mate Thomas Palmer winning silver and Tasmania's Ben Grenda, bronze.
"I'm surprised to get the win," was Matthews reaction at race end.
"I just kept holding on and holding on, I thought they'd catch me but they didn't."
There was also no catching Western Australia's Camille Pallet, who scored an upset victory in the Under 17 women's event.
Bad luck once again plagued New South Wales cyclist Megan Dunne, who suffered a flat tyre on the same section of the course as in 2005, when a mix-up with spare wheels saw her disqualified for a gearing breach.
Tasmania among the medals in under fifteens
Amy Cure wins
Photo ©: John Flynn

The under 15 women's division was spared any ascent of the brutal Old Coach Road climb, but the going was anything but easy for many of the interstate visitors, still adapting to Queensland's 'warmish' climate.
Tasmanian Amy Cure made the sprint finish look easy as Western Australian Jessica Allen and Tassie team-mate Harriet Kossman fought out the minor placings.
"Yeah it was a pretty tough ride out there all the hills and stuff made it a pretty hard race,"
"There was really lots of attacks from the start."
Morton gets under 15 men's title - New South Wales trifecta
Lachlan Morton
Photo ©: John Flynn

Following on from the performance of his brother Angus at the same championships last year, Port Macquarie's Lachlan Morton made the most of intelligent New South Wales team riding tactics to win the under fifteen men's road race title.
The early move of the race came from fellow New South Wales cyclist Jack Hickey, who launched a solo attack, which played into the hands of Morton.
"Jack went with about one and a half laps to go and he got a good gap," Morton recalled as he celebrated the gold medal win.
"The plan was always to hit them on the hill and with Jack up the road, that was perfect."
Hickey held n for silver, the third place to Samuel Spokes making it a clean sweep of the medals for the New South Wales contingent.
"Yeah it was a great race," said Hickey of the silver medal effort. "Everyone would like to win. I'm happy with second it was a great ride."
Photography
For a thumbnail gallery of these images, click here
Images by John Flynn/Cyclingnews.com
Results

Under 19 men, 104km
 
1 Cameron Meyer (WA)        2.33.39
2 Stuart Grimsey (VIC)             
3 Daniel Braunsteins (VIC)         
4 Jack Bobridge (SA)               
5 Nathan Earle (TAS)               
6 Tim Guy (NSW)                    
7 Reuben Young (SA)                
8 Matthew McDonagh (TAS)           
9 Benjamin Fleming (QLD)       4.45
10 Hayden Josefski (QLD)           
11 Jonathan Lovelock (VIC)         
12 Malcolm Rudolph (QLD)       5.54
13 Leigh Howard (VIC)              
14 Matt King (NT)                  
15 Jonathon Cridland (NSW)         
16 Joshua Edwards (QLD)            
17 Mark Flood (VIC)                
18 William Ford (VIC)              
19 Timothy Roe (SA)                
20 Geoff Straub (NSW)              
21 Pip Grinter (VIC)               
22 Daniel Johnston (NT)            
23 Aaron Jones (TAS)               
24 Jack Hudson (QLD)               
25 Blair Windsor (NSW)             
26 Mitchell Brooks (WA)            
DNF Richard Lang (NSW)             
DNF Matthew Pettit (NSW)           
DNF Brodie Talbot (NSW)            
DNF Justin Tomlinson (NSW)         
DNF Lewis Marshall (NT)            
DNF David Trott (NT)               
DNF Darcy Rosenlund (QLD)          
DNF Glenn Stewart (NSW)            
DNF Simon Brown (TAS)              
DNF Jeremy Hills (TAS)             
DNF Robert Gonzalez (WA)           
DNF Travis Meyer (WA)              
DNF Aaron Brewer (NSW)             
DNF Angus Morton (NSW)             
DNF Shane Russell (NSW)            
DNF Dale Scarfe (NSW)              
DNF Joel Lewis (QLD)               
DNF Griffith Moore (QLD)           
DNF Jason Smith (QLD)              
DNF Suki Stone (QLD)               
DNF Tarquin Wallace (QLD)          
DNF Travis Frisby (SA)             
DNF Kevin Harnett (SA)             
DNF Nicholas Kidman (SA)           
DNF Jack Rhodes (SA)               
DNF Christos Winter (SA)           
DNF Matthew McDonagh (TAS)         
DNF Joshua Hemley (VIC)            
DNF Lachlan Stewart (VIC)          
DNF Tod Francis (WA)               
DNF Clay Allison (QLD)             
 
Under 19 women, 52km
 
1 Courtney Le Lay (QLD)     1.29.37
2 Peta Mullens (VIC)               
3 Tiffany Cromwell (SA)            
4 Kylie Hansen (WA)            6.20
5 Tahlia Paskin (QLD)          9.32
6 Kira Mason (SA)             16.31
7 Danielle Longworth (WA)     21.44
DNF Katie Jones (NSW)              
DNF Sophie Kelly (TAS)             
 
Under 17 men, 65km 
 
1 Michael Matthews (ACT)    1.39.13
2 Thomas Palmer (ACT)          0.28
3 Ben Grenda (TAS)                 
4 Alastair Loutit (ACT)        0.41
5 Peter Braunsteins (VIC)          
6 Luke Davison (NSW)               
7 David Lyons (TAS)                
8 Edward Robinson (TAS)            
9 Scott Law (NSW)                  
10 Adam Phelan (ACT)               
11 Morgan Tremayne (WA)            
12 Christopher Murphy (QLD)        
13 Jamie Crass (VIC)               
14 Ivan Cook (QLD)                 
15 Tom Gallagher (VIC)             
16 Alex Carpenter (WA)             
17 Aaron Donnelly (NSW)            
18 Jack-Dylan Swan (SA)            
19 Michael Phelan (ACT)            
20 Laurence Van Schie (NSW)        
21 Matthew Meisel-Dennis (ACT)     
22 Luke Durbridge (WA)             
23 Grayson Follett (QLD)           
24 Alex Benson (TAS)               
25 Patrick Gill (WA)               
26 Nicholas Woods (NSW)            
27 Shamus Liptrot (SA)             
28 Tim Hickey (VIC)                
29 Joel Fahy (VIC)                 
30 Luke Jones (VIC)                
31 Thomas Richards (QLD)           
32 Sean Caskey (QLD)               
33 Shaun Baxter (NSW)              
34 Samuel Beveridge (VIC)          
35 Olsen Garland (NSW)             
36 Lachlan Ritchie (VIC)           
37 Michael Freiberg (WA)           
38 Andrew Dolan (TAS)              
39 Thomas Pritchard (NSW)      1.08
40 Peter Johnstone (VIC)       1.18
41 Andrew Smith (TAS)          2.03
42 Jordan Fawkes (NSW)         2.23
43 Ethan O'Dell (QLD)          2.55
44 Jordan Van Der Togt (WA)    5.28
45 Alex Carver (NSW)           6.55
46 Mathew Kent (TAS)           7.41
47 Ben Cutajar (QLD)               
48 Philip Peters (QLD)             
49 William Eather (SA)             
50 Brenden Sutton (TAS)            
51 Duran Stander (QLD)         9.00
52 Timothy Cameron (ACT)       9.20
53 Stephen Bomball (ACT)      13.24
DNF Kenneth Cook (ACT)             
DNF Sam Genge (ACT)                
DNF Brendan Cole (NSW)             
DNF Paul Fellows (NSW)             
DNF Kevin Hawes (NSW)              
DNF Joseph Northey (NSW)           
DNF Dirk Roshier (NSW)             
DNF David Johnston (NT)            
DNF Ryan Costello (QLD)            
DNF Chad Greeff (QLD)              
DNF Luke Keevers (QLD)             
DNF Kevin Persson (QLD)            
DNF Alex Peters (QLD)              
DNF Joshua Prete (QLD)             
DNF Aaron Ross (QLD)               
DNF Jackson Wardrop (QLD)          
DNF Rohan Dennis (SA)              
DNf Rhys Gillett (SA)              
DNF Nick Aitken (VIC)              
DNF Michael Downing (VIC)          
DNf Wade Edwards (VIC)             
DNF Trevor Griffiths (VIC)         
DNF Michael Jeffs (VIC)            
DNF Jake King (VIC)                
DNf Patrick Lane (VIC)             
DNF Ben Sanders (VIC)              
DNF Jonathan Dunlop (WA)           
DNS Cameron Brown (QLD)            
DNS Eli Flannery (QLD)             
DNS Harry Rassie (QLD)             
DNS Sean Boyle (SA)                
DSQ Cameron Bayly (SA)             
DSQ Patrick Drapac (VIC)           
 
Under 17 women, 39km
 
1 Camille Pallett (WA)      1.10.43
2 Sarah Edwards (QLD)              
3 Ashlee Ankudinoff (NSW)          
4 Megan Dunn (NSW)                 
5 Jacinta Aitken (NSW)             
6 Jessy Byrnes (QLD)               
7 Zoe Appel (QLD)                  
8 Anthea Clarke (NSW)              
9 Claire McFeeter (QLD)            
10 Lauren Kitchen (NSW)            
11 Caitlin Westropp-Evans (ACT)    
12 Jessica Sedunary (SA)           
13 Ellen Marks (NSW)               
14 Sarah Cure (TAS)                
15 Chloe Hosking (ACT)             
16 Andrea Beer (NSW)               
17 Lauren Hooper (VIC)             
18 Kendelle Hodges (VIC)           
19 Annette Edmondson (SA)          
20 Bethany Coleman (TAS)           
21 Georgina Freeland (VIC)         
22 Philippa Hindmarsh (QLD)        
23 Ryla Jakelski (WA)              
24 Emma Smith (TAS)            1.53
25 Myfanwy Galloway (ACT)      2.15
26 Sarah Kent (WA)                 
27 Fiona Hansen (WA)           3.03
28 Rebecca Dracup (WA)             
29 Courtney Dutton (QLD)       3.32
30 Hayley Grant (QLD)              
31 Alana Haansbergen (SA)      4.17
32 Harriet Bass (QLD)          5.06
33 Samantha Hosie (NSW)        5.23
34 Caitlin Todd (ACT)          6.43
35 Chloe McIntosh (VIC)        7.24
36 Chey Howard (NSW)          17.12
37 Tara Bryan (NSW)                
38 Lyndsey Edmunds (SA)            
DNF Lucy Moseley (QLD)             
DNS Monica Glowacki (SA)           
 
Under 15 men, 39km
 
1 Lachlan Morton (NSW)        59.04
2 Jack Hickey (NSW)                
3 Samuel Spokes (NSW)          0.02
4 Samuel Brett (TAS)           0.38
5 Ethan Kimmince (NSW)             
6 Liam Melville (NSW)              
7 Joshua Tepper (VIC)              
8 Jackson Law (NSW)                
9 Justin Meindertsma (NSW)         
10 Jack Bennett (NSW)              
11 Aodhan Kelly (VIC)          1.09
12 David Keating (QLD)             
13 Angus Tobin (NSW)               
14 Nathan Oman (VIC)               
15 Scott Harding (NSW)         1.46
16 Jordan Kerby (QLD)          1.58
17 Anthony Scott (NSW)         2.28
18 Brodie Pearse (NSW)             
19 Joshua Vicino (VIC)             
20 Jake Syme (NT)                  
21 Damien Howson (SA)              
22 Ben Wight (VIC)                 
23 Joshua Ewan (NSW)               
24 Matt Campbell (QLD)             
25 Gerald McDonagh (TAS)           
26 Brett Campbell (TAS)            
27 Taylor Woods (QLD)              
28 Calum Middleton (VIC)           
29 George Tansley (VIC)            
30 Julian Bissett (WA)             
31 Nicholas Rix (VIC)              
32 Christopher Hendey (QLD)    2.42
33 Callan Walker (TAS)         3.23
34 Dean Capel (QLD)                
35 Ryan Mather (TAS)               
36 Andrew Costello (QLD)           
37 Troy Berman (QLD)               
38 Nicholas Murphy (QLD)           
39 Jacyn Mellish (NSW)             
40 Warren Moore (VIC)          5.25
41 Robbie Rhodes (WA)          6.22
42 Luke Ockerby (TAS)          9.08
43 Brody Baker (TAS)          10.08
44 Jason Bounday (TAS)        25.08
45 Jacob Horne (WA)           30.11
46 Nicholas Kitchen (NSW)     33.36
DNF Tatham White (QLD)             
DNF Alexander Edmondson (SA)       
DNF Madison Catlin (TAS)           
DNF Ian Richards (QLD)             
DNF Gareth Daniel (QLD)            
DNF Michael Meagher (QLD)          
DNF Hayden Roper (QLD)             
DNF Scott McPhee (SA)              
DNF Dale Parker (SA)               
DNF Calvin Watson (VIC)            
DNS Jayden Rippon (VIC)            
 
Under 15 women, 26km 
 
1 Amy Cure (TAS)              45.47
2 Jessica Allen (WA)               
3 Harriet Kossmann (TAS)           
4 Shannon McCurley (VIC)           
5 Elizabeth Nicholls (NSW)         
6 Samantha Verlin (VIC)            
7 Jessica McKay (QLD)              
8 Josie Moit (NSW)                 
9 Brodie Stewart (QLD)             
10 Grace Meisel-Dennis (ACT)       
11 Michaela Anderson (WA)          
12 Sinead Noonan (SA)              
13 Jessica Griffiths (NSW)     0.33
14 Briannon Moloney (NSW)      3.17
15 Ainslee Bennett (VIC)       5.59
16 Samantha Wood (VIC)         6.06
17 Yasmin Guest (TAS)              
18 Belinda Mason (TAS)             
19 Tasha McGuckin (SA)         6.08
DNF Shanice Nitis (QLD)            
DNF Anneliese Pedler (SA)          
DNF Lara Freiberg (WA)             
DNS Bridget Mohr (QLD)             
DNS Alexandra Parkinson (SA)