PowerNet Tour of Southland - 2.2
New Zealand, November 6-11, 2006
Main Page Results Overall standings Stage Details Previous Stage Next Stage
Stage 7 - November 10: Winton - Te Anau (Hollyford Boulevard), 163.6 km
Vennell turns tables in Tour of Southland
By Alan Messenger
Scott Peoples wins
Photo ©: Kevin Chang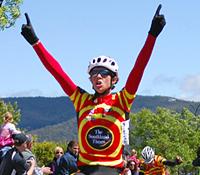 Te Anau, the tourist resort near Fiordland at the bottom of New Zealand's South Island will always remain in Jeremy Vennell's memory.
A year ago in a well publicized debacle, he handed over the yellow jersey to eventual winner Gordon McCauley, but in today's stage of the PowerNet Tour he took the jersey from Hayden Roulston and will wear it into the final day tomorrow.
Roulston was devastated at losing the tour lead by nine seconds and refused to talk to the media but Vennell was totally elated. "I'm stoked! That was the clear plan. I went for the Blackmount sprint and just made them work as hard as they could. Yesterday it seemed the riders gave up a bit and let Roully take the jersey so today I was going to go all out and either get there or die trying" he said.
Hayden Roulston chases
Photo ©: Kevin Chang

Vennell played tribute to his Calder Stewart team. They are awesome and we work so well together". He also thanked the two Southland Times riders Matt Haydock and Scott Peoples plus his own team mate Karl Murray who were in the winning break with him. "There was no way I'd ever have made it without them. I said I'd let them have the stage if they pulled me through. There was no way I'd ever have made it through without them" he said.
Vennell and Murray applied the pressure and went away on the approach to the Blackmount Hill, they were quickly joined by Haydock and Peoples. By the start of the climb they were 42 seconds clear. On the climb Murray had already done his job and dropped back to the peloton. The field split on the climb but a chasing trio of Mike Northey (Southland Times), David Pell (Calder Stewart) and Clinton Avery (Ascot Park Hotel) never got closer to the leaders than 1 minute 20 seconds and the peloton, including Roulston, languished at around two minutes behind the leaders. Roulston attempted to chase but with the Southland Times and Calder Stewart teams having riders up the road and his own team mostly behind the peloton, he had no success in organising a chasing group.
At the stage finish, Peoples out sprinted Haydock to claim his second win in three days.
Photography
For a thumbnail gallery of these images, click here
Images by Kevin Chang
Results

1 Scott Peoples (Aus) The Southland Times                     4.21.02 (37.60 km/h)
2 Matt Haydock (NZl) The Southland Times
3 Jeremy Vennell (NZl) Calder Stewart Pink Batts                 0.06
4 David Pell (Aus) Calder Stewart Pink Batts                     1.30
5 Hayden Roulston (NZl) Cycle Surgery                            
6 Clinton Avery (NZl) Ascot Park Hotel                           
7 Rob MacLachlan (Aus) Calder Stewart Pink Batts                 
8 Fraser MacMaster (NZl) Subway                                  1.33
9 Scott Lyttle (NZl) The Southland Times                      
10 Joe Cooper (NZl) Subway                                       1.36
11 Greg Henderson (NZl) McIntyre Dick & Partners                 1.38
12 Mike Sayers (USA) McIntyre Dick & Partners                    2.06
13 Lex Nederlof (Ned) Share The Road                            
14 Peter Latham (NZl) The Southland Times                       
15 John Ebeling (Aus) Daikin C H Faul                           
16 Aaron Strong (NZl) Trek Zookeepers Café                      
17 Thurlow Rojers (USA) Hilo Decorating                         
18 Kristian House (GBr) Calder Stewart Pink Batts               
19 Marcus Roy (NZl) Fulton Hogan                                
20 Chris Macic (NZl) Colour Plus                                
21 Miles Watson (NZl) Cycleworkz                                
22 Geoff Burndred (NZl) Rabobank                                
23 Mike Northey (NZl) The Southland Times                       
24 Reon Park (NZl) Cycle Surgery                                
25 Gordon McCauley (NZl) Trek Zookeepers Café                    2.12
26 Sergio Hernandez (USA) No Opportunity Wasted                  2.36
27 Ashley Whitehead (NZl) Creation Signs                         
28 Mark Langlands (NZl) Colour Plus                              
29 Matt Gilbert (NZl) Share The Road                             
30 Mathew Gorter (NZl) Cycling Southland                         
31 Garrett Peltonen (USA) McIntyre Dick & Partners               
32 Stephen Tilford (USA) Hilo Decorating                         
33 Paul Bishop (NZl) Cycling Southland                           
34 Eric Drower (NZl) Fulton Hogan                                
35 Eddy Hilger (USA) Rabobank                                    
36 Luke Watkins (NZl) Cycleworkz                                 
37 Westley Gough (NZl) Colour Plus                               
38 Aaron Wheeler (NZl) Race Sponsors Team                        
39 Logan Hutchings (NZl) Rabobank                                
40 Paul Crake (Aus) Daikin C H Faul                              
41 Tim Walker (Aus) Sycamore Print                               
42 Karl Murray (NZl) Calder Stewart Pink Batts                   
43 Chris Walker (USA) Hilo Decorating                            5.46
44 Scott Wilder (NZl) Benchmark Homes Winton's Middle Pub        7.27
45 Joe Chapman (NZl) Creation Signs                            
46 Stuart Shaw (NZl) Trek Zookeepers Café                        9.35
47 Matt King (NZl) Creation Signs                               
48 Justin Kerr (NZl) Rabobank                                   
49 Chuck Coyle (USA) McIntyre Dick & Partners                   
50 Dan Waluszewski (NZl) Subway                                 
51 Darren Shea (NZl) Subway                                     
52 Dylan Cooper (Aus) Daikin C H Faul                           
53 Thomas Hanover (NZl) Ascot Park Hotel                        
54 Alex Mennhorst (NZl) Ascot Park Hotel                        
55 Adam Coker (NZl) Share The Road                              
56 Adam Bergman (USA) Hilo Decorating                           
57 Brian Fowler (NZl) Benchmark Homes Winton's Middle Pub       
58 Andrew Williams (NZl) Benchmark Homes Winton's Middle Pub    
59 Stephen Popenhagen (NZl) Placemakers                         
60 Scott Rainsford (NZl) Placemakers                            
61 Grant Lyon (NZl) Placemakers                                 
62 Eliot Crowther (NZl) Team Ultimo                             
63 Lachlan Shannon (NZl) Fulton Hogan                           
64 Ben Powell (NZl) Fulton Hogan                                
65 Jarrod Harman (Aus) Race Sponsors Team                       
66 Alistair Crossling (NZl) Race Sponsors Team                  
67 Glen McSkimming (NZl) Riverside Rentals                      
68 Paul Odlin (NZl) Jackson & Wills                             
69 Justin Ralph (NZl) Jackson & Wills                           
70 Michael Kingan (NZl) Jackson & Wills                         
71 Josh Page (NZl) Jackson & Wills                              
72 Gaine Petterson (NZl) Cycling Southland                      
73 Ed Barrett (NZl) Benchmark Homes Winton's Middle Pub         14.25
74 Matt Sillars (NZl) Race Sponsors Team                       
75 Ollie Pearce (NZl) Benchmark Homes Winton's Middle Pub      
76 Brad Carter (NZl) Colour Plus                               
77 Marc Ryan (NZl) Trek Zookeepers Café                        
78 Hayden Godfrey (NZl) Subway                                 
79 Travis Kane (NZl) South West Helicopters                     14.52
80 Garry Smith (NZl) SouthRoads                                 
81 Paul Winterbourne (NZl) South West Helicopters               
82 Wayne Hildred (NZl) Riverside Rentals                        
83 Jesse Sargeant (NZl) Colour Plus                             
84 Brian Biggs (NZl) Cycling Southland                          
85 Matt Randall (NZl) Ascot Park Hotel                          
86 Brendan Jones (Aus) Sycamore Print                           
87 Andrew Ward (Aus) Sycamore Print                             
88 Sam Bewley (NZl) Trek Zookeepers Café                        
89 Ben Olesen (NZl) Team Ultimo                                 
90 Stephen Elden (NZl) Cycling Southland                        
91 James Fairweather (NZl) Cycleworkz                           
92 Steven Hands (NZl) Cycleworkz                                
93 Michael White (NZl) SouthRoads                               
94 Adam Curry (NZl) Share The Road                              
95 Tim Bennett (NZl) Team Ultimo                                
96 Eric Losak (USA) No Opportunity Wasted                       18.13
97 John Alabaster (NZl) Placemakers                             18.20
98 Anthony Chapman (NZl) Creation Signs                    
99 Jason Somerville (Aus) Sycamore Print                        35.35
100 Glen Thomson (NZl) Cycle Surgery                            35.40
101 Ryan Cull (NZl) Cycle Surgery                           
102 Paul Gough (NZl) Cycle Surgery                          
103 Scott Hodges (NZl) SouthRoads                           
104 Daniel Carruthers (Aus) Sycamore Print                      38.42
105 Robert Coble (USA) Hilo Decorating                          
106 Dave Beadle (NZl) South West Helicopters                    
107 Daryl Cleghorn (NZl) South West Helicopters                 
108 Mark Crowther (NZl) Fulton Hogan                            
109 Tim Hargrave (NZl) Race Sponsors Team                       
110 Simon Croom (NZl) South West Helicopters                    
111 Nick Emery (NZl) Jackson & Wills                            
112 Andrew Widdup (NZl) Creation Signs                          
113 Andrew Lock (NZl) SouthRoads                                40.00
114 Logan Hunn (NZl) Ascot Park Hotel                           40.53
DNF Stephen Blair (Aus) Daikin C H Faul
DNF Ian Paulin (NZl) Riverside Rentals

General classification after stage 7

1 Jeremy Vennell  (NZl) Calder Stewart Pink Batts            18.24.12
2 Hayden Roulston  (NZl) Cycle Surgery                           0.11
3 Scott Lyttle  (NZl) The Southland Times                        1.10
4 Reon Park  (NZl) Cycle Surgery                                 1.15
5 Rob MacLachlan  (Aus) Calder Stewart Pink Batts                1.29
6 Aaron Strong  (NZl) Trek Zookeepers Café                       1.30
7 Kristian House  (GBr) Calder Stewart Pink Batts                2.27
7 Gordon MacCauley    (NZl) Trek Zookeepers Café                 2.27
9 Clinton Avery  (NZl) Ascot Park Hotel                          3.00
10 Fraser MacMaster  (NZl) Subway                                3.04
11 Paul Crake  (Aus) Daikin C H Faul                             3.43
12 Joe Cooper  (NZl) Subway                                      3.51
13 Matt Gilbert  (NZl) Share The Road                            4.20
14 Geoff Burndred  (NZl) Rabobank                                4.21
15 Peter Latham  (NZl) The Southland Times                       4.25
16 David Pell  (Aus) Calder Stewart Pink Batts                   5.54
17 Sergio Hernandez  (USA) No Opportunity Wasted                 6.11
18 Eddy Hilger  (USA) Rabobank                                   6.39
19 Ashley Whitehead  (NZl) Creation Signs                        6.40
20 Thurlow Rojers  (USA) Hilo Decorating                         6.41
21 Stephen Tilford  (USA) Hilo Decorating                        7.20
22 Logan Hutchings  (NZl) Rabobank                               7.54
23 Lex Nederlof  (NZl) Share The Road                            8.32
24 Miles Watson  (NZl) Cycleworkz                                9.43
25 Luke Watkins  (NZl) Cycleworkz                                9.55
26 Garrett Peltonen  (USA) McIntyre Dick & Partners             10.10
27 Mike Sayers  (USA) McIntyre Dick & Partners                  10.31
28 Chris Macic  (NZl) Colour Plus                               11.09
29 Joe Chapman  (NZl) Creation Signs                            11.13
30 Mark Langlands  (NZl) Colour Plus                            11.15
31 Justin Kerr  (NZl) Rabobank                                  13.22
32 Greg Henderson  (NZl) McIntyre Dick & Partners               13.34
33 Eric Drower  (NZl) Fulton Hogan                              14.22
34 Scott Peoples  (Aus) The Southland Times                     14.58
35 Karl Murray  (NZl) Calder Stewart Pink Batts                 14.59
36 Marcus Roy  (NZl) Fulton Hogan                               15.18
37 Stuart Shaw  (Aus) Trek Zookeepers Café                      18.32
38 Paul Bishop  (NZl) Cycling Southland                         20.05
39 Chuck Coyle  (USA) McIntyre Dick & Partners                  20.29
40 Eliot Crowther  (NZl) Team Ultimo                            20.39
41 Hayden Godfrey  (NZl) Subway                                 21.47
42 Mathew Gorter  (NZl) Cycling Southland                       22.15
43 Aaron Wheeler  (NZl) Race Sponsors Team                      22.28
44 Matt Haydock  (NZl) The Southland Times                      22.41
45 John Ebeling  (Aus) Daikin C H Faul                          23.33
46 Adam Coker  (NZl) Share The Road                             23.34
47 Tim Walker  (Aus) Sycamore Print                             23.38
48 Dan Waluszewski  (NZl) Subway                                23.59
49 Gaine Petterson  (NZl) Cycling Southland                     24.03
50 Adam Bergman  (USA) Hilo Decorating                          24.16
51 Westley Gough  (NZl) Colour Plus                             24.37
52 Jarrod Harman  (Aus) Race Sponsors Team                      25.00
53 Dylan Cooper  (Aus) Daikin C H Faul                          25.55
54 Matt King  (NZl) Creation Signs                              26.30
55 Paul Winterbourne  (NZl) South West Helicopters              27.16
56 Glen McSkimming  (NZl) Riverside Rentals                     27.33
57 Garry Smith  (NZl) SouthRoads                                28.00
58 Alistair Crossling  (NZl) Race Sponsors Team                 28.37
59 Scott Rainsford  (NZl) Placemakers                           28.53
60 Michael Kingan  (NZl) Jackson & Wills                        29.49
61 Marc Ryan  (NZl) Trek Zookeepers Café                        30.07
62 Brian Fowler  (NZl) Benchmark Homes Winton's Middle Pub      30.09
63 Thomas Hanover  (NZl) Ascot Park Hotel                       30.30
64 Stephen Popenhagen  (NZl) Placemakers                        30.42
65 Grant Lyon  (NZl) Placemakers                                30.55
66 Josh Page  (NZl) Jackson & Wills                             31.12
67 Darren Shea  (NZl) Subway                                    31.56
68 Justin Ralph  (NZl) Jackson & Wills                          32.02
69 Matt Sillars  (NZl) Race Sponsors Team                       32.04
70 Alex Mennhorst  (NZl) Ascot Park Hotel                       32.05
71 Mike Northey  (NZl) The Southland Times                      32.33
72 Stephen Elden  (NZl) Cycling Southland                       33.19
73 Ben Powell  (NZl) Fulton Hogan                               34.32
74 Ed Barrett  (NZl) Benchmark Homes Winton's Middle Pub        35.04
75 Brad Carter  (NZl) Colour Plus                               35.11
76 Travis Kane  (NZl) South West Helicopters                    37.09
77 Sam Bewley  (NZl) Trek Zookeepers Café                       37.21
78 Tim Bennett  (NZl) Team Ultimo                               37.27
79 John Alabaster  (NZl) Placemakers                            38.54
80 Adam Curry  (NZl) Share The Road                             39.01
81 Michael White  (NZl) SouthRoads                              39.40
82 Andrew Ward  (Aus) Sycamore Print                            39.45
83 Brendan Jones  (Aus) Sycamore Print                          40.19
84 Andrew Williams  (NZl) Benchmark Homes Winton's Middle Pub   41.40
85 Paul Odlin  (NZl) Jackson & Wills                            41.50
86 Logan Hunn  (NZl) Ascot Park Hotel                           43.13
87 Chris Walker  (USA) Hilo Decorating                          45.31
88 Scott Hodges  (NZl) SouthRoads                               46.26
89 Steven Hands  (NZl) Cycleworkz                               48.13
90 Jesse Sargeant  (NZl) Colour Plus                            52.39
91 Lachlan Shannon  (NZl) Fulton Hogan                          53.33
92 Scott Wilder  (NZl) Benchmark Homes Winton's Middle Pub      54.02
93 Ollie Pearce  (NZl) Benchmark Homes Winton's Middle Pub      56.56
94 Brian Biggs  (NZl) Cycling Southland                         57.43
95 Wayne Hildred  (NZl) Riverside Rentals                     1.01.10
96 Anthony Chapman  (NZl) Creation Signs                      1.05.09
97 James Fairweather  (NZl) Cycleworkz                        1.08.24
98 Jason Somerville  (Aus) Sycamore Print                     1.09.29
99 Michael Anderson  (NZl) Fulton Hogan                       1.13.09
100 Eric Losak  (USA) No Opportunity Wasted                   1.14.19
101 Matt Randall  (NZl) Ascot Park Hotel                      1.21.20
102 Ryan Cull  (NZl) Cycle Surgery                            1.23.59
103 Ben Olesen  (NZl) Team Ultimo                             1.43.04
104 Daryl Cleghorn  (NZl) South West Helicopters              1.44.10
105 Daniel Carruthers  (NZl) Sycamore Print                   1.45.29
106 Glen Thomson  (NZl) Cycle Surgery                         1.58.38
107 Robert Coble  (USA) Hilo Decorating                       2.00.09
108 Tim Hargrave  (NZl) Race Sponsors Team                    2.01.29
109 Scott Allen  (NZl) Creation Signs                         2.12.50
110 Paul Gough  (NZl) Cycle Surgery                           2.14.25
111 Simon Croom  (NZl) South West Helicopters                 2.22.40
112 Nick Emery  (NZl) Jackson & Wills                         2.30.16
113 Dave Beadle  (NZl) South West Helicopters                 2.46.12
114 Andrew Lock  (NZl) SouthRoads                             3.34.38

Sprint results

1 Karl Murray (NZl) Calder Stewart Pink Batts                     116
2 Curtis Gunn (USA) No Opportunity Wasted                          34
3 Brendan Jones (Aus) Sycamore Print                               33
4 Gordon McCauley (NZl) Trek Zookeepers Café                       31
5 Jeremy Vennell (NZl) Calder Stewart Pink Batts                   19
6 Adam Curry (NZl) Share The Road                                  18
7 David Pell (Aus) Calder Stewart Pink Batts                       16
8 Joe Chapman (NZl) Creation Signs                                 12
9 Scott Peoples (Aus) The Southland Times                          10
10 Greg Henderson (NZl) McIntyre Dick & Partners                    9
11 Hayden Godfrey (NZl) Subway                                      9
12 Matt Haydock (NZl) The Southland Times                           8
13 John Alabaster (NZl) Placemakers                                 8
14 Paul Odlin (NZl) Jackson & Wills                                 8
15 Anthony Chapman (NZl) Creation Signs                             7
16 Geoff Burndred (NZl) Rabobank                                    6
17 John Ebeling (Aus) Daikin C H Faul                               6
18 Tim Bennett (NZl) Team Ultimo                                    6
19 Daniel Carruthers (Aus) Sycamore Print                           5
20 Hayden Roulston (NZl) Cycle Surgery                              5
21 Ryan Cull (NZl) Cycle Surgery                                    4
22 Fraser MacMaster (NZl) Subway                                    4
23 Logan Hutchings (NZl) Rabobank                                   4
24 Eddy Hilger (USA) Rabobank                                       4
25 Rob MacLachlan (Aus) Calder Stewart Pink Batts                   4
26 Paul Bishop (NZl) Cycling Southland                              4
27 Ollie Pearce (NZl) Benchmark Homes Winton's Middle Pub           4
28 Adam Bergman (USA) Hilo Decorating                               3
29 Kristian House (GBr) Calder Stewart Pink Batts                   3
30 Reon Park (NZl) Cycle Surgery                                    3
31 Joe Cooper (NZl) Subway                                          3
32 Aaron Tuckerman (NZl) Share The Road                             3
33 Andrew Williams (NZl) Benchmark Homes Winton's Middle Pub        3
34 Clinton Avery (NZl) Ascot Park Hotel                             3
35 Tim Walker (Aus) Sycamore Print                                  2
36 Thomas Hanover (NZl) Ascot Park Hotel                            2
37 Eliot Crowther (NZl) Team Ultimo                                 2
38 Michael White (NZl) SouthRoads                                   2
39 Justin Kerr (NZl) Rabobank                                       2
40 Garrett Peltonen (USA) McIntyre Dick & Partners                  2
41 Matt Gilbert (NZl) Share The Road                                2
42 Logan Hunn (NZl) Ascot Park Hotel                                2
43 Ashley Whitehead (NZl) Creation Signs                            2
44 Aaron Strong (NZl) Trek Zookeepers Café                          2
45 Marc Ryan (NZl) Trek Zookeepers Café                             2
46 Mark Langlands (NZl) Colour Plus                                 1
47 Will Alexander (NZl) Cycleworkz                                  1
48 Scott Lyttle (NZl) The Southland Times                           1
49 Chris Macic (NZl) Colour Plus                                    1
50 Darren Shea (NZl) Subway                                         1
51 Mike Sayers (USA) McIntyre Dick & Partners                       1
52 Adam Coker (NZl) Share The Road                                  1
53 Alex Mennhorst (NZl) Ascot Park Hotel                            1
54 Dan Waluszewski (NZl) Subway                                     1
55 Stephen Blair (Aus) Daikin C H Faul                              1

King of the Mountains results

1 Joe Chapman (NZl) Creation Signs                                 36
2 Eddy Hilger (USA) Rabobank                                       30
3 Ashley Whitehead (NZl) Creation Signs                            26
4 Clinton Avery (NZl) Ascot Park Hotel                             22
5 Scott Peoples (Aus) The Southland Times                          14
6 Gordon McCauley (NZl) Trek Zookeepers Café                       10
7 Kristian House (GBr) Calder Stewart Pink Batts                   10
8 Justin Kerr (NZl) Rabobank                                        8
9 Aaron Strong (NZl) Trek Zookeepers Café                           8
10 Stephen Elden (NZl) Cycling Southland                            8
11 Greg Henderson (NZl) McIntyre Dick & Partners                    6
12 Matt Gilbert (NZl) Share The Road                                6
13 Jeremy Vennell (NZl) Calder Stewart Pink Batts                   4
14 Hayden Roulston (NZl) Cycle Surgery                              4
15 Anthony Chapman (NZl) Creation Signs                             4
16 Aaron Tuckerman (NZl) Share The Road                             4
17 Luisalejandro Zamudio (USA) No Opportunity Wasted                4
18 John Alabaster (NZl) Placemakers                                 4
19 Matt Haydock (NZl) The Southland Times                           2
20 Geoff Burndred (NZl) Rabobank                                    2
21 Stephen Tilford (USA) Hilo Decorating                            2
22 David Pell (Aus) Calder Stewart Pink Batts                       2

Team results

1 Calder Stewart                                             55.15.50
2 Rabobank                                                      11.04
3 The Southland Times                                           15.09
4 Trek/Zookeepers Cafe                                          17.51
5 Subway                                                        20.37
6 Share the Road                                                26.28
7 Hilo Decorating                                               28.07
8 McIntyre Dick & Partners                                      28.29
9 Creation Signs                                                38.58
10 Ascot Park Hotel                                             42.00
11 ColorPlus                                                    42.01
12 Daikin CH Faul                                               47.58
13 Fulton Hogan                                                 56.35
14 Cycling Southland                                            57.36
15 Cycleworkz                                                 1.01.42
16 Race Sponsors Team                                         1.08.33
17 Placemakers                                                1.14.57
18 Jackson..Wills                                             1.17.29
19 Cycle Surgery                                              1.20.05
20 Sycamore Print                                             1.26.50
21 Benchmark Homes/Middle Pub                                 1.31.46
22 Southroads                                                 1.50.26
23 Southwest Helicopters                                      2.18.21
24 Team Ultimo                                                2.35.12

Back to top