5th GP Feminas Castilla y Leon - CDM
Spain, May 7, 2006
Main Page Results Preview World Cup standings
Second consecutive win for Cooke
By Kristy Scrymgeour
The victory salute
Photo ©: CJ Farquharson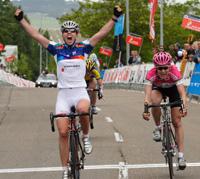 Nicole Cooke (Univega) took her second consecutive World Cup round today, winning the uphill sprint finish from Judith Arndt (T-Mobile) and last year's winner Susanne Ljunskog (Buitenpoort Flexpoint). Her win opens up her World Cup Series lead significantly going into Round 7 in Montreal in a few weeks' time.
The first 90km of racing was held over a large loop outside the town of Valladolid. Attacks were going all day, but nothing really stuck until the last climb of the large loop, before the race hit the finishing circuits, when Noemi Cantele (Bigla Cycling Team) attacked and made a minute on the field, allowing her teammates Zoulfia Zabirova and Nicole Brandli to sit in.
With 37km remaining, the race hit the tough finishing circuits and Cantele mangaged to hold off the Univega chase until two laps to go. By then only a small group remained in the front. Edwige Pitel (Bianchi Aliverti Kookai) and Priska Doppmann (Univega) were both very aggressive in the final two laps. Pitel's second attack, which countered an attack from Arndt, caused Oenone Wood (Nurnberger Versicherung) to get dropped on the climb final climb and Joanne Kiesanowski (Univega) drove the pace hard for her teammate Cooke.
With only eight riders remaining up front, Pitel attacked again with 1km to go but in the end it was Cooke who came through edging out Arndt for the win and taking another victory for the Univega team. Arndt's second placing will move her right up in the overall standings going into Montreal.
Kimberly Bruckner Baldwin (T-Mobile)
Photo ©: CJ Farquharson

Most of the teams will now head to southern France for Tour de L'Aude, a race that Arndt has won twice and then on to Montreal. Arndt and Cooke have both come second to Genevieve Jeanson in that race, so we are likely to see another battle between to two come late May.
Photography
For a thumbnail gallery of these images, click here
Images by CJ Farquharson/WomensCycling.net
Results
1 Nicole Cooke (GBr) Univega Pro Cycling Team                        3.22.42
2 Judith Arndt (Ger) T-Mobile Professional Cycling                          
3 Susanne Ljungskog (Swe) Buitenpoort-Flexpoint Team                        
4 Theresa Senff (Ger) AA-Drink Cycling Team                                 
5 Diana Ziliute (Ltu) Safi-Pasta Zara Manhattan                             
6 Loes Gunnewijk (Ned) Buitenpoort-Flexpoint Team                           
7 Edita Pucinskaite (Ltu) Nobili Rubinetterie Menikini Cogeas           0.04
8 Olivia Gollan (Aus) Nobili Rubinetterie Menikini Cogeas               0.05
9 Edwige Pitel (Fra) Bianchi Aliverti Kookai                            0.11
10 Joanne Kiesanowski (NZl) Univega Pro Cycling Team                    0.15
11 Oenone Wood (Aus) Equipe Nürnberger Versicherung                     0.31
12 Olga Slyusareva (Rus) Russian National Team                              
13 Sigrid Corneo (Ita) Nobili Rubinetterie Menikini Cogeas                  
14 Priska Doppmann (Swi) Univega Pro Cycling Team                           
15 Nicole Brändli (Swi) Bigla Cycling Team                                  
16 Min Gao (Chn) Giant Pro Cycling                                          
17 Sharon Van Dromme (Bel) Vlaanderen-Caprisonne-T Interim                  
18 Annette Beutler (Swi) Elk Haus Nö                                    0.34
19 Madeleine Sandig (Ger) Buitenpoort-Flexpoint Team                        
20 Sofie Goor (Bel) Vlaanderen-Caprisonne-T Interim                         
21 Dorte Lohse Rasmussen (Den) Bianchi Aliverti Kookai                  0.36
22 Laure Werner (Bel) Vlaanderen-Caprisonne-T Interim                       
23 Kimberly Anderson (USA) T-Mobile Professional Cycling                    
24 Trixi Worrack (Ger) Equipe Nürnberger Versicherung                   0.38
25 Marta Vilajosana Andreu (Spa) Nobili Rubinetterie Menikini Cogeas    1.05
26 Adrie Visser (Ned) AA-Drink Cycling Team                                 
27 Zoulfia Zabirova (Kaz) Bigla Cycling Team                                
28 Kimberly Bruckner Baldwin (USA) T-Mobile Professional Cycling            
29 Andrea Graus (Aut) Bigla Cycling Team                                1.07
30 Volha Hayeva (Blr) Bianchi Aliverti Kookai                           1.10
31 Amy Moore (Can) T-Mobile Professional Cycling                        2.34
32 Miho Oki (Jpn) Nobili Rubinetterie Menikini Cogeas                       
33 Andrea Knecht (Swi) Bigla Cycling Team                               4.13
34 Sarah Düster (Ger) Univega Pro Cycling Team                              
35 Belen Lopez (Spa) Spanish National Team                                  
36 Helen Kelly (Aus) Elk Haus Nö                                        4.15
37 Patricia Schwager (Swi) Elk Haus Nö                                      
38 Anna Zugno (Ita) Safi-Pasta Zara Manhattan                               
39 Katia Longhin (Ita) Top Girls Fassa Bortolo Raxy Line                    
40 Natalia Boyarskaya (Rus) Russian National Team                           
41 Inge Van Den Broeck (Bel) Lotto-Belisol Ladiesteam                       
42 Suzanne De Goede (Ned) AA-Drink Cycling Team                             
43 Grace Verbeke (Bel) Lotto-Belisol Ladiesteam                             
44 Emma Johansson (Swe) Bizkaia-Panda                                       
45 Emma Rickards (Aus) Univega Pro Cycling Team                             
46 Trine Hansen (Den) Bianchi Aliverti Kookai                               
47 Lang Meng (Chn) Giant Pro Cycling                                        
48 Sarah Grab (Swi) Univega Pro Cycling Team                                
49 Josephine Groenveld (Ned) AA-Drink Cycling Team                          
50 Daniela Fusar Poli (Ita) Safi-Pasta Zara Manhattan                       
51 Miek Vyncke (Bel) Vlaanderen-Caprisonne-T Interim                        
52 Tatiana Antoshina (Rus) Russian National Team                            
53 Iosune Murillo Elkano (Spa) Bizkaia-Panda                                
54 Cristina Alcalde Huertanos (Spa) Bizkaia-Panda                           
55 Ana Henestrosa (Spa) Spanish National Team                               
56 Noemi Cantele (Ita) Bigla Cycling Team                                   
57 Angela Brodtka (Ger) AA-Drink Cycling Team                               
58 Luisa Tamanini (Ita) Safi-Pasta Zara Manhattan                       4.20
59 Zita Urbonaite (Ltu) Safi-Pasta Zara Manhattan                           
60 Cindy Pieters (Bel) Vlaanderen-Caprisonne-T Interim                  4.21
61 Eva Lutz (Ger) Equipe Nürnberger Versicherung                            
62 Tatiana Guderzo (Ita) Top Girls Fassa Bortolo Raxy Line              4.26
63 Kathryn Watt (Aus) Lotto-Belisol Ladiesteam                          5.59
64 Siobhan Dervan (Irl) Lotto-Belisol Ladiesteam                        7.05
65 Xiong Ying Ruan (Chn) Giant Pro Cycling                                  
66 Nekane Lasa (Spa)                                                    7.16
67 Claire Baxter (Aus) Lotto-Belisol Ladiesteam                         8.25
68 Yunmei Wu (Chn) Giant Pro Cycling                                        
69 Naiara Telletxea Lopez (Spa) Bizkaia-Panda                               
70 Leticia Gil Parra (Spa) Top Girls Fassa Bortolo Raxy Line            9.50
71 Yanxia Jiang (Chn) Giant Pro Cycling                                11.04
72 Ana Belen Garcia (Spa) Spanish National Team                             
73 Alicia Palop Rubio (Spa)                                            11.24
74 Anna Sanchis Chafer (Spa)                                           11.31
75 Lise Christensen (Den) Bianchi Aliverti Kookai                      12.07
76 Isabella Wieser (Aut) Elk Haus Nö                                        
77 Fatima Blazquez Lozano (Spa)                                        12.45
78 Silvia Tirado Marquez (Spa) Spanish National Team                   13.23
79 Arantzazu Azpiroz (Spa) Bizkaia-Panda                               14.31
80 Maitane Telletxea Lopez (Spa) Bizkaia-Panda                              

Starters: 112
Classified: 80 
World Cup standings
1 Nicole Cooke (GBr) Univega Pro Cycling Team                            219 pts
2 Judith Arndt (Ger) T-Mobile Professional Cycling                       145
3 Oenone Wood (Aus) Equipe Nürnberger Versicherung                       140
4 Ina Teutenberg (Ger) T-Mobile Professional Cycling                     120
5 Zoulfia Zabirova (Kaz) Bigla Cycling Team                              105
6 Susanne Ljungskog (Swe) Buitenpoort-Flexpoint Team                      92
7 Annette Beutler (Swi) Elk Haus Nö                                       79
8 Mirjam Melchers-Van Poppel (Ned) Buitenpoort-Flexpoint Team             75
9 Sarah Ulmer (NZl)                                                       75
10 Miho Oki (Jpn) Nobili Rubinetterie Menikini Cogeas                     75
11 Theresa Senff (Ger) AA-Drink Cycling Team                              63
12 Edita Pucinskaite (Ltu) Nobili Rubinetterie Menikini Cogeas            60
13 Christiane Soeder (Aut) Univega Pro Cycling Team                       59
14 Loes Gunnewijk (Ned) Buitenpoort-Flexpoint Team                        59
15 Tina Mayolo Pic (USA)                                                  57
16 Edwige Pitel (Fra) Bianchi Aliverti Kookai                             55
17 Olga Slyusareva (Rus)                                                  53
18 Joanne Kiesanowski (NZl) Univega Pro Cycling Team                      52
19 Trixi Worrack (Ger) Equipe Nürnberger Versicherung                     51
20 Katherine Bates (Aus) Equipe Nürnberger Versicherung                   35
21 Diana Ziliute (Ltu) Safi-Pasta Zara Manhattan                          34
22 Svetlana Bubnenkova (Rus) Fenixs-Colnago                               34
23 Modesta Vzesniauskaite (Ltu) A.S. Team F.R.W                           32
24 Nicole Brändli (Swi) Bigla Cycling Team                                30
25 Amber Neben (USA) Buitenpoort-Flexpoint Team                           27
26 Rochelle Gilmore (Aus) Safi-Pasta Zara Manhattan                       27
27 Olivia Gollan (Aus) Nobili Rubinetterie Menikini Cogeas                27
28 Tamara Boyd (NZl) Les Pruneaux d'Agen                                  26
29 Gina Grain (Can) Giant Pro Cycling                                     24
30 Noemi Cantele (Ita) Bigla Cycling Team                                 23
31 Sofie Goor (Bel) Vlaanderen-Caprisonne-T Interim                       22
32 Marianne Vos (Ned)                                                     21
33 Sharon Van Dromme (Bel) Vlaanderen-Caprisonne-T Interim                15
34 Priska Doppmann (Swi) Univega Pro Cycling Team                         15
35 Fabiana Luperini (Ita) Top Girls Fassa Bortolo Raxy Line               14
36 Sigrid Corneo (Ita) Nobili Rubinetterie Menikini Cogeas                13
37 An Van Rie (Bel) Lotto-Belisol Ladiesteam                              11
38 Monia Baccaille (Ita) Saccarelli Emu Marsciano                         11
39 Lang Meng (Chn) Giant Pro Cycling                                      10
40 Suzanne De Goede (Ned) AA-Drink Cycling Team                            9
41 Hayley Brown (Aus)                                                      8
42 Giorgia Bronzini (Ita) A.S. Team F.R.W                                  7
43 Sarah Düster (Ger) Univega Pro Cycling Team                             6
44 Emma Rickards (Aus) Univega Pro Cycling Team                            6
45 Luisa Tamanini (Ita) Safi-Pasta Zara Manhattan                          6
46 Min Gao (Chn) Giant Pro Cycling                                         5
47 Volha Hayeva (Blr) Bianchi Aliverti Kookai                              5
48 Tanja Hennes (Ger) Buitenpoort-Flexpoint Team                           4
49 Toni Bradshaw (NZl) Les Pruneaux d'Agen                                 4
50 Dorte Lohse Rasmussen (Den) Bianchi Aliverti Kookai                     3
51 Ludivine Henrion (Bel) Lotto-Belisol Ladiesteam                         3
52 Larissa Kleinmann (Ger)                                                 3
53 Madeleine Sandig (Ger) Buitenpoort-Flexpoint Team                       2
54 Andrea Graus (Aut) Bigla Cycling Team                                   2
55 Melissa Holt (NZl)                                                      2
56 Kate Nichols (Aus)                                                      2
57 Cindy Pieters (Bel) Vlaanderen-Caprisonne-T Interim                     1
58 Olga Zabelinskaya (Rus) Fenixs-Colnago                                  1
59 Nikki Egyed (Aus)                                                       1
60 Catherine Sell (NZl)                                                    1
 
Teams
 
1 Univega Pro Cycling Team                                               357 pts
2 T-Mobile Professional Cycling                                          265
3 Buitenpoort-Flexpoint Team                                             234
4 Equipe Nürnberger Versicherung                                         226
5 Nobili Rubinetterie Menikini Cogeas                                    175
6 Bigla Cycling Team                                                     160
7 New Zealand National Team                                              107
8 Russian National Team                                                   80
9 Elk Haus Nö                                                             79
10 AA-Drink Cycling Team                                                  72
11 Bianchi Aliverti Kookai                                                60
12 Safi-Pasta Zara Manhattan                                              40
13 Giant Pro Cycling                                                      39
14 A.S. Team F.R.W                                                        39
15 Vlaanderen-Caprisonne-T Interim                                        38
16 USA National Team                                                      30
17 Dutch National Team                                                    21
18 Lotto-Belisol Ladiesteam                                               14
19 Top Girls Fassa Bortolo Raxy Line                                      14
20 Italian National Team                                                  11
21 Fenixs-Colnago                                                          8
22 German National Team                                                    3