2006 Commonwealth Games - JR
Melbourne, Australia, March 16-26, 2006
Main Page Results Previous event Next Event
March 18: Women's sprint
Pendleton pushed hard by Meares
By Mal Sawford in Melbourne
Finals
Victoria Pendleton celebrates
Photo ©: Rob Jones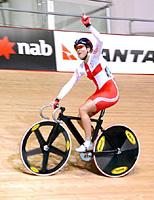 Victoria Pendleton (England) hadn't put a foot wrong in the competition, and was a warm favourite going into the gold medal final against Anna Meares. In their first ride, Meares tried to hold the world champion high on the banking, but Pendleton was able to force her way into the lead. When Pendleton jumped just after the bell, Meares initially rode higher up the banking, and lost two lengths before she began to chase in earnest. With the crowd roaring in support, Meares flew after Pendleton, and made a huge amount of ground in the final straight, finishing almost alongside her rival, but coming up a few inches short.
The second ride saw Meares take the initiative and ride strongly from the front. The pair powered side by side for the entire final lap, and once again finished together, but this time the photo showed the Australian marginally ahead, sending the final to a deciding round.
Meares drew the lead position for the decider, and tried once more to keep Pendleton against the fence - but again the taller English rider found a way out. The gold medal was decided in another drag race to the line, with Meares fighting all the way to the line as Pendleton drew level. In the final ten metres, Pendleton finally drew half a wheel clear, and claimed the win in a terrific contest that had the crowd on its feet.
Pendleton knew that despite her superior pace evident in the qualifying rides, match racing Meares would be a tough contest. "After that second heat I was pretty annoyed with myself to be honest - I had a few hard words to myself," she said. "I was kind of confident going into the final, but you can't concentrate on winning a medal in a sprint - you have to focus on the race.
Victoria Pendleton (England)
Photo ©: AFP

"We're so close [in standard]. There have been times where she's beaten me twice in a row - it goes back and forth. We're both very similar, and it's swings and roundabouts really." Pendleton is still on the recovery trail after being hit by a car last year, and hinted at a possible change in focus. "It'd be nice to try something different though. I'm really looking forward to 2012 [Olympics] in London - I'd love to be there but I'm not sure which event yet."
There is no doubt that the spirit in the Aussie camp is high, but after a quiet start for Team England, what was their morale like? "There was no panic," said Vicky Pendleton, "We have 10 world champs in the team at the moment; the standard is high and the morale is great. It's great to be part of a team like that. Seeing the boys win a pursuit in front of me was like, 'Wow, I want to do that too!'"
The silver medallist Anna Meares enjoys her rivalry with England's speed queen. "When I come up against Victoria I know that I'm going to have to give it everything. I always want to beat Victoria - she's someone I always want to beat; she's a great competitor and very respectful. We bring out the best in each other when we race.
"I gave it my absolute all against her tonight - I really wanted to win that gold medal again, but Vic is the reigning world champ and I hope I get another chance against her in three weeks. I'm thinking about shortening my break [after world's] but I'm still going on holiday and not taking my bike!"
Anna Meares, Victoria Pendleton, Kerrie Meares
Photo ©: Rob Jones

Anna's sister Kerrie Meares earned her second bronze of the Games with a comfortable win over Elisabeth Williams. Williams led both rounds out, but Meares had little trouble powering past to take the final in straight rides.
England's second gold medal of the night capped an impressive night, giving them their third of the cycling competition behind the host nation's six. The final night of competition will see the women's individual pursuit, men's team sprint and scratch race decided. With local girl Katie Mactier expected to dominate the pursuit, there are only two chances left to hear an anthem other than Advance Australia Fair or Land of Hope and Glory!
Semi finals
Pendleton proved to be in a different class to a luckless Williams in the first of the women's semi finals. Despite Williams opening a big lead with her explosive jump in the first round, Pendleton's superior top end speed allowed her to cruise past; and in the second ride when Williams laid off and ran off the banking at full speed, to match her rival's effort without the aid of the banking and then accelerate away.
Standstill tactics in play
Photo ©: CJ Farquharson

The other semi final saw the Meares sisters face off, which has become a regular occurrence at top level competition. Anna won through to the gold medal final in straight rides, after coming over the top of her front-running older sister both times, although the second needed to be restarted after Kerrie touched the fence attempting a track stand in the front straight.
There was no chance Kerrie had given Anna an easy ride in the semi to give her a better chance in the final, as both riders were clearly giving their all. Kerrie confirmed she had held nothing back: "After the second round with Anna I nearly heaved....Anna was definitely the faster rider and the faster rider definitely needed to go up against Vic [Pendleton]. I'm looking forward to how much improvement I can make in the next year; I'll be working on position in the time trial...hopefully I can take time off and get closer to Anna."
Qualifying
Victoria Pendleton (England)
Photo ©: Rob Jones

The first five women were fairly evenly matched in their qualifying rides, with defending champion Kerrie Meares leading briefly with her ride of 11.725. Younger sister Anna went a fraction better with an 11.700, but world champion Victoria Pendleton (England), the final starter made them all look sluggish when she charged to the line in 11.275.
The three 1/8 finals all went the way of their seedings, with Pendleton and Anna Meares using clearly superior speed to best Kate Cullen (Scotland) and Fiona Carswell (New Zealand) respectively. Kerrie Meares had to work a little harder in her match up with Elizabeth Williams (New Zealand), after Williams jumped early and opened a three length lead, but Meares was able to get back on terms in the back straight and power home for the win.
The repechage followed a similar pattern to the men's races, with Cullen matched against a New Zealand pair. While Cullen and Carswell fought shoulder to shoulder down the back straight, Williams waited patiently before riding around the outside to the win. Williams was asked what sort of confidence she would take into her semi-final against the reigning world champion, and replied, "I'm as confident as I can expect to be - I'm up against some pretty good opposition, up against Vicky Pendleton, the world champion; then I have to race one of the Meares sisters in which final I make!"
The morning session concluded with the ride off for fifth and sixth, with Carswell using her superior speed to ride from the front. Cullen, who narrowly missed a medal in the previous night's points race was unable to come off the wheel and had to settle for sixth place.
Photography
For a thumbnail gallery of these images, click here
Images by Rob Jones/www.canadiancyclist.com
Images by CJ Farquharson/WomensCycling.net
Images by Shane Goss/www.licoricegallery.com
Images by AFP Photo
Results
Qualifying
 
1 Victoria Pendleton (England)      11.275 (63.858km/h)
2 Anna Meares (Australia)           11.700 (61.538km/h)
3 Kerrie Meares (Australia)         11.725 (61.407km/h)
4 Elisabeth Williams (New Zealand)  11.781 (61.115km/h)
5 Fiona Carswell (New Zealand)      11.824 (60.893km/h)
6 Kate Cullen (Scotland)            11.925 (60.377km/h)
 
1/8 Finals 

Heat 1

1 Victoria Pendleton (England)      13.527 (53.227km/h)
2 Kate Cullen (Scotland)            

Heat 2

1 Anna Meares (Australia)           12.433 (57.910km/h)
2 Fiona Carswell (New Zealand)      

Heat 3

1 Kerrie Meares (Australia)         12.288 (58.594km/h)
2 Elisabeth Williams (New Zealand)  
 
Repechage

1 Elisabeth Williams (New Zealand)  12.303 (58.522km/h)
2 Fiona Carswell (New Zealand)      
3 Kate Cullen (Scotland)            
 
5th-6th final

5 Fiona Carswell (New Zealand)      12.776 (56.356km/h)
6 Kate Cullen (Scotland)            

Semifinals Heat 1

Round 1

1 Victoria Pendleton (England)      12.251 (58.771km/h)
2 Elisabeth Williams (New Zealand)  

Round 2

1 Victoria Pendleton (England)      12.051 (59.746km/h)
2 Elisabeth Williams (New Zealand)  

Semifinals  Heat 2

Round 1

1 Anna Meares (Australia)           12.014 (59.930km/h)
2 Kerrie Meares (Australia)         

Round 2

1 Anna Meares (Australia)           12.430 (57.924km/h)
2 Kerrie Meares (Australia)         

Final for bronze

Round 1

1 Kerrie Meares (Australia)         12.457 (57.799km/h)
2 Elisabeth Williams (New Zealand)  

Round 2

1 Kerrie Meares (Australia)         12.074 (59.632km/h)
2 Elisabeth Williams (New Zealand)  

Final for gold

Round 1

1 Victoria Pendleton (England)      11.822 (60.903km/h)
2 Anna Meares (Australia)           

Round 2

1 Anna Meares (Australia)           12.001 (59.995km/h)
2 Victoria Pendleton (England)      

Round 3

1 Victoria Pendleton (England)      12.216 (58.939km/h)
2 Anna Meares (Australia)