2006 Commonwealth Games - JR
Melbourne, Australia, March 16-26, 2006
Main Page Results Race Details Previous event Next Event Live report
March 26: Women's road race
Natalie Bates proves "any of us could win"
By Mal Sawford, with additional reporting from Lorraine Collings
Natalie Bates
Photo ©: Shane Goss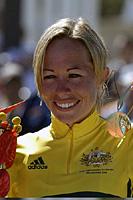 Australian women's coach Warren McDonald yesterday labelled the six women selected for the Commonwealth Games road team as "phenomenal", saying, "It's the strongest team we've fielded at a Commonwealth Games and even a world championships and it's going to be exciting!" Today, the team lived up to all expectations, claiming the gold and silver medals in a dominant display of team work on a tight and technical circuit based around Melbourne's Royal Botanical Gardens.
The win went to a rider expected to perform domestique duties for 2004 and 2005 World Cup winner, Oenone Wood, with 25 year-old Natalie Bates taking the biggest win of her career. Wood finished with a silver medal to complement her time trial gold, while the bronze went to defending champion Nicole Cooke of Wales.
The win by Bates also capped off a remarkable set of 'sister act' performances by Australians across a range of sports at the Games. "We were joking the other day" she said. There are four sets of sisters in the Australian Commonwealth Games team and all of the others had gold and silver medals. So it was my job to get out there and get a medal." Starting with Anna and Kerrie Meares in the track sprint events, and continuing with walkers Jane and Natalie Saville, and squash players Rachel and Natalie Grinham, Bates' road race gold ensured all the siblings had something to show at their next family reunions.
How it unfolded
The small women's field
Photo ©: Mark Gunter

After an uneventful opening lap, an attack from Toni Bradshaw (New Zealand) was marked by Bates. Bates commented later, "It was a really early break. [But] it was a good chance to have a bit of a dig to set things up for later. When the New Zealand girl had a dig I used that to launch."
The four full strength teams all paced a rider in the move. Joining Bates and Bradshaw were Emma Davies Jones (England), Mandy Poitras (Canada) with little known Malaysian rider Noor Azian Binti Alias also able to latch on.
Once the break was established, the Australian team massed at the front, clearly confident in Bates' abilities. With the English, Canadian and New Zealand teams also exempt from chasing duties, all eyes were on Cooke to see how she would react. Only Iona Wynter (Jamaica) made an effort to bridge, but she was unable to reach the leaders and returned to the bunch at the start of the third lap.
Natalie Bates (Australia)
Photo ©: Shane Goss

Australian work horse Olivia Gollan slipped off the front of the peloton in the third lap, but with the break already clear by 2'40, her effort amounted to little more than a stretch of her legs. Out front, Jones, Bradshaw and Poitras were doing the lion's share of the pace-making, with Noor Alias looking a little ragged through the three short but steep hills the riders tackled in quick succession at the eastern end of the circuit. Bates mostly sat in, knowing that she had a super team behind: "I was lucky that I was able to sit in the break and look after myself a bit," she said.
After four laps, the margin had grown to over three minutes, prompting Cooke to try a counter attack of her own. In the scramble to stay with Cooke, Gollan clipped a wheel and fell, causing a number of other riders to also hit the deck. Melissa Holt (New Zealand) was worst off, retiring with a suspected broken collar bone. Both Gollan and Rachel Heal (England) lost ground after the crash, but their teams sent riders back to help them regain the main bunch. Gollan later showed Bates her wounds, proudly boasting, "I bled for you!"
Continuing aggression from Cooke and Sarah Ulmer (New Zealand) after the regrouping saw the leaders' margin reduced to 1'30 at the end of the fifth lap, but after their brief flurry, the gap was quickly back to 2'30. Jones tried to split the leaders fifty kilometres from home, but didn't succeed, only to drop her chain a short while later. The break sat up and waited for the English powerhouse, with her contribution the margin increased to a race high 3'30.
Natalie Bates (Australia)
Photo ©: Shane Goss

Nearing the end of the seventh lap, Noor Alias rolled off the front of the break, causing a moment's hesitation from her companions. In a well timed move, Bates counter attacked after Noor Alias was reeled in, and quickly gained 30 seconds. Alone, Bates continued to gain time on the bunch, which was a distant 4'35 behind with two laps remaining. Although Bates had around 25 kilometres to race, she never looked in any danger, and her attack clearly took the wind out of the sails of Jones, Poitras, Bradshaw and Noor Alias.
On the penultimate lap, Bates maintained all but five seconds of her advantage over the peloton, but her four former companions surrendered and gave up any chance of the minor medals and were swamped by the chasers.
Nothing could stop Bates claiming the win as she flew around the final lap, although she admitted to having "completely ridiculous thoughts - like, if I fall and double puncture I can still get back up and win. You can never be sure and you just have to concentrate all the way.
"The last kilometre was very special. I wanted to wave to everyone out there. That sort of gap doesn't really happen very often in a bike race. I was able to enjoy it. It was fantastic having all those people cheering for me. I had time to enjoy the occasion." The delighted Aussie had plenty of time to soak up the win, draping herself in an Australian flag as she headed towards the finish.
Oenone Wood (Australia)
Photo ©: Shane Goss

The battle for the silver saw Charlotte Goldsmith (England) jump clear on the final climb, only for Ulmer to lift the pace to try to place sprinter Jo Kiesanowski in a medal winning position. Olympic gold medallist Sara Carrigan did the same for Wood, but Cooke muscled in ahead of the Australian and was first to jump when the finish came into view. A fresh Wood had little trouble out sprinting Cooke for the silver; Cooke had to settle for the bronze medal ahead of Gina Grain (Canada).
For the defending champion Cooke, "A medal was everything I hoped for. Depending on how the race panned how as to what colour, but I'm happy with bronze. [The Australians] rode a perfect race. They were strong and I knew I wouldn't be able to cover all their moves. It means as much to me to get a bronze medal as getting gold in Manchester. I'm happy with myself. Five [more] Welsh cyclists needed!"
Cooke had been a last minute withdrawal from the individual pursuit, and rumours had circulated she would also be on the sidelines for the road race. "When I broke my collarbone last year I had limited time to train, so I had to choose my best event and that is the road race," she said. "British Cycling is getting stronger and I think it's only a matter of time until we are just as dominant as the Aussies - I hope!"
Naturally, the entire Australian team was euphoric with Bates' success, none more so than points race winner and younger sister Kate. "It's so exciting. Nattie really deserves this. It was a fantastic ride by the team. Any one of us could have won today but I'm really glad that it was Nat. Nat's got a really cool head on her. She knew what to do out there."
So excited was Kate that she contemplated pulling into the pits a lap early. "I'm more emotional than Natalie. I wanted to stop with a lap to go to see Nattie win!"
The Aussie girls on the podium (L-R):
Photo ©: Shane Goss

Much like at the Athens Olympics, Wood had gone into the Games as Australia's number one rider, and watched a lesser known team mate ride to glory. For the Australian women, however, team success is what counts, which was shown when officials allowed all six Australians to climb to the top step of the winner's dais. For Wood, silver was a bonus. "Our goal was to win gold today. To have Nat in the break was perfect. When Nat broke away and got some time, we were able to chase the rest of the break and go for silver. It was a whole team effort," she re-iterated, "neither of us would have a medal today if we didn't have the team behind us.
"Going into the race as favourites put a lot of pressure on us, [so when] Nattie got out with two laps to go, we were already congratulating ourselves. We thought she would win. Natalie had fantastic legs and we knew she would win. The radio was really important getting that information to us. We couldn't have written the script any better!"
The gold medallist agreed. "In Australia we are very focused on winning medals," said Natalie Bates. "That's all well and good but sport is much more than that. Cycling is a team sport and you need a team to get consistent results. As Nicole showed out there today - she is one of the best riders in the world, but without a team to support you it's hard. It is a team sport and we are a fantastic team and can put it together on the day. [The win] doesn't sink it right away. Gold and silver - I'm so stoked. We would have been happy if any of us had won. I'm pleased it's me this time - it's a real buzz! Having everyone on the podium was very special."
Warren McDonald (AUS)
Photo ©: Mark Gunter

For women's coach Warren McDonald, five out of the six available medals in the road events mark an achievement that may never be equalled. McDonald was officially coach of the women's team in Athens, but felt outgoing coach James Victor deserved much of the credit there. The team's efforts in Melbourne are a remarkable tribute to McDonald's efforts, but the unassuming and modest coach still will not take any credit. "These girls are so experienced. I'm more of a consultant. With the girls we can come up with a plan. It wasn't my race plan it was more the girls' plan.
"My job is very much about communication. I asked Nat how she felt and she said she felt brilliant so we supported that. It was her decision to break away from the break. She said 'I'm going to go next lap' and she times it perfectly. That's the thing. They all race overseas and they know what to do. Yesterday's meeting was the best meeting I've had with an Australian team.
"They all had good form. We had three riders to use for opportunity. Nat, Liv and Sarah are all strong break away riders, so we knew putting a rider in an early break was a good scenario for us. She went away and she looked great. I just told her to keep it smooth. We knew Nat was strong. I think she was a bit of a dark horse to the other teams, but she's a very strong rider and I don't think we've seen the best of her yet."
In the aftermath of the Amy Gillett tragedy, the Australian women thoughts turned naturally to her memory. Simon Gillett was on the sidelines cheering the girls on, and all stopped to share a word and a hug with him after the finish. Bates admitting "it was a really emotional win because of Amy Gillett. I will not be the only one on the podium. All my teammates will be with me. I was boosted by the emotion of the event."
Photography
For a thumbnail gallery of these images, click here
Images by Rob Jones/www.canadiancyclist.com
Images by Mal Sawford/Cyclingnews
Images by Mark Gunter/www.pbase.com/gunterphotograph
Images by Shane Goss/www.licoricegallery.com
Results, 100km

1 Natalie Bates (Australia)          2.56.08 (34.123km/h)
2 Oenone Wood (Australia)               3.05
3 Nicole Cooke (Wales)                      
4 Gina Katherine Grain (Canada)             
5 Rachel Heal (England)                     
6 Joanne Kiesanowski (New Zealand)      3.07
7 Sara Carrigan (Australia)             3.19
8 Amy Hunt (England)                    3.21
9 Olivia Gollan (Australia)                 
10 Rochelle Gilmore (Australia)         3.24
11 Erinne Willock (Canada)                  
12 Charlotte Goldsmith (England)            
13 Nikki Harris (England)                   
14 Wendy Houvenaghel (England)              
15 Amy Moore (Canada)                       
16 Toni Bradshaw (New Zealand)          3.27
17 Sarah Ulmer (New Zealand)            3.31
18 Kate Bates (Australia)                   
19 Susan Janne Palmer-Komar (Canada)    4.01
20 Noor Azian Binti Alias (Malaysia)        
21 Emma Davies Jones Jones (England)    5.32
22 Mandy Poitras (Canada)               5.43
23 Michelle Hyland (New Zealand)        6.03
24 Iona Parks (Jamaica)                 7.09
25 Julia Lesley Hawley (Bermuda)        7.19
26 Susie Wood (New Zealand)                 
27 Audrey Lemieux (Canada)              8.55
28 Stephania Magri (Malta)             13.20
29 Norizan Binti Musa (Malaysia)       15.42
DNF Melissa Holt (New Zealand)