2006 Commonwealth Games - JR
Melbourne, Australia, March 16-26, 2006
Main Page Results Race Details Previous event Next Event
March 21: Women's road time trial
Australia sweeps women's time trial
Oenone Wood (Australia)
Photo ©: Rob Jones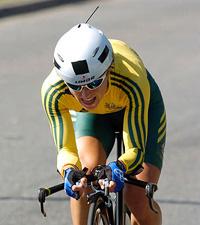 The Australian women's team completed a clean sweep of the women's road time trial this morning, their task made a little easier by the late withdrawal of red hot favourite Sarah Ulmer (New Zealand), who suffered a pinched nerve in her back. Ulmer is expected to recover ahead of Sunday's road race.
Held in near perfect conditions on a fairly flat out and back course along Beach Road, Melbourne's premier cycling training route, Oenone Wood, Kathy Watt and Sara Carrigan continued the host nation's domination for the cycling events, with 2005 World Cup winner Wood claiming the gold medal.
The fifth rider of fourteen starters, Wood was within five seconds of her minute woman, Alison Shanks (New Zealand) at the turn around, and on her scorching return ride, passed all four women who had started before her, to stop the clock in 37.40.87. Carrigan was the next of the favourites to start, and was within a second of Wood's time, however, the Olympic champion faded in the second half and was visibly tired as she rolled toward the finish line to record the second fastest time thus far; twenty seconds slower than Wood.
Carrigan said that she couldn't have come any closer to Wood's impressive time. "It's about giving it everything, and I gave it everything today - I couldn't go any faster. I was aware of the one-second gap going into the turn, and all I could do was go as hard as I could."
The remaining women to reach the turn around were well behind both Carrigan and Wood, before Kathy Watt, the final starter and oldest competitor at 41 years, made the turn around the landmark Black Rock clock tower only twenty seconds down on the leaders. Watt owns a bike shop on Beach Road only metres from the clock tower, and has been a very recognizable figure for the past year training on the circuit.
Sara Carrigan (Australia)
Photo ©: Rob Jones

Watt's return trip was the fastest of all the starters, and enough to close the deficit to Carrigan, giving her the silver medal, her seventh medal in four Commonwealth Games. Watt was delighted to have taken second place, although "you always want to go faster..." admitting later, "I was hoping to win gold, but the course was a little flat for me, but it's good Australia made it 1-2-3. I thought [being able to ride on home turf] was too good an opportunity to miss, so I trained hard to make it here. I've probably ridden this road thousands of times and I know it pretty well."
Kathryn Watt (Australia)
Photo ©: Rob Jones

Wood was not a favourite for the time trial, as she acknowledged afterwards. "I was certainly the dark horse coming into today, especially after nationals - these guys put minutes into me there," she said. "But we've had a couple of world cups in the meantime where I've worked hard and today it went well. My grandma has been ringing for the last three weeks; she came down to watch and I'm glad I've made it worth her while."
Wood said the 29-kilometer out-and-back course was deceptive. "It looks flat," she said, "but it doesn't feel flat; it's pretty tough, but I think we were all suffering, however by that last two k's."
A factor in the Australians' domination was almost certainly the home crowd support. "Even yesterday at training people came out to watch us and cheer," said Wood. "There were literally people all along the course today so you didn't want to ease up at any point when people are watching you. You need to give them what they came for."
The podium
Photo ©: Rob Jones

Photography
For a thumbnail gallery of these images, click here
Images by Rob Jones/www.canadiancyclist.com
Images by Mal Sawford/Cyclingnews
Images by Mark Gunter/www.pbase.com/gunterphotograph
Images by Shane Goss/www.licoricegallery.com
Images by CJ Farquharson/WomensCycling.net
Results
1 Oenone Wood (Australia)              37.40.87
2 Kathryn Watt (Australia)              0.15.20
3 Sara Carrigan (Australia)             0.19.45
4 Melissa Holt (NewZealand)             1.21.66
5 Rachel Heal (England)                 1.45.50
6 Wendy Houvenaghel (England)           2.05.15
7 Alison Shanks (New Zealand)           2.36.38
8 Susan Jane Palmer-Komar (Canada)      2.51.73
9 Katrina Hair (Scotland)               2.59.30
10 Erinne Willock (Canada)              3.58.92
11 Julia Lesley Hawley (Bermuda)        5.17.80
12 Noor Azian Binti Alias (Malaysia)    5.29.86
13 Leow Hoay Sim (Malaysia)             5.44.57
14 Stephania Magri (Malta)              8.18.39
 
Back to top