2006 Commonwealth Games - JR
Melbourne, Australia, March 16-26, 2006
Main Page Results Previous event Next Event
March 19: Women's 3,000m individual pursuit
Mactier lives up to favourite's status
By Mal Sawford
Kate Mactier from Melbourne
Photo ©: Shane Goss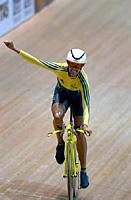 Local girl Katie Mactier was an unbackable favourite going into the heats of the pursuit. The reigning world champion's stiffest opposition was expected to come from team mate Kate Bates, and the heat rides produced no surprises in terms of the times posted; but weren't incident free.
The surprise came during the final heat, with Mactier riding against Wendy Houvenaghel (England), the top ranked rider from this season's world cup. Mactier caught her opponent before the 2000 metre mark, but needed to continue on to record a qualifying time. As Mactier cruised past, the English rider latched onto her wheel, and after a half lap rest, pulled out to move back in front of the astonished Australian. "I was a bit frazzled by the English girl" said Mactier. "That was a first for me; I've never had that happen before."
Mactier was forced to overtake Houvenaghel for a second time, and eventually stopped the clock in 3:30.290, a full two seconds under Sarah Ulmer's previous Commonwealth record. Houvenaghel recorded a time under 3:40, which would have seen her contest the bronze medal ride off, but was disqualified for her bizarre passing manoeuvre.
Mactier is renowned for her fast starts, and covered the first 'kilo' in 1:11.286. Bates, her opponent in the gold medal ride off had recorded the next best start of all riders with a 1:13.600, but threw the gauntlet down with an all out effort in the final. Mactier opened with another 1:11 time, but this time Bates was only a second slower.
The points race gold medallist was able to hold the margin at one second until the 2000 metre mark, when Mactier began to gradually extend her lead, eventually taking the win by close to two seconds. Mactier has been very much the face of the games in her home town, and was relieved to be able to deliver the win virtually expected of her. "It was awesome. Honestly, I got a world record in Athens, and world championship last year, but I don't think I've ever been as emotional as this. There was a bit of pressure with the eyes of a nation on you, in a foreign country you can be a bit more anonymous. I knew I had good legs and that was the time we were looking to do. I knew I had to post a good time in qualifying and in the final I was just riding to win."
Bates was pleased with her efforts, saying, "I'm really happy with that ride. I've never been within four seconds of Katie before, it's the closest I've ever been. Honestly, that was the hardest thing I've ever done. Unlike a points race, it's not like you can just swing up with four laps to go! We only had 45 minutes recovery [between qualifying and finals] and that was hard! I went out hard, I thought if I could match her early I might have been able to hold it. It hurts a lot more riding it that way! I think it was a pretty solid time (not a personal best) for the track and the fact that I had only four days on the track (in preparation)."
The women's 3000m individual pursuit podium (L-R):
Photo ©: Rob Jones

Looking to the future, Bates acknowledged, "There'll come a point in time where I might have to specialise but I say that every year; which direction I'll take I don't know, but it'll all fall into place. I love the pursuit because you can't hide, you have to leave it all out there on the track, but I love the tactics of the points race and riding with a team on the road."
The bronze medal match saw Alison Shanks (New Zealand) start well to lead Emma Jones (England) by a second at the kilometre mark. Jones steadily reduced the margin before taking the lead in the final three laps and holding on for a narrow win.
Jones hadn't come to terms with her bronze medal when she ran the media gauntlet. "I think it will sink in when I spend time with my mum; she was my main motivator when I was in my darkest days (following her accident). I'd say 'mum, I just want to go to sleep and not wake up' and she was there to say 'come on, we can do this. Let's just go out and have a cup of hot chocolate'. Now I want to really give back to those people who had so much faith in me."
Fourth place finisher Shanks was delighted with her time, saying, "I did a race PB by 12 seconds and a training PB by five. My coaches thought I could hold a '41' (as in 3:41) but I did a 3:40 and that's even better. It bodes well for Tuesday's time trial - the road time trial course is a good course for me. It's a grunty course with no hills - all flat!"
Australian Prime Minister John Howard presented the medals after watching the night's racing. Mactier said, "To have the Prime Minister of Australia in the crowd watching it was a great honour" and Bates was definitely going to "give mum a call to tell her about that!"
Despite her obvious good form, Mactier has not been able to force her way into a very strong road team. "But I respect their decision. I think I would have been an asset on the road but I'm not going to kick up a fuss about it. I'm defending the world title in three weeks so maybe it's a blessing in disguise."
Heats: New Commonwealth Games record for Mactier
The women's IP podium
Photo ©: AFP

Australia's Katie Mactier has set a new Commonwealth Games record in the qualifying heats of the women's individual pursuit in Melbourne this evening. Mactier covered 3000m in 3 minutes, 30.290 seconds. The previous Commonwealth Games record was set in Manchester in 2002 by New Zealand's Sarah Ulmer in 3:32.467. Ulmer, who holds the world record in the 3000m (3:24.537) and who defeated Mactier in the final of the 2004 Athens Olympics, is not competing on the track in these games after shifting her focus to the road last year.
Mactier's time today is nevertheless one of the fastest ever, and is faster than the time set here at the Vodafone Arena by Ulmer in 2004 when she went 3:30.604 in qualifying, breaking Leontien Zijlaard - Van Moorsel's four year old world record of 3:30.816 in the process.
Photography
For a thumbnail gallery of these images, click here
Images by AFP Photo
Images by Shane Goss/www.licoricegallery.com
Images by Rob Jones/www.canadiancyclist.com
Results
Qualifying
 
1 Katie Mactier (Australia)            3.30.290 (51.358km/h)
2 Katherine Bates (Australia)          3.34.471 (50.356km/h)
3 Emma Jones (England)                 3.38.791 (49.362km/h)
4 Alison Shanks (New Zealand)          3.40.733 (48.928km/h)
5 Katrina Hair (Scotland)              3.43.524 (48.317km/h)
6 Paddy Walker (New Zealand)           3.44.191 (48.173km/h)
7 Alexis Rhodes (Australia)            3.44.614 (48.082km/h)
8 Iona Wynter (Jamaica)                3.52.679 (46.416km/h)
9 Uracca Leow Hoay Sim (Malaysia)      3.59.430 (45.107km/h)
10 Noor Azian Binti Alias (Malaysia)   4.05.107 (44.062km/h)
DSQ Wendy Houvenaghel (England) 
 
Finals
 
Final for bronze
 
1 Emma Jones (England)                 3.40.057 (49.078km/h)
2 Alison Shanks (New Zealand)          3.40.878 (48.896km/h)
 
Final for gold
 
1 Katie Mactier (Australia)            3.35.196 (50.187km/h)
2 Katherine Bates (Australia)          3.37.089 (49.749km/h)


Back to top