2006 Commonwealth Games - JR
Melbourne, Australia, March 16-26, 2006
Main Page Results Race Details Previous event Next Event
March 23: Men's cross-country mountain bike race
Killeen bides his time
By Mal Sawford
Liam Killeen rates this his best result ever
Photo ©: Rob Jones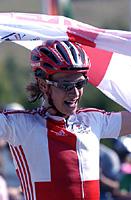 Englishman Liam Killeen won the gold medal in the men's cross-country mountain bike race at Lysterfield this afternoon. Under blue skies and blazing sunshine the 23-year-old demonstrated how to pace yourself over two hours of racing and remain fresh enough to strike when the right moment comes.
Australia's Chris Jongewaard excited the huge crowd at the dedicated MTB venue by charging off the start line to build an impressive lead in the opening laps. One minute clear of a chase group containing Killeen, Kashi Leuchs (New Zealand), team mate Sid Taberlay, Seamus McGrath (Canada) and Oli Beckingsale (England) after three 6.4km laps, Jongewaard's flying fourth lap took almost another thirty seconds out of the chasers and had the partisan crowd convinced he was heading for yet another Aussie cycling gold.
Eventually, the heat took its toll on the South Australian: he began to fade on the fifth lap, and hit the wall hard on the sixth, and was eventually overhauled in the middle of the penultimate lap by the hard-charging chase pair of Killeen and Seamus McGrath (Canada). That pair was joined soon after by Oli Beckingsale (England), who had been held up behind Taberlay, who had been handicapped by a fall: "I went to follow Liam past Seamus, and Seamus pushed me into a rock," said the unlucky Australian. "I tweaked something in my hip and got cramps and really suffered those two laps. I was feeling really good but those things happen and the heat just caught up with me in the end."
Once past the early leader, Killeen moved to the front, and where Jongewaard had been visibly struggling, Killeen looked like he'd only just begun as he cruised through the twists and turns of the Lysterfield circuit.
The men's
Photo ©: Mark Gunter

On the final lap, McGrath began to drop off the pace, leaving the two English riders free to fight out the finish between them. Beckingsale made a number of attempts to pass Killeen on the climb, but Killeen was far too strong. A final surge from Killeen gave him a gap on Beckingsale that he held comfortably, grinning all the way into the finish, allowing him to cross the line triumphantly wrapped in the red and white flag of England.
Killeen said after his well judged efforts that, "I just rode my own race. I think everyone went through a bad point in that race. I was just looking at my lap time and trying to keep [them] consistent. There was only two points in the race where you could attack and make people hurt. We were just riding our own race. We were the strongest two riders in the race, so when it comes down to the last lap you just have to ride for the win."
Beckingsale was delighted with the English quinella. "It's a pisser when it happens, but I just wanted to get a medal. I did well to chase back on [after Taberlay's fall]. Liam's riding really well too. That's MTBing and it could have taken me out of the race and out of a medal chance so it wasn't too bad."
Fourth placed Jongewaard was philosophical about his 'all or nothing' bid for glory. "It was just one lap too many for me. Emotionally, I'm fine. I gave it what I had and you can't take that away from me. Physically: I'm hurting now!
Chris Jongewaard (Aus)
Photo ©: Mark Gunter

"[Going out early] was my tactic. I tried to keep a lid on it but the crowd gee'd me up a little too much! I'm happy with fourth. At the start of the 6th lap I thought I might get there but then all of a sudden everything just shut down and I struggled to the end."
Taberlay was happy with the Aussies' game plan. "Chris always starts strong, and that was his chance to get a medal. He wanted to get to the single track early. I just sat on second wheel and tried to slow them down a bit. It worked really well. Chris was sitting pretty and I was feeling comfortable as well. It just didn't work out on the day. It was weird to see Kabush so far off the pace. He's one of the dominant riders in the US. [There were] a few surprises out there."
Pre-race favourite Geoff Kabush (Canada) was never a factor in the race, after being unable to follow the main contenders through the opening stretch of single track. Kabush reportedly hadn't felt 100 percent since his arrival in Australia, and a fall in training the day before the race had also taken its effect, as the lanky Canadian slipped further back in the field as the race wore on, finally finishing in 11th place.
Photography
For a thumbnail gallery of these images, click here
Images by Mark Gunter/www.pbase.com/gunterphotograph
Images by Rob Jones/www.canadiancyclist.com
Images by Mal Sawford/Cyclingnews.com
Images by Shane Goss/www.licoricegallery.com
Results
1 Liam Killeen (England)                             2.13.11
2 Oli Beckingsale (England)                             0.15
3 Seamus Patrick McGrath (Canada)                       0.32
4 Chris Jongewaard (Australia)                          1.57
5 Kashi Leuchs (New Zealand)                            2.18
6 Sid Taberlay (Australia)                              4.07
7 Joshua Fleming (Australia)                            7.03
8 Mike Northcott (New Zealand)                          8.00
9 Mannie Heymans (Namibia)                              8.21
10 Burry Willie Stander (Republic of South Africa)      8.48
11 Geoff Kabush (Canada)                               10.33
12 Simon Richardson (England)                               
13 Gareth Montgomerie (Scotland)                       11.42
14 Marc Bassingthwaighte (Namibia)                     13.22
15 Steven Roach (Wales)                                14.02
16 Clinton Avery (New Zealand)                         14.19
17 Ermin Van Wyk (Namibia)                             15.45
18 James Ouchterlony (Scotland)                        16.41
19 Lewis Ferguson (Northern Ireland)                   17.35
OVL Andrew Roche (Isle Of Man)                              
OVL Christopher Clive Froome (Kenya)                        
OVL Davidson Kamau Kihagi (Kenya)                           
OVL David Kinjah (Kenya)                                    
OVL Robert James Smart (Guernsey)                           
OVL Azwimangadzi Jus. Makhale (Republic of South Africa)    
DNF Robert Wardell (Scotland)                               
DNF David Matovu Kigongo (Uganda)                           
DNF David Magezi (Uganda)                                   

 
Back to top