2006 Commonwealth Games - JR
Melbourne, Australia, March 16-26, 2006
Main Page Results Overall standings Previous Stage Next Stage
Day 2 - March 17: Women's 25km points race; Men's keirin & 40km points race
By Mal Sawford with additional reporting by Rob Jones
The second day of track cycling competition in Melbourne saw three gold medals decided, with the home nation Australia taking a clean sweep in all events. Katherine Bates and Rochelle Gilmore teamed up to finish first and second in the women's 25 km points race, before Ryan Bayley showed his class by blitzing the field in the men's keirin. In the final event of the evening, Sean Finning won the men's 40 km points race after lapping the majority of the field five times.
Women's points
Aussie 1-2:
Photo ©: AFP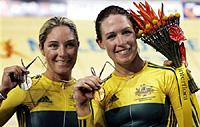 Australian head coach Martin Barras named Kate Bates as one of only two certainties for the home team on the track, and the 23 year-old did not let him down as she took out the women's points race after leading from the opening sprint. So dominant was Bates' performance, that she claimed four of the first five sprints, and with the race all but wrapped up, helped teammate Rochelle Gilmore to take the silver medal ahead of Kate Cullen (Scotland).
Race winner Bates commented, "Everything went perfectly to plan, and obviously I had two team mates out there with Alex Rhodes and Rochelle Gilmore and the three of us just worked perfectly out there. We dominated the race, got the gold and silver, and without Rhodesy we would have got neither."
When asked how important it was to have Rhodes riding for her, Bates replied, "Oh, bloody important! She's my best mate, she's my biggest support, so to have her out there on the track for you is more than I could ask for. She is inspirational. She might laugh, but of course watching how she goes about things from day to day, you just can't feel sorry for yourself at all, what she's been through in the last six months. It motivates you and makes you drag your arse of bed every morning and feel good about it!
Men's keirin
Ryan Bayley (Australia)
Photo ©: AFP

Olympic and past world champion Ryan Bayley has triumphed again in the keirin, winning the final in a time of 10.515 seconds from Canadian Travis Smith and Ross Edgar (Scotland) after second placed Ben Kersten (Australia) was relegated for moving into fellow Australian rider Shane Kelly's way in the last 200m.
"My form was good," Bayley said after three very dominant rides. "I had a lot of top end, my acceleration was not as good as I had hoped. The top six were damn good riders. But once I hit the front through the back straight I was confident I could win.
"I wanted to go out and win a Commonwealth Games gold and I just needed the motivation to do that. You just need to be inspired. It's not just a case of turning your legs over, you need to push your limits. When I fire up I go past my limits, way past my limits. It's just good that I worked it out."
Men's points
A very happy Sean Finning
Photo ©: AFP

21 year-old Sean Finning lapped the field an amazing five times on his way to winning the men's 40 kilometre points race, to cap off a clean sweep of gold medals by the Australian team on the second night of the track competition. Finning finished on a mind-blowing 137 points, well clear of Hayden Roulston (New Zealand) with 119 and Geraint Thomas (Wales) on 110.
The win was clearly the biggest of the youngster's career. After some promising junior results, Finning's previous best was at the nationals 12 months ago, "but this is a bit of a step up compared to that!"
Kate Bates, winner of the women's points race earlier in the evening agreed. "For Sean to get up in the points race was really, really amazing. I think the whole team was very happy to see him have a win here," she said.
Results
Finals

Women's 25km points race

1 Katherine Bates (Australia)               30 pts
2 Rochelle Gilmore (Australia)              21
3 Kate Cullen (Scotland)                    13
4 Gina Katherine Grain (Canada)             12
5 Mandy Poitras (Canada)                    10
6 Joanne Kiesanowski (New Zealand)           9
7 Emma Jones (England)                       4
8 Nikki Harris (England)                     3
9 Iona Wynter (Jamaica)                      2
10 Alexis Rhodes (Australia)                 2
11 Tammy Boyd (New Zealand)                  1
12 Uracca Leow Hoay Sim (Malaysia)           1
13 Noor Azian Binti Alias (Malaysia)          

Men's keirin

1 Ryan Bayley (Australia)               10.515
2 Travis Smith (Canada) 
3 Ross Edgar (Scotland)        
4 Shane Kelly (Australia)  
5 Josiah Ng (Malaysia)        
DSQ Ben Kersten (Australia)  

Men's 40 km points race

1 Sean Finning (Australia)                 137 pts
2 Hayden Roulston (New Zealand)            119
3 Geraint Thomas (Wales)                   110
4 Evan Oliphant (Scotland)                 109
5 Mark Richard Kelly (Isle of Man)         106
6 Peter Dawson (Australia)                  70
7 Edward Clancy (England)                   66
8 Zack Bell (Canada)                        60
9 James McCallum (Scotland)                 43
10 Andy Tennant (England)                   43
11 Mark Cavendish (Isle of Man)             38
12 Richard Bowker (New Zealand)             27
13 Jonathan Matthew Bellis (Isle of Man)    26
14 Greg Henderson (New Zealand)             24
15 Matthew Brammeier (Wales)                20
16 Ross Sander (Wales)                      13
17 Martin Gilbert (Canada)                   5
18 Ian Stannard (England)                     
19 Garth Conrad Thomas (South Africa)      -20
20 Mohd Jasmin Bin Ruslan (Malaysia)       -20
21 Durwan Benjamin (South Africa)          -20