2006 Commonwealth Games - JR
Melbourne, Australia, March 16-26, 2006
Main Page Results Previous event Next Event
March 16: Men's 4,000m individual pursuit
Manning tops England 1-2-3
By Mal Sawford with additional reporting by Rob Jones
Paul Manning (England)
Photo ©: AFP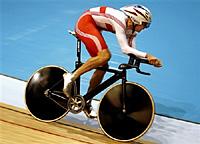 The first two gold medals may have gone Australia's way at the velodrome, but the powerful English team bounced back with a clean sweep of the podium in the individual pursuit, fulfilling the predictions by a quietly confident team management.
Eventual winner Paul Manning and Rob Hayles qualified for the gold medal rider after both recording times under 4.22, with New Zealand's Jason Allen an impressive third fastest qualifier. Steven Cummings was the only finalist to lower his time second time round, knocking off close to a win the bronze medal ride against Allen, who wasn't able to match his earlier efforts. Cummings admitted to not doing a lot of specific training for the event, saying, "It's only my second pursuit in two years. I did a standing one k yesterday, that was about it".
Cummings' relied on his road racing fitness to get him through, having finished second in the Trophy Laigueglia last month. He still sees room for improvement, noting that "I still had a bit left at the end. I need to learn to pace myself better."
The gold medal final saw the two compatriots evenly matched to the half way mark, before Manning pulled away. Hayles had set himself for another 4.22 schedule, but found "it was a little bit quick. I tried to hang on but it's hard to get back on top of the gear once your revs drop. Still, it gives us confidence for the team's pursuit: we've got the top three guys here, and Chris Newton to come in…."
The all England podium from the
Photo ©: Shane Goss

We asked Paul Manning if he was concerned that Hayles had matched him to the half way mark, but the winner advised he never worried about his opponent until the final laps. "You stick to the schedule. It gets you where it gets you. Don't look at the competition: the only time you look at the competition is towards the end to see if you need to pick up the pace." There will be no big celebration for Team England tonight, Manning acknowledging that "We've got a lot more races to do, so we'll get a chance to enjoy it together later, but this probably is my best result ever."
Australia's two entrants, Mark Jamieson and Peter Dawson, weren't able to step up to fill the void left by the absence of three time winner Brad McGee, and finished well off the pace. The home town crowd certainly hopes the boys were deliberately leaving a little in the tank for the team's pursuit, as England is surely red hot favourite after tonight's performances.
Photography
For a thumbnail gallery of these images, click here
Images by AFP Photo
Images by Shane Goss/www.licoricegallery.com
Images by Rob Jones/www.canadiancyclist.com
Results
Qualification

1 Paul Manning (England)                   4.21.801 (55.003 km/h)
2 Rob Hayles (England)                     4.21.837
3 Jason Allen (New Zealand)                4.22.941
4 Steven Cummings (England)                4.25.570
5 Mark Ryan (New Zealand)                  4.26.773
6 Michael Hutchinson (Northern Ireland)    4.28.862
7 Mark Jamieson (Australia)                4.30.399
8 Hayden Roulston (New Zealand)            4.30.747
9 Zack Bell (Canada)                       4.31.831
10 Peter Dawson (Australia)                4.34.269
11 Svein Tuft (Canada)                     4.36.390
12 Rupert Rheeder (South Africa)           3.36.458
13 Muhammad Fauzan Ahmad Lufti (Malaysia)  4.46.271
14 Amirrudin Jamaludin (Malaysia)          4.49.106

Finals

For bronze

3 Steven Cummings (England)                4.24.767 (54.387 km/h)
4 Jason Allen (New Zealand)                4.30.319

For gold and silver

1 Paul Manning (England)                   4.23.799 (54.587 km/h)
2 Rob Hayles (England)                     4.28.616