An interview with Emma Colson, March 21, 2006
Pretty special being in Melbourne
Emma Colson is one of three Australian representatives for the women's cross country mountain bike race to be held at Lysterfield this Thursday, and as Cyclingnews' Mal Sawford finds out half the fun for this 37-year-old physiotherapist is the fact she'll be racing on home turf, which is something pretty special. He caught up with her at her inner-city Melbourne terrace after a tough Sunday morning training session.
Emma Colson will be representing
Photo ©: Mark Gunter
Cyclingnews: Tell us about your training session this morning
Emma Colson: Mountain bike starts are my weakness. I dragged Dave [husband and local MTB guru David Olle] out of bed - we had to get going early because he had to work. We went down and sort of found something that approximated the start at Lysterfield [the Commonwealth Games MTB venue]; a bit of gravel rise then across the grass. He gets me over the first 30 seconds every time but after two minutes I'm past him.
CN: Did you do a few repeats of that?
EC: Yeah, I did six of them this morning and then I went out motor pacing on Beach Road [the popular training route for local cyclists and venue for the road time trial].
CN: Did you bump into Kathy Watt?
EC: No I didn't see her; I didn't see her this time. I see her quite a bit down there. She's quite recognisable - her and Carey [Hall, Watt's coach and partner]. My motor pacer had a nicer bike than Carey has though! The real upright old Vespa, a cool looking thing. I was meant to go motor pacing on Thursday but he didn't turn up - he ended up getting a puncture on the way down there and had to get the thing towed!
CN: Did you wear your Australian team kit when you were out on the road?
EC: Yeah, so you get a few 'Go Aussies' - it's pretty good. I just thought if the cops picked us up they might be a little bit lenient given that we're breaking the law! [The time trial course wasn't scheduled to be closed for practice until the following day, but a number of riders including Kathy Watt hold regular motor paced sessions on Beach Road without interference from the local constabulary.]
CN: How will you prepare between now and Thursday?
EC: We go to 'Sub Site' [the Aussie MTB team has set up camp at a hotel only 12 kilometres from the Lysterfield circuit, which is 35 kilometres south-east of Melbourne] tonight in Knox, the whole team will be there. I think Chris Jongewaard has been there for a week.
CN: So you won't staying at the village at all?
"It seems like Rosara Joseph can ride anything! I think she'll be a hot contender..."
-Emma Colson's tip for the women's XC on Thursday is Rosara Joseph
EC: No, I'll go there afterwards...
CN: For the party?
EC: Yes! It's been nice staying home you know, it's great staying home.
CN: So you'll mainly be resting between now and Thursday?
EC: Yes, tomorrow I will go and just do some sort of short efforts on the course. I'm pretty familiar with it, but I'll just have a look at it and perhaps ride it slowly to see it anything has changed much and what the lines are - that sort of thing; then do a little bit of an effort on it.
CN: You rode the Games selection event there?
"A lot of people are talking about it as a 'roadies' course but I do know roadies that have gone out there and just can't get around it "
-Colson on the course for the Commonwealth Games MTB race
EC: Yes, so I did a reasonable amount of work leading into that and I've been out to the course twice just in the last month, which is the only time I've been there since the selection event. But I know it pretty well; I mean, it's not really a course yet because it's not full-on technical...you can't spend hours and hours learning it. It's pretty straightforward - a real power course.
CN: And you had a hit out at the Oceania Championships in New Zealand?
EC: Yeah, I did go; I wasn't in really good shape going in there, I had a few problems and I was umming and aahing but I ended up going. I'm glad I raced because I felt a lot more confident after it - I came eighth, but that's ok.
CN: Did it give you an idea of who the main competition is going to be?
EC: Rosara Joseph [from New Zealand, who won in Rotorua] is in very good form, Kiara Bisaro [Canada] perhaps not; I was kind of with her on the first lap which was surprising, so I don't think she is in the form that we perhaps expected. But it was also a very different course with really steep climbs, so she might be better on a course like Lysterfield. It seems like Rosara Joseph can ride anything! I think she'll be a hot contender - everyone is talking about [Olympic silver medalist Marie-Helene] Premont, but I think Rosara is going to be good. She seems like she can ride the Geelong tour and the world cup then do alright at Oceania's - I think she won there. Dellys Starr [Australia] gave it [mountain bike racing] away for X-terra and recently came back into it. She's got an extremely explosive start which is good because that course after two minutes is into very tight single track. So I think Dellys will have a good race. I don't know what she is like right at the moment, whether her form is the same as what it has been recently.
Colson and her bike
Photo ©: Mark Gunter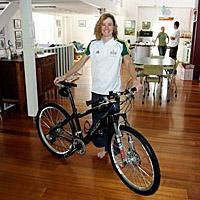 CN: So Lysterfield is not a particularly technical course, and could favour girls with plenty of road strength?
EC: Certainly; I mean when I say it's not technical, its just a different kind of technical, I suppose. A lot of people are talking about it as a 'roadies' course but I do know roadies that have gone out there and just can't get around it - they were thinking of maybe doing the selection race and then went 'nup'! So when you ride it at speed it's really quite different to most mountain bike races in that there's not a lot of climbing and there aren't things that you really get scared of.
CN: Will this style of course bring road style team tactics into play?
EC: Ah that's an interesting question, but I think from a team perspective our directive will be not to impede our team mates, but it's kind of difficult to work as a team in mountain bike racing - you almost sort yourselves out according to your physiology. We certainly haven't been grouped to train as a team. Mountain biking has always been a very individual sport and I know with the selection criteria I did ask whether the team dynamics would come into it, and that was absolute; the answer was 'no'. They have never been able to use team dynamics, they've never been able to select someone who can explode everyone for 30 minutes and then doesn't finish the race kind of thing. So it is unlike road in that respect.
CN: How does the recent introduction of tech zones change the style of racing?
"With tech zones it's just more to think about"
-Colson talks about the introduciton of tech zones for the Commonwealth Games MTB race
EC: Well, they are running under the international rules and it's just another thing to think about. I think it is a bit of a nightmare because there are three tech zones, so you've got to sort out in training where you are on the course and how far away tech zones are and do the sums in your head under pressure - how long it's going to take you to change a wheel versus if you rolled into the tech zone on a flat wheel which is going to cost you time and changing the wheel anyway...so without tech zones I think it's very straightforward - you just fix the thing and get going, and that's how it is for everyone. With tech zones it's just more to think about, but if you're close and something goes wrong of course you will use them.
CN: This your first Commonwealth Games as an athlete?
EC: Yeah
CN: But you're no stranger to the Australian cycling team?
EC: Yes, I was a physio for the women's road team from 1997 until 2000. I went to Sydney as the official physio with the women's road team. Prior to that I was racing some mountain bike and because of that commitment [team physio], and the fact that I owned a practice I had to give racing away. After that it kind of always bugged me. It was actually Kristy [Scrymgeour, a member of the Australian women's road team in the late 90's] a few years ago, who suggested I should get back into it. I was getting fit again, and Kristy was suggesting that I should try and get up for Comm Games...so Dave [Olle] blames Kristy!
"I think I certainly feel the fittest I have ever felt in my life right now. So age doesn't seem to have an effect on my strength."
-Colson speaks about her age in relation to her racing
CN: How long has it been that you have been back in serious training?
EC: I was trying to think about that; someone asked me the other day - I won the 2005 nationals which were in March and Dave and I were away in 2004. So it must have been at the end of 2003 or start of '04, but I really hammed it up and got Liz Taylor as my coach. She started writing a programme for me - Liz was on the national team when I was physio so it's like this big circle.
CN: How old are you now?
EC: I'm 37 now.
CN: So you'd be one of the oldest competitors there?
EC: Yeah I'm just glad Kathy Watt is there at 41 so I'm not the oldest! I'm the oldest in the mountain bike team though.
CN: You don't see your age as a handicap?
EC: Yeah a little bit, I think I certainly feel the fittest I have ever felt in my life right now. So age doesn't seem to have an effect on my strength. I guess I'll wonder if I was younger whether I'd have a bit more explosiveness at the start, which is one of my main problems, but certainly just in terms of keeping the laps going and punching it out and keeping going in the race I tend to come good at the end of the race which maybe is a factor of age.
Emma Colson will be representing
Photo ©: Mark Gunter
CN: What are your goals for the big race?
EC: My goal is just to be consistent, punch out consistent laps. I think if I can do that, you know you have to be realistic about the competition - they are very good, world class. So if I have a blinder and other people don't, that'll be what gets me on the podium and that's what I'm hoping for. You can only control what you do yourself not what everyone else is up to; I just want to perform to the best of my ability and look back on the race and not have any regrets.
CN: Once the race is over what are the plans from there - have you looked that far ahead yet?
EC: Well I have a full day of work on Friday; just trying to catch up on things that have been on hold a little bit!
CN: Do you still maintain your own practice?
EC: I actually don't own a practice now; I work for a large practice, so that's much more flexible. I've been able to reduce my sessions and of late have tried to make my sessions particularly light. I put my foot down and said that I only want a certain number of patients a session and things like that. So I guess on Friday, after the race, everyone is booked in again.
CN: As a physio yourself, are you particularly hard on the masseurs working with the teams?
EC: No I'm easy on them I reckon! You know I know what it's like - it's a s*** job and I reckon I'm really easy; if they look a bit tired I'll say don't worry, I don't need a rub because in the end you think you need all these things, but you don't. Really, you can get by without them - you know a lot of people who still perform well without them.
At this point in the interview, a friend called around to drop off some 'Go Emma Go' t-shirts. We asked Emma if she was expecting plenty of home town support.
EC: There is a big Emma cheer squad going out there. It's pretty special doing it in your home town - it's just incredible, really. They have ticketed, or they have sold or given away 12,000 tickets, but who knows how many will turn up? It's unfortunate the way they have done it because there are mountain bikers that can't get tickets and I'm sure there are people who probably just ticked the box because it was free. Dave and I went in the ballot and we applied for 20 each so we got 40, and I got another seven as an athlete.
It's pretty exciting; all my nieces and nephews are getting into it. My little niece and her class down at Warrnambool primary school, plus this other little school out at Grassmere have taken me on as their Comm Games athlete. They all wrote me all these sort of things; everyone is like, 'Go Emma I hope you win a gold medal', and 'Go Emma I hope you win a gold medal, but if you don't that's ok'! That's pretty cute. So that's the whole domestic thing. I don't know if it would feel like that if it was in Sydney, but it's pretty special being in Melbourne.