21st Tour de Beauce - 2.2
Canada, June 13-18, 2006
Main Page Results Overall standings Stage Details Previous Stage
Stage 6 - June 18: St-Georges, 133 km
Navigators close book on Beauce, Pinfold nabs final stage
Kobzarenko fends off yellow jersey attacks
by Mark Zalewski, North American Editor in Saint-Georges, Québec
Andrew Pinfold (Symmetrics)
Photo ©: Mark Zalewski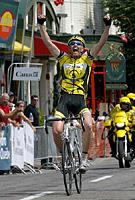 The final stage of the 21st Tour de Beauce was also the hottest - but this week's beautiful weather was a welcomed change from last year's downpours. The final circuit course travelled twelve times up a 1.5km climb rising 170 meters, and was active from the gun. TIAA-CREF attacked early and often, but the Navigators Insurance team kept their cool and road smart, securing Valeriy Kobzarenko in the yellow jersey. Coming out of an eight-rider break was Andrew Pinfold (Symmetrics) taking the win, ahead of fellow attacker Will Frischkorn (TIAA-CREF).
"This is the biggest win for me, and the biggest win in North America for the team," said Pinfold. "It's really important now because we have a new sponsor coming on." Pinfold and Frischkorn left a larger break that had been out, in one form or another, since the opening kilometre of the 132km race. Pinfold's teammate Jacob Erker was already up the road with the TIAA-CREF initiated break.
"Jacob and two CREF guys went up the road," said Pinfold. "I attacked just for fun really. We raced a lot in Mexico earlier this year and there is a team there called Chivas that would attack with like three or four guys all the time. So for fun we decided to do a 'Chivas' coming through the start/finish. Then I had a free ride until two laps to go."
The top three of stage six.
Photo ©: Mark Zalewski

Pinfold admitted that he did not work in the break thanks to the double duty of his teammate. "Jacob was going so hard out there, they just let me sit on. I sat on for most of it." Then when he overheard the TIAA-CREF guys talking about keeping the break close in an attempt to set up Danny Pate for an attack on the yellow jersey, Pinfold knew it was time to make his move. "I attacked when Frischkorn was saying to his team to not let the break get too far ahead, to save it for Danny. It was no excuses then."
Frischkorn stayed on Pinfold's wheel and the two spent more than a lap off the front. However, Frischkorn was immediately at a disadvantage in the sprint against the 2000 Canadian criterium champion with his broken right hand. "Sprinting is an adventure, that is for sure," he said. "I can't shift well, so it was pretty much futile."
Kobzarenko climbing calmly.
Photo ©: Mark Zalewski

Back in the peloton, the Navigators Insurance team rode on the front all day, sticking to the plan and protecting Kobzarenko's jersey. "We were working only for the yellow jersey today," Kobzarenko said. "The guys were working really well. It was a little easier because everyone in the break was not dangerous. We wanted them to get no more than five minutes, but the team was so strong it stayed closer."
Kobzarenko was lead up the climb by Colombian teammate Cesar Grajales, who set a fast pace to keep any dangerous rider from trying to bridge. "Grajales climbed so well today that nobody was going to be able to attack on the climb," said director Ed Beamon. "It made it easier, being able to put guys out of the race like that. The Mexicans were not much of a threat, their guys were more than two minutes down."
"Our plan from the start was to get guys up the road," said Pate, who finished in third overall. "I couldn't break the Navigators team all by myself. But no other team wanted to work."
Bryan Smith leads Will Frischkorn
Photo ©: Mark Zalewski

Beamon acknowledged that TIAA-CREF did what they needed to do today. "Danny played it smart today. He would only have one shot to get across to a break. But our guys worked hard to force the breaks."
In a continued streak of bad luck, Canadian Mark Walters crashed on the first lap descent. "We lost Mark on the first lap, he clipped a pedal," said Beamon. "I'm sure he was still not 100 percent from yesterday. So we had to ride with one less. He caught back on but was not in good shape."
Photography
For a thumbnail gallery of these images, click here
Images by Mark Zalewski/Cyclingnews.com
Results
1 Andrew Pinfold (Can) Symmetrics                            3.33.55
2 William Frischkorn (USA) TIAA-CREF                            0.01
3 Rodolfo Lopez (Mex) Tecos Trek VH                             0.43
4 Bryan Smith (USA) TIAA-CREF                                       
5 Cameron Jennings (Aus) DFL - Cyclingnews - Litespeed          0.50
6 Bruno Langlois (Can) Canadian National Team                       
7 Timo Honstein (Ger) Sparkasse                                     
8 Sergey Lagutin (Uzb) Navigators                               0.58
9 Kevin Miller (Can) Fiordifrutta                                   
10 Wesley Sulzberger (Aus) South Australia.com - AIS                
11 Miles Olman (Aus) South Australia.com - AIS                      
12 Ger Soepenberg (Ned) Altipower                                   
13 Trent Wilson (Aus) Jittery Joe's pb Zero Gravity                 
14 Jarley Colorado Hernandez (Col) Colombia Es Pasion               
15 David Harrigan (Aus) DFL - Cyclingnews - Litespeed               
16 Fausto Esparza Munoz (Mex) Tecos Trek VH                         
17 Danny Patte (USA) TIAA-CREF                                      
18 Andrew Randell (Can) Symmetrics                                  
19 Peter Hatton (Aus) Jittery Joe's pb Zero Gravity                 
20 Diego Montoya (Col) Colombia Es Pasion                           
21 Peter John Herzig (Aus) FRF Couriers - Caravello                 
22 Valeriy Kobzarenko (Ukr) Navigators                              
23 John Fredy Parra Calada (Col) Tecos Trek VH                      
24 Yovanny Torres Castro (Col) Colombia Es Pasion                   
25 Austin King (USA) Jittery Joe's pb Zero Gravity                  
26 Brendan Brooks (Aus) FRF Couriers - Caravello                    
27 Mathieu Roy (Can) Garneau - Optik                                
28 Cameron Hughes (Aus) Italpasta - Transport Belmire C.C.          
29 Ciaran Power (Irl) Navigators                                    
30 Jairo Hernandez (Col) Colombia Es Pasion                         
31 Brent Bookwalter (USA) Priority Health                           
32 Cesar Augusto Grajales (Col) Navigators                          
33 Gregorio Ladino Vega (Col) Tecos Trek VH                         
34 Richard Faltus (Cze) Sparkasse                                   
35 Stefan Parinussa (Ger) Sparkasse                                 
36 Joshua Dillon (USA) Fiordifrutta                                 
37 Phillip Cortes (Can) Garneau - Optik                             
38 Christian Meier (Can) Symmetrics                                 
39 Russel Downing (GBr) DFL - Cyclingnews - Litespeed               
40 Tony Mann (Aus) FRF Couriers - Caravello                         
41 Dustin Macburnie (Can) Canadian National Team                    
42 Francisco Matamoros Navarro (Mex) Tecos Trek VH                  
43 Tom Zirbel (USA) Priority Health                                 
44 Glen Alan Chadwick (Aus) Navigators                              
45 Philippe Abbott (Can) Italpasta - Transport Belmire C.C.     1.30
46 Peter Dawson (Aus) South Australia.com - AIS                 1.37
47 Matthew White (USA) Fiordifrutta                             2.43
48 Mitsuteru Tanaka (Jpn) Aisan Racing Team                         
49 David Veilleux (Can) Garneau - Optik                             
50 Jamie Lamb (Can) Garneau - Optik                                 
51 Niek Asbroek (Ned) Altipower                                     
52 Satoshi Hirose (Jpn) Aisan Racing Team                           
53 Kane Oakley (Aus) DFL - Cyclingnews - Litespeed                  
54 Brian Sheedy (USA) Priority Health                               
55 Cody Stevenson (Aus) FRF Couriers - Caravello                    
56 Svein Tuft (Can) Symmetrics                                      
57 Ryan Roth (Can) Canadian National Team                           
58 Jacob P. Erker (Can) Symmetrics                              6.53
59 Raphaël Tremblay (Can) Volkswagen Trek                           
60 Joel Dion-Poitras (Can) Calyon-Litespeed                         
61 Jairo Salas Atehortua (Col) Colombia Es Pasion                   
62 Hector Rangel Zimarron (Mex) Tecos Trek VH                  15.47
63 Derek McMaster (Can) Italpasta - Transport Belmire C.C.     16.01
64 Simon Kelly (Irl) Team Murphy & Gunn / Newlyn                    
65 Thijs Poelstra (Ned) Altipower                                   
66 David O'Brien (Can) Équipe Du Québec                        20.37
DNF Mark Walters (Can) Navigators                                   
DNF Tom Flammang (Lux) Sparkasse                                    
DNF Francois Parisien (Can) TIAA-CREF                               
DNF Ian Macgregor (USA) TIAA-CREF                                   
DNF Bernie Sulzberger (Aus) DFL - Cyclingnews - Litespeed           
DNF Peter McDonald (Aus) FRF Couriers - Caravello                   
DNF Morgan Fox (Irl) Team Murphy & Gunn / Newlyn                    
DNF Condor Murphy (Irl) Team Murphy & Gunn / Newlyn                 
DNF Greg Reain (Can) Canadian National Team                         
DNF Michael Ford (Aus) South Australia.com - AIS                    
DNF Sean Finning (Aus) South Australia.com - AIS                    
DNF Jean-Sebastien Perron (Can) Calyon-Litespeed                    
DNF Edward King (USA) Priority Health                               
DNF Thoren Wieditz (Can) Italpasta - Transport Belmire C.C.         
DNF Peter Sanowar (Can) Italpasta - Transport Belmire C.C.          
DNF Eric Boily (Can) Volkswagen Trek                                
DNF Clovis Auger (Can) Volkswagen Trek                              
DNF Jean-Sébastien Beland (Can) Volkswagen Trek                     
DNF Jean-Sébastien Maheu (Can) Équipe Du Québec                     
DNF Peter Woestenberg (Ned) Altipower                               
 
Teams
 
1 Team TIAA-CREF                                            10.43.27
2 Symmetrics                                                    0.14
3 Tecos Trek VH                                                 0.57
4 DFL-Cyclingnews-Litespeed                                     1.04
5 Team Sparkasse                                                    
6 Jittery Joe's - Pb Zero Gravity                               1.12
7 Colombia es Pasion                                                
8 Navigators Insurance                                              
9 FRF Couriers - Caravello                                          
10 South Australia.Com-AIS                                      1.51
11 Canadian National Team                                       2.49
12 Fiordifrutta                                                 2.57
13 Garneau - Optik                                                  
14 Priority Health Cycling                                          
15 Italpasta - Transport Belmire C.C.                          16.47
16 Altipower                                                   18.00
 
Final General classification
 
1 Valeriy Kobzarenko (Ukr) Navigators                       20.04.14
2 Sergey Lagutin (Uzb) Navigators                               0.15
3 Danny Patte (USA) TIAA-CREF                                   0.18
4 Stefan Parinussa (Ger) Sparkasse                              0.42
5 Fausto Esparza Munoz (Mex) Tecos Trek VH                      1.49
6 John Fredy Parra Calada (Col) Tecos Trek VH                   2.50
7 Gregorio Ladino Vega (Col) Tecos Trek VH                      4.01
8 Ciaran Power (Irl) Navigators                                 4.03
9 Jairo Hernandez (Col) Colombia Es Pasion                      4.08
10 Jarley Colorado Hernandez (Col) Colombia Es Pasion           4.51
11 Cameron Hughes (Aus) Italpasta - Transport Belmire C.C.      5.09
12 Yovanny Torres Castro (Col) Colombia Es Pasion               5.14
13 Trent Wilson (Aus) Jittery Joe's pb Zero Gravity             5.18
14 Brent Bookwalter (USA) Priority Health                       6.13
15 Russel Downing (GBr) DFL - Cyclingnews - Litespeed           6.59
16 Glen Alan Chadwick (Aus) Navigators                          7.38
17 Francisco Matamoros Navarro (Mex) Tecos Trek VH              7.47
18 Brendan Brooks (Aus) FRF Couriers - Caravello                8.04
19 Joshua Dillon (USA) Fiordifrutta                             9.35
20 Cameron Jennings (Aus) DFL - Cyclingnews - Litespeed        10.03
21 Wesley Sulzberger (Aus) South Australia.com - AIS           10.51
22 Christian Meier (Can) Symmetrics                            11.00
23 Austin King (USA) Jittery Joe's pb Zero Gravity             12.54
24 David Harrigan (Aus) DFL - Cyclingnews - Litespeed          14.00
25 Miles Olman (Aus) South Australia.com - AIS                 15.46
26 Rodolfo Lopez (Mex) Tecos Trek VH                           19.09
27 Andrew Pinfold (Can) Symmetrics                             20.39
28 Peter Hatton (Aus) Jittery Joe's pb Zero Gravity            21.04
29 Dustin Macburnie (Can) Canadian National Team               21.26
30 Phillip Cortes (Can) Garneau - Optik                        21.47
31 Mathieu Roy (Can) Garneau - Optik                           22.30
32 Diego Montoya (Col) Colombia Es Pasion                      22.38
33 William Frischkorn (USA) TIAA-CREF                          22.43
34 Brian Sheedy (USA) Priority Health                          22.54
35 Satoshi Hirose (Jpn) Aisan Racing Team                      23.01
36 Svein Tuft (Can) Symmetrics                                 23.53
37 David Veilleux (Can) Garneau - Optik                        24.24
38 Jairo Salas Atehortua (Col) Colombia Es Pasion              24.43
39 Jamie Lamb (Can) Garneau - Optik                            24.55
40 Bryan Smith (USA) TIAA-CREF                                 26.11
41 Peter Dawson (Aus) South Australia.com - AIS                27.02
42 Bruno Langlois (Can) Canadian National Team                 27.54
43 Kevin Miller (Can) Fiordifrutta                             28.16
44 Mitsuteru Tanaka (Jpn) Aisan Racing Team                    30.15
45 Kane Oakley (Aus) DFL - Cyclingnews - Litespeed             30.20
46 Ger Soepenberg (Ned) Altipower                              30.27
47 Richard Faltus (Cze) Sparkasse                              30.35
48 Ryan Roth (Can) Canadian National Team                      31.03
49 Tony Mann (Aus) FRF Couriers - Caravello                    31.23
50 Peter John Herzig (Aus) FRF Couriers - Caravello            36.26
51 Timo Honstein (Ger) Sparkasse                               38.28
52 Derek McMaster (Can) Italpasta - Transport Belmire C.C.     38.33
53 Jacob P. Erker (Can) Symmetrics                             39.02
54 Cesar Augusto Grajales (Col) Navigators                     40.26
55 Simon Kelly (Irl) Team Murphy & Gunn / Newlyn               40.48
56 Hector Rangel Zimarron (Mex) Tecos Trek VH                  41.37
57 Tom Zirbel (USA) Priority Health                            42.23
58 Raphaël Tremblay (Can) Volkswagen Trek                      42.49
59 Niek Asbroek (Ned) Altipower                                43.10
60 Matthew White (USA) Fiordifrutta                            44.53
61 Philippe Abbott (Can) Italpasta - Transport Belmire C.C.    48.13
62 Joel Dion-Poitras (Can) Calyon-Litespeed                    52.13
63 Andrew Randell (Can) Symmetrics                             52.36
64 Cody Stevenson (Aus) FRF Couriers - Caravello               57.44
65 Thijs Poelstra (Ned) Altipower                            1.18.51
66 David O'Brien (Can) Équipe Du Québec                      1.20.28
 
Points classification
 
1 Sergey Lagutin (Uzb) Navigators                                 78 pts
2 Valeriy Kobzarenko (Ukr) Navigators                             58
3 Danny Patte (USA) TIAA-CREF                                     56
4 Stefan Parinussa (Ger) Sparkasse                                54
5 Fausto Esparza Munoz (Mex) Tecos Trek VH                        40
6 John Fredy Parra Calada (Col) Tecos Trek VH                     34
7 Trent Wilson (Aus) Jittery Joe's pb Zero Gravity                31
8 Ciaran Power (Irl) Navigators                                   28
9 Andrew Pinfold (Can) Symmetrics                                 27
10 Jairo Hernandez (Col) Colombia Es Pasion                       27
11 Wesley Sulzberger (Aus) South Australia.com - AIS              27
12 Russel Downing (GBr) DFL - Cyclingnews - Litespeed             26
13 Peter Hatton (Aus) Jittery Joe's pb Zero Gravity               22
14 Jarley Colorado Hernandez (Col) Colombia Es Pasion             21
15 Rodolfo Lopez (Mex) Tecos Trek VH                              21
16 Gregorio Ladino Vega (Col) Tecos Trek VH                       18
17 Miles Olman (Aus) South Australia.com - AIS                    18
18 Brent Bookwalter (USA) Priority Health                         17
19 Glen Alan Chadwick (Aus) Navigators                            17
20 Richard Faltus (Cze) Sparkasse                                 16
21 William Frischkorn (USA) TIAA-CREF                             14
22 Cameron Hughes (Aus) Italpasta - Transport Belmire C.C.        13
23 Bryan Smith (USA) TIAA-CREF                                    12
24 Jairo Salas Atehortua (Col) Colombia Es Pasion                 11
25 Cameron Jennings (Aus) DFL - Cyclingnews - Litespeed           11
26 Bruno Langlois (Can) Canadian National Team                    11
27 Timo Honstein (Ger) Sparkasse                                  10
28 Yovanny Torres Castro (Col) Colombia Es Pasion                  8
29 Cesar Augusto Grajales (Col) Navigators                         8
30 David Harrigan (Aus) DFL - Cyclingnews - Litespeed              8
31 Kevin Miller (Can) Fiordifrutta                                 8
32 Phillip Cortes (Can) Garneau - Optik                            7
33 Ger Soepenberg (Ned) Altipower                                  7
34 Peter Dawson (Aus) South Australia.com - AIS                    6
35 Joshua Dillon (USA) Fiordifrutta                                5
36 Austin King (USA) Jittery Joe's pb Zero Gravity                 5
37 Francisco Matamoros Navarro (Mex) Tecos Trek VH                 2
38 Christian Meier (Can) Symmetrics                                2
 
Mountains classification
 
1 Jarley Colorado Hernandez (Col) Colombia Es Pasion              65 pts
2 Sergey Lagutin (Uzb) Navigators                                 59
3 Gregorio Ladino Vega (Col) Tecos Trek VH                        29
4 Danny Patte (USA) TIAA-CREF                                     29
5 Valeriy Kobzarenko (Ukr) Navigators                             28
6 William Frischkorn (USA) TIAA-CREF                              22
7 Glen Alan Chadwick (Aus) Navigators                             21
8 Stefan Parinussa (Ger) Sparkasse                                18
9 Rodolfo Lopez (Mex) Tecos Trek VH                               13
10 Tony Mann (Aus) FRF Couriers - Caravello                       12
11 John Fredy Parra Calada (Col) Tecos Trek VH                     9
12 Yovanny Torres Castro (Col) Colombia Es Pasion                  9
13 Hector Rangel Zimarron (Mex) Tecos Trek VH                      8
14 Ciaran Power (Irl) Navigators                                   7
15 Jairo Hernandez (Col) Colombia Es Pasion                        7
16 Cesar Augusto Grajales (Col) Navigators                         7
17 Jacob P. Erker (Can) Symmetrics                                 7
18 Fausto Esparza Munoz (Mex) Tecos Trek VH                        6
19 Cameron Hughes (Aus) Italpasta - Transport Belmire C.C.         6
20 Richard Faltus (Cze) Sparkasse                                  6
21 Andrew Pinfold (Can) Symmetrics                                 5
22 Cameron Jennings (Aus) DFL - Cyclingnews - Litespeed            5
23 Timo Honstein (Ger) Sparkasse                                   5
24 Trent Wilson (Aus) Jittery Joe's pb Zero Gravity                4
25 Francisco Matamoros Navarro (Mex) Tecos Trek VH                 4
26 Bryan Smith (USA) TIAA-CREF                                     3
27 Peter John Herzig (Aus) FRF Couriers - Caravello                2
28 Bruno Langlois (Can) Canadian National Team                     2
 
Teams classification
 
1 Navigators Insurance                                      60.13.40
2 Tecos Trek VH                                                 7.52
3 Colombia es Pasion                                           12.40
4 DFL-Cyclingnews-Litespeed                                    24.49
5 Team TIAA-CREF                                               30.15
6 Symmetrics                                                   35.34
7 Jittery Joe's - Pb Zero Gravity                              38.22
8 FRF Couriers - Caravello                                     38.33
9 South Australia.Com-AIS                                      45.03
10 Priority Health Cycling                                     46.13
11 Team Sparkasse                                              57.13
12 Garneau - Optik                                           1.05.04
13 Fiordifrutta                                              1.09.49
14 Italpasta - Transport Belmire C.C.                        1.13.09
15 Canadian National Team                                    1.17.24
16 Altipower                                                 2.01.01