21st Tour de Beauce - 2.2
Canada, June 13-18, 2006
Main Page Results Overall standings Stage Details Previous Stage Next Stage
Stage 2 - June 14: Saint-Joseph, 180 km
Navigators too safe, Parinussa steals lead
Parra Calada wins break sprint
By Mark Zalewski, North American Editor in Saint-Georges, Quebec
John Fredy Parra Calada (Tecos-Trek)
Photo ©: Mark Zalewski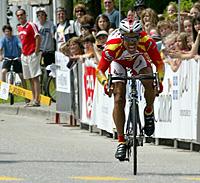 There is such a thing as being too careful, and that saying was perfectly illustrated in the second stage of the Tour de Beauce. After executing a textbook win in stage one, the Navigators Insurance team let a dangerous break stay too far out of reach, allowing the German Stefan Parinussa (Team Sparkasse) to ride into the yellow leader's jersey.
"It didn't play out to plan," said Navigators Insurance director Ed Beamon. "We wanted to be aggressive but Valery got nervous and wanted to keep the team together. I wasn't worried about [Danny] Pate in the break because I knew he had to work hard, but I was upset that the German was there after yesterday." Beamon was referring to Parinussa sitting on in yesterday's break, citing fatigue from traveling the day before.
However, Parinussa managed to find his legs today, making it across to a twenty-rider break that was driven by Danny Pate (TIAA-CREF). "I was a little surprised by how I felt today," Parinussa said. "But I showed that I can ride well." Early in the break Parinussa mirrored his tactics from yesterday, not spending much energy on the front. "I saved myself some until the last twenty-five kilometres. I was waiting for Navigators to bring it back -- I didn't think the break was strong enough. But with twenty-five to go I knew it would work."
"In the end he had to do a lot of hard work," Team Sparkasse director Erik Weispfennig explained. "You had to be good to be in both breaks, and today he showed he is capable of racing. Yesterday was still not easy to ride in a break that long. One day you have to work, one day you don't -- that is cycling. But I don't know why [Navigators] waited so long."
The early break
Photo ©: Mark Zalewski

Another factor was that Navigators had their two Irish riders sitting on in the break all day -- David O'Loughlin and Ciaran Power. "They weren't working -- they were just trying not to get gapped," said Beamon. But surprisingly, the two did not have enough in the end to at least take a stage win. "They were just covering the guys that might get away," said Pate in regards to the two Navigators riders in the break. "I was surprised that Power didn't win."
"Pate attacked on the climb up the finishing circuit," explained Power. "David lead me out really well but I just didn't have it." Coming fast on the far side was Mexican sprinter John Fredy Parra Calada (Tecos-Trek) who flew past everyone for the stage win. "I stayed behind the Navigators because I knew they wanted to win," said Parra Calada. "They did not so much attack but they pushed hard into the finish."
The most aggressive and strongest rider of the day was certainly Danny Pate, who started the break, pushed the gap to more than seven minutes and kept it rolling through the end. "The group was big and we worked kind of okay," he said. "But a twenty rider break that works just okay still moves pretty well."
Pate said that while the climbs here are not as tough by themselves, the quantity of them is taking a toll. "They are pretty tough. They are not huge climbs but are huge hills, so they are not that easy. It's all day long and they start adding up!"
The Navigators Insurance team
Photo ©: Mark Zalewski

As the kilometres ticked away the break shed the lesser riders which helped make it more efficient as the Navigators team tried to cut the gap. As well, the now full commitment of energy by Parinussa also put the break out of reach. "In the last fifty kilometres the four of us worked well together," said Pate. "[Parinussa] was working pretty hard at the end, finally -- as he should have been."
The Navigators Insurance team did have one small triumph today as Sergery Lagutin moves into the KOM lead, taking the jersey from TIAA-CREF's Will Frischkorn who put up a good fight today.
Tomorrow's stage is the final true road stage, a 152.6km point-to-point race from the race home in Saint-Georges to the summit finish atop Mont-Megantic -- a final climb that will ascend more than 600 meters and could cement the overall classification.
One rider in the peloton that knows summit finishes well is Cesar Grajales (Navigators Insurance) who won the Brasstown Bald stage of the 2004 Tour de Georgia. Pate says he is just one of many competent climbers his TIAA-CREF team will be watching. "We haven't seen him race that much this year. But yesterday on the final climb he looked pretty good. As did the Tecos and Colombians, so I can imagine one of those guys winning tomorrow."
British road champion
Photo ©: Mark Zalewski

And as for Parinussa, wearing the leader's yellow jersey means that he and his team cannot take any free rides as they try to defend the lead from an almost certain onslaught from Navigators Insurance. "I will try my best -- I will not be giving it away as a present!"
Photography
For a thumbnail gallery of these images, click here
Images by Mark Zalewski/Cyclingnews.com
Results

1 John Fredy Parra Calada (Col) Tecos Trek VH                   4.32.32
2 Stefan Parinussa (Ger) Sparkasse                                     
3 Cameron Hughes (Aus) Italpasta - Transport Belmire C.C.              
4 Ciaran Power (Irl) Navigators                                        
5 David O'Loughlin (Irl) Navigators                                    
6 Danny Pate (USA) TIAA-CREF                                           
7 Sergey Lagutin (Uzb) Navigators                                  2.11
8 Valeriy Kobzarenko (Ukr) Navigators                              2.14
9 Jairo Hernandez (Col) Colombia Es Pasion                             
10 Sebastian Frey (Ger) Sparkasse                                      
11 Dominique Rollin (Can) Canadian National Team                       
12 Edward King (USA) Priority Health                                   
13 Jean-Sébastien Maheu (Can) Équipe Du Québec                         
14 Trent Wilson (Aus) Jittery Joe's pb Zero Gravity                    
15 Wesley Sulzberger (Aus) South Australia.com - AIS                   
16 Jairo Salas Atehortua (Col) Colombia Es Pasion                      
17 Mark Walters (Can) Navigators                                       
18 Cameron Jennings (Aus) DFL - Cyclingnews - Litespeed                
19 Jarley Colorado Hernandez (Col) Colombia Es Pasion                  
20 David Veilleux (Can) Garneau - Optik                                
21 Fausto Esparza Munoz (Mex) Tecos Trek VH                            
22 Zachary Garland (Can) Équipe Du Québec                              
23 Peter John Herzig (Aus) FRF Couriers - Caravello                    
24 Gregorio Ladino Vega (Col) Tecos Trek VH                            
25 Francisco Matamoros Navarro (Mex) Tecos Trek VH                     
26 Yovanny Torres Castro (Col) Colombia Es Pasion                  2.32
27 Brent Bookwalter (USA) Priority Health                              
28 Cesar Augusto Grajales (Col) Navigators                             
29 Timo Honstein (Ger) Sparkasse                                       
30 Joshua Dillon (USA) Fiordifrutta                                    
31 Russel Downing (GBr) DFL - Cyclingnews - Litespeed                  
32 Diego Montoya (Col) Colombia Es Pasion                              
33 Brendan Brooks (Aus) FRF Couriers - Caravello                       
34 Bernie Sulzberger (Aus) DFL - Cyclingnews - Litespeed               
35 David Harrigan (Aus) DFL - Cyclingnews - Litespeed                  
36 Kane Oakley (Aus) DFL - Cyclingnews - Litespeed                     
37 Jamie Lamb (Can) Garneau - Optik                                    
38 Bryan Smith (USA) TIAA-CREF                                         
39 Ger Soepenberg (Ned) Altipower                                      
40 Richard Faltus (Cze) Sparkasse                                      
41 Dan Timmerman (USA) Fiordifrutta                                    
42 Tom Flammang (Lux) Sparkasse                                        
43 Dustin Macburnie (Can) Canadian National Team                       
44 William Frischkorn (USA) TIAA-CREF                                  
45 Austin King (USA) Jittery Joe's pb Zero Gravity                 2.50
46 Francois Parisien (Can) TIAA-CREF                               2.53
47 Derek McMaster (Can) Italpasta - Transport Belmire C.C.             
48 Phillip Cortes (Can) Garneau - Optik                            2.55
49 Satoshi Hirose (Jpn) Aisan Racing Team                              
50 Alexis Rojas Dias (Col) Colombia Es Pasion                          
51 Mitsuteru Tanaka (Jpn) Aisan Racing Team                            
52 Mathieu Roy (Can) Garneau - Optik                                   
53 Alexandre Lavallée (Can) Garneau - Optik                            
54 Matthew White (USA) Fiordifrutta                                    
55 Ian Macgregor (USA) TIAA-CREF                                       
56 Svein Tuft (Can) Symmetrics                                         
57 Philippe Abbott (Can) Italpasta - Transport Belmire C.C.            
58 Simon Kelly (Irl) Team Murphy & Gunn / Newlyn                       
59 Brian Sheedy (USA) Priority Health                              3.18
60 Kevin Miller (Can) Fiordifrutta                                     
61 Glen Alan Chadwick (Aus) Navigators                             3.24
62 Cody Stevenson (Aus) FRF Couriers - Caravello                       
63 Jacob P. Erker (Can) Symmetrics                                     
64 Bruno Langlois (Can) Canadian National Team                         
65 Martin Lazarski (Can) Canadian National Team                        
66 Ryan Roth (Can) Canadian National Team                              
67 Rodolfo Lopez (Mex) Tecos Trek VH                               3.44
68 Greg Reain (Can) Canadian National Team                         4.08
69 Christian Meier (Can) Symmetrics                                4.13
70 Miles Olman (Aus) South Australia.com - AIS                         
71 Hector Rangel Zimarron (Mex) Tecos Trek VH                          
72 Koki Simbo (Jpn) Aisan Racing Team                              5.35
73 Takeaki Ayabe (Jpn) Aisan Racing Team                           5.44
74 Andrew Pinfold (Can) Symmetrics                                 7.30
75 Tony Mann (Aus) FRF Couriers - Caravello                        9.19
76 David O'Brien (Can) Équipe Du Québec                                
77 Christopher Rozdilsky (USA) Fiordifrutta                            
78 Joel Dion-Poitras (Can) Calyon-Litespeed                            
79 Raphaël Tremblay (Can) Volkswagen Trek                              
80 Eric Boily (Can) Volkswagen Trek                                    
81 Peter McDonald (Aus) FRF Couriers - Caravello                       
82 Christian Lademann (Ger) Sparkasse                                  
83 Stefan Loffler (Ger) Sparkasse                                      
84 Frank Wierstra (Ned) Altipower                                      
85 Peter Woestenberg (Ned) Altipower                                   
86 Thoren Wieditz (Can) Italpasta - Transport Belmire C.C.             
87 Thijs Poelstra (Ned) Altipower                                      
88 Jesus Zarate Estrada (Mex) Tecos Trek VH                            
89 Brandon Crichton (Can) Symmetrics                                   
90 Peter Dawson (Aus) South Australia.com - AIS                        
91 Andrew Randell (Can) Symmetrics                                     
92 Michael Ford (Aus) South Australia.com - AIS                        
93 Tom Zirbel (USA) Priority Health                                    
94 Niek Asbroek (Ned) Altipower                                   13.37
95 Clovis Auger (Can) Volkswagen Trek                                  
96 Joshua Gewirtz (USA) Fiordifrutta                                   
97 Pim Van Den Berg (Ned) Altipower                                    
98 Ryan McKenzie (Can) Volkswagen Trek                            16.41
99 Jean-Sébastien Beland (Can) Volkswagen Trek                         
100 Daniel Maggiacomo (Can) Italpasta - Transport Belmire C.C.         
101 Peter Sanowar (Can) Italpasta - Transport Belmire C.C.             
102 Morgan Fox (Irl) Team Murphy & Gunn / Newlyn                       
103 Derek Burke (Irl) Team Murphy & Gunn / Newlyn                      
104 Condor Murphy (Irl) Team Murphy & Gunn / Newlyn                    
105 Jean-Sebastien Perron (Can) Calyon-Litespeed                       
106 Alexi Richer (Can) Équipe Du Québec                                
107 Evan Elken (USA) Jittery Joe's pb Zero Gravity                     
108 Sean Finning (Aus) South Australia.com - AIS                       
109 Richard England (Aus) Priority Health                              
110 Darren Shea (NZl) New Zealand national team                        
111 Glen Mitchell (NZl) Priority Health                                
112 Neil Shirley (USA) Jittery Joe's pb Zero Gravity                   
113 Peter Hatton (Aus) Jittery Joe's pb Zero Gravity                   
114 Joe McDonnell (Aus) FRF Couriers - Caravello                       
115 Charly Vives (Can) Calyon-Litespeed                           21.06
116 Ken Akita (Jpn) Aisan Racing Team                             21.23
117 Maxime Vives (Can) Calyon-Litespeed                           21.35
118 Erik Lyman (Can) Calyon-Litespeed                                  
119 David J. Richter (USA) Italpasta - Transport Belmire C.C.     32.38
120 Jean-Michel Lachance (Can) Garneau - Optik                         
DNF Chad Hartley (USA) TIAA-CREF                                       
DNF Rahsaan Bahati (USA) TIAA-CREF                                     
DNF Jeremy Vennell (NZl) DFL - Cyclingnews - Litespeed                 
DNF Sam Bewley (NZl) New Zealand national team                         
DNF Brooke Boocock (Can) Calyon-Litespeed                              
DNS Philip Wong (USA) Jittery Joe's pb Zero Gravity                    
DNS Marsh Cooper (Can) Symmetrics                                      
 
Teams
 
1 Navigators Insurance                                         13.39.47
2 Tecos Trek VH                                                    2.17
3 Team Sparkasse                                                   2.35
4 Team TIAA-CREF                                                   2.53
5 Italpasta - Transport Belmire C.C.                               3.37
6 Colombia Es Pasion                                               4.31
7 DFL - Cyclingnews - Litespeed                                    5.07
8 Garneau - Optik                                                  5.30
9 Fiordifrutta                                                     5.48
10 Priority Health Cycling                                         5.53
11 FRF Couriers - Caravello                                        5.59
12 Canadian National Team                                              
13 Symmetrics                                                      8.41
14 Aisan Racing Team                                               9.14
15 Équipe Du Québec                                               11.36
16 South Australia.Com - AIS                                      13.35
17 Altipower                                                      18.59
18 Jittery Joe's - Pb Zero Gravity                                19.34
19 Volkswagen Trek                                                30.04
20 Team Murphy & Gunn / Newlyn                                    34.06
21 Calyon-Litespeed                                               44.55
 
General classification after stage 2
 
1 Stefan Parinussa (Ger) Sparkasse                              8.22.26
2 Valeriy Kobzarenko (Ukr) Navigators                              1.58
3 John Fredy Parra Calada (Col) Tecos Trek VH                      2.06
4 David O'Loughlin (Irl) Navigators                                2.17
5 Danny Pate (USA) TIAA-CREF                                           
6 Sergey Lagutin (Uzb) Navigators                                  2.19
7 Fausto Esparza Munoz (Mex) Tecos Trek VH                         2.21
8 Cameron Hughes (Aus) Italpasta - Transport Belmire C.C.          2.33
9 Ciaran Power (Irl) Navigators                                    2.39
10 Jairo Salas Atehortua (Col) Colombia Es Pasion                  4.31
11 Jairo Hernandez (Col) Colombia Es Pasion                        4.34
12 Jarley Colorado Hernandez (Col) Colombia Es Pasion                  
13 Gregorio Ladino Vega (Col) Tecos Trek VH                            
14 Mark Walters (Can) Navigators                                   4.49
15 Cesar Augusto Grajales (Col) Navigators                             
16 Jean-Sébastien Maheu (Can) Équipe Du Québec                     4.51
17 Trent Wilson (Aus) Jittery Joe's pb Zero Gravity                    
18 Francisco Matamoros Navarro (Mex) Tecos Trek VH                     
19 Edward King (USA) Priority Health                               4.56
20 Zachary Garland (Can) Équipe Du Québec                              
21 David Veilleux (Can) Garneau - Optik                            5.03
22 Sebastian Frey (Ger) Sparkasse                                  5.04
23 Yovanny Torres Castro (Col) Colombia Es Pasion                  5.09
24 Diego Montoya (Col) Colombia Es Pasion                              
25 Dustin Macburnie (Can) Canadian National Team                       
26 Timo Honstein (Ger) Sparkasse                                   5.14
27 Richard Faltus (Cze) Sparkasse                                      
28 Brent Bookwalter (USA) Priority Health                          5.21
29 Bernie Sulzberger (Aus) DFL - Cyclingnews - Litespeed               
30 Ger Soepenberg (Ned) Altipower                                      
31 Brendan Brooks (Aus) FRF Couriers - Caravello                   5.25
32 Kane Oakley (Aus) DFL - Cyclingnews - Litespeed                     
33 Jamie Lamb (Can) Garneau - Optik                                    
34 Dominique Rollin (Can) Canadian National Team                   5.29
35 Cameron Jennings (Aus) DFL - Cyclingnews - Litespeed                
36 Francois Parisien (Can) TIAA-CREF                               5.35
37 Alexis Rojas Dias (Col) Colombia Es Pasion                      5.37
38 Ian Macgregor (USA) TIAA-CREF                                   5.44
39 Mitsuteru Tanaka (Jpn) Aisan Racing Team                        5.48
40 Philippe Abbott (Can) Italpasta - Transport Belmire C.C.            
41 Mathieu Roy (Can) Garneau - Optik                                   
42 Wesley Sulzberger (Aus) South Australia.com - AIS               5.59
43 Glen Alan Chadwick (Aus) Navigators                             6.06
44 Kevin Miller (Can) Fiordifrutta                                     
45 Dan Timmerman (USA) Fiordifrutta                                6.07
46 Cody Stevenson (Aus) FRF Couriers - Caravello                   6.13
47 Bruno Langlois (Can) Canadian National Team                         
48 David Harrigan (Aus) DFL - Cyclingnews - Litespeed              6.17
49 Martin Lazarski (Can) Canadian National Team                        
50 Bryan Smith (USA) TIAA-CREF                                         
51 Tom Flammang (Lux) Sparkasse                                        
52 Joshua Dillon (USA) Fiordifrutta                                    
53 Russel Downing (GBr) DFL - Cyclingnews - Litespeed                  
54 William Frischkorn (USA) TIAA-CREF                                  
55 Rodolfo Lopez (Mex) Tecos Trek VH                               6.31
56 Derek McMaster (Can) Italpasta - Transport Belmire C.C.         6.34
57 Austin King (USA) Jittery Joe's pb Zero Gravity                 6.35
58 Simon Kelly (Irl) Team Murphy & Gunn / Newlyn                   6.40
59 Phillip Cortes (Can) Garneau - Optik                                
60 Alexandre Lavallée (Can) Garneau - Optik                            
61 Hector Rangel Zimarron (Mex) Tecos Trek VH                      6.55
62 Brian Sheedy (USA) Priority Health                              7.03
63 Ryan Roth (Can) Canadian National Team                          7.09
64 Miles Olman (Aus) South Australia.com - AIS                     7.58
65 Koki Simbo (Jpn) Aisan Racing Team                              8.12
66 Christian Meier (Can) Symmetrics                                    
67 Takeaki Ayabe (Jpn) Aisan Racing Team                           8.26
68 Greg Reain (Can) Canadian National Team                         8.36
69 Matthew White (USA) Fiordifrutta                                9.03
70 Andrew Pinfold (Can) Symmetrics                                10.12
71 Satoshi Hirose (Jpn) Aisan Racing Team                         10.58
72 Tony Mann (Aus) FRF Couriers - Caravello                       12.12
73 Jesus Zarate Estrada (Mex) Tecos Trek VH                            
74 Peter McDonald (Aus) FRF Couriers - Caravello                       
75 Eric Boily (Can) Volkswagen Trek                               12.34
76 David O'Brien (Can) Équipe Du Québec                           12.55
77 Raphaël Tremblay (Can) Volkswagen Trek                         12.57
78 Stefan Loffler (Ger) Sparkasse                                      
79 Thoren Wieditz (Can) Italpasta - Transport Belmire C.C.        13.04
80 Michael Ford (Aus) South Australia.com - AIS                        
81 Frank Wierstra (Ned) Altipower                                      
82 Peter Woestenberg (Ned) Altipower                                   
83 Peter Dawson (Aus) South Australia.com - AIS                        
84 Thijs Poelstra (Ned) Altipower                                      
85 Svein Tuft (Can) Symmetrics                                    13.32
86 Jacob P. Erker (Can) Symmetrics                                13.41
87 Christian Lademann (Ger) Sparkasse                             15.48
88 Tom Zirbel (USA) Priority Health                               16.18
89 Andrew Randell (Can) Symmetrics                                16.43
90 Clovis Auger (Can) Volkswagen Trek                             17.22
91 Pim Van Den Berg (Ned) Altipower                                    
92 Joshua Gewirtz (USA) Fiordifrutta                                   
93 Peter John Herzig (Aus) FRF Couriers - Caravello               18.00
94 Niek Asbroek (Ned) Altipower                                   18.10
95 Joel Dion-Poitras (Can) Calyon-Litespeed                       18.41
96 Peter Hatton (Aus) Jittery Joe's pb Zero Gravity               19.34
97 Brandon Crichton (Can) Symmetrics                              19.36
98 Christopher Rozdilsky (USA) Fiordifrutta                       19.56
99 Jean-Sébastien Beland (Can) Volkswagen Trek                    20.26
100 Joe McDonnell (Aus) FRF Couriers - Caravello                       
101 Peter Sanowar (Can) Italpasta - Transport Belmire C.C.        22.31
102 Alexi Richer (Can) Équipe Du Québec                                
103 Condor Murphy (Irl) Team Murphy & Gunn / Newlyn               22.35
104 Ryan McKenzie (Can) Volkswagen Trek                           22.45
105 Glen Mitchell (NZl) Priority Health                                
106 Richard England (Aus) Priority Health                         23.57
107 Charly Vives (Can) Calyon-Litespeed                           24.51
108 Maxime Vives (Can) Calyon-Litespeed                           25.13
109 Erik Lyman (Can) Calyon-Litespeed                             25.20
110 Derek Burke (Irl) Team Murphy & Gunn / Newlyn                 26.03
111 Jean-Sebastien Perron (Can) Calyon-Litespeed                       
112 Neil Shirley (USA) Jittery Joe's pb Zero Gravity              26.58
113 Sean Finning (Aus) South Australia.com - AIS                       
114 Ken Akita (Jpn) Aisan Racing Team                             30.07
115 Daniel Maggiacomo (Can) Italpasta - Transport Belmire C.C.    32.34
116 Evan Elken (USA) Jittery Joe's pb Zero Gravity                     
117 Darren Shea (NZl) New Zealand national team                   32.58
118 Morgan Fox (Irl) Team Murphy & Gunn / Newlyn                  33.45
119 David J. Richter (USA) Italpasta - Transport Belmire C.C.     36.51
120 Jean-Michel Lachance (Can) Garneau - Optik                    42.55
 
Points classification
 
1 Stefan Parinussa (Ger) Sparkasse                                   35 pts
2 Sergey Lagutin (Uzb) Navigators                                    25
3 John Fredy Parra Calada (Col) Tecos Trek VH                        24
4 Valeriy Kobzarenko (Ukr) Navigators                                23
5 David O'Loughlin (Irl) Navigators                                  21
6 Danny Pate (USA) TIAA-CREF                                         19
7 Fausto Esparza Munoz (Mex) Tecos Trek VH                           16
8 Ciaran Power (Irl) Navigators                                      15
9 Cameron Hughes (Aus) Italpasta - Transport Belmire C.C.            13
10 Jairo Hernandez (Col) Colombia Es Pasion                          13
11 Jairo Salas Atehortua (Col) Colombia Es Pasion                    11
12 Cesar Augusto Grajales (Col) Navigators                            7
13 Sebastian Frey (Ger) Sparkasse                                     7
14 Jarley Colorado Hernandez (Col) Colombia Es Pasion                 5
15 Jean-Sébastien Maheu (Can) Équipe Du Québec                        5
16 Dominique Rollin (Can) Canadian National Team                      5
17 Gregorio Ladino Vega (Col) Tecos Trek VH                           4
18 Edward King (USA) Priority Health                                  4
19 Mark Walters (Can) Navigators                                      3
20 Trent Wilson (Aus) Jittery Joe's pb Zero Gravity                   3
21 Christian Meier (Can) Symmetrics                                   2
22 Rodolfo Lopez (Mex) Tecos Trek VH                                  2
23 Wesley Sulzberger (Aus) South Australia.com - AIS                  1
24 Kevin Miller (Can) Fiordifrutta                                    1
 
Mountains classification
 
1 Sergey Lagutin (Uzb) Navigators                                    18 pts
2 William Frischkorn (USA) TIAA-CREF                                 15
3 Stefan Parinussa (Ger) Sparkasse                                   15
4 Danny Pate (USA) TIAA-CREF                                         14
5 Jarley Colorado Hernandez (Col) Colombia Es Pasion                 14
6 Peter McDonald (Aus) FRF Couriers - Caravello                      11
7 John Fredy Parra Calada (Col) Tecos Trek VH                         9
8 David O'Loughlin (Irl) Navigators                                   9
9 Hector Rangel Zimarron (Mex) Tecos Trek VH                          8
10 Jean-Sebastien Perron (Can) Calyon-Litespeed                       8
11 Ciaran Power (Irl) Navigators                                      7
12 Cameron Hughes (Aus) Italpasta - Transport Belmire C.C.            6
13 Cesar Augusto Grajales (Col) Navigators                            6
14 Yovanny Torres Castro (Col) Colombia Es Pasion                     6
15 Peter Woestenberg (Ned) Altipower                                  6
16 Francisco Matamoros Navarro (Mex) Tecos Trek VH                    4
17 Valeriy Kobzarenko (Ukr) Navigators                                3
18 Mark Walters (Can) Navigators                                      3
19 Rodolfo Lopez (Mex) Tecos Trek VH                                  3
20 Fausto Esparza Munoz (Mex) Tecos Trek VH                           2
21 Trent Wilson (Aus) Jittery Joe's pb Zero Gravity                   2
22 Gregorio Ladino Vega (Col) Tecos Trek VH                           2
23 Tom Zirbel (USA) Priority Health                                   2
24 Glen Alan Chadwick (Aus) Navigators                                1
 
Team classification
 
1 Navigators Insurance                                         25.11.55
2 Tecos Trek VH                                                    4.43
3 Team Sparkasse                                                   5.48
4 Team TIAA-CREF                                                   8.15
5 Colombia Es Pasion                                               9.02
6 Italpasta - Transport Belmire C.C.                              10.22
7 DFL - Cyclingnews - Litespeed                                   11.16
8 Garneau - Optik                                                 11.39
9 Canadian National Team                                          11.52
10 FRF Couriers - Caravello                                       12.08
11 Priority Health Cycling                                        12.43
12 Fiordifrutta                                                   13.31
13 Aisan Racing Team                                              15.00
14 Équipe Du Québec                                               18.05
15 Symmetrics                                                     20.02
16 South Australia.Com - AIS                                      22.24
17 Jittery Joe's - Pb Zero Gravity                                26.23
18 Altipower                                                      26.52
19 Volkswagen Trek                                                38.23
20 Team Murphy & Gunn / Newlyn                                    50.41
21 Calyon-Litespeed                                               53.37