The Advertiser Women's Criterium Series - NE
Australia, January 17-21, 2006
Main Page Results Overall standings Next Stage
Stage 1 - January 17: East End Adelaide Street Race, 5:30pm, 30 min + 1 lap
Defending champion opens on a high
By Anthony Tan in Adelaide
Jenny MacPherson (Vic)
Photo ©: Mark Gunter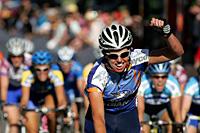 Continuing where she left off 12 months ago, defending series winner Jenny MacPherson won the opening round of the The Advertiser Women's Criterium Series at Adelaide's East End circuit. Coming off newly-crowned Australian road champion Kate Bates' wheel with 200 metres to go, it was a drag race between the pair right to the line, but after calling for the photo finish, the Victorian Institute of Sport rider had edged out Bates by millimetres, followed by Queensland's Bridget Evans in third.
"There was so many attacks during the race; I knew it was draining everyone's legs, so that's why I just tried to keep in the seat as long as I could," said the 28 year-old from South Yarra, Victoria. "Whether it was won by one centimetre or ten, it didn't matter!"
Asked how confident she was of outsprinting the girl with the green and gold stripes, MacPherson told Cyclingnews she really didn't know, but knew Kate Bates was a wheel worth watching.
"She's got the confidence from her win at the national road race last week, and with her form leading up to the Commonwealth Games, she was definitely one to be watching in the sprint. After the nationals last week, I knew it was going to be a tough race.
Australian Criterium Champion
Photo ©: CJ Farquarson

Explained MacPherson, "I left it as late as I could, just sitting down on her [Bates'] wheel, and just sort of hoped I had enough in the last 100 metres to have enough of a kick to get her at the line."
The oppressive heat and all-out sprint left her rosy-faced, but post-race, the first-round winner was revelling in her success, no doubt looking forward to defending her title in 2006. "Everyone was looking forward to showing off a good race in front of a big crowd here in Adelaide. It [last year's title] was my first big win of my career, so I was really looking forward to coming back to racing here. The crowds just make it such an awesome event," she said.
How it unfolded
As always, the East End
Photo ©: Rachel Burke

In stifling conditions, around 40 of Australia's best female cyclists lined up ten wide by four rows deep for the 5.30pm start. Katie Brown, sister of Rabobank pro Graeme Brown and one of the five survivors from that fateful day in Germany seven months ago, was proving a bubbly co-commentator alongside ubiquitous Aussie cycling announcer Stuart Doyle.
Asked how her bro was doing in old Europe, Katie told the audience that 'Brownie' was already in Belgium, about to leave for the team's first training camp in... you guess it, Spain. "I just spoke with him two days ago, and he told me it was 13 degrees," she said with a wry grin, a stark contrast from the weather in Rundle Road that was around 33 and appeared to be rising.
Straight after the start, Maria Szczerka was dropped, and already by the second lap, the ladies' lap time had been cut by 20 seconds, completing the two kilometre circuit in around 2 minutes 40. On lap three, young NSW rider Amanda Spratt, instigator of the winning move that decided last weekend's national road title, and Olivia Gollan animated proceedings, but they were brought back within a lap.
Amanda Spratt
Photo ©: Rachel Burke

Lap 5 saw the clock tick over the 14-minute mark, and it was Gollan again in the move, this time with a pair of Kates - Nichols and Bates - causing the bunch to further fragment before mostly regrouping. Two laps more and it was Liv yet again, establishing the best gap of the evening with NSWIS' Sally Cowman, yet the high heat and high pace brought that too to nought as Australian road champ Katherine Bates lead a flying, arrow-shaped peloton over the start-finish line.
With just under 10 minutes to go, Adelaide's East End resembled a wood-fired pizza oven - all that was needed was, well, the pizza - and maybe a few cold Coopers.
This (the heat, not the pizza or beer), combined with a non-technical circuit - just the one generously-shaped hairpin at the end of East Terrace - did its best to shut down any breaks, and despite Gollan, Natalie Bates and Jenny MacPherson getting a mini-break with two laps remaining, it was all together at the bell.
Explained MacPherson: "Because of the heat it made it so much harder, and the back straight with the headwind... We could just feel ourselves getting slower and slower [out front] and just couldn't do anything about it because of the heat and the wind."
And so the stage was set for a bunch sprint...
The three place winners
Photo ©: Rachel Burke

Rounding the final corner with 400 to go, it was a trio of New South Welshwomen as Gollan lead Kate Bates and Emma Mackie. As the feisty Liv tired, peeling off at the 200 metre mark, it was left to Bates to start her sprint early - possibly earlier than she wanted. Astutely, MacPherson left her run a little later, diving on Bates' wheel at this point, coming off it 100 metres later, before clipping past her in a drag race to the line.
"I just jumped on her wheel at 200 to go and just tried to stay there - luckily, no one else could come past us," said a jubilant MacPherson, revealing that she had spent all of last winter regaining her strength on an ergo after a bad crash. "I was a bit disappointed with my tenth place at the road race last week, so this makes up for that!"
Photography
For a thumbnail gallery of these images, click here
Images by Mark Gunter/www.pbase.com/gunterphotograph
Images by Rachel Burke/www.maximumattack.biz
Images by CJ Farquarson/www.womenscycling.net
Results
1 Jenny MacPherson (Vic) Carnegie Caufield 
2 Kate Bates (NSW) 
3 Bridget Evans (Qld) Fast-Practice Bicycle.com
4 Sallyanne Cowman (Qld) 
5 Amanda Spratt (NSW) 
6 Briana James  (Vic) Carnegie Caufield
7 Hannah Banks (Qld) Uni of Queensland 
8 Emma Mackie (Qld) Uni of Queensland 
9 Kate Mercer (Qld) Uni of Queensland 
10 Kate Nichols (NSW) 
11 Belinda Diprose (NSW) Lidcombe Auburn
12 Olivia Gollan (NSW) 
13 Vicki Eustace (ACT) Canberra 
14 Emma Gaul (Vic) Footscray
15 Sheba Farrin (SA) Hub Racing
16 Leeanne Manderson (WA) Northern Districts
17 Tiffany Cromwell (SA) Norwood
18 Natalie Bates (NSW) 
19 Nicole Whitburn (SA) 
20 Carlee Taylor (SA) Norwood

Overall standings after race 1

1 Jenny MacPherson (Vic) Carnegie Caufield         40 pts
2 Kate Bates (NSW)                                 38
3 Bridget Evans (Qld) Fast-Practice Bicycle.com    36
4 Sallyanne Cowman (Qld)                           34
5 Amanda Spratt (NSW)                              32
6 Jessica Maclean (ACT)                            30
7 Hannah Banks (Qld) Uni of Queensland             28
8 Emma Mackie (Qld) Uni of Queensland              26
9 Kate Mercer (Qld) Uni of Queensland              24
10 Kate Nichols (NSW)                              22
11 Belinda Diprose (NSW) Lidcombe Auburn           20
12 Olivia Gollan (NSW)                             18
13 Vicki Eustace (ACT) Canberra                    16
14 Emma Gaul (Vic) Footscray                       14
15 Sheba Farrin (SA) Hub Racing                    12
16 Leeanne Manderson (WA) Northern Districts       10
17 Tiffany Cromwell (SA) Norwood                    8
18 Natalie Bates (NSW)                              6
19 Nicole Whitburn (SA)                             4
20 Carlee Taylor (SA) Norwood                       2