Jayco Bay Cycling Classic - NE
Geelong, Australia, January 4-8, 2006
Main Page Results Overall standings Previous Stage
Stage 5 - January 8: Docklands
Controversial finish to Bay Classic
By Mal Sawford in Docklands
Hilton Clarke
Photo ©: Shane Goss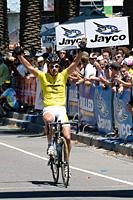 Hilton Clarke (Portfolio Partners) and Katie Mactier (Jayco VIS) ran out the overall winners of the 2006 Jayco Bay Cycling Classic after the stage wins went to Kate Bates (Pitcher Partners) and Mark Renshaw (Skilled).
With Mactier leading her closest rival Oenone Wood (Mercure Hotel), by 12 points going into the stage, the only way for her to lose would have been to for Wood to win the final stage and Mactier to finish out of the top ten. With the support of a strong team, that was never a realistic probability, while the battle between Clarke and Greg Henderson (Drapac-Porsche Development Team) was expected to go right down to the wire with Henderson only needing to have a better top ten finish than Clarke to steal the overall win.
As expected, Mactier had little trouble keeping Wood in check, and crossed the line fourth behind the winner. The expected battle between Clarke and Henderson evaporated when two groups of riders broke clear of the peloton to mop up all the points on offer. Clarke and his team mates were more than happy to see the moves go, and the Drapac-Porsche boys eventually ran out of legs trying to bring the breaks back. Afterwards, controversy boiled when some of te Drapac team accused Clarke of cheating through the 'free lap for a crash' rule.
Held on a hot dog circuit with 550 metre long straights and uncommon right handed hairpin corners, the final stage always attracts a good crowd to Melbourne's revitalised Docklands precinct.
Elite Women
Women's series leader
Photo ©: Shane Goss

The opening laps of the women's race saw the Jayco VIS team setting the tempo, before Hayley Brown (Pitcher Partners) kicked off the first attack, going clear with 2004 Junior World's Points Champion Amanda Spratt (Werribee Mansion Hotel), Jessie Maclean (Canberra Capitals) and Jayco 'ticket collector' Emma Rickards.
With a win to any rider other than Oenone Wood guaranteeing Mactier her first Bay Classic title, there was no surprise when the Jayco VIS team stopped working, but the chase eventually came from third placed Belinda Goss (Volvo Team T5), who pulled the field back together.
A counter attack from Kate Nichols and Kirsty Bortolin (BikeNOW) near the first sprint didn't get far, with Mactier taking the sprint ahead of sprint leader Jo Kiesanowski (Pitcher Partners) and Wood to close to within one point of Kiesanowski. Mactier's sprint was so powerful it took the placegetters, Nichols and Kate Bates (Pitcher Partners) clear of the bunch, to an eight second advantage. Toireasa Ryan crossed the gap, and the six leaders looked to be riding away with the race before Skye-Lee Armstrong (Werribee Mansion Hotel), began to reduce the deficit.
The field
Photo ©: Shane Goss

When the gap was down to 30 metres, Goss shot across the gap, and the break pulled clear again, before a more organised chase saw the field together near the second intermediate sprint. A counter attack from Jenny Macpherson (Jayco VIS) and Bates was still clear to take the points for the sprint, ending Mactier's chance of finishing the series in both the Leader and Sprint Queen jerseys, before the field reassembled with nine laps to race.
Nichols attacked eight laps out, and soon had Kiesanowski, Maclean and Rickards for company, but their escape was short lived. Spratt counter-attacked in the back straight and survived until the third last lap, when the 22 survivors were together once more. Nichols tried one last attack on the penultimate lap, before Wood's team mate Emma Mackie wound up the pace to try to set up her team leader.
The dash down the back straight saw Macpherson bring Mactier into the ideal position, before Kate Bates surged to lead into the final corner. Despite an 'unusual' line through the corner, Bates remained upright and powered home to claim Pitcher Partners third stage win. Wood sprinted into second place ahead of Nichols and Mactier, but hadn't been able to prevent Mactier winning her first Bay Classic title.
Kate Bates (Pitcher Partners)
Photo ©: Shane Goss

Bates, the winner of the Bay Classic in 2003, was naturally delighted with her win, saying, "We've had a really amazing team actually, which has a few times left me without the opportunity [to go for the win myself], because the girls have taken it earlier and been in the break. It was a fantastic team effort today and we were in every move, and at the end I was hoping to help Jo Kiesanowski. but as it turned out I'm going through the corners like a 'hubbard' [Australian slang for a novice cyclist with questionable bike handling skills] so I think I put them off a little bit and I got the jump out of the corner. Yeah, I'm stoked with that. Ensuring I was first round the corner was what did it for me."
Mactier was delighted to be the first local winner of the women's event since Anna Millward in 2001, and no doubt a little relieved after being heavily promoted as the big Victorian hope by event organisers for the past few years.
Asked how it felt to have won the series, Mactier answered, "I was a bit tired in the legs today first and I think first and foremost it was about keeping upright and safe, and out of harm's way. To win the overall was pretty much the intent after day one, to defend it to the finish, and the team's done a superb job in helping me do that and I'm very thankful. I would have liked to win today's stage, but I got boxed in coming into the straight and that was that."
When asked what confidence her early season form gave her for the Commonwealth Games in March, she felt "that we're on track. The road nationals is very important to me, because I'm looking to impress selectors to try and make the Commonwealth Games road squad, not to mention the track squad. Melbourne's going to throw such a fantastic event on and I just want to be able to go out there and not only do my best, but go close to personal best times."
Elite Men
Robbie McEwen (L), (Volvo Team T5)
Photo ©: Shane Goss

With Clarke's Portfolio Partners team hoping for a sizeable break to disappear up the road, there were plenty of opportunists ready to have a go. Nic Sanderson (Volvo Team T5) joined David Pell (Team UNO), James Maebus (McKnight's Retravision/Fisher & Paykel), and Sean Finning (Jayco VIS) in the first move, but in the early stages Drapac-Porsche powerhouse Christian Lademann kept the bunch within striking distance. Two falls in the opening 10 minutes saw firstly Henderson and then Clarke caught up, but both were able to rejoin the pack without difficulty.
Not so fortunate was overnight sprint leader Trent Wilson (Grand Mercure). Although uninjured in his tumble, a broken rear derailleur put him out of the race, and soon after Will Walker (Jayco VIS) infiltrated an attack that was still clear at the 15 minute sprint. Walker crossed the line in second place behind David Kupka (Volvo) to move within one point of Wilson's overnight total.
As Wilson chewed his fingernails to the quick, six riders went clear, and with Wilson cheering them on, held off the bunch for the second sprint. In the move were new Australian Criterium Champion Richard England (Jayco/Giant), Chris Jongewaard (McKnight's Retravision/Fisher & Paykel), Jonathan Clarke (Jayco VIS), Domenic Gatto (Richmond Cyclery/Promains), Cody Stevenson (FRF Couriers – Caravello) and Mitchell Docker for the Drapac-Porsche team.
Not happy Jan
Photo ©: Shane Goss

Mark Renshaw (Skilled) and Pell set off in pursuit, and while Pell tired, Renshaw was able to reach the lead group. The seven riders steadily increased their advantage, and were close to 40 seconds clear nearing the final intermediate sprint – and as none were a threat to Wilson's Green Jersey aspirations, the nervous climber could finally relax, having taken out the first sprint competition of his career.
With the break working smoothly, and Docker persuaded to start rolling through, the first seven places were all but decided. When Simon Gerrans (Pitcher Partners) sparked a chase group with David Kupka (Volvo) and Dean Windsor (Werribee Mansion Hotel –NSWIS), and opened a five second advantage, Henderson was forced to lead the chase to preserve any chance of claiming the point he needed to claim the overall win. Despite Lademann also sacrificing everything to help his teammate, the three chasers pulled away, and the battle for the series win was over.
Jonathan Clarke attacked the lead group before the final corner, but was swamped, as Mark Renshaw flew home to record his first win in the event ahead of Docker and Jongewaard. Renshaw was relieved to record a big win to end a significant dry spell, admitting, "It's been certainly a long time since I've had a win of this standard where I can put myself up against Robbie and Baden and those guys. It's certainly a confidence booster knowing I can go to the National Titles with a bit of form under my belt."
The men's field
Photo ©: Shane Goss

Having twice finished second in the series to six time winner Robbie McEwen, Clarke was delighted to have taken the win, but despite there being 10 riders up the road, he hadn't felt confident of the win until "the last corner."
Clarke believed he could have had a bigger buffer going into the final stage had he ridden defensively after taking the lead in the second stage, but for his determination to win the Australian Champion's Jersey. "The National Title made everything a lot closer, because I tried to put everything on the line and didn't think of the overall, so it was really close. Really, going to bed last night I really thought I had a tough job on my hands because Greg is riding really quickly, sprinting really well, so we come up with a plan, and stuck to it all race and it ended up working out."
Their plan took a leaf out of the McEwen tactical handbook, as Clarke explained, "Robbie's done it twice to me on the last stage. Christian and Greg were the strength of their team, so we really just put pressure on them from the word go and I really at the very start just did nothing, and followed Greg around the whole time and just waited and it worked out. The last race can end up being a real negative race once you've got the lead. That's the way you've got to ride to win the series.
Mark Renshaw (Skilled)
Photo ©: Shane Goss

"I really wanted to win the National Criterium title, it's a real objective of mine, but also I've being trying to win this series for so long, and I'm so happy to get it. I'm about to start my second year with Navigators, and we do do a lot of Criteriums in America, and I know my team will be really happy with what happened."
Looking ahead to the Nationals and the Jacob's Creek Tour Down Under, Clarke is hoping for a much improved performance in 2006. "Personally, I've always come here giving everything, and I've never rode well at the Road Nationals. I'm really looking to change that. I have been training a lot differently this year, not doing so much sprinting and trying to work on my endurance to try to get round the road course, but it might take me a few more years to get round those sort of circuits."
Accusations of cheating
Hilton Clarke (Portfolio Partners)
Photo ©: Shane Goss

What seemed like a straight forward result later degenerated into controversy, with some members of the Drapac-Porsche camp claiming Clarke had deliberately steered towards the early crash to take advantage of the free lap rule, instead of chasing. Incensed team staff had confronted race officials, and were extremely disappointed with the response from the commissaires – although it must be noted no official protest was lodged. Team coach John Beasley was forthright in his condemnation of the lack of official action, saying, "I haven't got any sour grapes - except for the commissaires. If they can't adjudicate and make the right decisions and they allow people to cheat, well so be it. I'm happy with the ride my boys put up. We set out to win the teams section, and we were trying to get the (overall) win, and it's just unfortunate that it worked out the way it did, but that's bike racing. We've got long memories, so what goes around I believe comes around. There are bigger and better things for Greg in the future and his was just part of the preparation for the Commonwealth Games."
When pushed on whether he was sure Clarke cheated, Beasley pulled no punches: "He did. There was a commissaire on the corner. We made them aware, there were photographers on the corner, they certainly saw it. There were a lot of people that saw it, and at the same time I'll wear it, I'm not going to whinge. It's just unfortunate that the people who are supposed to adjudicate can't make hard decisions, and that's the thing that upsets me, it's not the fact that we got beaten, it's the fact that there are people who are supposed to make the right decisions for our sport and unfortunately that wasn't that case today. We're not going to protest. We believe in fair play and we're good sports. I'm very proud of our boys; we did everything we could to try and win the race, it's just a shame the way it ended."
Clarke couldn't understand the fuss, noting that, "Greg got caught behind one (fall) and took a lap out, and then there was another one straight after it so I decided to take a lap out; so I thought that was fair. Me and Greg are good friends, we've actually come here for so many years together and tried to win the series, and Greg and I said before the start it's got to be one of us two to win the series and no-one else, so there's still a lot of friendship there between me and Greg."
Drapac-Porsche manager Rob Young was largely oblivious to the incident, as he had driven the lead car during the race, and for his part Henderson hadn't seen Clarke's alleged misdemeanour either. Henderson felt they had been beaten by "the stronger team on the day, and there wasn't much I could do about it really. Hilton was obviously very interested in letting all the points go up the road. We sort of ran out of horsepower. It came down to Christian and myself, and you can't cover everything – if we start trying to cover everything to keep everything together, I then have to try and beat Hilton in a sprint with tired legs. It was a very difficult situation for me today. Close to winning it this time, but maybe next year!"
Support men
The men's support series winner
Photo ©: Shane Goss

Close to 40 riders survived in the main bunch of the support race to battle for the win, the largest group to complete a support race for many years. Local sprinter Gary Mueller (Hillman Cycles) led into the final corner and powered home for a good win to cap off a good series. Stage 4 winner Julian Dutton (BikeNOW) held off Scottish Commonwealth Games hope Evan Oliphant (Team UNO), whose third place finish on his 24th birthday ensured he would run out the series winner. Mueller vaulted into second place courtesy of his win, with Dutton also moving up the leader board to finish the five race series in third place.
Victorian Under 17 Criterium Championships
After an attacking 30 minute race that saw the lead group down to 10 riders, overwhelming favourite Peter Johnstone (Inexa Race Frames) rounded the final corner in second wheel and set sail for home, but was surprised by Carnegie Caulfield club mate Michael Downing (Beasley Cycles) who produced an impressive sprint to claim the Victorian Championship. Johnstone held off Trevor Griffiths for the silver medal, with Damion Drapac (Drapac-Porsche Development Team) close behind.
Georgina Freeland of the Stawell-Great Western club led the girls home, but second place finisher Brittany Foster (Team UNO) was disqualified from her second place finish for a gear limit infraction, elevating Brunswick's Kendelle Hodges to the silver medal.
Photography
For a thumbnail gallery of these images, click here
Images by Shane Goss/www.licoricegallery.com
Results
Elite Men
 
1 Mark Renshaw (NSW) Skilled                                    12 pts
2 Mitchell Docker (Vic) Drapac-Porsche Cycling Team             10
3 Chris Jongewaard (SA) Mcknight's RetraVISion/Fisher Paykel     8
4 Richard England (Vic) Jayco/Giant                              7
5 Cody Stevenson (NSW) Frf Couriers - Caravello                  6
6 Domenic Gatto (Vic) Richmond Cyclery/Promains                  5
7 Jonathon Clark (Vic) Jayco VIS                                 4
8 Simon Gerrans (Vic) Pitcher Partners                           3
9 David Kupka (Cze) Volvo Team T5                                2
10 Dean Windsor (Vic) Werribee Mansion Hotel - NSWIS             1
 
Sprints
 
Sprint 1
 
1 David Kupka (Cze) Volvo Team T5                                3 pts
2 Will Walker (Vic) Jayco VIS                                    2
3 Dean Windsor (Vic) Werribee Mansion Hotel - NSWIS              1
 
Sprint 2
 
1 Richard England (Vic) Jayco/Giant                              3 pts
2 Chris Jongewaard (SA) Mcknight's RetraVISion/Fisher Paykel     2
3 Jonathon Clark (Vic) Jayco VIS                                 1
 
Sprint 3
 
1 Chris Jongewaard (SA) Mcknight's RetraVISion/Fisher Paykel     3 pts
2 Jonathon Clark (Vic) Jayco VIS                                 2
3 Cody Stevenson (NSW) Frf Couriers - Caravello                  1
 
Teams
 
1 Skilled                                                       12 pts
2 Drapac-Porsche Cycling Team                                   10
3 Mcknight's Retravision/Fisher Paykel                           8
4 Jayco/Giant                                                    7
5 Frf Couriers - Caravello                                       6
6 Richmond Cyclery/Promains                                      5
7 Jayco Vis                                                      4
8 Pitcher Partners                                               3
9 Volvo Team T5                                                  2
10 Werribee Mansion Hotel - Nswis                                1
 
Elite Women
 
1 Katherine Bates (NSW) Pitcher Partners                        12 pts
2 Oenone Wood (ACT) Mercure Hotel Welcolme                      10
3 Kate Nichols (NSW) St George CC                                8
4 Katie Mactier (Vic) Jayco VIS                                  7
5 Belinda Goss (Tas) Volvo Team T5                               6
6 Jo Kiesonowski (NZl) Pitcher Partners                          5
7 Hayley Brown (WA) Pitcher Partners                             4
8 Teressa Ryan (Vic) Mercure Hotel Welcolme                      3
9 Jenny Macpherson (Vic) Jayco VIS                               2
10 Emma Rickards (Vic) Jayco VIS                                 1
 
Sprints
 
Sprint 1
 
1 Katie Mactier (Vic) Jayco VIS                                  3 pts
2 Jo Kiesonowski (NZl) Pitcher Partners                          2
3 Oenone Wood (ACT) Mercure Hotel Welcolme                       1
 
Sprint 2
 
1 Jenny Macpherson (Vic) Jayco VIS                               3 pts
2 Katherine Bates (NSW) Pitcher Partners                         2
3 Marina Duvnjak (NZl) Siemens                                   1
 
Teams
 
1 Pitcher Partners                                              21 pts
2 Mercure Hotel Welcolme                                        13
3 Jayco Vis                                                     10
4 Volvo Team T5                                                  6
 
Support Men
 
1 Gary Mueller (Vic) Brunswick Cycling Club Inc                 12 pts
2 Julian Dutton (Vic) Carnegie Caulfield CC                     10
3 Evan Oliphant (Sco) Scotland                                   8
4 Dale Scarfe (NSW) Central Coast CC                             7
5 Fabio Calabria (ACT) Canberra Cycling Club                     6
6 James Mccallum (Sco) Scotland                                  5
7 Daniel Furmston (Tas) Hobart Wheelers                          4
8 Shaun Lewis (SA) Sturt Holdfast Marion CC                      3
9 Jacob Sutherland (Vic) Brunswick Cycling Club Inc              2
10 Andrew Stalder (Vic) Carnegie Caulfield CC                    1
 
Sprints
 
Sprint 1
 
1 Dale Scarfe (NSW) Central Coast CC                             3 pts
2 Andrew Naylor (Vic) Blackburn Cycling Club Inc                 2
3 Richard Lang (NSW) Colnago-Caravello CC                        1
 
Sprint 2
 
1 Daniel Braunsteins (Vic) Hawthorn Citizens Youth Club          3 pts
2 Angus Morton (NSW) Port Macquarie                              2
3 Gavin Bates (NSW) St George CC                                 1
 
Final general classification
 
Elite Men
 
1 Hilton Clarke (Vic) Portfolio Partners                        30 pts
2 Greg Henderson (NZl) Drapac-Porsche Cycling Team              29
3 Mark Renshaw (NSW) Skilled                                    24
4 Robbie McEwen (Qld) Volvo Team T5                             24
5 Richard England (Vic) Jayco/Giant                             19
6 Christian Lademann (Ger) Drapac-Porsche Cycling Team          18
7 Chris Jongewaard (SA) Mcknight's RetraVISion/Fisher Paykel    16
8 Simon Gerrans (Vic) Pitcher Partners                          14
9 Peter Mcdonald (NSW) Frf Couriers - Caravello                 12
10 Trent Wilson (NSW) Grand Mercure On Swanston                 12
11 Mitchell Docker (Vic) Drapac-Porsche Cycling Team            11
11 Dean Windsor (Vic) Werribee Mansion Hotel - NSWIS            11
11 Will Walker (Vic) Jayco VIS                                  11
14 Baden Cooke (Vic) Portfolio Partners                         10
14 David Kupka (Cze) Volvo Team T5                              10
16 Jonathon Clark (Vic) Jayco VIS                                8
17 Simon Clarke (Vic) Jayco VIS                                  7
18 Cody Stevenson (NSW) Frf Couriers - Caravello                 6
18 David McPartland (Vic) Jayco VIS                              6
20 Domenic Gatto (Vic) Richmond Cyclery/Promains                 5
21 Jonny Walker (Vic) Pitcher Partners                           2
21 Tony Mann (NSW) Frf Couriers - Caravello                      2
21 Mark Kelly (IoM) Skilled                                      2
24 Ray Forbes (Vic) Portfolio Partners                           1
 
Elite Women
 
1 Katie Mactier (Vic) Jayco VIS                                 46 pts
2 Oenone Wood (ACT) Mercure Hotel Welcolme                      37
3 Belinda Goss (Tas) Volvo Team T5                              31
4 Jo Kiesonowski (NZl) Pitcher Partners                         22
5 Hayley Brown (WA) Pitcher Partners                            21
6 Katherine Bates (NSW) Pitcher Partners                        20
7 Sally Cowman (Qld) Werribee Mansion Hotel/NSWIS               20
8 Kate Nichols (NSW) St George CC                               20
9 Alexis Rhodes (SA) Pitcher Partners                           18
10 Jenny Macpherson (Vic) Jayco VIS                             14
11 Sara Carrigan (Qld) Pitcher Partners                         12
12 Olivia Gollan (NSW) Werribee Mansion Hotel/NSWIS              6
13 Tiffany Cromwell (Vic) Volvo Team T5                          5
14 Teressa Ryan (Vic) Mercure Hotel Welcolme                     4
15 Gemma Kenessy (Vic) Bike Now                                  3
15 Lisa Friend (Vic) Siemens                                     3
17 Jessie Maclean (ACT) Canberra Capitals                        2
17 Marina Duvnjak (NZl) Siemens                                  2
17 Belinda Diprose (NSW) Lidcombe Auburn CC                      2
20 Emma Rickards (Vic) Jayco VIS                                 1
21 Monique Hanley (Vic) Siemens                                  1
 
Support Men
 
1 Evan Oliphant (Sco) Scotland                                  38 pts
2 Gary Mueller (Vic) Brunswick Cycling Club Inc                 30
3 Julian Dutton (Vic) Carnegie Caulfield CC                     29
4 Fabio Calabria (ACT) Canberra Cycling Club                    27
5 Angus Morton (NSW) Port Macquarie                             20
6 Shaun Lewis (SA) Sturt Holdfast Marion CC                     20
7 Stephen Rossendell (Tas) Hobart Wheelers                      19
8 Dale Scarfe (NSW) Central Coast CC                            18
9 Daniel Braunsteins (Vic) Hawthorn Citizens Youth Club         14
10 Nicholas Walker (Vic) Brunswick Cycling Club Inc             13
11 David Tanner (NSW) NSW                                       10
12 Andrew Stalder (Vic) Carnegie Caulfield CC                    7
12 Leigh Howard (Vic) Geelong Cycle Club                         7
12 Casey Munro (Vic) Brunswick Cycling Club Inc                  7
15 Gavin Bates (NSW) St George CC                                6
15 Andrew Naylor (Vic) Blackburn Cycling Club Inc                6
17 James Mccallum (Sco) Scotland                                 5
18 Daniel Furmston (Tas) Hobart Wheelers                         4
18 Alexander James (Vic) Brunswick Cycling Club Inc              4
20 Jacob Sutherland (Vic) Brunswick Cycling Club Inc             3
21 David Salton (Vic) Warragul Cycling Club Inc                  2
22 Christopher Luxton (SA) Norwood C.C.                          1
 
Sprint Classification
 
Elite Men
 
1 Trent Wilson (NSW) Grand Mercure On Swanston                  11 pts
2 Will Walker (Vic) Jayco VIS                                   10
3 Greg Henderson (NZl) Drapac-Porsche Cycling Team               9
4 Hilton Clarke (Vic) Portfolio Partners                         9
5 Robbie McEwen (Qld) Volvo Team T5                              7
5 David Kupka (Cze) Volvo Team T5                                7
7 Jonathon Clark (Vic) Jayco VIS                                 6
7 Dean Windsor (Vic) Werribee Mansion Hotel - NSWIS              6
7 Chris Jongewaard (SA) Mcknight's RetraVISion/Fisher Paykel     6
10 Simon Gerrans (Vic) Pitcher Partners                          5
11 Richard England (Vic) Jayco/Giant                             4
11 Christian Lademann (Ger) Drapac-Porsche Cycling Team          4
13 Nick Sanderson (NSW) Volvo Team T5                            2
13 Ben Brooks (NSW) Skilled                                      2
15 Shaun Higgerson (NSW) Werribee Mansion Hotel - NSWIS          1
15 Cody Stevenson (NSW) Frf Couriers - Caravello                 1
 
Elite Women
 
1 Jo Kiesonowski (NZl) Pitcher Partners                         15 pts
2 Katie Mactier (Vic) Jayco VIS                                 14
3 Sara Carrigan (Qld) Pitcher Partners                           6
4 Oenone Wood (ACT) Mercure Hotel Welcolme                       5
5 Jenny Macpherson (Vic) Jayco VIS                               3
5 Amanda Spratt (NSW) Werribee Mansion Hotel/NSWIS               3
5 Sally Cowman (Qld) Werribee Mansion Hotel/NSWIS                3
5 Katherine Bates (NSW) Pitcher Partners                         3
5 Alexis Rhodes (SA) Pitcher Partners                            3
10 Hayley Brown (WA) Pitcher Partners                            2
11 Tiffany Cromwell (Vic) Volvo Team T5                          1
11 Olivia Gollan (NSW) Werribee Mansion Hotel/NSWIS              1
11 Marina Duvnjak (NZl) Siemens                                  1
 
Team Classification
 
Elite Men
 
1 Drapac-Porsche Cycling Team                                   58 pts
2 Portfolio Partners                                            41
3 Volvo Team T5                                                 34
4 Jayco Vis                                                     32
5 Skilled                                                       26
6 Frf Couriers - Caravello                                      20
7 Jayco/Giant                                                   19
8 Pitcher Partners                                              16
8 Mcknight's Retravision/Fisher Paykel                          16
10 Grand Mercure On Swanston                                    12
11 Werribee Mansion Hotel - Nswis                               11
12 Richmond Cyclery/Promains                                     5
 
Elite Women
 
1 Pitcher Partners                                              91 pts
2 Jayco Vis                                                     61
3 Mercure Hotel Welcolme                                        41
4 Volvo Team T5                                                 36
5 Werribee Mansion Hotel/Nswis                                  26
6 Siemens                                                        6
7 Bike Now                                                       3
8 Canberra Capitals                                              2