Latest Cycling News for May 11, 2006
Edited by Jeff Jones
Team time trial to shake up classification
Coming up on
Cyclingnews will cover the 60th edition of the Dauphiné Libéré live as of stage 4 on Wednesday, June 10, at approximately 15:00 local Europe time (CEST)/ 23:00 Australian time (CDT)/ 9:00 (USA East).

WAP-enabled mobile devices: http://live.cyclingnews.com/wap/

Today's flat fifth stage 38 km team time trial between Piacenza and Cremona should shake up the general classification in the Giro d'Italia. It's the first such event in the Giro since 1989, and unlike the Tour's team time trials in recent years, it will be scored on actual time. But, given the non-technical nature of the parcours, a maximum altitude difference of just 18 metres, and a likely tailwind, the times for the 38 km should not be too far apart.
Still, it's a race that will suit the powerhouse squads of Team CSC (Basso), T-Mobile (Gonchar, Rogers, Ullrich), and Discovery Channel (Savoldelli, Danielson), who have solid reputations in this discipline. Danilo di Luca's Liquigas squad should be able to stay close to the winning time, while Stefan Schumacher's Gerolsteiner, Damiano Cunego's Lampre-Fondital, Gilberto Simoni's Saunier Duval and Jose Rujano's Selle Italia may lose a little more. It's a big chance for riders like Basso and Savoldelli to gain some time on their opponents, who may have more of an edge in the mountains.
Join us for our live coverage of the teams race against the clock starting from 14:45 CEST.
Saunier Duval charity event for human rights
Saunier Duval-Prodir is organising a charity event for stage 6 of the Giro d'Italia, on Friday, May 12. In the context of its support for human rights with the slogan, "Free and equal, in sports as well," Saunier Duval will present a bicycle especially designed for the handicapped and give it to the Italian Paralympic Committee.
Hoste has five offers
Leif Hoste
Photo ©: Brecht Decaluwé

Leif Hoste is close to leaving Discovery Channel at the end of the season, reports sportwereld.be. The Belgian, who finished second in the Ronde van Vlaanderen and virtually second in Paris-Roubaix (but was disqualified for going through a train crossing), has better financial offers from five different teams: Davitamon-Lotto, Unibet.com, and three French ProTour squads.
"I've still not made a decision and am leaving the work up to my manager," Hoste was quoted as saying. But Discovery said that it will not match the offers of the other teams: "We didn't do it for Livingston, nor for Leipheimer, Hamilton, Boonen or Roberto Heras," said Johan Bruyneel. "That's not our style. But of course it's disappointing that he goes now at the moment that the time is ripe with Leif."
Martin Pedersen aims for USA comeback
CSC's Martin Pedersen experienced a setback last week when he crashed and broke his collarbone in the Grand Prix Herning in Denmark.
"We came to a graveled bit and I was simply way too fast in a turn," he said on team-csc.com. "I felt strong and thought I'd go full gas, so it was really too bad what happened."
Timing wise, the injury wasn't catastrophic for Pedersen. "I was supposed to do the Volta a Catalunya, but apart from that I don't have anything till June, so it could've been a lot worse. I've just started training indoors again now, and already in a couple of days I think I'll be able to do a bit on the road, if I take it easy.
"I'll leave it up to the doctors though, because I haven't had this kind of injury before, so I don't know yet if it's possible to put something in, which will keep my shoulders in place. Otherwise I'll just have to try, and if it doesn't hurt I have no worries."
Pedersen is hoping to be part of the CSC team that will compete in the Wachovia Cycling Series in Lancaster, Trenton and Philadelphia.
"I'm looking forward to that a lot and hope to be ready in time. After that we have a training camp in Luxembourg. Now I'll just have to look ahead and hope for the best. I hope to be in great shape by the time we get to Tour de l'Avenir and the World Championships."
Colavita/Cooking Light signs Holt
The Colavita/Cooking Light Women's Cycling Team has signed New Zealand's Melissa (Meshy) Holt for the remainder of the season. Holt, who has previously raced in North America with the Rona team and last year rode for Team S.A.T.S. from Denmark, started this year with a second place finish at the Geelong Tour, which kicked off 2006 international racing season in February. She followed that up with a fourth place finish at the Commonwealth Games time trial. Holt is a strong time trialist and is also good for the general classification in stage races.
"We are very excited to add a rider of Meshy's quality to our team, as both her ability and leadership on the bike are world class," said team director Jim Williams. Holt will make her debut at the Triple Crown race series starting with the Lancaster criterium.
Landbouwkrediet-Colnago at Tour de Picardie
The Landbouwkrediet-Colnago squad has been named for the three day Tour de Picardie, which runs from May 12-14. Fréderic Amorison, Bert De Waele, James Vanlandschoot, Kevin Neirynck, Steve Cummings, Mathieu Criquielion, Johan Verstrepen, and Sjef De Wilde. D.S.: Claude Criquielion.
The team reports that Jurgen Van Loocke is sick and cannot race. Also Paul Manning has to undergo a knee operation, and will be out for a month. He hopes to return in time for the national championships.
Konica Minolta in Japan
The Konica Minolta Continental Cycling Team has announced its lineup for the Tour of Japan, which begins on Sunday, May 14: Peter and Martin Velits, together with four young South African riders, John Lee Augustyn, Marnus Potgieter, Hanco Kachelhoffer, and Johann Rabie. Peter Velits has shown excellent form recently in Europe in the Tour of Bretagne, where he finished 4th overall on general classification
The six stage race starts on Sunday with a testing 140km stage consisting of 11 laps of the Senbuku Circuit. Stage 4 however will be the deciding factor in the Tour: an 11.4km time trial which rises almost 2000 meters in altitude.
"We are well prepared and we have a good team with depth, besides we are under pressure to perform next week," said team manager John Robertson. "This has been a big team objective for the team this year. Most of the other teams are going to be watching us closely as John Lee was already fifth overall in the Tour last year. Therefore, we are going to have to ride a smart race, but we are all confident and I have a lot of faith in the riders on this team who have shown a maturity beyond their years this season."
Milram gains Le Coq Sportif as sponsor
German/Italian team Milram is gaining a new sponsor: well known French clothing brand Le Coq Sportif. Le Coq Sportif has already been sponsoring the Quick.Step team since 2005, but has a much longer history in cycling than that. Between the years of 1950 and 1988, it sponsored the Tour de France.
Le Coq Sportif will supply Milram's casual clothing for the next four years, with the contract starting from May 1, 2006.
Irish Double Header
By Tommy Campbell, Irish Independent, Evening Herald, Sunday Independent
Orwell Wheelers and Dungarvan CUCC are concerned that their promotions on Sunday will hold the key to those finalising their programs for the upcoming FBD Insurance Ras, which will kick off on Sunday week. Taking place in Ballybough, Co. Dublin this Sunday, the Orwell club, who are sponsored by the Dundrum Town Centre, will stage a memorial double bill in honour of Noel and Aidan Hammond.
Philip Cassidy of MyHome.ie/Cycleways.com is the defending champion, but for the first time in years, he will not be on the start line for the Ras. He may be out of the big one, but you can be assured he'll give it a go on Sunday as the defending champion. Unfortunately, Philip will be without the services of Eugene Moriarty, who has been forced out of this event, but also the Ras. He was involved in a pile up in a race recently, but only last Friday did it come to the attention of a specialist that he had further complications which ended his dream of cycling into his home town of Listowel, which is hosting a stage in the Ras. He may be back in the saddle for the Irish championships, which are scheduled for Westport, Co. Mayo.
The course that the Orwell is using consists of the roads that were used for the Liam Toolan many years ago, but because of the volume of traffic they moved inland. Now they are back on familiar territory because those roads have been bypassed by the new motorway.
The infamous 'Nags Head' climb is still part of the course. Six times up that little blip sorts the men from the boys. Runner-up here last year was Bill Moore of the MDonnelly-Stamullen Road Club, and he should be one of the favourites again.
"Of course it would be an ideal world for us if one of the club members was to succeed," said Aidan the organiser of the Ballyboughal events. "Especially since our sponsor Dundrum Town Centre are involved with the promotion. In a usual turn of events, the winner of the junior race, Simon Williams from the Orchard CC, is coming in defence of his title. Naturally Simon will be hoping to do well, so he can plan later for the upcoming MDonnelly Junior Tour in July."
Or could Colm Bracken, a winner of the Waller Cup and Coombes Conor over the last two weekends, be the surprise packet of the Noel Hammond Memorial?
Also on Sunday, Dungarvan, the local club is anticipating a big turnout, and here Michael Hennessy from Fermoy is the title holder. The course around Milstreet (Co. Waterford) includes a stiff climb which will be met on three occasions on the 23-mile lap. If, as anticipated, the local hero, Ciarán Power of the Navigators Insurance makes an appearance, Michael will have his work cut out to remain in situ as the holder.
Back in action after a lengthy lay off, Power has been saying that he has little miles in the legs, but on the showing of the Tour of Ulster and last Sunday in Carrick-on-Suir, he must have carried them over from last year. He'll be the one to watch also in the coming weeks. Anyway, Ciarán is delighted to be back in action and thankfully he has seen the back of his injury which has plagued him, particularly in the 2005 season.
Hours left to join Fantasy Giro game!
The grand prize
Photo ©: Bianchi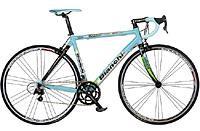 Registration for this year's Fantasy Giro game closes in just a few hours time. You can still join in the fun here at Cyclingnews and win some great prizes .
Create your team today and manage riders like McEwen and Schumacher on your own dream Giro team - win points and prizes everyday whilst following the Giro here at Cyclingnews. The deadline for submitting your teams is Fri 12th May 10:00 CEST (04:00 EDT, 01:00 PDT, 09:00 BST, 18:00 AEST, 08:00 UTC). It's simple to play - pick your dream team of 15 from the riders racing in this year's Giro start list. Then each day pick 9 riders to race for your fantasy team from these 15. There is no disadvantage in joining now that the Giro has already begun.
Yesterday we announced more information about the Grand Prize in this year's Giro d'Italia Fantasy Game: it is a special-edition bicycle from Bianchi, the legendary Italian firm of Treviglio, released just in time for this year's edition of the Grand Tour.
BBB Parts
Photo ©: BBB

HED Stinger wheels
Photo ©: HED

Giro Atmos
Photo ©: Giro

Speedplay Zero pedals
Photo ©: Speedplay

Santini clothing
Photo ©: Santini

fi'zi:k saddles
Photo ©: Cyclingnews

Maxxis Courchevel tyres
Photo ©: Maxxis

Today we are pleased to announce that we are providing a daily stage prize from BBB Parts! A pair of BBB's BSG-23 Winner Team Quick-Step glasses will go to the manager with the highest scoring stage team each day during the Giro. Four managers have already won!
Overall there will be 31 opportunities to win prizes this year and you do not need to take part in the whole Giro to win. Have a look at the grande prize and runner-up details below for more information:
Called the 'Via Nirone 7 Alu Carbon Mirage', it is painted in the same colour-scheme of ProTour and Giro team, Liquigas, which will be looking to support its lead rider Danilo Di Luca as the race hits the mountains this week.
In fact, the Via Nirone is so new it is not even in the Bianchi 2006 catalogue - it is purely "a special version available in some Bianchi shops to celebrate Giro", said a Bianchi spokesperson. The special model has an excellent design and development pedigree, as it comes from the 'Reparto Corse' division of Bianchi (its racing bicycles area) and bristles with many new features.
Of particular interest is the first application of Campagnolo's new 'Ultra Torque' 10-speed Mirage compact crankset (34/50T) with integrated bottom-bracket. The Via Nirone 7 is the only bicycle on the market to feature this new release from Campagnolo.
The frame is made of aeronautic-grade 7000 series aluminium, with double- and triple-butted tubes smoothly TIG-welded and with a carbon monostay rear-end to smooth out the road vibes.
Bianchi describes the frameset as having relaxed geometry to allow for long days in the saddle, while retaining relatively quick steering. It also features a saddle d'Italia. The Via Narone 7 also features Campagnolo's new 'Khamsin' wheelset, as well as a Selle Italia saddle and an ITM stem and handlebar. For full details, including the frame geometry chart, you can download the PDF.
The Bianchi is only one of many great prizes in this year's Giro d'Italia Fantasy Game. Other great prizes include:
From BBB Parts, our daily stage winner will win the official sports glasses of the Quick.Step-Innergetic professional cycling team.
Called "BSG-23 Winner Team Quick-Step" the glasses have a durable, flexible and lightweight Grilamid frame; adjustable metal nose piece for a perfect fit; and interchangeable polycarbonate lenses with 100% protection against harmful UV rays, up to UV 400nm.
The glasses are matte silver with the Quick.Step logo on the band and come with smoke blue revo lenses. They also come with three extra lenses; orange, yellow and clear with a flash mirror coating, and a carrying case so that you have a lens for all types of weather.
A pair of HED's Stinger wheels - the HED Stinger 50 is an all carbon wheel ideal for road racing. With a 50mm rim depth, it is more aerodynamic than a traditional alloy rimmed road wheel. While this rim depth is more aerodynamic, it is not too deep that handling will be compromised in crosswinds or a crowded peloton;
Three Giro Atmos helmets - from Giro. We have three Atmos helmets, the same model worn by some of the best riders and teams in this year's Giro d'Italia;
Three sets of Speedplay's Zero pedals - from Speedplay. We have three sets of its Zero pedals, as used in the Giro d'Italia by teams like CSC and Phonak;
Team replica cycling clothing by Santini - several of the teams in this year's Giro are wearing clothing supplied by Italian company Santini, and Cyclingnews has three complete sets of team clothing on offer as prizes in the Fantasy Game;
Three fi'zi:k saddles - some of the best saddles in Italy come from fi'zi:k, and we have three of them as prizes in the Fantasy Game;
10 sets of Maxxis Courchevel road tyres - the Courchevel road tyre from Maxxis is one of cycling's best road racing tyres. It is a completely new design from Maxxis, from the rubber to the casing. The Courchevel features 'Triple Compound Technology' to provide long wear life, great traction and a better transition from compound to compound.
Play for FREE in the Giro 2006 game
Remember you can play for free for the first 5 stages! Try the game out and see how best to play. It's easy to play the Tour games - aall you need to do is pick your dream team of 15 from the riders racing in this year's Giro start list before registration closes on Fri 12th May at 10:00 CEST (04:00 EDT, 01:00 PDT, 09:00 BST, 18:00 AEST, 08:00 UTC). Then each day pick 9 riders to race for your fantasy team from these 15. You'll need a good combination of climbers, sprinters and general classification riders. For more details go to the rules section of the site for more info. It's a great way to follow the Giro 2006.
To register your teams for the game go to fantasy.cyclingnews.com
Good luck!
The Fantasy Cyclingnews Team
(All rights reserved/Copyright Knapp Communications Pty Limited 2006)