Tour de Langkawi Cycling News for February 11, 2006
Edited by Anthony Tan
Best of the Brits: Robin Sharman
By Anthony Tan in Melaka
Rob Sharman (Recycling.Co.Uk)
Photo ©: Shane Goss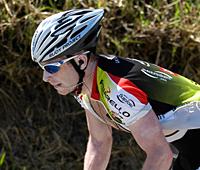 One rider surprising himself this week is Recycling.co.uk rider Robin Sharman, who was lying in sixth place overall after stage 8. Today in Melaka, the stocky all-rounder from Derby in central England rode a solid though not spectacular time trial, his 32nd place good seeing him slip three places on GC, just under five minutes adrift off the lead of David George.
"To maintain the sixth place would have been very satisfying, but top ten is great for the team, a great start to the year," said Sharman, who only arrived a day before the race begun due to passport troubles.
"I had a long break after last season, which had been pretty tough, and I just started training at the end of January, so this is all off one month's hard training, really. So, yeah, really surprising, but all at the same time, really enjoying it."
The 26 year-old's good fortune began after he got himself in the race-winning break on the opening stage to Rawang, where it was race over for all but 23 riders. Then, on stage three to Cameron Highlands, Sharman made the early move that once again proved decisive, but he told Cyclingnews his motives for doing so were quite different to the four South Africans in the break that day.
"I got in a breakaway [on Stage 3] with the hope of getting an advantage before the climb, so I'm not too confident with my climbing ability at the moment. So Genting Highlands was a bit of a bonus and it was great to go so well up there," he said.
On the slopes of Genting, Sharman finished 15th, 3'33 behind stage winner José Serpa (Selle Italia Diquigiovanni) and one place behind David McCann - the other rider from the United Kingdom riding exceptionally well this week - which lifted him into the enviable position he now holds.
"Yeah, it's been fantastic racing and very positive racing, not too much negativity. It's really good and I'd love to come back here again and prepare slightly better for it. But right now I'm enjoying it - good climbing, good racing, everything's been really good."
If this is indeed the product of just one month's hard training, the 2006 season looks very rosy for Sharman, whose early season goal is the Commonwealth Games in March. "I mean, I'd done a load of base miles through November-December, but nothing seriously hard, you know. I guess I've come on a lot quicker than I thought, but hopefully there's plenty more to come for Commonwealth Games," he said.
Speaking about his new team, which was only created this past northern hemisphere winter, the Derbyshire lad says it's exciting times for all involved with a mix of young talent, experienced professionals and riders such as himself, who are reaching the peak of their career. Said Sharman: "It's really good, really positive... everyone gets on well."
Later on in the season, he intends to do well in a bunch of European races the team will be competing in, and especially well at the Tour of Britain in August. "After having done it last year and learned a lot, and perhaps a little more confident in my ability [after] having come here; I'll focus on doing well there, definitely," he said.
Segamat finish "troppo pericoloso"
By Anthony Tan in Segamat
Gianni Savio
Photo ©: Shane Stokes

In the finale of yesterday's stage, slick, wet roads coupled with a tight technical finish was a recipe for disaster, so it wasn't too much of a surprise to see a bunch of blokes go down 300 metres from the line.
One of those riders was Selle Italia Diquigiovanni's Alberto Loddo, who was holding an excellent position at the head of the peloton, but the push and shove which is part and parcel of sprinting saw the Italian slide out with 100 metres to go.
When Cyclingnews caught up with Loddo, he was looking a little sore, grimacing from the chunk of skin missing from his hip, but thankfully he or the other riders involved in the crash were not seriously hurt. "The finish [was] dangerous, because with rain and some riders are not so intelligent in the finish," said team manager Gianni Savio.
"It's unfortunate, because he was in very good position at the finish in the last 100 metres in second position, but one British rider (gestures his shoulder) hooked him. Fortunately, there is nothing broken, but...
"Too dangerous?" we asked.
"Troppo pericoloso (too dangerous)," Savio affirmed, but in fairness to the race organisers, without the rain, the finish would have most probably gone without a hitch.
(All rights reserved/Copyright Knapp Communications Pty Limited 2006)