Tour de Langkawi Cycling News for February 10, 2006
Edited by Anthony Tan
To rest or not to rest?
By Anthony Tan in Melaka
No rest for the wicked says South African tour leader David George
Photo ©: Shane Goss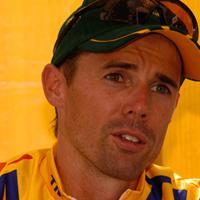 On Wednesday afternoon in Tampin, a number of riders were looking particularly weary at the finish of the sixth stage, the 178.7 kilometre journey raced at an average speed of 41.74 kilometres an hour. The day before, which saw the riders ascend the infamous climb of Genting, winner Josť Serpa from Selle Italia Diquigiovanni completed the stage at a very brisk 33.05 km/h average.
So are ten straight days of racing too much, especially for the European-based riders, who still have a full season ahead of them?
"Six of one and half dozen of the other, really," said race leader David George to Cyclingnews. "Every year, somebody has an opinion on how the race should prepare them for Europe, and every year it changes. One year that had ten really long stages and it was enough for some and too much for others. You're never going to keep everybody happy.
"Sure, Genting was a hard stage, but it was made hard by the way the guys raced - so if you race aggressively, you'll be tired."
Credit Agricole's Saul Raisin was a rider who had to work particularly hard on both stages, aiding his team-mate Francesco Bellotti on the climb to Genting Highlands and then protecting the Italian's GC position the following two days.
"Well, the other day up Genting, it's 100k and you know it's going to be hard at the finish - it's a one hour effort [at] maximum - the rest of the time you're sitting in the peloton and it's really not that hard," the American began by saying.
"Yesterday [Stage 6] was gas full time; four hours or however long it was, you were riding [hard], you hit the climbs, you're attacking, you were riding the whole day. And yesterday in the heat, it really wears down on me, so it was definitely a lot harder."
George also pointed out that today's stage [Stage 8] was 72.7 kilometres long with just a 16 kilometre time trial tomorrow in Melaka, before the race wraps up with the traditional downtown criterium in the Malaysian capital of Kuala Lumpur. "It's actually just a week of hard racing, so I don't think it's too tall a task.
Saul Raisin: "I think it all comes down to adequate rest"
Photo ©: Shane Goss

"It depends on who's saying it; if it's the Asian riders who are perhaps at another level, then perhaps I can understand that; if it's the European guys, I would say less whining and more riding."
Winner of Stage 7, Elio Aggiano of LPR, told Cyclingnews after his win on Thursday that "it's better to be in the break than the bunch, because yesterday [Stage 6] was purgatory in the bunch."
Raisin is one who will be racing a full season in Europe this year, and despite this being only his second year as a professional, he doesn't feel ten days of racing is too much, believing that sufficient rest is the key.
"I'm not talking myself up, but ten days isn't too much for me," he said. "I can do ten days of racing, and I think it makes the race more difficult. The South Africans, who are winning right now, it makes them have to work that much harder; it makes the race that much more equal, to have ten days of racing kind of makes the race more open that way.
"I think it all comes down to adequate rest; I mean, if you do ten days of racing, you're not going to lose fitness in a week, so you can take almost a whole week off and do nothing. I've done it before - in between races, you race and do nothing.
"You enjoy that, don't you?" we asked Raisin about his couch-time.
"Yeah, I do!" he exclaimed with a big smile. "But you have to watch what you eat; I think it comes down to [the fact that] you can't gain a lot of weight when you're not racing, you have to keep fitness, eat like a bird. I think with adequate rest, you can race as many races as you want - but you have to recover between races, and that just depends on you."
"That's the bottom line," concurred George. "It's a good race, it's early on - and that's why we come here, to race. And I you don't want to race, then don't race - ride in the laughing group every day... that's no problem for us. If you want to win stages and you want to be competitive, no one said it was going to be easy."
Saul's Malaysian Raisin d'Ítre
By Anthony Tan in Segamat
So tell me Saul...
Photo ©: Shane Goss

Speaking about Saul's raison d'Ítre at the Le Tour de Langkawi, which has so far seen him win a classic stage to Cameron Highlands last Sunday and purposefully defend team-mate Francesco Bellotti's third position overall, which he holds on a knife's edge over Walter Pedraza (Selle Italia Diquigiovanni) and Cesar Grajales (Navigators Insurance) - just one second separates all three riders - the 23 year-old now admits he was being a little coy about his form when we first spoke to him a day before the race began.
"I was playing coy with you," said Raisin with a boyish grin.
"Well, I knew I was stronger than I was last year at this time of year, a lot stronger than I was last year. And last year I was thirteenth up Genting, so that kind of gave me an idea of where I might stack up in the race."
On Tuesday's stage to the Genting Highlands, the American improved five places to finish eighth best up the torturous climb, and he now lies in eleventh overall after eight stages. Given that he was riding for Bellotti on that day, the young American could well have done even better than that had he been given carte blanche by his team. However, Raisin says he's been happy to ride for another team-mate in this race, as his main goal lies further down the track at the 2006 Giro d'Italia, where he will adopt a co-leadership role with the Bellotti.
"Yeah, a lot happens in a year. I had a full year of racing last year, and even with a full year of racing, I crashed, broke my hip and had a whole month [off] with injury - so last year, I don't think I reached my full potential for the period I'm at now," he said.
"So hopefully, if I can stay healthy this year, I can progress even more. A year does make a big difference, especially since I'm still only 23, my body's still changing, so who knows... "
(All rights reserved/Copyright Knapp Communications Pty Limited 2006)