Tour de Langkawi Cycling News for February 9, 2006
Edited by Anthony Tan
Bellotti a climber in the making
By Jean-François Quénet in Johor Bahru
Credit Agricole's Francesco Bellotti
Photo ©: Jean-François Quénet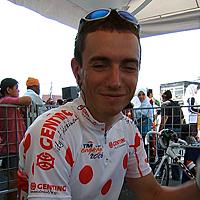 What's the best way for an average Italian rider to make sure he'll take part in the best races in his country? Well, joining a French team can speed up the process, because five of them are in the ProTour and very few of their landmark members would make the Giro a priority.
Francesco Bellotti, 26, hailing from Pescantina near Verona, may not have a win in the books yet, however he'll be leading the Crédit Agricole squad for the Tour of Italy this year after showing his GC abilities at the Le Tour de Langkawi. "Also in the young categories, I never won many races, he said. All of what I've done, it's been with a lot of suffering but I've had the satisfaction of reaching a few goals and every year I improve, that's very important for me."
He's thankful to Davide Boifava, who gave him a first opportunity to turn professional with Mercatone Uno in 2003 and he moved from Barloworld to Crédit Agricole last year, following the path of his good friend Pietro Caucchioli who isn't scheduled for the Giro this year. Christophe Moreau's departure to AG2R has given Caucchioli the team leadership at the Tour de France, and consequently, some more responsibilities to Bellotti at the Tour of Italy.
"I can't say I'll be the team leader but I'll have the freedom to attack and Saul Raisin and myself will be the climbers, Bellotti explained. Crédit Agricole is a nice team where I feel good. It might sound absurd but the truth is that there wouldn't be so much space for me in an Italian team where the concurrence would be bigger. This setup has an ideal dimension for me. Here I'm considered, I feel a lot of confidence and I can prepare myself with no pressure."
Currently lying third overall with three days to go, he has the potential to go one better because compared to his compatriot Gabriele Missaglia, he's a better rider against the clock. "I wasn't expecting such a good result," he said.
"Sometimes you work a lot for goals that you don't reach and now, I didn't even target a result and I'm close to getting it. The time I lost on David George, it happened the day we played for Raisin's stage win, that's where I lost the two minutes that are now impossible to get back. I'm more than happy with my trip to Malaysia. It's always good to begin a season with something nice. But maybe my form has come too quickly, so I'll take it easy when I'll get back to Italy next week."
Despite knee problems that ruined the early part of his 2005 season, Bellotti did well in the mountains of the Giro and finished 16th in the Tour de Suisse, then eighth in the Italian road championships. It's true that he improves every year - now he's showing joined Crédit Agricole not just as a companion for Caucchioli.
Bates lean and mean - but still a little green
By Anthony Tan in Tampin
Young Aussie Gene Bates
Photo ©: Shane Goss

A recurring bout of stomach troubles didn't stop Gene Bates from riding an exceptional race on the sixth stage of the Le Tour de Langkawi. "I woke up this morning and was on a mission to prove that I'm not just here to play around," he said on the day.
After 19 kilometres, the Aussie neo-pro attacked with three others, and when team-mate Massimo Iannetti also made the junction eight k's later, LPR became the best-represented team in the day's winning move of eight riders. "Yesterday, that was the plan, to save my legs a little bit," Bates said of his 'easy' ride up Genting the day before. "I ended up getting that bad stomach bug again, so that sort of drained me overnight - but I just dug deep.
At 10 kilometres to go and a roaring peloton breathing down their necks, the 24 year-old had two things to worry about: being caught and the seven other riders in the break, save for Iannetti. However, so long as the break stayed away, the diminutive rider's fast finish put him in with a chance.
"With about a k and a half to go the Japanese rider hit out and nobody chased him. I thought, 'Gosh, that's the race gone' - then the AG2R guy went after him and attacked and I said to msyelf, 'Well, there's second gone'. But then we just gathered speed and I think the Bouygues Telecom guy realised he wasn't going to win so he lead it out... I was coming at him that fast that I thought I could roll him at the line, but I think he beat me by a bike length.
"We did everything we could - Massimo [Ianetti] rode his heart out for me and just to get beaten on the line like that is frustrating," he said, looking both drained and disappointed.
Asked if he was over the worst of his bathroom dilemmas that have plagued him since the third stage to the Cameron Highlands, he replied with a laugh: "Yeah, well, I think I'm over it and then it will hit me again, so no more coffees in the morning!"
(All rights reserved/Copyright Knapp Communications Pty Limited 2006)