Tour de Langkawi Cycling News for February 8, 2006
Edited by Anthony Tan
Malaysian star on the move to Oz
By Jean-François Quénet in Genting Highlands
Josiah Ng
Photo ©: Jean-François Quénet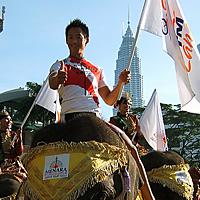 The true Asian cycling star of Le Tour de Langkawi isn't on the race start list but you can see him parading on an elephant or entertaining the crowd with track stands or wheelies before a stage finish. Keirin specialist Josiah Ng is Telekom Malaysia's ambassador and he does it well. The fact that he has grown up in California in nearby Hollywood might be a reason why he's such a good showman, but he wants to be recognized for his results first.
In 2004, Josiah Ng was named Malaysia's Olympian of the year. He produced the country's best result when he finished fifth in the keirin final in Athens. He was crying though. He didn't accept the idea to be disqualified after a crash because his priority in life and sport is to be honest and correct. "Looking back, I don't care much about the officials' decision because I wasn't getting a medal anyway," he said to Cyclingnews.
Aged 26, he's coming of age for higher ambitions. His two main goals for the 2006 season are the Commonwealth Games in Melbourne this coming March and the world championships in Bordeaux in April. "I really hope to bring medals back home this year," he told his Malaysian fans. He talked to them in English though, with a distinct American accent. "Even my French is better than my bahasa Malaysia", he said apologetically. Ng was born in Manilla, Philippines, and spent only two years in Malaysia before moving with his parents to the US.
After finishing third at the World Cup in Manchester last December, Ng's ready to take up the challenge against the likes of Ryan Bayley and Arnaud Tournant. "Florian Rousseau was my hero and I'm pleased I've beaten him once," he underlined. There's a bit of French flair in his cycling - Ng spent two years under the guidance of Frédéric Magné at the world cycling center in Aigle, Switzerland, in the lead up to the 2004 Olympic Games. During that period, he won the keirin world cup in 2003.
After one year back in Los Angeles, he's now on another move. This week, he leaves for Australia, first competing in the team sprint at the Australian track championships in Adelaide, where a special permission was granted for a Malaysian team. Then he'll head to Melbourne, following the training plans of John Beasley, best known for coaching Katie Mactier and Mark French.
"He's a highly recommended coach and I think it's good to try out with him, especially this year with the Commonwealth Games being in Melbourne anyway," said Ng. "I really want to improve my qualifying time in the sprint event as well." And after a break following the world's, he'll go back to for his keirin campaign in Japan.
McCann goes close
By Shane Stokes in Tamping
Irishman David McCann continued his fine showing in the 2006 Telekom Malaysia Tour de Langkawi today, being in the thick of the action throughout the undulating 178.7 kilometre sixth leg and going close to taking the stage victory.
The Giant Asia rider went away in an eight man break just 27 kilometres into the race from Shah Alam to Tampin, then soloed clear on the first of two climbs coming early in the stage. He was out front alone for 31 kilometres before being joined by seven others. These stayed clear to the finish, with McCann making what he said afterwards was a tactical error in attacking one kilometre from the end. Japanese rider Shinichi Fukushima got across, then Frenchman Laurent Mangel (AG2R Prévoyance) countered and took the stage.
"The French guy wasn't doing much all day and I decided to watch him for the sprint," McCann said afterwards. "But I then changed my mind and attacked with a kilometre to go. I didn't quite get the gap I needed and they were able to get back to me. That took everything out of my legs. It was a stupid mistake, if I had done things otherwise I think I could have won the stage."
McCann came home seventh, five seconds behind Mangel. He has the consolation of winning the King of the Mountains primes at the top of both climbs and also taking two out of the day's three bonus sprints; he was also described by Mangel as perhaps the rider he was most worried about when it came to the finale.
The Irish TT champ says he will try again. "The time trial on Saturday is a big focus so the plan was to go hard today, then take it easy for the two stages before the time trial. Now I'm so mad at myself for messing the finish up, I feel like going on the attack again tomorrow. I wanted to win a stage so it is frustrating not to make the most of the opportunity today."
The Giant Asia squad are currently second overall in the Asian team standings, 1 minute and 27 seconds behind Japan. McCann says this is another focus. "Winning the Asian team classification is a goal but as the riders who count for that have to be Asian, it makes things harder for us. Japan has five guys while we only have three [who count]. But we'll keep trying."
(All rights reserved/Copyright Knapp Communications Pty Limited 2006)