Tour de Langkawi Cycling News for February 6, 2006
Edited by Anthony Tan
Who is José Serpa?
By Anthony Tan in Kuala Selangor
Jose Serpa (Selle Italia Diquigiovanni)
Photo ©: Shane Goss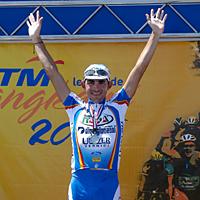 One may be forgiven for knowing little about the winner of the fourth stage today, 26 year-old Colombian José Serpa.
The neo-pro from Selle Italia Diquigiovanni is quite possibly the last rider to be registered as a professional in 2006; after all, direttore sportivo Gianni Savio only signed him right at the end of last month following his three stage wins and second overall at the Vuelta al Tachira.
That race in Venezuela came down to the wire; throughout the 14-day race, Serpa staged an impressive head-to-head battle against local favourite Manuel Medina from the Cabimas team, winning two road stages and the final stage time trial to come within a minute and a half of stealing victory from Medina.
"He's a complete rider," said Savio to Cyclingnews when asked to describe his qualities.
"He was an amateur, and I signed with him only at the end of January - this is the first race he participates in with the professionals. We signed a contract with him for three years - [200]6, 7 and 8. We signed in Venezuela after the Vuelta Tachira; he was second in the overall classement, and for this reason I signed him and presented a description to the UCI."
Naturally, Savio and assistant direttore sportivo Bellini were one of the first to congratulate Serpa following his first pro win here in Kuala Selangor, where he upstaged his more experienced rivals after being away for all but five kilometres in a stage that 28 times that length.
"This morning, I spoke with Gianni Savio and Marco Bellini and they thought we could possibly do something today. So I took it from there and it resulted in victory," said Serpa.
"I'm very, very happy that Gianni has given me the chance to race at the highest level, and I will do my utmost to achieve a high level in cycling."
George: "If somebody wants it, let him."
By Anthony Tan in Kuala Selangor
By George, you've done it again!
Photo ©: Shane Goss

"If somebody wants to come and get it, then, well, let him... with Darren [Lill], Ryan [Cox] and myself, we've got the three of the best climbers in the race."
These were the taunting words issued by race leader David George of South Africa at the end of Stage 4 of the Le Tour de Langkawi, speaking about tomorrow's ultimately decisive stage to the Genting Highlands that finishes 1,699 metres above sea level.
For a fair portion of the stage, George's team from South Africa assumed their unspoken position at the head of the peloton, keeping the breakaway in check, but also showing they're a team not to be messed with. The latter may have been the case 10 years ago, when the Proteas first arrived on the shores of Langkawi island and didn't feature at all. Today, though, it's a different story.
"Ten years ago, we came to this race and we were way out of our depth; today we really showed that South African cycling has come a long way. Hopefully, we've had a day to recover so tomorrow we can figure up the front," said the 29 year-old from Cape Town.
On the subject of tomorrow's stage, there's probably ten or so riders who, on their day, are good enough to win atop Genting's surreal fantasyland - among them George himself, his team-mate Darren Lill, Cesar Grajales (Navigators Insurance, who sits in third position overall), previous mountains leader Francesco Bellotti (Credit Agricole, fourth on GC) and his team-mate, Sunday's winner Saul Raisin - but only a handful who can win overall. As George knows full well, Langkawi is theirs to win.
"Well... effectively we're in the best position," he admitted. "If it's an attacking race, then better for us - but we don't have to smash the race to pieces [ourselves].
"We don't need to watch everyone: we've got Missaglia at 40 seconds and the next guy at two and a half minutes; looking at how it went yesterday, we've got possibly some of the best riders in the race, so again, I don't think we need to be too concerned about it being an attacking race. We've got the job to follow and obviously to defend [the jersey] we'll have to."
(All rights reserved/Copyright Knapp Communications Pty Limited 2006)