Tour de Langkawi Cycling News for February 4, 2006
Edited by Anthony Tan
Gene's still a keen bean
Bates puts Comm Games behind him; now it's time to think about La Primavera
Gene Bates
Photo ©: Shane Goss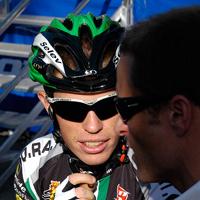 "Not at all" disappointed after hearing the news of only making the shadow team for the upcoming Commonwealth Games in Melbourne, former under 23 Australian champion Gene Bates will simply focus on holding his good early season good form and aim for a stage win at the Tour de Langkawi in Malaysia, his objective being to prove his worth for a place at the team's first major outing of the year, Milan-San Remo. Cyclingnews correspondent at the Tour de Langkawi, Anthony Tan, reports.
"I actually didn't get notified of that, but I guess the selection only came out yesterday. I think it would be fantastic to ride the Commonwealth Games. I've always watched it since I was a kid and it means a lot to Australians, but realistically, if I can forge a career in Europe first, that's far more important," Gene Bates told Cyclingnews at the start of the second stage of the Tour de Langkawi in Tanjung Malim.
"There's plenty of racing to do without coming back to Australia. If it was the Olympic Games, then maybe it'd be a different story," he said when asked if he was disappointed. "So I don't think so... nah, not at all."
This year marks the 24 year-old's first year as a professional, despite earning the U23 green and gold stripes two years ago at the 2004 Australian open road championships in Ballarat, Victoria. Last year, Bates rode with one of Italy's top amateur teams, Zalf-Desiree-Fior, where victory at the Piccola San Remo and almost 20 podium finishes saw him as the number one-ranked amateur in the country for two months, bringing his name to the attention of his current squad, LPR.
Click here to read the rest of the story.
David hoping to be George of the jungle
By Anthony Tan in Sitiawan
His team-mate Ryan Cox may be receiving most of the attention here in Malaysia, but 29 year-old David George is another capable of taking out the 2006 edition of the Tour de Langkawi after making yesterday's crucial winning break.
And quite possibly the hungriest. One of a handful of riders who got shafted in the Team Barloworld's reshuffle late last year when team manager John Robertson was replaced by Claudio Corti, George begins the season still without a team. "Absolutely," said George to Cyclingnews about his added motivation in light of the circumstances.
"Coming into this year, this is one of only two objectives that I had, so for me it's a good opportunity to show myself - so yes, I am hungry and we are here to do a big result."
Along with Navigators Insurance and Colombia Selle Italia, the South Africans gained the greatest benefit from the opening stage to Rawang, who are now in the enviable position of having two riders that can win overall. Said George post-stage: "These stages are always tricky ones, and to have both our GC contenders there, that's perfect for us, that's what we wanted. Both of us can win the race overall, so we're in a good situation."
"Really, the race is down to a group of 24 and there's only a handful of guys that can win this race, so I think tomorrow might be a bunch sprint and the first true selection with the climbers will happen on Sunday. It's not a hugely difficult climb, but it goes up 1,500 metres, so it's hard enough to show which guys have got good condition."
Speaking about his own condition, George said that apart from what went on with his former team, he's enjoyed a fairly solid preparation over Christmas and the new year. "[I'm] possibly in as good condition I can get and morale is as good as it can get, so we just need a little bit of luck.
"I had a reasonably good season last year, and I was hoping for a little bit more from the team than what I got," he said. "So ya, it was a relatively difficult time, but one gets over it, and what doesn't kill you makes you stronger - so you come back a little bit more hungry and with a little bit more to prove."
(All rights reserved/Copyright Knapp Communications Pty Limited 2006)