Geelong Women's Tour - 2.2
Australia, February 21-23, 2006
Main Page Results Overall standings Stage Details Previous Stage Next Stage
Stage 2 - January 21: Portarlington criterium, 30km
Happy Gilmore steals criterium win
By John Michael Flynn at Port Arlington, Australia
Rochelle Gilmore (SAFI - Pasta Zara Manhattan) grabs victory
Photo ©: John Veage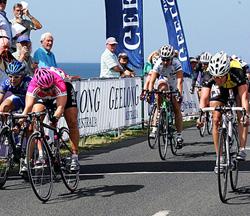 Preparing to defend her 2005 Geelong World Cup Victory, Australia's Rochelle Gilmore (Safi-Pasta Zara Manhattan) showed her form is headed in the right direction by stealing a victory on the line of today's second stage criterium at the Geelong Tour.
Without the help of the lead-out trains of her rivals from T-Mobile and Nürnberger, Gilmore was forced to do it alone, but in the end the Australian star of track and road did it in style.
"It was pretty fast, you had the Nürnberger and T-Mobile girls up there trying to get a lead out for their riders," Gilmore recalled of the uphill dash to the finish.
"It was obvious that Oenone (Wood) and Ina Teutenberg would be the two fastest sprinters there.
"I just felt confident at the finish with a lap to go, I knew that I'd done the work the last few weeks I've had a good preparation."
The picturesque yet demanding course on the Port Arlington waterfront saw competitors embark on thirty laps of the one kilometre street circuit and it was the New Zealanders, defending their podium position from the opening time trial stage, who set a cracking pace from the outset.
Riding herself into the ground after finishing a solid sixth in the morning's time trial, Olympic track gold medalist Sarah Ulmer quickly showed why she will be one of the riders to watch at the up-coming Commonwealth Games.
Sarah Ulmer
Photo ©: John Flynn

Ulmer's driving from the front in the opening laps sent dozens of riders out the back door, ensuring only the serious contenders were left to contest the second stage.
Nürnberger's new recruit for 2006, Australian road champion Kate Bates worked tirelessly for her team, burying herself to set up a stage victory for team-mate and reigning World Cup champion Oenone Wood. But on this day it wasn't to be.
Bates reeled in several attempted moves, including a spirited attack from team U.S.A. but the final sprint didn't go exactly to plan for Nürnberger.
"I stuffed the sprint a little bit this afternoon, I ran into Ina's (Teutenberg) back wheel and luckily I held it up but it didn't help me for the finish," Wood revealed post-stage. "Kate Bates turned out to be a pretty good team-mate. After today I think the kiwis, like the Aussies, have done a little bit of criterium racing, and I think they're in good form and looking forward to some good racing before the Commonwealth Games."
An exhausted Sarah Ulmer wasn't as pleased with the New Zealand team's criterium result."We were trying to look after our race leader," said Ulmer. "Unfortunately the finish was a little bit fast for me."
Ina Teutenberg (T-Mobile)
Photo ©: John Flynn

T-Mobile's Ina Teutenberg, who has been in Australia since October, was offering no excuses for not winning the sprint. "I was up there in the sprint," Teutenberg said. "I just after one hundred and fifty metres, my legs couldn't do anything more and Rochelle just came flying by."
Soeder retains leaders jersey - Wood and Gilmore both impressive
With the first day of the Geelong Tour drawing to a close, Austrian Christiane Soeder, who won today's time trial, holds onto the leaders jersey by the barest of margins.
But the performances of both World Cup Champion Oenone Wood and defending Geelong Word Cup winner Rochelle Gilmore, have provided just a hint of what is to come.
Wood, whose Nürnberger team has come to Geelong with an embarrassment of riches, is clearly focused for the weekend event as she begins a campaign for her third consecutive World Cup crown.
"I was more happy with this morning just to have a good hit-out this morning (in the time trial," Wood said.
"I've got the World Cup at the end of this week, that's a major goal, the World Cup and the Comm Games and then the rest of the European season."
Race leader Christiane Soeder (Univega)
Photo ©: John Veage

But a perusal of the team sheets for the Geelong Women's Tour and World Cup event suggests Wood will have her work cut out.
The field for both events is arguably the strongest yet for Australia's round of the Women's Road Race World Cup.
"We want to win it this weekend, so that's going to be a big ask because there's a lot of awesome riders here," Wood admitted.
"More than any other year they've got a really good representation from European riders and Asian countries are well represented as well."
Zemke holding the aces
Equipe Nürnberger Versicherung Directeur Sportif Jens Zemke may not hold all the aces for the Geelong Tour and Geelong World Cup, but rival teams could be mistaken for feeling the German Team Manager is dealing from a stacked deck.
The addition of Australian Road and Track Champion Kate Bates to a team already boasting the World Cup Champion, among others, gives Nürnberger numerous options, more perhaps than any of their rival teams.
"This tour here, tour of Geelong it's like a warm-up for us," Zemke told Cyclingnews.
"With Oenone Wood a past winner of overall in the World Cup and also with Kate Bates and Trixi Worrack and the German horsepower, we can play some tactics here.
"We haven't only one captain, we have three really good girls and the others can support them."
World Cup champion Oenone Wood
Photo ©: John Flynn

Without the benefits of a strong team, Rochelle Gilmore on the other hand knows she will have to fight for wheels with the girls from Nürnberger and T-Mobile, if her goal of defending the Geelong World Cup is to come to fruition.
"I've been training down on the Great Ocean Road with Phil Anderson on the hills down there and then out with Simon Gillett who's one of the strongest guys I've ever trained with." Gilmore said of her early season preparation.
"Coming up against the Nürnberger train and the T-Mobile train is pretty scary, they're going to have three or four girls there at the finish leading out the sprinters, it's going to be a bit tough in the last kilometres."
The Geelong Women's Tour continues tomorrow with a 76 kilometre road stage beginning at Barwon heads.
The tour concludes on Thursday with a 112 kilometre road stage, starting and finishing in the rural hamlet of Lara.
Photography
For a thumbnail gallery of these images, click here
Images by John Flynn/Cyclingnews.com
Images by John Veage/Geelong Tour
Results
1 Rochelle Gilmore (Aus) SAFI - Pasta Zara Manhattan                     56.55
2 Ina Teutenberg (Ger) T-Mobile                                               
3 Oenone Wood (Aus) Equipe Nürnberger Versicherung                            
4 Hayley Brown (Aus) Chase Sydney - Smart - Mercedes Benz                     
5 Joanne Kiesanowski (NZl) Univega Pro Cycling Team                           
6 Sarah Ulmer (NZl) Bike New Zealand                                          
7 Kate Nichols (Aus) New South Wales Institute of Sport                       
8 Susanne Ljungskog (Swe) Team Cheerwine/Bicisport                            
9 Gina Grain (Can) Giant PRO Cycling Team                                     
10 Tina Mayolo-Pic (USA) USA Cycling Team                                     
11 Kori Seehafer (USA) USA Cycling Team                                       
12 Annette Beutler (Swi) ELK Haus NÖ                                          
13 Sally Cowman (Aus) New South Wales Institute of Sport                      
14 Judith Arndt (Ger) T-Mobile                                                
15 Giorgia Bronzini (Ita) A S Team FRW                                        
16 Tamara Boyd (NZl) Bike New Zealand                                         
17 Olivia Gollan (Aus) Nobili Rubinetterie Menikini Cogeas                    
18 Priska Doppmann (Swi) Univega Pro Cycling Team                             
19 Mellisa Holt (NZl) Bike New Zealand                                        
20 Natalie Bates (Aus) New South Wales Institute of Sport                     
21 Akemi Morimoto (Jpn) Japanese National Team                                
22 Katherine Bates (Aus) Equipe Nürnberger Versicherung                       
23 Christiane Soeder (Aut) Univega Pro Cycling Team                           
24 Svetlana Bubnenkova (Rus) Russian National Team                            
25 Toni Bradshaw (NZl) Bike New Zealand                                       
26 Michelle Hyland (NZl) Bike New Zealand                                     
27 Emma Rickards (Aus) Univega Pro Cycling Team                               
28 Edwige Pitel (Fra) Japan Businessman Cycling Federation                    
29 Tiffany Cromwell (Aus) SAFI - Pasta Zara Manhattan                         
30 Sarah Duester (Ger) Univega Pro Cycling Team                               
31 Jenny Macpherson (Aus) Australian National Team                            
32 Kristen Armstrong (USA) USA Cycling Team                                   
33 Susie Wood (NZl) Bike New Zealand                                          
34 Vicki Eustace (Aus) Key Building - South Coast Academy of Sport            
35 Lyne Bessette (Can) T-Mobile                                               
36 Rosara Joseph (NZl) Team New Zealand                                       
37 Trixi Worrack (Ger) Equipe Nürnberger Versicherung                         
38 Monia Baccaille (Ita) Italian National Team                                
39 Magali Le Floch (Fra) T-Mobile                                             
40 Helen Kelly (Aus) Team Cheerwine/Bicisport                                 
41 Emma James (Aus) Chase Sydney - Smart - Mercedes Benz                      
42 Kimberly Bruckner Baldwin (USA) T-Mobile                                   
43 Amy Moore (Can) T-Mobile                                               0.55
44 Elodie Tuoffet (Fra) Nobili Rubinetterie Menikini Cogeas               1.38
45 Ryoko Yamaguchi (Jpn) Japan Businessman Cycling Federation             2.00
46 Kate Cullen (GBr) Landlink Cycling                                         
47 Sigrid Corneo (Ita) Nobili Rubinetterie Menikini Cogeas                    
48 Eva Lutz (Aus) Equipe Nürnberger Versicherung                              
49 Alexis Rhodes (Aus) Australian National Team                               
50 Lang Meng (Chn) Giant PRO Cycling Team                                     
51 Hannah Banks (Aus) Australian National Team                                
52 Amanda Spratt (Aus) Australian National Team                               
53 Olga Slyusareva (Rus) Russian National Team                                
54 Nikke Egyed (Aus) Queensland Academy of Sport                              
55 Leonie Aisbett (Aus) Chase Sydney - Smart - Mercedes Benz                  
56 Catherine Sell (NZl) Team New Zealand                                      
57 Dale Tye (NZl) Team New Zealand                                            
58 Vera Carrara (Ita) Italian National Team                                   
59 Amy Hunt (GBr) SAFI - Pasta Zara Manhattan                             3.00
60 Masami Mashimo (Jpn) Japanese National Team                                
61 Natalia Boyarskaya (Rus) Russian National Team                             
62 Larissa Kleinmann (Ger) German National Team                               
63 Marina Duvnjak (NZl) Team New Zealand                                      
64 Martina Corazza (Ita) A S Team FRW                                         
65 Kettj Manfrin (Ita) A S Team FRW                                           
66 Kanako Nishi (Jpn) Japanese National Team                                  
67 Kelly Benjamin (USA) Team Cheerwine/Bicisport                              
68 Maryam Rogers (Aus) ACR-2XU                                                
69 Candice Sullivan (Aus) Australian National Team                        4.00
70 Lisa Gatto (Ita) Italian National Team                                     
71 Kate Charge (Aus) New South Wales Institute of Sport                       
72 Trudy Van Der Straaten (Aus) Team Cheerwine/Bicisport                      
73 Jessie Maclean (Aus) Chase Sydney - Smart - Mercedes Benz                  
74 Alicia Evans (Aus) Landlink Cycling                                        
75 Annalisa Cucinotta (Ita) Italian National Team                             
76 Gessica Turato (Ita) Italian National Team                                 
77 Anke Wichmann (Ger) Equipe Nürnberger Versicherung                         
78 Miho Oki (Jpn) Nobili Rubinetterie Menikini Cogeas                         
79 Eleonora Soldo (Ita) Italian National Team                                 
80 Yan Xia Jiang (Chn) Giant PRO Cycling Team                                 
81 Yun Mei Wu (Chn) Giant PRO Cycling Team                                    
82 Min Gad (Chn) Giant PRO Cycling Team                                       
83 Youko Okuda (Jpn) Japanese National Team                                   
84 Patricia Schwager (Swi) ELK Haus NÖ                                        
85 Barbel Jungmeier (Aut) ELK Haus NÖ                                         
86 Isabella Wieser (Aut) ELK Haus NÖ                                          
87 Toireasa Gallagher (Aus) New South Wales Institute of Sport                
88 Tatiana Antoschina (Rus) Russian National Team                             
89 Louise Kerr (Aus) Queensland Academy of Sport                              
90 Nicole Whittburn (Aus) ACR-2XU                                             
91 Jeny Trew (Can) Team Cheerwine/Bicisport                                   
92 Nicole Magner (Aus) Queensland Academy of Sport                            
93 Claire Baxter (Aus) ACR-2XU                                                
94 Anouska Edwards (Aus) Queensland Academy of Sport                          
95 Emma Mackie (Aus) Australian National Team                                 
96 Kate Mercer (Aus) Queensland Academy of Sport                              
97 Belinda Diprose (Aus) Key Building - South Coast Academy of Sport          
98 Meredith Miller (USA) USA Cycling Team                                     
99 Silvia Valseccai (Ita) Nobili Rubinetterie Menikini Cogeas                 
100 Marta Vilajosana (Spa) Nobili Rubinetterie Menikini Cogeas                
101 Erin Chamberlen (Aus) Chase Sydney - Smart - Mercedes Benz                
102 Sima Trapp (USA) USA Cycling Team                                         
103 Marlen Johrend (Ger) German National Team                                 
104 Belinda Goss (Aus) Landlink Cycling                                       
105 Kara Northcott (NZl) Team New Zealand                                     
106 Rie Katayama (Jpn) Japan Businessman Cycling Federation                   
107 Kerry Cohen (Aus) Team Cheerwine/Bicisport                                
108 Brei Gudsell (NZl) Team New Zealand                                       
109 Claudia Stumpf (Ger) German National Team                                 
110 Elke Gebhardt (Ger) German National Team                                  
111 Rachel O'Connor (Aus) Key Building - South Coast Academy of Sport         
112 Jemma O'Brien (Aus) Key Building - South Coast Academy of Sport           
113 Charlotte Goldsmith (GBr) SAFI - Pasta Zara Manhattan                     
114 Xiong Ying Ruan (Chn) Giant PRO Cycling Team                          5.00
115 Irina Zemlyanskaya (Rus) Russian National Team                            
116 Bridie O'Donnell (Aus) ACR-2XU                                            
117 Kirsty Bortolin (Aus) ACR-2XU                                             
118 Anna Sutton (Aus) Landlink Cycling                                        
119 Katrina Hair (GBr) Landlink Cycling                                       
120 Ombretta Ugolini (Ita) A S Team FRW                                       
121 Kerryn Charman (Aus) SAFI - Pasta Zara Manhattan                          
122 Ayako Toyooka (Jpn) Japanese National Team                                
123 Masumi Sakai (Jpn) Japan Businessman Cycling Federation                   
124 Laura Pisaneschi (Ita) A S Team FRW                                       
125 Emi Wachi (Jpn) Japan Businessman Cycling Federation                  6.00
126 Lauren Franges (USA) USA Cycling Team                                     
127 Laura Bortolozzi (Aus) Key Building - South Coast Academy of Sport        
128 Takao Nagayama (Jpn) Japan Businessman Cycling Federation                 
129 Carla Ryan (Aus) Queensland Academy of Sport                              
 
Sprints
 
Sprint 1
 
1 Oenone Wood (Aus) Equipe Nürnberger Versicherung                           6 pts
2 Sarah Ulmer (NZl) Bike New Zealand                                         4
3 Mellisa Holt (NZl) Bike New Zealand                                        2
 
Sprint 2
 
1 Ina Teutenberg (Ger) T-Mobile                                              6 pts
2 Joanne Kiesanowski (NZl) Univega Pro Cycling Team                          4
3 Oenone Wood (Aus) Equipe Nürnberger Versicherung                           2
 
General classification after stage 2
 
1 Christiane Soeder (Aut) Univega Pro Cycling Team                     1.08.02
2 Oenone Wood (Aus) Equipe Nürnberger Versicherung                        0.03
3 Mellisa Holt (NZl) Bike New Zealand                                     0.04
4 Svetlana Bubnenkova (Rus) Russian National Team                         0.05
5 Natalie Bates (Aus) New South Wales Institute of Sport                  0.14
6 Sarah Ulmer (NZl) Bike New Zealand                                      0.16
7 Katherine Bates (Aus) Equipe Nürnberger Versicherung                    0.21
8 Kristen Armstrong (USA) USA Cycling Team                                0.25
9 Priska Doppmann (Swi) Univega Pro Cycling Team                          0.27
10 Ina Teutenberg (Ger) T-Mobile                                          0.28
11 Judith Arndt (Ger) T-Mobile                                            0.34
12 Kate Nichols (Aus) New South Wales Institute of Sport                  0.36
13 Annette Beutler (Swi) ELK Haus NÖ                                      0.37
14 Olivia Gollan (Aus) Nobili Rubinetterie Menikini Cogeas                0.40
15 Tamara Boyd (NZl) Bike New Zealand                                     0.41
16 Susanne Ljungskog (Swe) Team Cheerwine/Bicisport                           
17 Trixi Worrack (Ger) Equipe Nürnberger Versicherung                         
18 Jenny Macpherson (Aus) Australian National Team                        0.42
19 Lyne Bessette (Can) T-Mobile                                           0.43
20 Edwige Pitel (Fra) Japan Businessman Cycling Federation                0.45
21 Kori Seehafer (USA) USA Cycling Team                                       
22 Kimberly Bruckner Baldwin (USA) T-Mobile                                   
23 Joanne Kiesanowski (NZl) Univega Pro Cycling Team                          
24 Susie Wood (NZl) Bike New Zealand                                      0.47
25 Sarah Duester (Ger) Univega Pro Cycling Team                           0.51
26 Rosara Joseph (NZl) Team New Zealand                                   0.52
27 Sally Cowman (Aus) New South Wales Institute of Sport                      
28 Tina Mayolo-Pic (USA) USA Cycling Team                                 0.53
29 Michelle Hyland (NZl) Bike New Zealand                                 0.55
30 Toni Bradshaw (NZl) Bike New Zealand                                       
31 Hayley Brown (Aus) Chase Sydney - Smart - Mercedes Benz                0.56
32 Emma James (Aus) Chase Sydney - Smart - Mercedes Benz                  0.58
33 Emma Rickards (Aus) Univega Pro Cycling Team                           1.01
34 Vicki Eustace (Aus) Key Building - South Coast Academy of Sport            
35 Gina Grain (Can) Giant PRO Cycling Team                                1.04
36 Monia Baccaille (Ita) Italian National Team                            1.10
37 Akemi Morimoto (Jpn) Japanese National Team                            1.18
38 Rochelle Gilmore (Aus) SAFI - Pasta Zara Manhattan                     1.20
39 Helen Kelly (Aus) Team Cheerwine/Bicisport                                 
40 Tiffany Cromwell (Aus) SAFI - Pasta Zara Manhattan                     1.34
41 Magali Le Floch (Fra) T-Mobile                                         1.35
42 Giorgia Bronzini (Ita) A S Team FRW                                    1.49
43 Amy Moore (Can) T-Mobile                                               2.17
44 Dale Tye (NZl) Team New Zealand                                        2.40
45 Vera Carrara (Ita) Italian National Team                               2.41
46 Catherine Sell (NZl) Team New Zealand                                  2.43
47 Alexis Rhodes (Aus) Australian National Team                           2.44
48 Elodie Tuoffet (Fra) Nobili Rubinetterie Menikini Cogeas               2.50
49 Olga Slyusareva (Rus) Russian National Team                                
50 Amanda Spratt (Aus) Australian National Team                           2.54
51 Nikke Egyed (Aus) Queensland Academy of Sport                          3.00
52 Lang Meng (Chn) Giant PRO Cycling Team                                 3.07
53 Eva Lutz (Aus) Equipe Nürnberger Versicherung                          3.15
54 Hannah Banks (Aus) Australian National Team                            3.16
55 Kate Cullen (GBr) Landlink Cycling                                     3.18
56 Ryoko Yamaguchi (Jpn) Japan Businessman Cycling Federation             3.37
57 Natalia Boyarskaya (Rus) Russian National Team                             
58 Leonie Aisbett (Aus) Chase Sydney - Smart - Mercedes Benz              3.38
59 Sigrid Corneo (Ita) Nobili Rubinetterie Menikini Cogeas                3.44
60 Larissa Kleinmann (Ger) German National Team                           4.03
61 Amy Hunt (GBr) SAFI - Pasta Zara Manhattan                             4.15
62 Martina Corazza (Ita) A S Team FRW                                     4.24
63 Marina Duvnjak (NZl) Team New Zealand                                  4.25
64 Kelly Benjamin (USA) Team Cheerwine/Bicisport                          4.27
65 Kanako Nishi (Jpn) Japanese National Team                              4.31
66 Masami Mashimo (Jpn) Japanese National Team                            4.34
67 Maryam Rogers (Aus) ACR-2XU                                                
68 Claire Baxter (Aus) ACR-2XU                                            4.54
69 Brei Gudsell (NZl) Team New Zealand                                    4.59
70 Miho Oki (Jpn) Nobili Rubinetterie Menikini Cogeas                     5.01
71 Anouska Edwards (Aus) Queensland Academy of Sport                      5.02
72 Barbel Jungmeier (Aut) ELK Haus NÖ                                         
73 Tatiana Antoschina (Rus) Russian National Team                         5.05
74 Kettj Manfrin (Ita) A S Team FRW                                       5.06
75 Meredith Miller (USA) USA Cycling Team                                 5.09
76 Anke Wichmann (Ger) Equipe Nürnberger Versicherung                         
77 Sima Trapp (USA) USA Cycling Team                                      5.10
78 Toireasa Gallagher (Aus) New South Wales Institute of Sport                
79 Jessie Maclean (Aus) Chase Sydney - Smart - Mercedes Benz                  
80 Kate Charge (Aus) New South Wales Institute of Sport                   5.11
81 Kate Mercer (Aus) Queensland Academy of Sport                          5.14
82 Candice Sullivan (Aus) Australian National Team                        5.15
83 Emma Mackie (Aus) Australian National Team                                 
84 Louise Kerr (Aus) Queensland Academy of Sport                          5.16
85 Erin Chamberlen (Aus) Chase Sydney - Smart - Mercedes Benz             5.19
86 Yun Mei Wu (Chn) Giant PRO Cycling Team                                    
87 Elke Gebhardt (Ger) German National Team                               5.20
88 Gessica Turato (Ita) Italian National Team                             5.21
89 Trudy Van Der Straaten (Aus) Team Cheerwine/Bicisport                  5.22
90 Marta Vilajosana (Spa) Nobili Rubinetterie Menikini Cogeas                 
91 Kara Northcott (NZl) Team New Zealand                                  5.24
92 Min Gad (Chn) Giant PRO Cycling Team                                   5.25
93 Kerry Cohen (Aus) Team Cheerwine/Bicisport                             5.28
94 Belinda Goss (Aus) Landlink Cycling                                    5.30
95 Yan Xia Jiang (Chn) Giant PRO Cycling Team                             5.31
96 Charlotte Goldsmith (GBr) SAFI - Pasta Zara Manhattan                  5.35
97 Silvia Valseccai (Ita) Nobili Rubinetterie Menikini Cogeas             5.36
98 Nicole Whittburn (Aus) ACR-2XU                                             
99 Nicole Magner (Aus) Queensland Academy of Sport                        5.38
100 Claudia Stumpf (Ger) German National Team                             5.40
101 Patricia Schwager (Swi) ELK Haus NÖ                                       
102 Lisa Gatto (Ita) Italian National Team                                    
103 Marlen Johrend (Ger) German National Team                             5.41
104 Youko Okuda (Jpn) Japanese National Team                                  
105 Rie Katayama (Jpn) Japan Businessman Cycling Federation               5.42
106 Rachel O'Connor (Aus) Key Building - South Coast Academy of Sport     5.43
107 Alicia Evans (Aus) Landlink Cycling                                   5.47
108 Jeny Trew (Can) Team Cheerwine/Bicisport                                  
109 Eleonora Soldo (Ita) Italian National Team                            5.52
110 Jemma O'Brien (Aus) Key Building - South Coast Academy of Sport       5.57
111 Belinda Diprose (Aus) Key Building - South Coast Academy of Sport     6.08
112 Xiong Ying Ruan (Chn) Giant PRO Cycling Team                          6.09
113 Isabella Wieser (Aut) ELK Haus NÖ                                     6.16
114 Bridie O'Donnell (Aus) ACR-2XU                                        6.21
115 Annalisa Cucinotta (Ita) Italian National Team                            
116 Anna Sutton (Aus) Landlink Cycling                                    6.26
117 Katrina Hair (GBr) Landlink Cycling                                   6.27
118 Irina Zemlyanskaya (Rus) Russian National Team                        6.29
119 Masumi Sakai (Jpn) Japan Businessman Cycling Federation               6.30
120 Kirsty Bortolin (Aus) ACR-2XU                                         6.31
121 Ombretta Ugolini (Ita) A S Team FRW                                   6.42
122 Kerryn Charman (Aus) SAFI - Pasta Zara Manhattan                      6.45
123 Ayako Toyooka (Jpn) Japanese National Team                            6.48
124 Lauren Franges (USA) USA Cycling Team                                 7.03
125 Laura Bortolozzi (Aus) Key Building - South Coast Academy of Sport    7.11
126 Carla Ryan (Aus) Queensland Academy of Sport                          7.28
127 Laura Pisaneschi (Ita) A S Team FRW                                   7.31
128 Takao Nagayama (Jpn) Japan Businessman Cycling Federation             7.55
129 Emi Wachi (Jpn) Japan Businessman Cycling Federation                  8.19
 
Best young rider
 
1 Tiffany Cromwell (Aus) SAFI - Pasta Zara Manhattan                   1.09.36
2 Amanda Spratt (Aus) Australian National Team                            1.20
3 Hannah Banks (Aus) Australian National Team                             1.42
4 Amy Hunt (GBr) SAFI - Pasta Zara Manhattan                              2.41
5 Louise Kerr (Aus) Queensland Academy of Sport                           3.42
6 Marlen Johrend (Ger) German National Team                               4.07
7 Annalisa Cucinotta (Ita) Italian National Team                          4.47
8 Irina Zemlyanskaya (Rus) Russian National Team                          4.55
 
Sprint classification
 
1 Oenone Wood (Aus) Equipe Nürnberger Versicherung                          12 pts
2 Ina Teutenberg (Ger) T-Mobile                                             12
3 Christiane Soeder (Aut) Univega Pro Cycling Team                           8
4 Rochelle Gilmore (Aus) SAFI - Pasta Zara Manhattan                         8
5 Mellisa Holt (NZl) Bike New Zealand                                        6
6 Svetlana Bubnenkova (Rus) Russian National Team                            6
7 Joanne Kiesanowski (NZl) Univega Pro Cycling Team                          4
8 Sarah Ulmer (NZl) Bike New Zealand                                         4