Tour of California - 2.1
USA, February 19-26, 2006
Main Page Results Overall standings Stage Details Live report Previous Stage Next Stage
Stage 6 - February 25: Santa Barbara to Thousand Oaks, 144km
T-Mobile scores first (men's) victory in California
Overall leaders remain in jerseys in final climbing stage
by Mark Zalewski, North American Editor in Thousand Oaks
Olaf Pollack (T-Mobile)
Photo ©: Jon Devich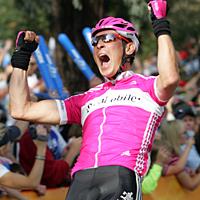 Attacks came early and often in the final road stage of the Tour of California, with four categorized climbs were on tap, including a deceivingly difficult category four climb just 34 kilometers from the finish. Gerolsteiner was the present in every move today, including a long solo effort by Sebastian Lang. Unfortunately for Lang, his more than three minute lead was robbed from him just 22 kilometers from the finish with a slow rear wheel change. This sent the sprinter's teams into action, with T-Mobile finally able to organize and deliver their sprinter Olaf Pollack to the line for their first win of the season.
"[This win] is a special one," said Pollack. "My last victory was one and a half years ago and last year I had many problems with my body, in the hospital for a month. This victory was very important for me." It also is important for others, as every win for the T-Mobile team results in a 3,000 Euro donation to UNICEF. But those Euros did not come easy, with a hard effort by Team CSC in the finishing circuits.
"The last three kilometers was very difficult to go," said Pollack. "Team CSC was working for Stuart O'Grady and it was very fast. It was up and down the last 2,000 meters but my team with Michael Rogers, Andre Korff and Andre Greipel went on the left side and it was faster than the other guys." Pollack commented on CSC's effort being rather far out from the finish, on the second lap of three to the finish. "I think it was too early. If you have a big team that can go the final 10km at 55kph, then maybe O'Grady could win the stage."
Floyd Landis (Phonak)
Photo ©: Seng Chen

While Gerolsteiner did not come away with a stage win today, team leader Levi Leipheimer sewed up his KOM jersey by following teammate Fabian Wegmann over the category three climb to solidify his lead over T-Mobile's Bernhard Kohl. Leipheimer was smart to do this as the final category four climb was a bit surprising to all in the field. "That turned out to be incredibly steep," said Leipheimer. "It wasn't long, and at first it was just gradual. I don't think anybody expected it, and when we turned the corner we saw this wall! But at that point the race for the jersey was already over with -- nobody could catch me. I found myself sprinting at the top and then I was like, 'What am I doing?'"
In the overall, Floyd Landis and his Phonak team rode comfortably over the climbs with non-threatening breaks up the road most of the day. "Fortunately today some teams helped out and thanks to Levi for not attacking on that steep climb!" said Landis. With the final climbs out of the way, he is virtually guaranteed to hold his lead through the final circuit race tomorrow. And while this win will be a nice palmares for Landis, he is measuring victory in another way. "It is sweet, because I am going to In and Out Burger afterwards! I don't normally get to do that. By the way, they don't sponsor me either -- I'll pay for the burger!"
Stage winner Olaf Pollack (T-Mobile)
Photo ©: Seng Chen

Pollack's win today launched him into second place in the sprint jersey, behind Discovery Channel's George Hincapie. "It's not really a priority for me, I won two stages," Hincapie told Cyclingnews after the stage. "If I keep the jersey, that's fine. We were just making sure that if there were any breakaways we would be represented. Once we know it was going to be a field sprint, we just stayed near the front." And when asked whether or not Ina Teutenberg's win for the T-Mobile women's team last weekend at the Geelong Women's Tour put any pressure on the men's squad to answer, Pollack chuckled and said, "Our victories are together and is good for a big sponsor."
Looking at the bigger picture for the season as a whole, both Landis and Leipheimer are optimistic that they will be able to reload for the Grand Tours. "I think [the leaders of this race] have been in shape in the early spring and then in July -- so long as between now and then we get a little rest..." said Landis. "With that said I'll go to Paris-Nice next week, which will be fun! Hopefully after that I will get a break."
"You can take a break and build back up," said Leipheimer. "This race has provided me with a great early season race, and motivated me to train hard over the winter. I can afford to take a break now. While [Floyd] is in Paris-Nice I'll be on the beach in Hawaii or something!"
How it unfolded
The peloton leave Santa Barbara
Photo ©: Seng Chen

It was tough to choose which Gerolsteiner rider deserved the Most Aggressive jersey today -- with Sven Krauss and Sebastian Lang taking turns attacking the field, riding in breaks, soloing off the front and attacking again after being caught. "It was pretty fast and hilly," said Lang. "It was the plan from the last stage to go with a breakaway with other riders -- but alone is too hard, staying in front with a headwind and no tailwind. It was pretty hard against the wind."
One of the deciding factors in the jersey selection was Lang's unlucky rear flat which cost him at least a minute off his three minute lead. "It was a really long change," said Lang. "I was thinking, 'Hey man, now I've lost a minute and I can't do anything!' Then I was f***ed and the motivation was a bit low. The field was working for a sprint then." It was even more unfortunate for Lang since he had survived the surprisingly tough final category four climb and looked to be riding well on his own into the finish. "It was very hard! In the flat I was going very hard to break away. It was a really steep climb, and I looked up and thought, 'Oh s**t, what do I do?!? I have only a 25 [on the back!]' I was thinking I may need a 27!"
The first break of the day
Photo ©: Jon Devich

Even Levi was a little surprised by his team's strong and unrelenting effort today, with Haselbacher even attacking with just 800 meters from the finish in a last-ditch effort. "The team has been extremely aggressive all week trying for another stage win. I don't know what it is, they are just having a great time here in the Tour of California. They are happy and are always the first ones to attack and when the group comes back they attack again. I don't know what to say, they've been inspired by the race, the fans, the great weather.
Krauss was present in the first major break of the day, along with Scott Davis (T-Mobile), Michael Jones (Health Net-Maxxis), Dominique Perras (KodakGallery.com Sierra Nevada), Brice Jones (Jelly Belly), Karsten Kroon (CSC) and Justin England (Toyota-United). Viatcheslav Ekimov (Discovery Channel) tried to bridge, spending another day in breaks, but the riders up front did not want any part of it. The Discovery Channel team went to the front and rode tempo to keep the break in control once Eki sat-up.
The break maintained a lead hovering around one minute for more than thirty kilometers, making it over the first KOM. However, the slow descent into the town of Ojai for the intermediate sprint disintegrated the remaining time gap with Discovery Channel pushing the pace -- with only Sven Krauss surviving taking the sprint points. Following the capture and sprint, counter attacks ensued with Krauss up the road. Other riders tried to bridge to Krauss, but none were successful, and Krauss pushed on alone.
Sebastian Lang makes a solo break
Photo ©: Seng Chen

Near the top of the next KOM, the field finally reeled Krauss in. More groups tried to make a go of it as the road sloped down towards the next sprint in Santa Ana. Near the sprint, Sebastian Lang jumped from the field -- a bold move with the field moving at a good pace, but he was able to get a gap and took the points in the town -- and continued on alone to keep with the Gerolsteiner theme of the day.
Up the nasty Balcolm Canyo climb, Lang increased his lead to nearly two minutes with large crowds packing the road near the top. Once over the gap was almost three minutes, and a stage win was nearly in sight for Lang. On the flats Lang drove hard alone, as Dominique Perras (KodakGallery.com-Sierra Nevada) tried in vain to bridge. About the time that Perras was absorbed by the field, Lang punctured and was hampered further by a slow service. Back up and running, and only about a minute up on the field, Lang gave it his best effort, but the psychological effects alone doomed his chances.
The pack closes in
Photo ©: Mitch Clinton

On the final small climb of the day Lang was caught and the usual counters tried to get off, but with little success as teams like Toyota-United and Health Net-Maxxis wanted a field sprint. But Gerolsteiner was at it again with Sven Krauss trying another solo flyer. Marco Pinotti (Saunier Duval-Prodir) eventually went with him and the two held a slight lead until the circuits.
CSC then joined the fun and drove the pace around the circuits with six riders on the front, led by Lars Bak -- but with two laps to go some felt that this move was ill-timed. The last 3 kilometers was very difficult to go," said Pollack. "Team CSC was working for Stuart O'Grady and it was very fast. It was up and down the last 2,000 meters and my team with Michael Rogers, Andre Korff and Andre Greipel went on the left side and it was faster."
Team CSC takes to the front
Photo ©: Seng Chen

Even in the last two kilometers, Gerolsteiner did not give up on a solo effort with Rene Haselbacher jumping off the front, but getting caught at fifty meters with T-Mobile driving the train. Davitamon-Lotto's Freddie Rodriguez came up short again today, picking the wrong wheel to follow in the final kilometer. "They were technical with a lot of corners. CSC was driving it pretty hard and it was tough getting the team together. We got together with a couple of kilometers to go, but came up a bit short -- so did United," Rodriguez said.
"I got caught on J.J.'s wheel, which I thought was the greatest wheel to be on. T-Mobile was doing the lead out and I boxed Pollack for J.J.'s wheel and thought this is perfect! It looked like it was good speed coming down the last 200 meters and I was just waiting for J.J. to start because I knew it was uphill. I thought I would let him start and then just swing by. But he was not going and then he just swings off -- at the same time I wanted to go, Pollack went and we hit. I had to get out of the way and I came back in but that was it, game over."
Photography
For a thumbnail gallery of these images, click here
Images by Seng Chen/www.iheartbrains.com
Images by Jonathan Devich/epicimages.us
Images by Mitch Clinton/www.clintonphoto.com
Images by Mark Zalewski/Cyclingnews.com
Images by Mitch Friedman/www.mitchophoto.com
Images by Steve Cohen/www.sportsshooter.com/STEVEC
Images by Mark Johnson/www.ironstring.com
Results

1 Olaf Pollack (Ger) T-Mobile Team                              3.26.39
2 Riccardo Ricco (Ita) Saunier Duval-Prodir                            
3 Fred Rodriguez (USA) Davitamon-Lotto                                 
4 Gordon Fraser (Can) Health Net p/b Maxxis                            
5 Fabian Wegmann (Ger) Gerolsteiner                                    
6 David Kopp (Ger) Gerolsteiner                                        
7 René Haselbacher (Aut) Gerolsteiner                                  
8 André Greipel (Ger) T-Mobile Team                                    
9 Stuart O'Grady (Aus) Team CSC                                        
10 Alexandre Moos (Swi) Phonak Hearing Systems                         
11 Michael Barry (Can) Discovery Channel                               
12 Alex Candelario (USA) Jelly Belly                                   
13 George Hincapie (USA) Discovery Channel                             
14 Mark McCormack (USA) Colavita Olive Oil-Sutter Home Wines           
15 Jackson Stewart (USA) Kodakgallery.Com-Sierra Nevada                
16 Taylor Tolleson (USA) Team TIAA-CREF                                
17 Vladimir Gusev (Rus) Discovery Channel                              
18 Fausto Esparza (Mex) KB Home Mexican National Team                  
19 Cadel Evans (Aus) Davitamon-Lotto                                   
20 Sébastien Portal (Fra) Credit Agricole                              
21 Charles Dionne (Can) Saunier Duval-Prodir                           
22 Bobby Julich (USA) Team CSC                                         
23 Nicolas Vogondy (Fra) Credit Agricole                               
24 Nathan O'Neill (Aus) Health Net p/b Maxxis                          
25 Juan José Haedo (Arg) Toyota-United Pro                             
26 Viktor Rapinski (Blr) Colavita Olive Oil-Sutter Home Wines          
27 David Zabriskie (USA) Team CSC                                      
28 Benjamin Brooks (Aus) Navigators Insurance                          
29 Martin Elmiger (Swi) Phonak Hearing Systems                         
30 Frank Hoj (Den) Gerolsteiner                                        
31 Sergey Lagutin (Uzb) Navigators Insurance                           
32 Fabian Cancellara (Swi) Team CSC                                    
33 Josep Jufre Pou (Spa) Davitamon-Lotto                               
34 Gregory Henderson (NZl) Health Net p/b Maxxis                       
35 André Korff (Ger) T-Mobile Team                                     
36 Michael Friedman (USA) Team TIAA-CREF                               
37 Janez Brajkovic (Slo) Discovery Channel                             
38 Mads Kaggestad (Nor) Credit Agricole                                
39 Floyd Landis (USA) Phonak Hearing Systems                           
40 Christian Vandevelde (USA) Team CSC                                 
41 Nicolas Jalabert (Fra) Phonak Hearing Systems                       
42 Hayden Roulston (NZl) Health Net p/b Maxxis                         
43 Valery Kobzarenko (Ukr) Navigators Insurance                        
44 Christopher Baldwin (USA) Toyota-United Pro                         
45 Levi Leipheimer (USA) Gerolsteiner                                  
46 Bernhard Kohl (Aut) T-Mobile Team                                   
47 Christopher Horner (USA) Davitamon-Lotto                            
48 Viatcheslav Ekimov (Rus) Discovery Channel                          
49 Phil Zajicek (USA) Navigators Insurance                             
50 Jean Marc Marino (Fra) Credit Agricole                              
51 Mark Walters (Can) Navigators Insurance                             
52 Thomas Danielson (USA) Discovery Channel                            
53 Thomas Peterson (USA) Team TIAA-CREF                                
54 Jason McCartney (USA) Discovery Channel                             
55 Saul Raisin (USA) Credit Agricole                                   
56 Antonio Cruz (USA) Toyota-United Pro                                
57 Paolo Savoldelli (Ita) Discovery Channel                            
58 Rémi Pauriol (Fra) Credit Agricole                                  
59 Brian Jensen (USA) Jelly Belly                                      
60 Marco Pinotti (Ita) Saunier Duval-Prodir                            
61 Nick Reistad (USA) Jelly Belly                                      
62 Kilian Patour (Fra) Credit Agricole                                 
63 Steve Zampieri (Swi) Phonak Hearing Systems                         
64 Lucas Euser (USA) Team TIAA-CREF                                    
65 Torsten Hiekmann (Ger) Gerolsteiner                                 
66 Mariano Friedick (USA) Toyota-United Pro                            
67 Scott Zwizanski (USA) Kodakgallery.Com-Sierra Nevada                
68 Michael Rogers (Aus) T-Mobile Team                                  
69 Ben Jacques-Maynes (USA) Kodakgallery.Com-Sierra Nevada             
70 Scott Moninger (USA) Health Net p/b Maxxis                          
71 Sven Krauss (Ger) Gerolsteiner                                      
72 Dominique Perras (Can) Kodakgallery.Com-Sierra Nevada               
73 Sebastian Lang (Ger) Gerolsteiner                                   
74 Scott Davis (Aus) T-Mobile Team                                     
75 Glen Alan Chadwick (Aus) Navigators Insurance                       
76 Aaron Olsen (USA) Saunier Duval-Prodir                              
77 José Angel Gomez Marchante (Spa) Saunier Duval-Prodir               
78 Michael Creed (USA) Team TIAA-CREF                                  
79 Davide Frattini (Ita) Colavita Olive Oil-Sutter Home Wines          
80 Justin England (USA) Toyota-United Pro                              
81 José-Manuel Garcia (Mex) Toyota-United Pro                          
82 Craig Lewis (USA) Team TIAA-CREF                                    
83 Koldo Gil Perez (Spa) Saunier Duval-Prodir                          
84 Tyler Wren (USA) Colavita Olive Oil-Sutter Home Wines               
85 Arquimides Lam (Mex) KB Home Mexican National Team                  
86 Kyle Wamsley (USA) Colavita Olive Oil-Sutter Home Wines             
87 Jesus Zarate (Mex) KB Home Mexican National Team                    
88 Danny Pate (USA) Team TIAA-CREF                                     
89 Vassili Davidenko (Rus) Navigators Insurance                        
90 Miguel Angel Martin Perdiguero (Spa) Phonak Hearing Systems     0.27
91 Jonathan Patrick Mc Carty (USA) Phonak Hearing Systems              
92 Caleb Manion (Aus) Jelly Belly                                      
93 Preben Van Hecke (Bel) Davitamon-Lotto                          0.36
94 Mike Sayers (USA) Health Net p/b Maxxis                             
95 David O'Loughlin (Irl) Navigators Insurance                         
96 Timothy Johnson (USA) Health Net p/b Maxxis                         
97 Brice Jones (USA) Jelly Belly                                   0.43
98 Jens Voigt (Ger) Team CSC                                           
99 Bart Dockx (Bel) Davitamon-Lotto                                    
100 Karsten Kroon (Ned) Team CSC                                       
101 Heath Blackgrove (NZl) Toyota-United Pro                           
102 Robert Hunter (RSA) Phonak Hearing Systems                     1.12
103 Lars Ytting Bak (Den) Team CSC                                 1.17
DNS Gilberto Simoni (Ita) Saunier Duval-Prodir                         
DNS Andrew Bajadali (USA) Jelly Belly                                  
DNF Michael Jones (USA) Health Net p/b Maxxis                          
DNF Kirk Albers (USA) Jelly Belly                                      
 
Sprints
 
1
 
1 Sven Krauss (Ger) Gerolsteiner                                      5 pts
2 David Kopp (Ger) Gerolsteiner                                       3
3 Thomas Danielson (USA) Discovery Channel                            1
 
2
 
1 Sebastian Lang (Ger) Gerolsteiner                                   5 pts
2 Steve Zampieri (Swi) Phonak Hearing Systems                         3
3 Martin Elmiger (Swi) Phonak Hearing Systems                         1
 
Mountains
 
1
 
1 Scott Davis (Aus) T-Mobile Team                                     4 pts
2 Michael Jones (USA) Health Net p/b Maxxis                           3
3 Dominique Perras (Can) Kodakgallery.Com-Sierra Nevada               2
4 Sven Krauss (Ger) Gerolsteiner                                      1
 
2
 
1 Sven Krauss (Ger) Gerolsteiner                                      4 pts
2 Dominique Perras (Can) Kodakgallery.Com-Sierra Nevada               3
3 Scott Davis (Aus) T-Mobile Team                                     2
4 Justin England (USA) Toyota-United Pro                              1
 
3
 
1 Fabian Wegmann (Ger) Gerolsteiner                                   6 pts
2 Levi Leipheimer (USA) Gerolsteiner                                  5
3 George Hincapie (USA) Discovery Channel                             4
4 Floyd Landis (USA) Phonak Hearing Systems                           3
5 Nathan O'Neill (Aus) Health Net p/b Maxxis                          1
 
4
 
1 Sebastian Lang (Ger) Gerolsteiner                                   4 pts
2 Riccardo Ricco (Ita) Saunier Duval-Prodir                           3
3 Bernhard Kohl (Aut) T-Mobile Team                                   2
4 Levi Leipheimer (USA) Gerolsteiner                                  1
 
Teams
 
1 Gerolsteiner                                                 10.19.57
2 Discovery Channel Pro Cycling Team                                   
3 T-Mobile Team                                                        
4 Davitamon-Lotto                                                      
5 Team CSC                                                             
6 Health Net Presented by Maxxis                                       
7 Phonak Hearing Systems                                               
8 Credit Agricole                                                      
9 Prodir-Saunier Duval                                                 
10 Navigators Insurance Cycling Team                                   
11 Team TIAA-Cref                                                      
12 Colavita Olive Oil/Sutter Home Wines Pro Cycling Team               
13 Toyota-United Pro Cycling Team                                      
14 Jelly Belly Cycling Team                                            
15 Kodak Gallery.com/Sierra Nevada Pro Cycling                         
16 KB Home Mexican National Team                                       
 
General classification after stage 6
 
1 Floyd Landis (USA) Phonak Hearing Systems                    19.56.19
2 David Zabriskie (USA) Team CSC                                   0.29
3 Bobby Julich (USA) Team CSC                                      0.34
4 George Hincapie (USA) Discovery Channel                          0.45
5 Nathan O'Neill (Aus) Health Net p/b Maxxis                       1.08
6 Levi Leipheimer (USA) Gerolsteiner                               1.10
7 Cadel Evans (Aus) Davitamon-Lotto                                1.29
8 Thomas Danielson (USA) Discovery Channel                         1.49
9 Christian Vandevelde (USA) Team CSC                              1.55
10 Jason McCartney (USA) Discovery Channel                         1.58
11 Nicolas Vogondy (Fra) Credit Agricole                           2.14
12 Bernhard Kohl (Aut) T-Mobile Team                               2.15
13 Christopher Horner (USA) Davitamon-Lotto                        2.17
14 Josep Jufre Pou (Spa) Davitamon-Lotto                           2.20
15 Phil Zajicek (USA) Navigators Insurance                         2.32
16 Rémi Pauriol (Fra) Credit Agricole                              2.52
17 Michael Barry (Can) Discovery Channel                           2.56
18 Saul Raisin (USA) Credit Agricole                               3.11
19 Alexandre Moos (Swi) Phonak Hearing Systems                     3.22
20 José Angel Gomez Marchante (Spa) Saunier Duval-Prodir               
21 Riccardo Ricco (Ita) Saunier Duval-Prodir                       4.10
22 Hayden Roulston (NZl) Health Net p/b Maxxis                     4.31
23 Viatcheslav Ekimov (Rus) Discovery Channel                      5.30
24 Christopher Baldwin (USA) Toyota-United Pro                     6.13
25 Ben Jacques-Maynes (USA) Kodakgallery.Com-Sierra Nevada         6.20
26 Glen Alan Chadwick (Aus) Navigators Insurance                   6.32
27 Valery Kobzarenko (Ukr) Navigators Insurance                    6.49
28 Paolo Savoldelli (Ita) Discovery Channel                        6.52
29 Danny Pate (USA) Team TIAA-CREF                                 7.34
30 Janez Brajkovic (Slo) Discovery Channel                         7.36
31 Vladimir Gusev (Rus) Discovery Channel                          7.39
32 Heath Blackgrove (NZl) Toyota-United Pro                        7.46
33 Torsten Hiekmann (Ger) Gerolsteiner                             7.52
34 Koldo Gil Perez (Spa) Saunier Duval-Prodir                      8.02
35 Karsten Kroon (Ned) Team CSC                                    8.26
36 Scott Moninger (USA) Health Net p/b Maxxis                      8.56
37 Mads Kaggestad (Nor) Credit Agricole                            9.11
38 Antonio Cruz (USA) Toyota-United Pro                            9.13
39 Marco Pinotti (Ita) Saunier Duval-Prodir                        9.23
40 Thomas Peterson (USA) Team TIAA-CREF                            9.35
41 Steve Zampieri (Swi) Phonak Hearing Systems                    10.17
42 Scott Davis (Aus) T-Mobile Team                                11.09
43 Sebastian Lang (Ger) Gerolsteiner                              12.07
44 Sergey Lagutin (Uzb) Navigators Insurance                      12.26
45 Stuart O'Grady (Aus) Team CSC                                  12.29
46 Jens Voigt (Ger) Team CSC                                      12.39
47 Nicolas Jalabert (Fra) Phonak Hearing Systems                  12.48
48 Brian Jensen (USA) Jelly Belly                                 13.01
49 Michael Creed (USA) Team TIAA-CREF                             13.30
50 Arquimides Lam (Mex) KB Home Mexican National Team             14.15
51 Miguel Angel Martin Perdiguero (Spa) Phonak Hearing Systems    14.43
52 Lucas Euser (USA) Team TIAA-CREF                               15.47
53 Dominique Perras (Can) Kodakgallery.Com-Sierra Nevada          16.35
54 André Korff (Ger) T-Mobile Team                                16.50
55 Bart Dockx (Bel) Davitamon-Lotto                               17.21
56 André Greipel (Ger) T-Mobile Team                              17.22
57 Sébastien Portal (Fra) Credit Agricole                         17.50
58 Michael Rogers (Aus) T-Mobile Team                             18.04
59 Fred Rodriguez (USA) Davitamon-Lotto                           18.21
60 Davide Frattini (Ita) Colavita Olive Oil-Sutter Home Wines     18.47
61 Olaf Pollack (Ger) T-Mobile Team                               18.57
62 Martin Elmiger (Swi) Phonak Hearing Systems                    19.08
63 Kilian Patour (Fra) Credit Agricole                            19.25
64 Jonathan Patrick Mc Carty (USA) Phonak Hearing Systems         19.37
65 Robert Hunter (RSA) Phonak Hearing Systems                     19.57
66 Jean Marc Marino (Fra) Credit Agricole                         19.58
67 Taylor Tolleson (USA) Team TIAA-CREF                           20.17
68 Craig Lewis (USA) Team TIAA-CREF                               20.21
69 Justin England (USA) Toyota-United Pro                         20.24
70 Mark Walters (Can) Navigators Insurance                        20.30
71 Sven Krauss (Ger) Gerolsteiner                                 21.19
72 Viktor Rapinski (Blr) Colavita Olive Oil-Sutter Home Wines     21.20
73 David O'Loughlin (Irl) Navigators Insurance                    21.33
74 Gordon Fraser (Can) Health Net p/b Maxxis                      21.36
75 Fabian Cancellara (Swi) Team CSC                               21.56
76 Caleb Manion (Aus) Jelly Belly                                 23.10
77 Scott Zwizanski (USA) Kodakgallery.Com-Sierra Nevada           24.38
78 Mariano Friedick (USA) Toyota-United Pro                       24.41
79 David Kopp (Ger) Gerolsteiner                                  24.50
80 Frank Hoj (Den) Gerolsteiner                                   25.01
81 Timothy Johnson (USA) Health Net p/b Maxxis                    25.07
82 Fausto Esparza (Mex) KB Home Mexican National Team             25.18
83 Kyle Wamsley (USA) Colavita Olive Oil-Sutter Home Wines        25.42
84 Nick Reistad (USA) Jelly Belly                                 25.59
85 René Haselbacher (Aut) Gerolsteiner                            26.10
86 Fabian Wegmann (Ger) Gerolsteiner                              26.13
87 Benjamin Brooks (Aus) Navigators Insurance                     26.39
88 Alex Candelario (USA) Jelly Belly                              27.01
89 Preben Van Hecke (Bel) Davitamon-Lotto                         27.40
90 Michael Friedman (USA) Team TIAA-CREF                          27.52
91 Charles Dionne (Can) Saunier Duval-Prodir                      28.16
92 José-Manuel Garcia (Mex) Toyota-United Pro                     28.22
93 Aaron Olsen (USA) Saunier Duval-Prodir                         28.55
94 Lars Ytting Bak (Den) Team CSC                                 28.57
95 Gregory Henderson (NZl) Health Net p/b Maxxis                  29.25
96 Vassili Davidenko (Rus) Navigators Insurance                   29.31
97 Jesus Zarate (Mex) KB Home Mexican National Team               30.05
98 Juan José Haedo (Arg) Toyota-United Pro                        31.04
99 Jackson Stewart (USA) Kodakgallery.Com-Sierra Nevada           31.05
100 Mike Sayers (USA) Health Net p/b Maxxis                       31.28
101 Mark McCormack (USA) Colavita Olive Oil-Sutter Home Wines     32.05
102 Brice Jones (USA) Jelly Belly                                 32.07
103 Tyler Wren (USA) Colavita Olive Oil-Sutter Home Wines         40.45
 
Sprints classification
 
1 George Hincapie (USA) Discovery Channel                            40 pts
2 Olaf Pollack (Ger) T-Mobile Team                                   32
3 Juan José Haedo (Arg) Toyota-United Pro                            30
4 Christopher Horner (USA) Davitamon-Lotto                           23
5 Fred Rodriguez (USA) Davitamon-Lotto                               23
6 Josep Jufre Pou (Spa) Davitamon-Lotto                              19
7 Fabian Wegmann (Ger) Gerolsteiner                                  18
8 Riccardo Ricco (Ita) Saunier Duval-Prodir                          18
9 Gordon Fraser (Can) Health Net p/b Maxxis                          17
10 René Haselbacher (Aut) Gerolsteiner                               16
11 Stuart O'Grady (Aus) Team CSC                                     12
12 Sebastian Lang (Ger) Gerolsteiner                                 10
13 André Korff (Ger) T-Mobile Team                                   10
14 André Greipel (Ger) T-Mobile Team                                  8
15 Jackson Stewart (USA) Kodakgallery.Com-Sierra Nevada               8
16 David Kopp (Ger) Gerolsteiner                                      8
17 Ben Jacques-Maynes (USA) Kodakgallery.Com-Sierra Nevada            7
18 Bobby Julich (USA) Team CSC                                        7
19 Levi Leipheimer (USA) Gerolsteiner                                 7
20 Michael Creed (USA) Team TIAA-CREF                                 6
21 Mads Kaggestad (Nor) Credit Agricole                               6
22 Alex Candelario (USA) Jelly Belly                                  6
23 Sven Krauss (Ger) Gerolsteiner                                     5
24 Benjamin Brooks (Aus) Navigators Insurance                         5
25 Cadel Evans (Aus) Davitamon-Lotto                                  5
26 Viktor Rapinski (Blr) Colavita Olive Oil-Sutter Home Wines         5
27 Martin Elmiger (Swi) Phonak Hearing Systems                        4
28 Floyd Landis (USA) Phonak Hearing Systems                          4
29 Hayden Roulston (NZl) Health Net p/b Maxxis                        4
30 Steve Zampieri (Swi) Phonak Hearing Systems                        3
31 Lars Ytting Bak (Den) Team CSC                                     3
32 José-Manuel Garcia (Mex) Toyota-United Pro                         3
33 Jean Marc Marino (Fra) Credit Agricole                             3
34 Sergey Lagutin (Uzb) Navigators Insurance                          3
35 David Zabriskie (USA) Team CSC                                     2
36 Scott Davis (Aus) T-Mobile Team                                    2
37 Antonio Cruz (USA) Toyota-United Pro                               2
38 Thomas Danielson (USA) Discovery Channel                           1
39 Dominique Perras (Can) Kodakgallery.Com-Sierra Nevada              1
40 Jens Voigt (Ger) Team CSC                                          1
41 Vladimir Gusev (Rus) Discovery Channel                             1
42 Alexandre Moos (Swi) Phonak Hearing Systems                        1
43 Nicolas Vogondy (Fra) Credit Agricole                              1
44 Gregory Henderson (NZl) Health Net p/b Maxxis                      1
 
Mountains classification
 
1 Levi Leipheimer (USA) Gerolsteiner                                 31 pts
2 Bernhard Kohl (Aut) T-Mobile Team                                  22
3 Riccardo Ricco (Ita) Saunier Duval-Prodir                          17
4 Floyd Landis (USA) Phonak Hearing Systems                          10
5 Sebastian Lang (Ger) Gerolsteiner                                  10
6 Marco Pinotti (Ita) Saunier Duval-Prodir                            9
7 Jens Voigt (Ger) Team CSC                                           7
8 David Zabriskie (USA) Team CSC                                      6
9 Fabian Wegmann (Ger) Gerolsteiner                                   6
10 André Greipel (Ger) T-Mobile Team                                  6
11 Christopher Horner (USA) Davitamon-Lotto                           6
12 Scott Davis (Aus) T-Mobile Team                                    6
13 Viatcheslav Ekimov (Rus) Discovery Channel                         5
14 Thomas Danielson (USA) Discovery Channel                           5
15 Sven Krauss (Ger) Gerolsteiner                                     5
16 Dominique Perras (Can) Kodakgallery.Com-Sierra Nevada              5
17 Cadel Evans (Aus) Davitamon-Lotto                                  4
18 Paolo Savoldelli (Ita) Discovery Channel                           4
19 George Hincapie (USA) Discovery Channel                            4
20 Glen Alan Chadwick (Aus) Navigators Insurance                      4
21 Michael Creed (USA) Team TIAA-CREF                                 4
22 Bobby Julich (USA) Team CSC                                        2
23 Vladimir Gusev (Rus) Discovery Channel                             2
24 Mads Kaggestad (Nor) Credit Agricole                               2
25 Jean Marc Marino (Fra) Credit Agricole                             2
26 Nathan O'Neill (Aus) Health Net p/b Maxxis                         1
27 Alexandre Moos (Swi) Phonak Hearing Systems                        1
28 Thomas Peterson (USA) Team TIAA-CREF                               1
29 Justin England (USA) Toyota-United Pro                             1
 
Best young rider classification
 
1 Thomas Peterson (USA) Team TIAA-CREF                         20.05.54
2 Taylor Tolleson (USA) Team TIAA-CREF                            10.42
3 Craig Lewis (USA) Team TIAA-CREF                                10.46
 
Teams classification
 
1 Team CSC                                                     59.51.07
2 Discovery Channel Pro Cycling Team                               1.40
3 Davitamon-Lotto                                                  3.58
4 Phonak Hearing Systems                                           5.59
5 Credit Agricole                                                  6.07
6 Prodir-Saunier Duval                                             7.35
7 Health Net Presented by Maxxis                                  11.34
8 Navigators Insurance Cycling Team                               12.41
9 Gerolsteiner                                                    17.34
10 T-Mobile Team                                                  17.51
11 Toyota-United Pro Cycling Team                                 19.57
12 Team TIAA-Cref                                                 25.38
13 Kodak Gallery.com/Sierra Nevada Pro Cycling                    43.16
14 Colavita Olive Oil/Sutter Home Wines Pro Cycling Team          48.03
15 Jelly Belly Cycling Team                                       48.17
16 KB Home Mexican National Team                                1.03.28