USA Cycling Pro championships - CN
USA, September 1-3, 2006
Main Page Results Overall standings Race Details Live report Previous Race
Race 2 - September 3: USA professional road race championships, 194.6 km
Hincapie coronation commences without complication
By Mark Zalewski, North American Editor in Greenville, SC
George Hincapie
Photo ©: Jon Devich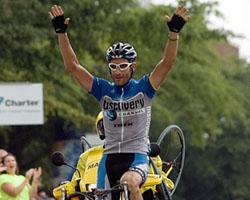 While David Zabriskie (Team CSC) was the favourite to win the first USPRO time trial, his ascension to the championship was threatened until the final 200 meters by domestic rider Chris Baldwin (Toyota-United). However, winning the USPRO road championship was not nearly as complicated for George Hincapie (Discovery Channel) as he rode away from the field with the help of his ProTour compatriots in his hometown of Greenville to take the stars and stripes jersey ahead of future teammate Levi Leipheimer (Gerolsteiner.)
"There was definitely a lot of pressure on me," said Hincapie about racing in front of many family and friends. "But I have learned to deal well with the pressure. Actually I didn't have great legs the first three laps, but I was able to make the selections. Once we got the fourth lap I felt better."
Hincapie's bad legs still made the race difficult for the all-American pro field thanks to the efforts of the other ProTour riders in the race. Forty riders dropped off the pace on the first lap and another thirty on the second, when David Zabriskie and Levi Leipheimer lit the fuse on the climb that exploded the race to pieces.
"It was team ProTour out there today," said defending champion Chris Wherry (Toyota-United.) "It was obvious. We knew they were all going to work together, but that is how it is when Levi is going to their team next year. [McCartney] and Zabriskie, even though they didn't last very long, lit it up the climb [the second lap] and Levi took over and that was it. Levi was awesome. If he wasn't working for George today I think he would have ridden away from everybody! He was incredible."
Levi Leipheimer
Photo ©: Jon Devich

"It's no secret we both wanted the race to be hard," said Hincapie. "[Levi] is one of the best climbers in the world and it is in his interest to make the race hard on the climbs. I knew that I was in great shape, and I'm not as great a climber as Levi, but it's my climb and I can't imagine anyone going up it faster than me."
The climb Hincapie referred to was Paris Mountain, a climb up the road from Hincapie's home, and one that he holds the record for climbing -- until yesterday. "The record was 8:57, but Levi broke it the other day to make me feel bad," said Hincapie. "He did it in 8:54."
Another indication of an alliance was the Discovery team feeding Leipheimer from the car and Leipheimer bringing bottles up to Hincapie. "I felt obligated since they were feeding me," said Leipheimer. "That was giving me a huge advantage and it was the professional courtesy thing to do -- it doesn't cost me anything to bring a bottle up to him."
How it unfolded
A unique aspect of this race was that there was never an official breakaway. The forced attrition by the speeds up the climb resulted in a reverse breakaway, with only the strongest surviving to form the lead pack. Cresting the KOM of Paris Mountain on the third lap was a pack of just seventeen riders which the race officials then deemed the "leading pack," with a group of thirty well back considered "the peloton."
Hincapie, Leipheimer
Photo ©: Jon Devich

The gap grew to over four minutes as the leaders entered the fourth lap. At this point Jonathan Vaughters must have gotten on his radio as Will Frischkorn and Mike Creed, two of the six TIAA-CREF riders that made the selection, launched a duo attack. Another one of those six was last year's runner-up Danny Pate, who says that the team did more than just show up with the biggest team. "You could say we had the most riders, but the selections were made on the hills and we had six riders out of the seventeen -- we didn't have just the most guys, we had good guys too."
Creed and Frischkorn built a lead of about a minute as the race neared Paris Mountain for the second-to-last time. But on the climb, Creed could not match his teammate's pace. After the leaders made the right turn onto the climb they caught and dropped Creed, then Frischkorn, with Leipheimer setting a hard pace to thin-out the group, even though the time up the climb was slightly slower than previous laps.
Nine riders survived this time up the climb with Hincapie and Leipheimer, including Wherry, Ben Jacques-Maynes (KodakGallery-Sierra Nevada), Danny Pate and Blake Caldwell (TIAA-CREF), with Phil Zajicek and Burke Swindlehurst (Navigators Insurance) setting the tempo.
But the surprise of the day was Andy Bajadali (Jelly Belly) surging over the KOM the previous two laps to take the $100 prime. "I figured if you are there, why not, you never know what is going to happen at the end of the race," said Bajadali. "It was really brutal -- there were some surges where Levi set this insane tempo with George but I felt comfortable and was able to go for the KOM sprints at the top. I just had great legs. I saw a great heart rate yesterday when I did some openers and I knew it was going to be a good day."
Chris Wherry
Photo ©: Jon Devich

The other riders were impressed with the effort of Bajadali, including Hincapie. "We never went easy on the climb -- we always went pretty hard or really hard. And he was always able to jump away on the last 200 meters which happens to be the steepest part."
The final climb
The stage was set for the final large lap up Paris Mountain with everyone looking to Hincapie or Leipheimer to make the move. And sticking to the script, Hincapie made his move 600 meters from the top. Only Bajadali responded with Leipheimer sitting on his wheel at first. Hincapie crested the KOM with a fifteen second lead to Bajadali and Leipheimer.
The two caught back up to Hincapie near the bottom of the descent, which just happened to go right by Hincapie's gated community. From here it was cat and mouse with Bajadali covering initial attacks by Hincapie and Leipheimer.
"It is George's hometown, so he was destined to win this from the get go, from the discussions [in the race,]" said Bajadali "We were trying to work it out, but I came here to race. Even if I [ended up] off the podium, it didn't matter to me, I came here to win. I'm not content with second place."
After a kilometer Bajadali started to work with the other two as they headed towards the three finishing circuits. "If you sit on, they play the teammate role. So you are better off working with the other riders. Initially I wanted to get a good gap with those guys, but it didn't work out that way."
Andrew Bajadali
Photo ©: Mitch Clinton

Entering the circuits the three were still together but then Hincapie put in an attack that Bajadali could not cover. Leipheimer did not respond either and the hometown hero surged ahead. "When George went away I said, 'Come on, we need to go across to him,'" said Leipheimer. "He gave everything -- I was a little bit worried about him but I saw in the final laps he was finished."
"Danny Van Haute just kept telling me the time gap was coming down, but I didn't have any calories in me," said Bajadali. "I was drinking Coke and digging, giving it my all. I couldn't have ridden any harder on the last laps."
Not long after, Leipheimer dropped Bajadali and began chasing back to Hincapie. "I spent that last effort I had getting back up to him and my legs were completely finished," said Leipheimer. But not long after getting on, Leipheimer said a word to Hincapie and took over the pace-making.
"I was completely empty at the end," said Hincapie. "When I attacked I put everything in it. Going through the park I saw Levi was close and it was still about 10km to go and he was five seconds behind. I figured I should wait and work with him for the last little bit because I was hurting really bad."
When asked what was said between them, Leipheimer told Cyclingnews, "I just said, 'Let's go!' I was taking long pulls and I knew he had a lot left. I said, 'Come on, at least match my pulls.' But he really wanted to win that day, he wasn't going to let that go, and he had that edge on me at the end."
The two drove hard to insure that Bajadali, or the following group of Pate, Wherry and Swindlehurst were not able to come back. Leipheimer continued to drive with Hincapie taking some pulls until the final kilometer, when Hincapie attacked around the outside of the sweeping curve. Leipheimer clearly hesitated and a gap of ten seconds appeared instantly. "I did every little bit I had left to get back to George," he said. "I was trying trick him into sprinting not so hard, but he put in the afterburners and blew me away. I was happy to get second."
Hincapie looked over his shoulder and took the final 250 meters to celebrate his win with Leipheimer holding on for second. Behind, Bajadali was caught and passed on a small incline by Pate, Swindlehurst and Wherry, with Pate jumping the group for third ahead of Swindlehurst. "I knew [George and Levi] were going to cat and mouse," said Pate. "Me, Wherry and Swindlehurst were working well together but I just gave it a dig on the last lap and get on the podium."
When asked whether he preferred this course to Philly, or vice-versa, Pate replied, "Any course where I can get a podium is a great course. Philly is a great race but this was great race for the first year. I want to come back and beat George."
Chris Wherry finished fifth with Bajadali limping in for a respectable sixth. "I think the multiple times up the climb with the humidity wore on everybody," said Wherry. "I was cramping a lot on the last lap, but I felt I limited my losses pretty well over the climb. But George and Levi were on a different level."
Only nine riders were allowed onto the final three finishing circuits which translates into an attrition rate of more than ninety percent. Thirty-one finishers were classified from pro-rated times, however, to bring that rate down to about seventy.
A podium visit
Photo ©: Jon Devich

"I did visualize myself finishing alone and riding alone the last time up the mountain," said Hincapie. "And it happened."
Photography
For a thumbnail gallery of these images, click here
Images by Jonathan Devich/epicimages.us
Images by Mitch Clinton/www.clintonphoto.com
Images by Trish Albert/www.southeasterncycling.com
Images by Doug Gravino/www.southeasterncycling.com
Images by Steve Verdell/www.verdelldesigns.com
Results

1 Georgie Hincapie (Discovery Channel Pro Cycling Team)               4.47.15
2 Levi Leipheimer (Gerolsteiner)                                         0.16
3 Danny Pate (Team TIAA-CREF)                                            1.20
4 Swindlehurst T Burke (Navigators Insurance Cycling Team)               1.25
5 Chris Wherry (Toyota - United Pro Cycling Team)                        1.38
6 Andrew Bajadali (Jelly Belly Cycling Team)                             1.49
7 Ben Jacques-Maynes (Kodakgallery.Com-Sierra Nevada Pro Cycling)        2.39
8 Phil Zajicek (Navigators Insurance Cycling Team)                           
9 Blake Caldwell (Team TIAA-CREF)                                        2.51
10 William Frischkorn (Team TIAA-CREF)                                   9.15
11 Justin England (Toyota - United Pro Cycling Team)                     9.30
12 Todd Herriott (Colavita Olive Oil-Sutter Home Wines Cycling Team)    10.46
13 Bernard Vanulden (Navigators Insurance Cycling Team)                 12.39
14 Shawn Milne (Navigators Insurance Cycling Team)                      13.08
15 Peter Stetina (Team TIAA-CREF)                                       13.09
16 Matt Shriver (Targetraining Cycling Team)                                 
17 Neil Shirley (The Jittery Joe's-Zero Gravity Pro Cycling Team)       13.10
18 Bryan Smith (Team TIAA-CREF)                                         13.11
19 Curtis Gunn (Successfulliving.com presented by Parkpre)              13.12
20 Craig Lewis (Team TIAA-CREF)                                         13.13
21 Steven Cozza (Team TIAA-CREF)                                             
22 Tim Johnson (Health Net pb Maxxis)                                        
23 Todd Henriksen (VMG Racing)                                               
24 Hugh Moran (AEG Toshiba-Jetnetwork Pro Cycling Team)                      
25 Tom Zirbel (Priority Health Cycling Team)                            13.15
26 Justin Spinelli (Nerac/Outdoorlights.Com Pro Cycling)                13.16
27 Eneas Freyre (Targetraining Cycling Team)                                 
28 Lucas Euser (Team TIAA-CREF)                                         13.18
29 Ian Macgregor (Team TIAA-CREF)                                       13.19
30 Todd Wells (Targetraining Cycling Team)                              15.08
31 Jeffrey Louder (Health Net pb Maxxis)                                18.36
DNF Christpher Baldwin (Toyota - United Pro Cycling Team)                    
DNF Sterling Magnell (Toyota - United Pro Cycling Team)                      
DNF Chris Stockburger (Toyota - United Pro Cycling Team)                     
DNF Joshua Thornton (Toyota - United Pro Cycling Team)                       
DNF Keith Norris (AEG Toshiba-Jetnetwork Pro Cycling Team)                   
DNF Jake Rubelt (AEG Toshiba-Jetnetwork Pro Cycling Team)                    
DNF Gregory Wolf (AEG Toshiba-Jetnetwork Pro Cycling Team)                   
DNF Zachary Grabowski (Colavita Olive Oil-Sutter Home Wines Cycling Team)    
DNF Mark McCormack (Colavita Olive Oil-Sutter Home Wines Cycling Team)       
DNF Jonathan Page (Colavita Olive Oil-Sutter Home Wines Cycling Team)        
DNF Tyler Wren (Colavita Olive Oil-Sutter Home Wines Cycling Team)           
DNF Ian Ayers (Colavita Olive Oil-Sutter Home Wines Cycling Team)            
DNF Roman Kilun (Health Net pb Maxxis)                                       
DNF Michael Jones (Health Net pb Maxxis)                                     
DNF Mike Sayers (Health Net pb Maxxis)                                       
DNF Scott Moninger (Health Net pb Maxxis)                                    
DNF Kirk O'Bee (Health Net pb Maxxis)                                        
DNF Doug Ollerenshaw (Health Net pb Maxxis)                                  
DNF Garrett Peltonen (Health Net pb Maxxis)                                  
DNF Kyle Gritters (Health Net pb Maxxis)                                     
DNF Kirk Albers (Jelly Belly Cycling Team)                                   
DNF Alex Candelario (Jelly Belly Cycling Team)                               
DNF Brice Jones (Jelly Belly Cycling Team)                                   
DNF David McCook (Jelly Belly Cycling Team)                                  
DNF Jeremy Powers (Jelly Belly Cycling Team)                                 
DNF Nick Reistad (Jelly Belly Cycling Team)                                  
DNF Austin King (The Jittery Joe's-Zero Gravity Pro Cycling Team)            
DNF Jesse Anthony (Kodakgallery.Com-Sierra Nevada Pro Cycling)               
DNF Michael Dietrich (Kodakgallery.Com-Sierra Nevada Pro Cycling)            
DNF Jackson Stewart (Kodakgallery.Com-Sierra Nevada Pro Cycling)             
DNF Scott Zwizanski (Kodakgallery.Com-Sierra Nevada Pro Cycling)             
DNF Thad Dulin (Nerac/Outdoorlights.Com Pro Cycling)                         
DNF Jonathon Hamblen (Nerac/Outdoorlights.Com Pro Cycling)                   
DNF Daniel Holt (Nerac/Outdoorlights.Com Pro Cycling)                        
DNF Scott Edge (Nerac/Outdoorlights.Com Pro Cycling)                         
DNF Eddy Hilger (Priority Health Cycling Team)                               
DNF Robbie King (Priority Health Cycling Team)                               
DNF Edward King (Priority Health Cycling Team)                               
DNF Jake Rytlewski (Priority Health Cycling Team)                            
DNF Brian Sheedy (Priority Health Cycling Team)                              
DNF John Delong (Rite Aid Pro Cycling)                                       
DNF Christopher Herby (Rite Aid Pro Cycling)                                 
DNF Peter Penzell (Rite Aid Pro Cycling)                                     
DNF Daniel Ramsey (Successfulliving.com presented by Parkpre)                
DNF Adam Livingston (Successfulliving.com presented by Parkpre)              
DNF Ryan Yee (Successfulliving.com presented by Parkpre)                     
DNF William Elliston (Targetraining Cycling Team)                            
DNF Daniel Greenfield (Targetraining Cycling Team)                           
DNF Andrew Guptill (Targetraining Cycling Team)                              
DNF Wesley Hartman (Targetraining Cycling Team)                              
DNF Clayton Barrows (AGI)                                                    
DNF Mike Friedman (Team TIAA-CREF)                                           
DNF Chad Hartley (Team TIAA-CREF)                                            
DNF Brad Huff (Team TIAA-CREF)                                               
DNF Tomas Barnet (Caico Cycling Team)                                        
DNF Alexander Boyd (VMG Racing)                                              
DNF Phillip Gaimon (VMG Racing)                                              
DNF Apostoltyson (Team Vorarlberg)                                           
DNF Jason McCartney (Discovery Channel Pro Cycling Team)                     
DNF Antonio Cruz (Toyota - United Pro Cycling Team)                          
DNF Christopher Frederick (AEG Toshiba-Jetnetwork Pro Cycling Team)          
DNF Eric Keim (AEG Toshiba-Jetnetwork Pro Cycling Team)                      
DNF Marc Anderson (The Jittery Joe's-Zero Gravity Pro Cycling Team)          
DNF Evan Elken (The Jittery Joe's-Zero Gravity Pro Cycling Team)             
DNF Michael Norton (Nerac/Outdoorlights.Com Pro Cycling)                     
DNF Dave Zabriskie (Team CSC)                                                
DNF Mike Creed (Team TIAA-CREF)                                              
DNF Troy Wells (Team TIAA-CREF)                                              
DNF Rudy Robaina (VMG Racing)                                                
DNF Spencer Beamer (VMG Racing)                                              
DSQ Frank Pipp (Targetraining Cycling Team)                                  
 
Mountains
 
1 Andrew Bajadali (Jelly Belly Cycling Team)                                2 pts
2 Georgie Hincapie (Discovery Channel Pro Cycling Team)                     1
3 Levi Leipheimer (Gerolsteiner)                                            1
4 Lucas Euser (Team TIAA-CREF)                                              1