Recently on Cyclingnews.com
An interview with Bobby Julich, April 28, 2006
Reality bites thrice
2006 has been a another reality check for Bobby Julich, who found himself on the edge of doing totally the wrong thing earlier in the year and risking burning matches when he didn't need to. However, experience and intuition set things straight, and he tells Cyclingnews' Anthony Tan he's itching to race.
Bobby Julich said he had three really big indicators telling him to 'chill out' before his season really got started.
Photo ©: AFP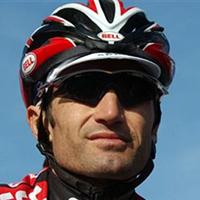 Minutes before I spoke with CSC's evergreen American Bobby Julich, the 34 year-old was having a fairly in-depth conversation with a representative from Oakley, one of his personal equipment sponsors. Phrases like, 'I need another set of M-Frames for the Giro and Tour' and 'the ones with black Iridium' were thrown around, indicative of someone very particular about the finer details.
"I mean, you're used to doing things the right way and when a guy like that is right here and can take care of a problem... " says Julich, his voice trailing off before explaining the reason behind his nitpicking: "In the time trial, there was something wrong with my glasses - I kept having to pull them up - and we found out they were a little uneven; of course, you don't have the right vision if they're tilted."
Compared to one year ago, Julich hasn't had the smoothest of starts to the '06 season. Since November last year, the plan was to skip races like Paris-Nice and Critérium International - events he won in 2005 - so he could be in top shape to aid Ivan Basso's quest to win both the Giro d'Italia and Tour de France. "I wound up doin' them anyway when I had number one on my back, then I crashed in Paris-Nice and was totally out of that race and had number one on my back in Critérium Internationale and was hors delai [outside the time limit - ed.] for the first time in my career on the morning stage.
"Obviously, when you have something in your head and you do races of that high calibre just to appease the race just because you have number one on your back, it doesn't work the same when you really focus. So for me, it's more important for the Giro and of course to be good for the Tour - totally new things, but I said [to myself]: 'Hey man, I'm gettin' older, it'd be cool to do the Giro and especially with Ivan.'"
"If I would have done California, Paris-Nice, Critérium, Pays Basque and the Classics and then the Giro and then the Tour, I think I would have been really bad in May or really bad in July."
- Interruptions faced earlier in the season have been a blessing in disguise for Bobby Julich, who was at risk of burning himself out before the Giro d'Italia
Julich believes his Paris-Nice crash, an atypical case of bonk and following period of illness has been a bit of a blessing in disguise. "That's three really big indicators that you need to chill out. It only took me three - normally, it takes me 10 or 11 things like that to really find that I have to listen to my body," he jokes.
"But with the injury and the sickness and just being able to pull back a little bit and say, 'Listen, the Classics are not going to help me'... because you're up there for nine days, you do three races at the highest calibre and you're getting dropped after 200k each day and you're not getting the full training in, it's better to stay at home and do five, six, seven hours of training in the mountains. And then you arrive at the races and hope you've just planned everything right.
"Luckily, with the 10 years of experience as a pro over here, I've been able to finally see the forest through the trees and not smash myself against the wall when I don't have to. I just basically needed to start from scratch again, because after being injured after Paris-Nice, not being able to train so well, then being sick for eight days and not being able to train so well, I obviously needed to redo my base and not go and kill myself and my threshold."
Asked what sort of preparation he did back home in Nice, Julich didn't get into specifics. Not so much because he's got secrets to hide, but more due to the fact that why he may seem a stickler for details, he basically rides according to how his body feels.
Smiles Julich, "I'm too old to stress about the totally minute details of being at a certain body fat percentage or a certain wattage threshold; the most important thing is that I'm just ready now to work and hopefully just get better and better till the Giro, because the Giro is definitely going to be the hardest in the last part of the race.
"I did long rides by myself, where I was able to really focus on I guess the level of training that I needed instead of too easy or too hard, and that's normally how it is in the races nowadays - you're sittin' at the back just spinning, or you're absolutely on the rivet. It was good to redo my base: it may not pay dividends immediately, but it will definitely be better than my other option, which was just to go and flog myself at the Classics.
"Honestly, I look at it now, and if I would have done California, Paris-Nice, Critérium, Pays Basque and the Classics and then the Giro and then the Tour, I think I would have been really bad in May or really bad in July," he predicts.
For a rider one third of the way into his fifteenth year as a pro, it's strange to hear him say he's excited to be riding the Giro d'Italia for the very first time, prompting me to ask the question twice just to make sure I heard correctly. "This is totally, totally new for me. Yeah, I know, it's crazy... normally, I'm totally burnt out after the hard spring, but now, I'm just itching to race 'cause I haven't really raced at all this year!" he chuckles.
"This is the first year I realised that not every day, you have to be in the front and not every race you have to be the team leader. Last year - last two years, actually - every single race I was in the front, and that takes its toll, for sure.
In fact, Julich hasn't raced since earlier this month at the Circuit de la Sarthe-Pays de la Loire, and even that wasn't really racing, according to him: "It's a totally different feeling, but I think after two years of going absolutely flat-out and taking every race so seriously, you need that kind of mental and physical recovery before you really plan your next objectives. But honestly this year, I did [Circuit de la] Sarthe as training, and I don't think I've ever done a less stressful, easier - mentally and physically - race in my life."
Here in Switzerland, Julich feels the same: "Everyone's asking me specifics about the course and the time trial and the prologue - and I'm just here to get fit for the Giro," he says.
"And especially having probably 60 percent of my races this year working for Ivan [Basso] in the Giro and the Tour, I realised those are the races that I have to be good at; even winning the prologue in Paris-Nice, I was like, 'Whoah, what happened... all of a sudden I'm on good form again' - then reality came crashing down.
"Now I realise, 'Hey, I'm at the last two, three years of my career and y'know, I'm not getting paid the money of a super-leader, so I should have the opportunity to take some races as training' - plus having so many other riders on my team being good again, you can share the responsibility a little bit."