9th Women's Flèche Wallonne - CDM
Belgium, April 19, 2006
Main Page Results World Cup standings
Welsh wunderkind takes victory #3
Nicole Cooke makes Flèche Wallonne her own
By Anthony Tan in Huy
Nicole Cooke
Photo ©: Mitch Friedman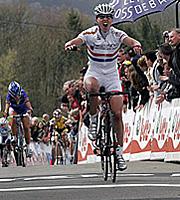 It's one thing to meet expectations, but another to exceed them. Before today's ninth edition of the women's Flèche Wallonne, Nicole Cooke had already claimed two victories in this race, and all eyes were on this Welsh wonder to do it all again, despite her team appearing to have considerably less firepower than the might of Nürnberger and T-Mobile.
But today atop the Mur de Huy, this recently-turned 23 year-old did what she set out to accomplish, and it had plenty to do with the unity displayed her Univega team of women, who bonded together to give her every possible chance of victory, with Cooke arising from the climb's savage slopes a comfortable winner over Judith Arndt (T-Mobile) and Trixi Worrack (Nürnberger).
"Well, I was confident I would be up at the front, challenging for the podium, but you can never be sure because there's so many strong riders and you can never tell," said Cooke to Cyclingnews, minutes after crossing the line and still puffing and panting from her explosive effort she's both renowned and feared for.
Asked what her team plan was at the start of the day, she exclaimed with a smile: "To try and get me to win somehow!
"I knew what my capability was, and Wood took off very hard through the hairpins. What was going through my mind was, 'Well, if she holds that pace all the way to the finish, she deserves to win because I can't go that fast at this moment.' But I knew that we still had 350, 400 metres to go, and obviously on the hill, it takes a lot longer than on the flat. I just paced myself and found the extra [energy] I thought I had, so I was happy about that, thank goodness!"
Olga Zabelinskaia
Photo ©: Mitch Friedman

If there were any other moments of concern for the race favourite during the race, such as Russian Olga Zabelinskaia's solo attack 40 kilometres from the finish or Buitenpoort-Flexpoint flexing their muscles just before the penultimate climb of the Côte de Ahin, her team didn't show it. "No, I think it was actually quite helpful that the whole of the Buitenpoort team got on the front," said Cooke, "because they were keeping the pace high and were actually going fast, so it was actually quite helpful. I was a bit concerned when Zabelinskaia broke away, but we rode strong and it was a fantastic Univega team - absolutely incredible.
"I think it's something that has developed and grown between the riders since we first met each other at the start of the season. I think we've all trained together, we've all helped each other in training, we've spent a lot of time together off the bike - not just in racing - so we know the person, not just the rider. I think we know how much hard work each rider puts into it, so we always want to give back as much as we can. I think there's a very good team spirit, and it's more from the whole group of riders, not just one person."
Originally down to ride for the T-Mobile team at the start of the season but for one reason or another cutting the contract short, Cooke has been accused of being selfish and uninterested in working for others. However, when the question was posed on whether she stands a chance in taking overall victory in the 2006 World Cup, it prompted a very egalitarian answer.
"I think we'll see what goes on. Christiane Soeder finished second in Flanders; when we raced in New Zealand, Joanne Kiesanowski was fourth, so we're quite happy to race with different strategies," she said. "On Sunday, we race in Switzerland and maybe a Swiss rider will be the leader, so I think we have a team for all races."
How it unfolded
Still taking it easy
Photo ©: Mitch Friedman

At three past midday, 146 women from 25 teams left Huy under sunny skies and fresh winds. Given what lay ahead, it wasn't a particularly fast start, and it took almost 40 kilometres before Marina Jaunatre (Vienne Futuroscope) tried her luck on Côte de Pailhe, the first of the day's five climbs. Though it was short-lived: seven kilometres later, the Frenchwoman was swept up by the peloton.
Russians Svetlana Bubnenkova, Olga Zabelinskaia (both Fenixs-Colnago) and Zoulfia Zabirova (Bigla Cycling Team) were looking rather twitchy on the Côte de Hautebisse (km 58.5), but it wasn't until the descent of the Hautebisse after 65 kilometres that saw Zabelinskaia get away on her own, igniting a brief acceleration back in the bunch.
By the summit of the Côte de Bohissau (km 77), Zabelinskaia's lead was 40 seconds, with the peloton led by Dorte Lohse Rasmussen (Bianchi Aliverti Kookai) and Claudia Haussler (Nürnberger Versicherung). However, two kilometres later and with the chasing bunch - now down to 47 riders - moving briskly, the Russian's lead was just 25 seconds.
The women's podium
Photo ©: Mitch Friedman

Approaching the penultimate ascent of the Côte de Ahin, all six riders from the Buitenpoort-Flexpoint were swapping off at the front, yet the gap to Zabelinskaia had grown to just over half a minute. Soon afterwards, however, her fate was sealed on the climb as the speeding peloton swept her up, promoting a counter-attack from Nicole Cooke (Univega), Nicole Brändli and team-mate Zabirova (Bigla), as well as Oenone Wood (Nürnberger), although unsuccessful.
On the approach to the Mur de Huy, 28 riders were left to fight out the finale, and in a copycat script to that of last year, the duel between Wood and Cooke resumed on the Mur's lower slopes. Wood, the defending World Cup champ from Down Under, dropped the lot on the opening hairpins but the multiple world champ from Wales smartly bided her time, passing her adversary roughly 300 metres before the finish line to defend her title and claim her third victory in La Flèche Wallonne, beating Judith Arndt (T-Mobile) and the Nürnberger pair of Trixi Worrack and Wood.
Photography
For a thumbnail gallery of these images, click here
Images by Mitch Friedman/www.mitchophoto.com
Images by Brecht Decaluwé/Cyclingnews.com
Images by Anthony Tan/Cyclingnews.com
Results - 106 km
1 Nicole Cooke (GBr) Univega Pro Cycling Team                  2.55.03 (36.322 km/h)
2 Judith Arndt (Ger) T-Mobile Professional Cycling                0.02
3 Trixi Worrack (Ger) Nurnberger Versicherung                     0.03
4 Oenone Wood (Aus) Nurnberger Versicherung                       0.07
5 Amber Neben (USA) Buitenpoort-Flexpoint Team                    0.09
6 Edita Pucinskaite (Ltu) Nobili Rubinetterie Menikini Cogeas         
7 Sofie Goor (Bel) Vlaanderen-Caprisonne-T Interim                    
8 Nicole Brandli (Swi) Bigla Cycling Team                         0.12
9 Noemi Cantele (Ita) Bigla Cycling Team                          0.18
10 An Van Rie (Bel) Lotto-Belisol Ladiesteam                      0.20
11 Fabiana Luperini (Ita) Top Girls Fassa Bortolo                 0.21
12 Christiane Soeder (Aut) Univega Pro Cycling Team               0.23
13 Modesta Vzesniauskaite (Ltu) A.S. Team F.R.W                   0.24
14 Diana Ziliute (Ltu) Safi-Pasta Zara Manhattan                  0.26
15 Annette Beutler (Swi) Elk Haus No                                  
16 Edwige Pitel (Fra) Bianchi Aliverti Kookai                     0.28
17 Susanne Ljungskog (Swe) Buitenpoort-Flexpoint Team                 
18 Theresa Senff (Ger) AA-Drink Cycling Team                      0.32
19 Olivia Gollan (Aus) Nobili Rubinetterie Menikini Cogeas            
20 Cindy Pieters (Bel) Vlaanderen-Caprisonne-T Interim            0.36
21 Dorte Lohse Rasmussen (Den) Bianchi Aliverti Kookai            0.37
22 Hanka Kupfernagel (Ger) Germany                                0.39
23 Zoulfia Zabirova (Rus) Bigla Cycling Team                      0.49
24 Miho Oki (Jpn) Nobili Rubinetterie Menikini Cogeas             0.54
25 Loes Gunnewijk (Ned) Buitenpoort-Flexpoint Team                0.58
26 Priska Doppmann (Swi) Univega Pro Cycling Team                 1.05
27 Claudia Haussler (Ger) Nurnberger Versicherung                 1.21
28 Eva Lutz (Ger) Nurnberger Versicherung                             
29 Marianne Vos (Ned) Netherlands                                 1.34
30 Angela Brodtka (Ger) AA-Drink Cycling Team                     1.36
31 Svetlana Bubnenkova (Rus) Fenixs - Colnago                     1.39
32 Trine Hansen (Den) Bianchi Aliverti Kookai                     1.45
33 Mirjam Melchers-Van Poppel (Ned) Buitenpoort-Flexpoint Team    1.46
34 Tina Pic (USA) Usa                                             1.47
35 Sharon Van Dromme (Bel) Vlaanderen-Caprisonne-T Interim            
36 Miek Vyncke (Bel) Vlaanderen-Caprisonne-T Interim              1.55
37 Sigrid Corneo (Ita) Nobili Rubinetterie Menikini Cogeas        2.06
38 Tatiana Guderzo (Ita) Top Girls Fassa Bortolo                  2.13
39 Olga Zabelinskaia (Rus) Fenixs - Colnago                       2.15
40 Regina Schleicher (Ger) Nurnberger Versicherung                2.25
41 Ina Teutenberg (Ger) T-Mobile Professional Cycling                 
42 Kimberly Baldwin (USA) T-Mobile Professional Cycling               
43 Natalie Bates (Aus) AA-Drink Cycling Team                      2.31
44 Kathryn Watt (Aus) Lotto-Belisol Ladiesteam                        
45 Marina Jaunatre (Fra) Vienne Futuroscope                       2.49
46 Inge Van Den Broeck (Bel) Lotto-Belisol Ladiesteam             2.53
47 Daiva Tuslaite (Ltu) Lithuania                                 2.57
48 Bärbel Jungmeier (Aut) Elk Haus No                             3.03
49 Silvia Parietti (Ita) Safi-Pasta Zara Manhattan                3.04
50 Laure Werner (Bel) Vlaanderen-Caprisonne-T Interim             3.07
51 Linda Villumsen (Den) Buitenpoort-Flexpoint Team               3.12
52 Elisabeth Chevanne-Brunel (Fra) France                             
53 Marta Vilajosana (Spa) Nobili Rubinetterie Menikini Cogeas         
54 Sarah Duster (Ger) Univega Pro Cycling Team                    3.15
55 Alexandra Le Henaff (Fra) France                               3.17
56 Evy Van Damme (Bel) Vlaanderen-Caprisonne-T Interim            3.18
57 Sarah Grab (Swi) Univega Pro Cycling Team                      3.23
58 Eva Lechner (Ita) Fenixs - Colnago                             3.29
59 Patricia Schwager (Swi) Elk Haus No                            3.33
60 Madeleine Sandig (Ger) Buitenpoort-Flexpoint Team              3.34
61 Veronika Andreasson (Swe) Safi-Pasta Zara Manhattan            3.37
62 Josephine Groenveld (Ned) AA-Drink Cycling Team                3.45
63 Claudia Stumpf (Ger) Germany                                   3.56
64 Volha Hayeva (Blr) Bianchi Aliverti Kookai                     4.00
65 Belen Lopez Morales (Spa) Spain                                6.43
66 Lise Christensen (Den) Bianchi Aliverti Kookai                 6.44
67 Amy Moore (Can) T-Mobile Professional Cycling                      
68 Emma Johansson (Swe) Bizkaia-Panda-Durango                     6.46
69 Evelyn Garcia (ESa) Nobili Rubinetterie Menikini Cogeas            
70 Miyoko Karami (Jpn) Safi-Pasta Zara Manhattan                  6.47
71 Nina Ovcharenko (Ukr) A.S. Team F.R.W                          6.52
72 Nathalie Jeuland (Fra) Vienne Futuroscope                          
73 Catherine Delfosse (Bel) Belgique                                  
74 Rosario Rodriguez Gomez (Spa) Spain                            6.57
75 Ludivine Henrion (Bel) Lotto-Belisol Ladiesteam                7.00
76 Rebecca Larson (USA) Usa                                           
77 Grace Verbeke (Bel) Lotto-Belisol Ladiesteam                       
78 Cristina Alcalde (Spa) Bizkaia-Panda-Durango                   7.02
79 Bianca Knopfle (Ger) Germany                                   7.06
80 Iosune Murillo (Spa) Bizkaia-Panda-Durango                         
81 Andréa Graus (Aut) Bigla Cycling Team                              
82 Amy Hunt (GBr) Safi-Pasta Zara Manhattan                           
83 Sarah Tillotson (USA) Usa                                      7.11
84 Sissy Van Alebeek (Ned) Netherlands                            7.16
85 Béatrice Thomas (Fra) France                                   7.21
86 Naiara Telletxea Lopez (Spa) Bizkaia-Panda-Durango             7.29
87 Katia Longhin (Ita) Top Girls Fassa Bortolo                    7.34
88 Eneritz Iturriaga (Spa) Top Girls Fassa Bortolo                    
89 Anke Wichmann (Ger) Nurnberger Versicherung                    8.37
90 Johanna Buick (NZl) Fenixs - Colnago                           9.38
91 Karen Steurs (Bel) Belgique                                    9.43
92 Meredith Miller (USA) Usa                                      9.45
93 Marllijn Binnendijk (Ned) AA-Drink Cycling Team                9.51
94 Andréa Knecht (Swi) Bigla Cycling Team                             
95 Véronique Belleter (Bel) Belgique                             10.02
96 Eugénie Mermillod (Fra) France                                10.09
97 Monika Furrer (Swi) Bigla Cycling Team                        10.11
98 Rosara Joseph (NZl) New Zealand                               10.13
99 Indre Januleviciute (Ltu) A.S. Team F.R.W                     10.17
100 Irene Van De Broeck (Ned) Netherlands                        10.20
101 Ombretta Ugolini (Ita) A.S. Team F.R.W                            
102 Katharina Blum (Ger) Elk Haus No                             10.23
103 Mette Fischer Andreason (Den) Bianchi Aliverti Kookai        10.32
104 Irmante Lygnugaryte (Ltu) Lithuania                          11.02
105 Marina Duvnyak (NZl) New Zealand                             11.13
106 Kathleen Sterckx (Bel) Belgique                              11.15
107 Iris Slappendel (Ned) Netherlands                            11.19
108 Helen Kelly (Aus) Elk Haus No                                11.20
109 Sandra Missbach (Ned) AA-Drink Cycling Team                  11.21
110 Emmanuelle Merlot (Fra) Vienne Futuroscope                   11.23
111 Agne Bagdonaviciute (Ltu) Lithuania                          11.24
112 Sabine Fischer (Ger) Germany                                 11.26
113 Mélanie Bravard (Fra) Vienne Futuroscope                     11.39
114 Sabrina Bernardi (Ita) Top Girls Fassa Bortolo               11.44
115 Anna Sanchis Chafer (Spa) Spain                              11.49
116 Kim Schoonbaert (Bel) Lotto-Belisol Ladiesteam               11.54
117 Luisa Tamanini (Ita) Safi-Pasta Zara Manhattan               11.55
118 Vicky Founial (Fra) France                                   12.43
119 Loes Markerink (Ned) Netherlands                             15.46
120 Dale Tye (NZl) New Zealand                                   15.53
121 Bertine Spijkerman (Ned) Netherlands                         16.15
122 Carissa Wilkes (NZl) New Zealand                             16.43
123 Karin Thurig (Swi) Univega Pro Cycling Team                       
124 Christina Becker (Ger) T-Mobile Professional Cycling              
125 Ine Beyen (Bel) Belgique                                          
126 Sjoujke Dufoer (Bel) Belgique                                     
127 Magali Mocquery (Fra) France                                      
128 Kettj Manfrin (Ita) A.S. Team F.R.W                               
129 Laura Pisaneschi (Ita) A.S. Team F.R.W                            
130 Karin Ruso (Aut) Elk Haus No                                      
131 Heike Schramm (Ger) Germany                                       
132 Marlen Johrend (Ger) Germany                                      
133 Shannon Koch (USA) Usa                                            
134 Sima Trapp (USA) Usa                                              
135 Maitane Telletxea Lopez (Spa) Bizkaia-Panda-Durango               
136 Auxiliadora Martin Morales (Spa) Spain                            
137 Alicia Palop Rubio (Spa) Spain                                    
138 Silvia Tirado Marquez (Spa) Spain                                 
139 Elena Eifler (Ger) Fenixs - Colnago                               
140 Ilenia Lazzaro (Ita) Fenixs - Colnago                             
141 Urte Juodvalkyte (Ltu) Lithuania                                  
142 Edita Unguryte (Ltu) Lithuania                                    
143 Amee Mosen (NZl) New Zealand                                      
144 Leticia Gil Parra (Spa) Top Girls Fassa Bortolo                   
145 Sonia Bazire (Fra) Vienne Futuroscope                             
146 Emilie Jeannot (Fra) Vienne Futuroscope                           


World cup standings after round 4
1 Ina Teutenberg (Ger) T-Mobile Professional Cycling             120 pts
2 Nicole Cooke (GBr) Univega Pro Cycling Team                    117
3 Oenone Wood (Aus) Equipe Nürnberger Versicherung                80
4 Mirjam Melchers-Van Poppel (Ned) Buitenpoort-Flexpoint Team     75
5 Sarah Ulmer (NZl)                                               75
6 Miho Oki (Jpn) Nobili Rubinetterie Menikini Cogeas              73
7 Judith Arndt (Ger) T-Mobile Professional Cycling                65
8 Christiane Soeder (Aut) Univega Pro Cycling Team                59
9 Annette Beutler (Swi) Elk Haus Nö                               58
10 Tina Mayolo Pic (USA)                                          57
11 Susanne Ljungskog (Swe) Buitenpoort-Flexpoint Team             47
12 Joanne Kiesanowski (NZl) Univega Pro Cycling Team              41
13 Trixi Worrack (Ger) Equipe Nürnberger Versicherung             40
14 Loes Gunnewijk (Ned) Buitenpoort-Flexpoint Team                35
15 Katherine Bates (Aus) Equipe Nürnberger Versicherung           35
16 Edwige Pitel (Fra) Bianchi Aliverti Kookai                     35
17 Zoulfia Zabirova (Kaz) Bigla Cycling Team                      30
18 Amber Neben (USA) Buitenpoort-Flexpoint Team                   27
19 Rochelle Gilmore (Aus) Safi-Pasta Zara Manhattan               27
20 Svetlana Bubnenkova (Rus) Fenixs-Colnago                       27
21 Tamara Boyd (NZl) Les Pruneaux d'Agen                          26
22 Edita Pucinskaite (Ltu) Nobili Rubinetterie Menikini Cogeas    24
23 Gina Grain (Can) Giant Pro Cycling                             24
24 Theresa Senff (Ger) AA-Drink Cycling Team                      24
25 Sofie Goor (Bel) Vlaanderen-Caprisonne-T Interim               21
26 Nicole Brändli (Swi) Bigla Cycling Team                        18
27 Noemi Cantele (Ita) Bigla Cycling Team                         15
28 An Van Rie (Bel) Lotto-Belisol Ladiesteam                      11
29 Sharon Van Dromme (Bel) Vlaanderen-Caprisonne-T Interim        11
30 Fabiana Luperini (Ita) Top Girls Fassa Bortolo Raxy Line       10
31 Lang Meng (Chn) Giant Pro Cycling                              10
32 Monia Baccaille (Ita) Saccarelli Emu Marsciano                 10
33 Suzanne De Goede (Ned) AA-Drink Cycling Team                    9
34 Olga Slyusareva (Rus)                                           9
35 Olivia Gollan (Aus) Nobili Rubinetterie Menikini Cogeas         9
36 Modesta Vzesniauskaite (Ltu) A.S. Team F.R.W                    8
37 Priska Doppmann (Swi) Univega Pro Cycling Team                  8
38 Hayley Brown (Aus)                                              8
39 Diana Ziliute (Ltu) Safi-Pasta Zara Manhattan                   7
40 Giorgia Bronzini (Ita) A.S. Team F.R.W                          7
41 Sarah Düster (Ger) Univega Pro Cycling Team                     6
42 Luisa Tamanini (Ita) Safi-Pasta Zara Manhattan                  6
43 Emma Rickards (Aus) Univega Pro Cycling Team                    6
44 Sigrid Corneo (Ita) Nobili Rubinetterie Menikini Cogeas         5
45 Volha Hayeva (Blr) Bianchi Aliverti Kookai                      5
46 Tanja Hennes (Ger) Buitenpoort-Flexpoint Team                   4
47 Toni Bradshaw (NZl) Les Pruneaux d'Agen                         4
48 Dorte Lohse Rasmussen (Den) Bianchi Aliverti Kookai             3
49 Larissa Kleinmann (Ger)                                         3
50 Andrea Graus (Aut) Bigla Cycling Team                           2
51 Melissa Holt (NZl)                                              2
52 Kate Nichols (Aus)                                              2
53 Cindy Pieters (Bel) Vlaanderen-Caprisonne-T Interim             1
54 Olga Zabelinskaya (Rus) Fenixs-Colnago                          1
55 Nikki Egyed (Aus)                                               1
56 Catherine Sell (NZl)                                            1
Teams
 
1 Univega Pro Cycling Team                                       237 pts
2 T-Mobile Professional Cycling                                  185
3 Buitenpoort-Flexpoint Team                                     163
4 Equipe Nürnberger Versicherung                                 155
5 Nobili Rubinetterie Menikini Cogeas                            111
6 New Zealand National Team                                      107
7 Bigla Cycling Team                                              65
8 Elk Haus Nö                                                     58
9 Bianchi Aliverti Kookai                                         40
10 Russian National Team                                          36
11 Giant Pro Cycling                                              34
12 AA-Drink Cycling Team                                          33
13 Vlaanderen-Caprisonne-T Interim                                33
14 USA National team                                              30
15 A.S. Team F.R.W                                                15
16 Safi-Pasta Zara Manhattan                                      13
17 Lotto-Belisol Ladiesteam                                       11
18 Top Girls Fassa Bortolo Raxy Line                              10
19 Italian National Team                                          10
20 German National Team                                            3
21 Fenixs-Colnago                                                  1