Tour de Berne - CDM
Switzerland, April 23, 2006
Main Page Results Live report ProTour standings
The Zabirova move
Cooke moves into the World Cup lead
By Kristy Scrymgeour
Zoulfia Zabirova (Team Bigla) celebrates another successful last-minute attack.
Photo ©: CJ Farquharson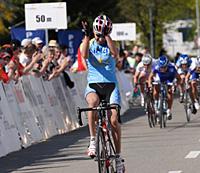 Zoulfia Zabirova (Team Bigla) did her thing today with a move that can pretty much be named after her in the women's peloton: the last minute attack. She has the ability to time it perfectly and she has won races in this way more than anybody else. With 1km to go, she found that moment and rode solo to the finish, taking out the fifth round of the Women's World Cup Series. Her win moved her up in the standings significantly, but it was Nicole Cooke who managed to take enough points to dethrone Ina Yoko Teutenberg (T-Mobile). She now leads the series with Oenone Wood moving into second place and Teutenberg third.
The race today, mainly due to the aggression of the Bigla Team was extremely fast. In fact the women completed the race 15 minutes faster than last week's Fleche Wallonne and the race was 20km longer. With six laps of 20km ahead of them the race started with a lot of aggression. Finally it was Amber Neben (Buitenpoort Flexpoint) that got away after three and a half laps of racing. She held a significant gap forcing other teams to chase.
The Univega team was very strong and reeled her in on the fifth time up the climb. The strong climbers including Nicole Brandli (Bigla Cycling Team) continued to power up the climb splitting the field with only 20 girls making it over in the front group. Left behind was World Cup leader Ina Yoko Teutenberg (T-Mobile). The T-Mobile team chased after the climb and got Teutenberg back as they reached the finish line with one lap to go. The only rider not caught was Olga Zabelinskaya (Fenixs-Colnago) who has attacked solo from the lead group.
The sprint for second
Photo ©: CJ Farquharson

On the final climb, Zabelinskaya was caught as the climbers attacked hard again. This time only 17 girls made it over the top and the Bigla team started their attacks. One by one they went making the pace really fast until the finish. Cooke was responsible from chasing a lot of the Bigla attacks and even attacked herself at one point, but finally it was the attack from Zabirova that worked. Coming in the take the sprint for second was Wood, followed by Olga Slyusareva (Rus) Russian National Team and Judith Arndt (T-Mobile).
The next round of the World Cup is Castilla y Leon in Spain on the May 7.
Photography
For a thumbnail gallery of these images, click here
Images by CJ Farquharson/WomensCycling.net
Images by Cyclingnews
Results
1 Zoulfia Zabirova (Kaz) Bigla Cycling Team                    3.02.06 (41.12 km/h)
2 Oenone Wood (Aus) Equipe Nürnberger Versicherung                0.02
3 Olga Slyusareva (Rus) Russian National Team                         
4 Judith Arndt (Ger) T-Mobile Professional Cycling                    
5 Nicole Cooke (GBr) Univega Pro Cycling Team                         
6 Modesta Vzesniauskaite (Ltu) A.S. Team F.R.W                        
7 Marianne Vos (Ned) Dutch National Team                              
8 Annette Beutler (Swi) Elk Haus Nö                                   
9 Edita Pucinskaite (Ltu) Nobili Rubinetterie Menikini Cogeas         
10 Trixi Worrack (Ger) Equipe Nürnberger Versicherung                 
11 Susanne Ljungskog (Swe) Buitenpoort-Flexpoint Team                 
12 Theresa Senff (Ger) AA-Drink Cycling Team                          
13 Noemi Cantele (Ita) Bigla Cycling Team                             
14 Svetlana Bubnenkova (Rus) Fenixs - Colnago                         
15 Nicole Brändli (Swi) Bigla Cycling Team                            
16 Edwige Pitel (Fra) Bianchi Aliverti Kookai                         
17 Fabiana Luperini (Ita) Top Girls Fassa Bortolo Raxy Line           
18 Ludivine Henrion (Bel) Lotto-Belisol Ladiesteam                0.04
19 Miho Oki (Jpn) Nobili Rubinetterie Menikini Cogeas                 
20 Monica Baccaille (Ita) Italian National Team                       
21 Monica Holler (Swe) Bigla Cycling Team                             
22 Silvia Parietti (Ita) Safi - Pasta Zara Manhattan                  
23 Sally Cowman (Aus) Australian National Team                    1.05
24 Suzanne De Goede (Ned) AA-Drink Cycling Team                       
25 Trine Hansen (Den) Bianchi Aliverti Kookai                         
26 Loes Gunnewijk (Ned) Buitenpoort-Flexpoint Team                    
27 Elisabeth Chevanne Brunel (Fra) Les Pruneaux D'agen                
28 Kirsten Wild (Ned) AA-Drink Cycling Team                           
29 Olga Zabelinskaya (Rus) Fenixs - Colnago                           
30 Volha Hayeva (Blr) Bianchi Aliverti Kookai                         
31 Bianca Knoepfle (Ger) German National Team                         
32 Eva Lechner (Ita) Fenixs - Colnago                                 
33 Priska Doppmann (Swi) Univega Pro Cycling Team                     
34 Dorte Rasmussen (Den) Bianchi Aliverti Kookai                      
35 Adrie Visser (Ned) AA-Drink Cycling Team                           
36 Katia Longhin (Ita) Top Girls Fassa Bortolo Raxy Line              
37 Tina Mayolo Pic (USA) USA National Team                            
38 Madeleine Sandig (Ger) Buitenpoort-Flexpoint Team                  
39 Evelyne Garcia (ESa) Nobili Rubinetterie Menikini Cogeas           
40 Tanja Hennes (Ger) Buitenpoort-Flexpoint Team                      
41 Naiara Telletxea (Spa) Bizkaia - Panda Software - Durango          
42 Sigrid Corneo (Ita) Nobili Rubinetterie Menikini Cogeas            
43 Marta Vilajosana (Spa) Nobili Rubinetterie Menikini Cogeas         
44 An Van Rie (Bel) Lotto-Belisol Ladiesteam                      1.08
45 Min Gao (Chn) Giant Pro Cycling                                    
46 Patricia Schwager (Swi) Elk Haus Nö                                
47 Tatiana Guderzo (Ita) Top Girls Fassa Bortolo Raxy Line            
48 Josephine Groenveld (Ned) AA-Drink Cycling Team                    
49 Sharon Van Essen (Ned) Dutch National Team                         
50 Veronica Andreasson (Swe) Safi - Pasta Zara Manhattan              
51 Kimberly Baldwin (USA) T-Mobile Professional Cycling               
52 Andrea Graus (Aut) Bigla Cycling Team                              
53 Eva Lutz (Ger) Equipe Nürnberger Versicherung                  1.10
54 Katherine Bates (Aus) Equipe Nürnberger Versicherung               
55 Ina Teutenberg (Ger) T-Mobile Professional Cycling                 
56 Regina Schleicher (Ger) Equipe Nürnberger Versicherung             
57 Christiane Soeder (Aut) Univega Pro Cycling Team                   
58 Andrea Knecht (Swi) Bigla Cycling Team                             
59 Vera Carrara (Ita) Italian National Team                           
60 Amber Neben (USA) Buitenpoort-Flexpoint Team                       
61 Rosara Joseph (NZl) New Zealand National Team                  1.15
62 Laura Bozzolo (Ita) Italian National Team                      1.20
63 Gessica Turato (Ita) Italian National Team                     2.02
64 Natalia Boyarskaya (Rus) Russian National Team                 2.46
65 Mirjam Senn (Swi) Team Stevens                                     
66 Joanne Kiesanowski (NZl) Univega Pro Cycling Team                  
67 Sarah Düster (Ger) Univega Pro Cycling Team                        
68 Sylvie Riedle (Fra) Les Pruneaux D'agen                            
69 Amy Moore (Can) T-Mobile Professional Cycling                      
70 Kimberly Anderson (USA) T-Mobile Professional Cycling          5.59
71 Valentina Bastianelli (Ita) Italian National Team                  
72 Tina Liebig (Ger) Equipe Nürnberger Versicherung                   
73 Fanny Riberot (Fra) France                                     6.07
74 Linda Ringlever (Ned) @Work Cycling Team                           
75 Arenda Grimberg (Ned) Dutch National Team                          
76 Iris Slappendel (Ned) Dutch National Team                          

Outside time limit (hors delai)
 
HD Liesbeth De Vocht (Bel) Lotto-Belisol Ladiesteam                   
HD Rebecca Larson (USA) USA National Team                             
HD Helen Kelly (Aus) Elk Haus Nö                                      
HD Lang Meng (Chn) Giant Pro Cycling                                  
HD Karin Ruso (Aut) Elk Haus Nö                                       
HD Cristina Alcalde (Spa) Bizkaia - Panda Software - Durango          
HD Emma Johansson (Swe) Bizkaia - Panda Software - Durango            
HD Marlen Johrend (Ger) German National Team                          
HD Debby Van Den Berg (Ned) @Work Cycling Team                        
HD Megan Elliott (USA) Team Stevens                                   
HD Candice Sullivan (Aus) Australian National Team                    
HD Alessandra D'ettorre (Ita) Italian National Team                   
HD Nicole Käser (Swi) Team Stevens                                    
HD Marina Jaunatre (Fra) France                                       
HD Magali Laivier Finot (Fra) France                                  
HD Amanda Spratt (Aus) Australian National Team                       
HD Nina Ovcharenko (Ukr) A.S. Team F.R.W                              
HD Isabella Wieser (Aut) Elk Haus Nö                                  
HD Yanxia Jiang (Chn) Giant Pro Cycling                               
HD Vicky Fournial (Fra) Les Pruneaux D'agen                           
HD Tatyana Palchynska (Ukr) A.S. Team F.R.W                           
HD Tatiana Antoshina (Rus) Russian National Team                      
HD Larssyn Staley (USA) Team Stevens                                  
HD Claire Baxter (Aus) Lotto-Belisol Ladiesteam                       
HD Sylvie Fragniere (Fra) Les Pruneaux D'agen                         
HD Shannon Koch (USA) USA National Team                               
HD Karin Metzler (Swi) Team Stevens                                   
HD Maitane Telletxea (Spa) Bizkaia - Panda Software - Durango         
HD Liesbeth Bakker (Ned) @Work Cycling Team                           
HD Amy Mosen (NZl) New Zealand National Team                          
HD Marina Duvnjak (NZl) New Zealand National Team                     
HD Ombretta Ugolini (Ita) A.S. Team F.R.W                             
HD Mette Fischer Andreasen (Den) Bianchi Aliverti Kookai              
HD Andrea Bosman (Ned) @Work Cycling Team                             
HD Virginia Hennig (Ger) German National Team                         
HD Caroline Ibele (Ger) German National Team                          
HD Sabine Fischer (Ger) German National Team                          
HD Natalia Prokurorova (Rus) Russian National Team                    
HD Yunmei Wu (Chn)                                                    
HD Elena Eifler (Ger)                                                 
HD Alexandra Born (Swi)                                               
HD Katharina Blum (Ger)                                               
HD Astrid Gruskovnjak (Swi)                                           
HD Sima Trapp (USA)                                                   
 
Did not finish
 
DNF Olivia Gollan (Aus) Nobili Rubinetterie Menikini Cogeas           
DNF Mirjam Melchers-Van Poppel (Ned) Buitenpoort-Flexpoint Team       
DNF Karin Thürig (Swi) Univega Pro Cycling Team                       
DNF Christina Becker (Ger) T-Mobile Professional Cycling              
DNF Nathalie Bates (Aus) AA-Drink Cycling Team                        
DNF Maja Adamsen (Den) Fenixs - Colnago                               
DNF Johanna Buick (NZl) Fenixs - Colnago                              
DNF Indre Januleviciute (Ltu) A.S. Team F.R.W                         
DNF Laura Pisaneschi (Ita) A.S. Team F.R.W                            
DNF Lise Christensen (Den) Bianchi Aliverti Kookai                    
DNF Sabrina Emmasi (Swi) Safi - Pasta Zara Manhattan                  
DNF Daniela Fusar Poli (Ita) Safi - Pasta Zara Manhattan              
DNF Diana Ziliute (Ltu) Safi - Pasta Zara Manhattan                   
DNF Luisa Tamanini (Ita) Safi - Pasta Zara Manhattan                  
DNF Leticia Gil Parra (Spa) Top Girls Fassa Bortolo Raxy Line         
DNF E Iturriaga Echevarrie (Spa) Top Girls Fassa Bortolo Raxy Line    
DNF Anna Dal Ferro (Ita) Top Girls Fassa Bortolo Raxy Line            
DNF Loes Markerink (Ned) @Work Cycling Team                           
DNF Judith Helmink (Ned) @Work Cycling Team                           
DNF Iosune Murillo (Spa) Bizkaia - Panda Software - Durango           
DNF Kim Schoonbaert (Bel) Lotto-Belisol Ladiesteam                    
DNF Inge Van Den Broeck (Bel) Lotto-Belisol Ladiesteam                
DNF Alexandra Le Henaff (Fra) Les Pruneaux D'agen                     
DNF Nadia Theuil (Fra) Les Pruneaux D'agen                            
DNF Pu Xiang Zheng (Chn) Giant Pro Cycling                            
DNF Xiong Ying Ruan (Chn) Giant Pro Cycling                           
DNF Claudia Stumpf (Ger) German National Team                         
DNF Hannah Banks (Aus) Australian National Team                       
DNF Alexis Rhodes (Aus) Australian National Team                      
DNF Sissy Vab Alebeek (Ned) Dutch National Team                       
DNF Debby Mansveld (Ned) Dutch National Team                          
DNF Stefanie Burkhalter (Swi) Swiss National Team                     
DNF Marcelle Moser (Swi) Swiss National Team                          
DNF Ramona Weder (Swi) Swiss National Team                            
DNF Fabienne Wolfsberger (Swi) Swiss National Team                    
DNF Meredith Miller (USA) USA National Team                           
DNF Sarah Tillotson (USA) USA National Team                           
DNF ? (Rus) Russian National Team                                     
DNF ? (Rus) Russian National Team                                     
DNF Karine Gautard (Fra) France                                       
DNF Magali Mocquery (Fra) France                                      
DNF Aude Pollet (Fra) France                                          
DNF Michelle Kiesanowski (NZl) New Zealand National Team              
DNF Dale Tye (NZl) New Zealand National Team                          
DNF Carissa Wilkes (NZl) New Zealand National Team                     

World Cup standings

1 Nicole Cooke (GBr) Univega Pro Cycling Team                      144 pts
2 Oenone Wood (Aus) Equipe Nürnberger Versicherung                 130
3 Ina Teutenberg (Ger) T-Mobile Professional Cycling               120
4 Zoulfia Zabirova (Kaz) Bigla Cycling Team                        105
5 Judith Arndt (Ger) T-Mobile Professional Cycling                  95
6 Annette Beutler (Swi) Elk Haus Nö                                 76
7 Mirjam Melchers-Van Poppel (Ned) Buitenpoort-Flexpoint Team       75
8 Sarah Ulmer (NZl)                                                 75
9 Miho Oki (Jpn) Nobili Rubinetterie Menikini Cogeas                75
10 Christiane Soeder (Aut) Univega Pro Cycling Team                 59
11 Tina Mayolo Pic (USA)                                            57
12 Susanne Ljungskog (Swe) Buitenpoort-Flexpoint Team               57
13 Trixi Worrack (Ger) Equipe Nürnberger Versicherung               51
14 Olga Slyusareva (Rus)                                            44
15 Joanne Kiesanowski (NZl) Univega Pro Cycling Team                41
16 Edwige Pitel (Fra) Bianchi Aliverti Kookai                       40
17 Edita Pucinskaite (Ltu) Nobili Rubinetterie Menikini Cogeas      39
18 Loes Gunnewijk (Ned) Buitenpoort-Flexpoint Team                  35
19 Katherine Bates (Aus) Equipe Nürnberger Versicherung             35
20 Svetlana Bubnenkova (Rus) Fenixs-Colnago                         34
21 Theresa Senff (Ger) AA-Drink Cycling Team                        33
22 Modesta Vzesniauskaite (Ltu) A.S. Team F.R.W                     32
23 Amber Neben (USA) Buitenpoort-Flexpoint Team                     27
24 Rochelle Gilmore (Aus) Safi-Pasta Zara Manhattan                 27
25 Tamara Boyd (NZl) Les Pruneaux d'Agen                            26
26 Gina Grain (Can) Giant Pro Cycling                               24
27 Nicole Brändli (Swi) Bigla Cycling Team                          24
28 Noemi Cantele (Ita) Bigla Cycling Team                           23
29 Sofie Goor (Bel) Vlaanderen-Caprisonne-T Interim                 21
30 Mmarianne Vos (Ned)                                              21
31 Fabiana Luperini (Ita) Top Girls Fassa Bortolo Raxy Line         14
32 An Van Rie (Bel) Lotto-Belisol Ladiesteam                        11
33 Sharon Van Dromme (Bel) Vlaanderen-Caprisonne-T Interim          11
34 Monia Baccaille (Ita) Saccarelli Emu Marsciano                   11
35 Lang Meng (Chn) Giant Pro Cycling                                10
36 Suzanne De Goede (Ned) AA-Drink Cycling Team                      9
37 Olivia Gollan (Aus) Nobili Rubinetterie Menikini Cogeas           9
38 Priska Doppmann (Swi) Univega Pro Cycling Team                    8
39 Hayley Brown (Aus)                                                8
40 Diana Ziliute (Ltu) Safi-Pasta Zara Manhattan                     7
41 Giorgia Bronzini (Ita) A.S. Team F.R.W                            7
42 Sarah Düster (Ger) Univega Pro Cycling Team                       6
43 Luisa Tamanini (Ita) Safi-Pasta Zara Manhattan                    6
44 Emma Rickards (Aus) Univega Pro Cycling Team                      6
45 Sigrid Corneo (Ita) Nobili Rubinetterie Menikini Cogeas           5
46 Volha Hayeva (Blr) Bianchi Aliverti Kookai                        5
47 Tanja Hennes (Ger) Buitenpoort-Flexpoint Team                     4
48 Toni Bradshaw (NZl) Les Pruneaux d'Agen                           4
49 Dorte Lohse Rasmussen (Den) Bianchi Aliverti Kookai               3
50 Larissa Kleinmann (Ger)                                           3
51 Ludivine Henrion (Bel)                                            3
52 Andrea Graus (Aut) Bigla Cycling Team                             2
53 Melissa Holt (NZl)                                                2
54 Kate Nichols (Aus)                                                2
55 Cindy Pieters (Bel) Vlaanderen-Caprisonne-T Interim               1
56 Olga Zabelinskaya (Rus) Fenixs-Colnago                            1
57 Nikki Egyed (Aus)                                                 1
58 Catherine Sell (NZl)                                              1
 
Teams
 
1 Univega Pro Cycling Team                                         229 pts
2 Equipe Nürnberger Versicherung                                   181
3 T-Mobile Professional Cycling                                    140
4 Buitenpoort-Flexpoint Team                                       173
5 Bigla Cycling Team                                               154
6 Nobili Rubinetterie Menikini Cogeas                               73
7 New Zealand                                                       92
8 Elk Haus Nö                                                       55
9 Bianchi Aliverti Kookai                                           45
10 Aa-Drink Cycling Team                                            42
11 A.S. Team F.R.W                                                  32
12 Russian Federation                                               27
13 Giant Pro Cycling                                                10
14 Vlaanderen - Caprisonne - T Interim                              33
15 United States Of America                                         33
16 Pays-Bas                                                         21
17 Top Girls Fassa Bortolo Raxy Line                                14
18 Safi - Pasta Zara Manhattan                                      13
19 Lotto-Belisol Ladiesteam                                         11
20 Italy                                                             1
21 Fenixs - Colnago                                                  8
22 Germany                                                           8
23 Belgium                                                           3