World championships - CM
Madrid, Spain, September 21-25, 2005
Main Page Results Start list Race Details Live report Previous Race Next Race
Race 2 - September 21: Under 23 men's individual time trial, 37.9km
Another title for Ignatiev
By Shane Stokes and Hernan Alvarez Macias in Madrid
Russian Mikhail Ignatiev
Photo ©: AFP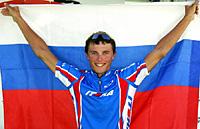 Two years after he took the second of his two world junior time trial championship titles, Russian Mikhail Ignatiev has confirmed that promise with a superb win in the under 23 championship today.
The 20 year-old went off as part of the second wave of riders this afternoon and while he smashed the previous best time set by Mexican rider Ignacio Sarabia Diaz, it was expected that the block of favourites which were last off would scrap it out between them for the top honours. However all the challengers came and went without knocking the Russian off his perch, influenced perhaps by changing climatic conditions. Closest in the end was the European TT champion Dmytro Grabovskyy (Ukraine), 34 seconds down, with New Zealand's Peter Latham a further three seconds back in third. Martin Mortensen (Denmark), Simon Spilak (Slovenia) and Mark Jamieson (Australia) completed the top six.
Speaking to the press after the finish Ignatiev was, as expected, pleased with his third rainbow jersey. "I'm very happy to win here today. The course was harder here than when I took my two other championship gold medals. It was tough out there, especially the second time up the steep climb.
The U23 men's podium (L to R):
Photo ©: Sirotti

"It was really good when I was coming close to the finish, I really went for it then as I knew it would all be over after that; I think the last couple of kilometres were pretty important anyway, in terms of my ride.
"When I finished I thought other riders would beat my time. I was sitting there for a long time on the hot seat thinking of the victory and was nervous when the others were coming. But when I saw the time of the Belgian rider [Dominique Cornu], one of the favourites, I knew mine was going to be good."
Ignatiev has been competing with the Lokomotiv team. "I will stay with them next year, although the name will be different with a new backer," he stated.
Tiziano Dall'Antonia (Italy)
Photo ©: Sirotti

Latham came into the race hoping for a top ten so was understandably delighted with his bronze medal. "I went as hard as I could, I can't believe that I'm here on the podium. It is pretty surreal. In a time trial you just go as hard as you can and you finish where you do. Beforehand, I didn't really know what to expected…I was hoping to ride well but this is better than I hoped."
Tiziano Dall'Antonia finished back in ninth. "I gave my best. I'm not really happy because if I had a medal, I would have been satisfied. I really wanted to reach the podium."
How it unfolded
Malaysian rider Yong Li Ng was the first to race out of the start house today, getting his TT effort underway at 1 pm. Somewhat logically, his time of 11'30 was best at the provisional time check and stood until the fourth rider off, Johan Lindgren went a minute quicker. The Swede then posted a time of 36'02 at the 26 km check, he was also quickest there, but was pipped shortly afterwards by the 36'00 of Henry Mendez Raabe (Costa Rica). Mendez and Lindgren looked set for provisional first and second at the finish ahead of Colombian Alfonso Roldan Ortiz, but Ignacio Sarabia Diaz of Mexico recorded a 49'40 to finish three seconds quicker than Mendez.
Mikhail Ignatiev (Russia)
Photo ©: AFP

The second wave of riders saw this time under threat with Mikhail Ignatiev (Russia) going a full minute quicker by the halfway point. Belgian championship silver medallist Bart Vanheule was also trucking early on, although he faded badly before the finish.
Ignatiev completed the course and recorded a time of 47'24.28, an average of nearly 48 km/h. New Zealand's Peter Latham finished 37 seconds slower, with Vanheule a full 2 minutes and 13 seconds down in third. This latter position was soon taken over by Belarusian rider Andrei Kunitski, although his 49'02 fell to the 48'36.46 of Simon Spilak (Slovenia) soon afterwards.
The top three placings remained constant for almost an hour, only for Martin Mortensen (Denmark) to record a time of 48'14 and knock 22 seconds off Spilak's mark. From this point on it seemed increasingly likely that the leaderboard would change as the final wave of competitors, amongst them most of the race favourites, were about to begin their own time trials. This group included riders of the calibre of promising young US rider Tyler Farrar, Russian TT champion Maxim Belkov, former junior world championship TT silver medallist Mark Jamieson (Australia), European road race champion Frantisek Rabon (Czech Republic) plus one of the big favourites, the former world junior RR champion Kai Reus (Netherlands). Reus was in turn chased by Triptyque des Barrages winner Tiziano Dall'Antonia (Italy), Belgium's Dominique Cornu (fourth in 2004 and runner up in this year's European TT champs) and the current European TT champion Dmytro Grabovskyy of the Ukraine.
Peter Latham (NZ)
Photo ©: AFP

With such big hitters underway, the leaderboard was expected to be upended. However rider after rider in that final wave failed to make any impression at all. Reus and Branislau Samoilau, a Belarusian who has been very successful this year, finished over three minutes down in 33rd and 34th respectively. Belkov was 29th and Tony Martin (Germany), winner of two stages of the Giro delle Regioni, was just one place better. European road race champ Rabon was 21st, Cornu was 11th and Farrar was tenth. As for Tiziano Dall'Antonia, he seemed to be on a good ride when he caught Kai Reus, yet he too finished off the pace in ninth.
Grabovskyy and Jamieson were the only riders from the last wave to make the top six, prompting speculation that a slight change in wind or an increase in heat may have played a part. Whatever the truth of this, Ignatiev's past history as a double junior world champion and an Olympic champion on the track is not to be argued with; he was clearly riding very strongly today and is a deserved victor. Those who disappointed will however be under pressure to make amends in Saturday's road race.
Photography
For a thumbnail gallery of these images, click here
Images by Fotoreporter Sirotti
Images by AFP Photo
Images by Hernan Alvarez/Cyclingnews.com
Results
1 Mikhail Ignatiev (Russian Federation)         47.24.28 (47.970 km/h)
2 Dmytro Grabovskyy (Ukraine)                    0.34.62
3 Peter Latham (New Zealand)                     0.37.33
4 Martin Mortensen (Denmark)                     0.50.52
5 Simon Spilak (Slovenia)                        1.12.18
6 Mark Jamieson (Australia)                      1.26.18
7 Andrei Kunitski (Belarus)                      1.38.64
8 Lasse Bochman (Denmark)                        1.42.17
9 Tiziano Dall'Antonia (Italy)                   1.42.20
10 Tyler Farrar (United States Of America)       1.44.28
11 Dominique Cornu (Belgium)                     1.46.34
12 Eladio Sanchez Prado (Spain)                  1.49.29
13 Bart Vanheule (Belgium)                       2.13.47
14 Sergey Danniker (Kazakhstan)                  2.15.78
15 Michael Schär (Switzerland)                   2.15.98
16 Ignacio Sarabia Diaz (Mexico)                 2.16.36
17 Paul Martens (Germany)                        2.19.47
18 Henry Mendez Raabe (Costa Rica)               2.19.83
19 William Walker (Australia)                    2.22.40
20 Jerome Coppel (France)                        2.24.00
21 Frantisek Rabon (Czech Republic)              2.25.96
22 Maciej Bodnar (Poland)                        2.27.38
23 Johan Lindgren (Sweden)                       2.31.33
24 Timothy Gudsell (New Zealand)                 2.42.13
25 Viktor Renäng (Sweden)                        2.48.82
26 Florian Morizot (France)                      2.49.16
27 Ignatas Konovalovas (Lithuania)               2.49.17
28 Tony Martin (Germany)                         2.50.49
29 Maxim Belkov (Russian Federation)             3.00.78
30 Tiago Machado (Portugal)                      3.09.62
31 Ryan Roth (Canada)                            3.11.49
32 Roman Kreuziger (Czech Republic)              3.12.92
33 Kai Reus (Netherlands)                        3.20.67
34 Branislau Samoilau (Belarus)                  3.33.12
35 Ruslan Sambris (Republic of Moldova)          3.41.72
36 Thom Van Dulmen (Netherlands)                 4.11.04
37 Edward Clancy (Great Britain)                 4.22.33
38 Bogdan Stoytchev (Bulgaria)                   4.23.84
39 Rafaâ Chtioui (Tunisia)                       4.27.88
40 Alfonso Roldan Ortiz (Colombia)               4.29.14
41 Miha Svab (Slovenia)                          4.32.30
42 Steven Cozza (United States Of America)       4.33.65
43 José Luis Ruiz Cubillo (Spain)                4.34.73
44 Christian Meier (Canada)                      4.40.15
45 Ben Greenwood (Great Britain)                 4.43.92
46 Gediminas Bagdonas (Lithuania)                4.44.66
47 Volodymyr Dyudya (Ukraine)                    5.00.73
48 Panagiotis Potsakis (Greece)                  5.07.66
49 Seyed Mostafa Seyed Rezaei Khormizi (Iran)    5.08.69
50 José Mendes (Portugal)                        5.13.43
51 Vladimir Tuychiev (Uzbekistan)                5.17.84
52 Janis Ozols (Latvia)                          5.22.05
53 William Aranzazo Escobar (Colombia)           5.55.07
54 Francesco Rivera (Italy)                      6.07.53
55 Julian David Munozg Giraldo (Colombia)        6.16.74
56 Yong Li Ng (Malaysia)                         6.17.66
57 Mohammad Rajablou (Iran)                      6.36.89
58 Hassen Ben Nasser (Tunisia)                   8.20.79
59 Lars Pria (Romania)                           9.20.66

Intermediate timing

km 7.6
 
1 Mikhail Ignatiev (Russian Federation)         10.07.84
2 Dmytro Grabovskyy (Ukraine)                    0.07.11
3 Simon Spilak (Slovenia)                        0.13.27
4 Andrei Kunitski (Belarus)                      0.14.52
5 Peter Latham (New Zealand)                     0.14.70
6 Jerome Coppel (France)                         0.16.23
7 Bart Vanheule (Belgium)                        0.18.88
8 Dominique Cornu (Belgium)                      0.18.98
9 Tiziano Dall'antonia (Italy)                   0.19.15
10 Eladio Sanchez Prado (Spain)                  0.21.38
11 Mark Jamieson (Australia)                     0.22.26
12 Johan Lindgren (Sweden)                       0.22.82
13 Maciej Bodnar (Poland)                        0.23.47
14 William Walker (Australia)                    0.24.70
15 Ryan Roth (Canada)                            0.25.99
16 Viktor Renäng (Sweden)                        0.26.00
17 Branislau Samoilau (Belarus)                  0.26.36
18 Martin Mortensen (Denmark)                    0.27.09
19 Ignacio Sarabia Diaz (Mexico)                 0.27.61
20 Maxim Belkov (Russian Federation)             0.27.95
21 Michael Schär (Switzerland)                   0.28.64
22 Lasse Bochman (Denmark)                       0.28.88
23 Henry Mendez Raabe (Costa Rica)               0.29.95
24 Timothy Gudsell (New Zealand)                 0.30.19
25 Francesco Rivera (Italy)                      0.33.25
26 Frantisek Rabon (Czech Republic)              0.33.63
27 Sergey Danniker (Kazakhstan)                  0.34.68
28 Paul Martens (Germany)                        0.35.43
29 Florian Morizot (France)                      0.36.59
30 Thom Van Dulmen (Netherlands)                 0.37.84
31 Ignatas Konovalovas (Lithuania)               0.38.16
32 Volodymyr Dyudya (Ukraine)                    0.39.08
33 Tony Martin (Germany)                         0.39.38
34 Bogdan Stoytchev (Bulgaria)                   0.39.86
35 Tyler Farrar (United States Of America)       0.41.26
36 Tiago Machado (Portugal)                      0.42.87
37 Alfonso Roldan Ortiz (Colombia)               0.44.06
38 Edward Clancy (Great Britain)                 0.44.80
39 Christian Meier (Canada)                      0.45.40
40 Kai Reus (Netherlands)                        0.46.01
41 Ruslan Sambris (Republic of Moldova)          0.47.37
42 José Luis Ruiz Cubillo (Spain)                0.48.26
43 Roman Kreuziger (Czech Republic)              0.48.33
44 José Mendes (Portugal)                        0.48.37
45 Gediminas Bagdonas (Lithuania)                0.51.83
46 Ben Greenwood (Great Britain)                 0.52.00
47 Rafaâ Chtioui (Tunisia)                       0.52.31
48 Miha Svab (Slovenia)                          0.53.57
49 Steven Cozza (United States Of America)       0.57.69
50 Vladimir Tuychiev (Uzbekistan)                1.01.34
51 William Aranzazo Escobar (Colombia)           1.04.70
52 Seyed Mostafa Seyed Rezaei Khormizi (Iran)    1.07.48
53 Panagiotis Potsakis (Greece)                  1.08.11
54 Janis Ozols (Latvia)                          1.09.99
55 Julian David Munozg Giraldo (Colombia)        1.11.57
56 Mohammad Rajablou (Iran)                      1.19.52
57 Hassen Ben Nasser (Tunisia)                   1.19.58
58 Yong Li Ng (Malaysia)                         1.23.10
59 Lars Pria (Romania)                           1.37.64
 
km 18.8
 
1 Mikhail Ignatiev (Russian Federation)         23.18.04
2 Dmytro Grabovskyy (Ukraine)                    0.04.77
3 Peter Latham (New Zealand)                     0.28.73
4 Andrei Kunitski (Belarus)                      0.29.93
5 Dominique Cornu (Belgium)                      0.30.45
6 Simon Spilak (Slovenia)                        0.32.42
7 Martin Mortensen (Denmark)                     0.33.12
8 Mark Jamieson (Australia)                      0.42.34
9 Tiziano Dall'antonia (Italy)                   0.42.44
10 Eladio Sanchez Prado (Spain)                  0.45.31
11 Maciej Bodnar (Poland)                        0.46.78
12 Jerome Coppel (France)                        0.55.92
13 Lasse Bochman (Denmark)                       0.57.12
14 Michael Schär (Switzerland)                   0.58.06
15 Bart Vanheule (Belgium)                       0.58.59
16 William Walker (Australia)                    1.00.19
17 Tyler Farrar (United States Of America)       1.00.84
18 Henry Mendez Raabe (Costa Rica)               1.02.41
19 Sergey Danniker (Kazakhstan)                  1.04.18
20 Frantisek Rabon (Czech Republic)              1.05.41
21 Johan Lindgren (Sweden)                       1.06.40
22 Paul Martens (Germany)                        1.07.74
23 Branislau Samoilau (Belarus)                  1.08.71
24 Timothy Gudsell (New Zealand)                 1.09.04
25 Ignacio Sarabia Diaz (Mexico)                 1.11.09
26 Maxim Belkov (Russian Federation)             1.12.64
27 Viktor Renäng (Sweden)                        1.13.87
28 Florian Morizot (France)                      1.17.30
29 Tony Martin (Germany)                         1.18.24
30 Ignatas Konovalovas (Lithuania)               1.24.10
31 Ryan Roth (Canada)                            1.24.92
32 Francesco Rivera (Italy)                      1.27.55
33 Kai Reus (Netherlands)                        1.30.46
34 Roman Kreuziger (Czech Republic)              1.37.56
35 Bogdan Stoytchev (Bulgaria)                   1.41.74
36 Ruslan Sambris (Republic of Moldova)          1.41.96
37 Miha Svab (Slovenia)                          1.45.91
38 Tiago Machado (Portugal)                      1.49.07
39 Alfonso Roldan Ortiz (Colombia)               1.50.11
40 Volodymyr Dyudya (Ukraine)                    1.52.77
41 José Luis Ruiz Cubillo (Spain)                1.53.42
42 Thom Van Dulmen (Netherlands)                 1.53.93
43 Edward Clancy (Great Britain)                 1.57.11
44 Christian Meier (Canada)                      2.00.20
45 Gediminas Bagdonas (Lithuania)                2.01.08
46 Steven Cozza (United States Of America)       2.01.13
47 José Mendes (Portugal)                        2.08.24
48 Janis Ozols (Latvia)                          2.14.88
49 Ben Greenwood (Great Britain)                 2.22.72
50 Seyed Mostafa Seyed Rezaei Khormizi (Iran)    2.24.26
51 Panagiotis Potsakis (Greece)                  2.30.67
52 William Aranzazo Escobar (Colombia)           2.33.87
53 Julian David Munozg Giraldo (Colombia)        2.35.95
54 Rafaâ Chtioui (Tunisia)                       2.35.96
55 Vladimir Tuychiev (Uzbekistan)                2.36.87
56 Mohammad Rajablou (Iran)                      3.03.85
57 Yong Li Ng (Malaysia)                         3.18.64
58 Hassen Ben Nasser (Tunisia)                   3.46.74
59 Lars Pria (Romania)                           4.16.22
 
km 28.5
 
1 Mikhail Ignatiev (Russian Federation)         34.12.45
2 Dmytro Grabovskyy (Ukraine)                    0.22.94
3 Peter Latham (New Zealand)                     0.35.52
4 Simon Spilak (Slovenia)                        0.42.40
5 Martin Mortensen (Denmark)                     0.43.54
6 Andrei Kunitski (Belarus)                      0.55.46
7 Dominique Cornu (Belgium)                      1.17.24
8 Mark Jamieson (Australia)                      1.18.07
9 Tiziano Dall'antonia (Italy)                   1.19.34
10 Lasse Bochman (Denmark)                       1.23.13
11 Eladio Sanchez Prado (Spain)                  1.28.29
12 Sergey Danniker (Kazakhstan)                  1.32.05
13 Maciej Bodnar (Poland)                        1.32.39
14 Henry Mendez Raabe (Costa Rica)               1.32.78
15 Jerome Coppel (France)                        1.35.13
16 Ignacio Sarabia Diaz (Mexico)                 1.35.22
17 Bart Vanheule (Belgium)                       1.36.05
18 Tyler Farrar (United States Of America)       1.37.94
19 Michael Schär (Switzerland)                   1.39.33
20 William Walker (Australia)                    1.42.75
21 Paul Martens (Germany)                        1.44.17
22 Johan Lindgren (Sweden)                       1.49.71
23 Frantisek Rabon (Czech Republic)              1.54.97
24 Florian Morizot (France)                      1.57.27
25 Viktor Renäng (Sweden)                        1.59.28
26 Timothy Gudsell (New Zealand)                 2.02.57
27 Tony Martin (Germany)                         2.11.65
28 Branislau Samoilau (Belarus)                  2.12.82
29 Roman Kreuziger (Czech Republic)              2.15.53
30 Maxim Belkov (Russian Federation)             2.15.59
31 Ignatas Konovalovas (Lithuania)               2.19.67
32 Ryan Roth (Canada)                            2.20.74
33 Tiago Machado (Portugal)                      2.25.44
34 Kai Reus (Netherlands)                        2.27.48
35 Ruslan Sambris (Republic of Moldova)          2.43.16
36 Bogdan Stoytchev (Bulgaria)                   2.55.94
37 Alfonso Roldan Ortiz (Colombia)               2.58.37
38 Miha Svab (Slovenia)                          3.02.03
39 Thom Van Dulmen (Netherlands)                 3.02.04
40 Christian Meier (Canada)                      3.10.11
41 Edward Clancy (Great Britain)                 3.11.85
42 Volodymyr Dyudya (Ukraine)                    3.15.69
43 Ben Greenwood (Great Britain)                 3.20.74
44 José Luis Ruiz Cubillo (Spain)                3.24.24
45 Steven Cozza (United States Of America)       3.25.14
46 José Mendes (Portugal)                        3.27.02
47 Panagiotis Potsakis (Greece)                  3.35.23
48 Janis Ozols (Latvia)                          3.39.07
49 Rafaâ Chtioui (Tunisia)                       3.40.58
50 Gediminas Bagdonas (Lithuania)                3.41.16
51 Seyed Mostafa Seyed Rezaei Khormizi (Iran)    3.46.28
52 Vladimir Tuychiev (Uzbekistan)                3.46.63
53 William Aranzazo Escobar (Colombia)           3.54.04
54 Francesco Rivera (Italy)                      3.57.86
55 Julian David Munozg Giraldo (Colombia)        4.11.24
56 Mohammad Rajablou (Iran)                      4.29.75
57 Yong Li Ng (Malaysia)                         4.32.05
58 Hassen Ben Nasser (Tunisia)                   6.03.32
59 Lars Pria (Romania)                           6.39.25