World championships - CM
Madrid, Spain, September 21-25, 2005
Main Page Results Start list Race Details Live report Next Race
Race 1 - September 21: Women's individual time trial, 21.9km
Thürig wins back-to-back
Somarriba and Armstrong round out podium
By Hernan Alvarez Macias and Shane Stokes in Madrid
Karin Thürig (Switzerland)
Photo ©: AFP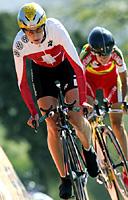 Switzerland's Karin Thürig won the women's time trial that opened the Road World Championships in Spain with a time of 28 minutes and 51 seconds. With this outstanding performance, Thürig repeated the feat she did in Verona in 2004. The local rider Joane Somarriba finished second with 28'56 and USA's Kristin Armstrong stepped onto the third place in the podium. Meanwhile, the German Judith Arndt finished just off the podium in fourth position, 56 seconds slower than Thürig.
"I was told I had the best time but I had no information as to how far I was ahead," said the Swiss at the press conference. "I was also not sure if it was the truth, because in the Olympics I found out afterwards that they gave me the wrong time! So I was not sure how I was going relative to the others, and I did not want to think about it. I just concentrated on my race because I knew there were uphills and downhills and I should go as hard as I could. I just tried to gain seconds on the downhills and the flats.
"I'm still doing triathlons, like last year. This year is special because I have to do the qualification for Hawaii. So, in the middle of July I raced in the Ironman in Zurich. After that, I took a few days off and went to do high altitude training in Switzerland for three weeks."
The women's podium (L to R):
Photo ©: Sirotti

Joane Somarriba wasn't disappointed. The Spaniard felt her medal was like gold "because I didn't think I could be on the podium today. I am really, really happy with that. When I saw the parcours, I didn't think it was a course for me. so this is like getting a gold medal". She added that this is her last year as a professional.
American Kristin Armstrong said post-stage, "I was a long time in the hot seat waiting. I had an early start as I didn't do the world championships last year, my last one being in Hamilton. So, I spent a lot of time waiting. I was still little bit hopeful, even at the midway point."
How it unfolded
Kristin Armstrong (USA)
Photo ©: AFP

The weather perfect in Casa de Campo, with sun and temperatures of 18 degrees greeting the riders. The first rider to start was Agnes Kay Eppers Reynders from Bolivia. The World Championships began with her ride. But the first top time check was Amber Neben's time at the intermediate point (km 10.5): 15 minutes and 24 seconds. The American also clocked a good time at the finish in 29'48, while the South American Reynders finished in 34'37.
Kristin Armstrong, another American, bettered her countrywoman's time, clocking 15'14. With Christine Thorburn also to come, it was looking as if the US girls would dominate the race against the clock. Meanwhile, Australia's Sara Carrigan didn't perform as well as she expected, and she finished in more than 30 minutes (31'27). Spain's Dori Ruano was also disappointing, passing the intermediate point in 16'06 and the finish in 31'22.
Joane Somarriba (Spain)
Photo ©: Sirotti

At 10.57am, the defending champion, Switzerland's Karin Thürig, started. While the Swiss raced, Armstrong improved Neben's time by 18 seconds as she clocked 29'30.
Thürig was the last to cross the 10.5km point and she was the best among the 39 riders, clocking 14 minutes and 53 seconds. With this tremendous pace, she would certainly repeat the 2004 feat as she did later. But Spain's Joane Somarriba was second, just one second slower (14'54), and the third best time at that point had been made by Kristin Armstrong in 15'14.
Winner Karin Thürig (Switzerland)
Photo ©: AFP

Karin Thürig's tempo was so good that she passed Lithuania's Edita Pucinskaite, even though Pucinskaite started 1'30 before her. Somarriba finished her remarkable ride in 28 minutes and 56 seconds, also catching her minute and a half woman Svetlana Boubnenkova (Russian Federation) before the finish. But Thürig was coming behind. The Swiss bettered Somarriba's time with 28 minutes and 51 seconds, good enough for the gold medal. The podium was completed with American Kristin Armstrong in third place, while Germany's Judith Arndt ended fourth, 17 seconds slower than Armstrong. The last to finish wasn't Thürig, but Edita Pucinskaite (Lithuania), who didn't perform so very well and finished in 30'32 for 11th.
Photography
For a thumbnail gallery of these images, click here
Images by Fotoreporter Sirotti
Images by AFP Photo
Images by Shane Stokes/Cyclingnews.com
Results
1 Karin Thürig (Switzerland)                      28.51.08 (45.544 km/h)
2 Joane Somarriba Arrola (Spain)                   0.05.80
3 Kristin Armstrong (United States Of America)     0.39.27
4 Judith Arndt (Germany)                           0.56.68
5 Amber Neben (United States Of America)           0.57.06
6 Zoulfia Zabirova (Kazakhstan)                    1.01.84
7 Mirjam Melchers-Van Poppel (Netherlands)         1.02.71
8 Christine Thorburn (United States Of America)    1.13.33
9 Svetlana Bubnenkova (Russian Federation)         1.38.92
10 Edita Pucinskaite (Lithuania)                   1.41.38
11 Christiane Soeder (Austria)                     1.45.61
12 Edwige Pitel (France)                           1.55.39
13 Priska Doppmann (Switzerland)                   1.57.05
14 Oenone Wood (Australia)                         2.00.15
15 Nicole Brändli (Switzerland)                    2.09.34
16 Tatiana Guderzo (Italy)                         2.12.71
17 Susanne Ljungskog (Sweden)                      2.13.34
18 Madeleine Sandig (Germany)                      2.16.01
19 Susan Palmer-Komar (Canada)                     2.28.57
20 Dori Ruano Sanchon (Spain)                      2.31.04
21 Sara Carrigan (Australia)                       2.36.88
22 Anna Zugno (Italy)                              2.37.06
23 Olga Slyusareva (Russian Federation)            2.39.35
24 Bogumila Matusiak (Poland)                      2.40.77
25 Marina Jaunatre (France)                        2.46.61
26 Melissa Holt (New Zealand)                      3.06.25
27 Trine Hansen (Denmark)                          3.10.28
28 Felicia Greer (Canada)                          3.11.01
29 Linda Serup (Denmark)                           3.11.51
30 Natasha Maes (Belgium)                          3.17.09
31 Kateryna Krasova (Ukraine)                      3.48.47
32 Grete Treier (Estonia)                          3.56.99
33 Iryna Shpylyova (Ukraine)                       4.29.21
34 Daiva Tuslaite (Lithuania)                      4.44.80
35 Bernadette Schober (Austria)                    4.59.57
36 Trixi Worrack (Germany)                         5.15.95
37 Agnes Kay Eppers Reynders (Bolivia)             5.46.36
38 Anna Skawinska (Poland)                         5.53.99
DNS Anita Valen (Norway)                                  
 
km 10.5
 
1 Karin Thürig (Switzerland)                      14.53.36
2 Joane Somarriba Arrola (Spain)                   0.01.59
3 Kristin Armstrong (United States Of America)     0.21.35
4 Amber Neben (United States Of America)           0.30.79
5 Judith Arndt (Germany)                           0.32.01
6 Zoulfia Zabirova (Kazakhstan)                    0.32.27
7 Mirjam Melchers-Van Poppel (Netherlands)         0.35.27
8 Christiane Soeder (Austria)                      0.39.82
9 Christine Thorburn (United States Of America)    0.41.08
10 Susanne Ljungskog (Sweden)                      0.57.35
11 Priska Doppmann (Switzerland)                   1.01.86
12 Edwige Pitel (France)                           1.03.67
13 Nicole Brändli (Switzerland)                    1.04.72
14 Svetlana Bubnenkova (Russian Federation)        1.05.14
15 Oenone Wood (Australia)                         1.06.72
16 Edita Pucinskaite (Lithuania)                   1.07.62
17 Dori Ruano Sanchon (Spain)                      1.13.42
18 Trine Hansen (Denmark)                          1.14.15
19 Tatiana Guderzo (Italy)                         1.14.73
20 Susan Palmer-Komar (Canada)                     1.14.81
21 Madeleine Sandig (Germany)                      1.17.87
22 Bogumila Matusiak (Poland)                      1.21.40
23 Sara Carrigan (Australia)                       1.21.53
24 Olga Slyusareva (Russian Federation)            1.23.42
25 Anna Zugno (Italy)                              1.26.72
26 Linda Serup (Denmark)                           1.30.04
27 Marina Jaunatre (France)                        1.36.80
28 Melissa Holt (New Zealand)                      1.37.01
29 Felicia Greer (Canada)                          1.37.07
30 Natasha Maes (Belgium)                          1.43.71
31 Daiva Tuslaite (Lithuania)                      1.59.32
32 Kateryna Krasova (Ukraine)                      2.01.14
33 Grete Treier (Estonia)                          2.12.02
34 Trixi Worrack (Germany)                         2.21.92
35 Iryna Shpylyova (Ukraine)                       2.33.81
36 Anna Skawinska (Poland)                         2.42.50
37 Bernadette Schober (Austria)                    2.46.08
38 Agnes Kay Eppers Reynders (Bolivia)             3.00.37