An interview with Oenone Wood, September 25, 2005
Finishing it off in style
The face said it all - showing everyone a big smile, and her new bronze medal, Australia's Oenone Wood was on cloud nine, even though gold eluded her in the world championships women's road race. Wood felt wonderful after finishing off some great teamwork for third, ending a very good season that included first overall in the women's World Cup and winning the overall Tour de Montreal. Cyclingnews' Hernan Alvarez Macias caught up with Wood minutes after the worlds race in the medical control, together with Nicole Cooke and Regina Schleicher.
Oenone Wood looks pleased
Photo ©: Hernan Alvarez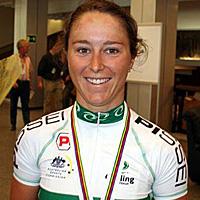 Saturday's race had so many attacks but some teams, especially the German outfit, weren't interested in a breakaway. Therefore, they controlled the peloton and rode an ideal pack tempo to keep things in check. The last turn was modified one day before the race and affected the women's competition in a way. "It wasn't too bad going around the corner," stated Wood, "I mean, obviously the whole bunch had to slow down going into the corner. I had a really bad line going through it because I've got boxed in. But just because the final sprint is so long, it gives you an opportunity to get back into a good position. So by, I guess, 300, 400 metres to go, I was back into a great position."
Cyclingnews: What do you think about the race in general?
Oenone Wood: The course made the race pretty tough, particularly on that climb [Dehesa de la Villa climb – after 8.1 kilometres of the parcours]. It was really fast in the first three laps, but then on the fourth lap, [Spain's Joane] Somarriba launched an attack on that first hill. And, from then on, the hills started to get really hard.
CN: It seemed not even one of the breakaways were destined to finish on top?
OW: Yeah, obviously there were a couple of teams that had a good chance for the sprinters getting up on the podium. So, those were the teams that really put in a big effort to chase it back. The German team chased back a lot of things, as did a lot of other teams, so they had the race panned out, but it was a really hard race. I think the sprinters really suffered on that hill and I think Germany did a great job to get Regina [Schleicher] into a good position to the finish.
CN: So, you think the Australian performance was good?
Oenone Wood on the podium
Photo ©: Sirotti

OW: Yes, I think we've done a great job today; everybody performed to their strengths. I think we really made the most of the different talents that we have in the team, and I think there were girls putting in a big effort for me, so I'm really grateful to them for that.
CN: What do you think about your season overall?
OW: Yeah, this is the last race for the season for me, so it's a nice way to go, to get a podium in the World Championships. I had a pretty good year; it's been a difficult year. We lost a friend [Amy Gillett] this year, so that's affected all the Australians and I think it's great that we've been able to come together and still be able to perform. And come together as a team and support each other. I think I'm glad that the Australians have that capacity.
CN: Are you on holidays from now on?
OW: Yes, I'll have a look around Madrid and then I'm going on a proper holiday; having a bit of a break from bike riding for a while.