An interview with Bobby Julich, September 22, 2005
One last big push
Bobby Julich has been undoubtedly one of the star performers of 2005, riding with impressive form from the start of the season right up until the end, taking victories at Paris-Nice, the Eneco Tour of Bénélux, and Critérium International. The 34 year old American has no hesitation in describing 2005 as his best year yet, and says that it would be a perfect finale to the season if he was able to take home a rainbow jersey. He spoke with Cyclingnews' Shane Stokes before Thursday's big test against the clock.
Another podium finish for Bobby Julich
Photo ©: AFP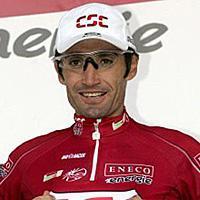 Julich rode the Tour of Poland in order to prepare for his worlds goal, and while he was beaten in the TT there by Thomas Dekker, he says that he is confident that he will be at full power in Thursday's elite men's time trial. "The Tour of Poland TT result wasn't crucial," he said on Wednesday. "I had bonked so hard on the day before due to the conditions and coming through the caravan [after puncturing] that I didn't really feel that good in the time trial. It has no relation whatsoever to the this time trial; that was basically an uphill TT and he [Dekker] had the motivation of going for the overall in the race. My motivation was just to get through it and concentrate on the worlds."
Julich will be up against a host of strong riders on Thursday. Defending champion Michael Rogers, Alexandre Vinokourov, Fabian Cancellara, Thomas Dekker and Michael Rich are just some of those he must overcome to take gold. However the Olympic bronze medallist knows that this year he has stepped up another level in terms of form and, fuelled by a bigger hunger than perhaps at any point in his career, he will give his all to realise that rainbow ambition.
Cyclingnews: In a recent interview with Cyclingnews you said that you were going to keep racing until the wheels fell off. And so here you are, still racing at this stage of the season and now lining out in the world championships time trial. The form and morale has clearly kept good until now…
Bobby Julich: Yeah, I am happy. The Tour of Poland was to be used as preparation for this race and on Saturday, which is when the race was pretty much decided, I had a flat at a really bad time and then came back to the front group just as Di Luca was attacking. I basically had a pretty hard day there. The general classification went out the window then, with the bad weather and the untimely flat tyre.
I went deeper; obviously it was a very hard race and I finished it, so I think that I did enough training and enough racing to put myself in a state of being tired, but not too tired. Since then I've had three days of rest before the world's and now I just need one last big effort of the season to cap off my most successful season to date as a professional. I hope that means getting a medal, or even better, in the time trial.
Julich has time trialled well this year
Photo ©: Luc Claessen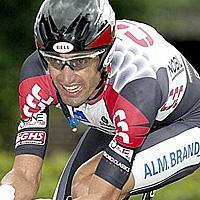 CN: You were second to Thomas Dekker in the time trial in Poland - did that worry you?
BJ: No, I had bonked so hard the day before due to the conditions and coming through the caravan, so I didn't really feel that good in the time trial. It has no relation whatsoever to this time trial, because that was basically an uphill TT and he [Dekker] had the motivation of going for the overall in the race. My motivation was just to get through it and concentrate on the worlds.
It's strange that I look at time trials now in terms of either winning or losing. Two years ago I would have been excited to get second in a time trial, but now I have been second in time trials so often that it feels like a failure instead of a minor success. For me, I think it was just a case that the Tour of Poland was just meant to be a preparation race and about staying hungry for the world championships.
CN: What is your impression of the time trial course here in Madrid?
BJ: I couldn't really ask for a better course for me, period. There are a lot of changes in rhythm, a lot of short little climbs, some technical parts and some fast parts. It's one of those time trials that I'll really - win or lose - enjoy racing, because it's just a good parcours. I think it's a perfect course for me.
CN: On a course like that, who do you expect to be your main challengers?
BJ: Little Dekker, for sure. He is just an all-round huge talent. I think that Vinokourov will be very good, Cancellara could probably be pretty good. And you can never count Michael Rogers out, he is the defending champion. So there are plenty of people that will be in it to win it, but I think that by doing the Tour of Poland and then having three days off before the time trial - win or lose - it was the best decision for me. I'm not as much of a one-day time triallist, I prefer to do them at the end of a long stage race. This kind of falls into that category for me. It's almost like the end of the stage race, rather than just a one-day test.
CN: That said, you rode a good race at the Olympics…
BJ: Yeah, I'm just looking forward to doing one last big effort. I would love to cap off the season with a big win or a big result. But this is the world championships and you never know, you can never count anyone out. Even a guy like Ekimov, a guy who hasn't raced all year, could be dangerous. But I am just looking forward to doing my best and ending my season on a postitive note, taking that momentum into the off season for next year.
Bobby Julich celebrates in yellow
Photo ©: Elmar Krings
CN: As you describe it, it's your most successful season ever. Are you surprised how long you've been able to race this year, because you seem to have been going from the word go?
BJ: Yeah, I really have. But that just boils down to enjoying what you do and enjoying being around the people that you deal with. Not only my teammates…we have a really great team spirit with the mechanics, soigneurs, directors, bus drivers, everybody. We really have a good time together.
Jens and I were talking about it during the Tour of Poland - 'Holy Cow, we have been doing since January, pretty much full gas.' It's something to be proud of, for sure, but my conditions have changed a bit, my goals have changed a little bit and second isn't good enough any more. That's why I feel that panging in my stomach to win on Thursday instead of getting second or third.
I feel like I've had a very successful season, and in the last month or so, I've been one day away from another big result or winning another Pro Tour race, but it hasn't come my way and I just hope that luck switches around a bit and gives me the chance to win a world championship jersey. That's the ultimate goal.
CN: Are you down to do the road race as well?
BJ: No, I am not doing the road race. I will be on a plane to Nice tomorrow night after the TT, heading back there to be with my daughter and my wife. Then we go back to America on Monday. So it's one last big push which will hopefully pay off with a big result.