Tour de France Tech – August 17, 2005
Edited by John Stevenson
Got tech? Send press releases, news, and tech questions to the Cyclingnews tech desk.
A touch of Formula One
F1-style telemetry comes to the roads of France
In this year's Tour de France, TV and website race followers got an unprecedented level of access to the intimate details of some riders' physiologies as teams used GPRS telemetry to reveal riders' heart rate and power output to the world. Gerard Knapp looks at how these new technologies were used this year and how they might shape the race in years to come. With additional reporting from Anthony Tan and Richard Stern.
Wheel data
By Ric Stern
There were three different telemetry systems used in this year's Tour de France. They were:
1. Polar heart rate monitors
2. SRM cranks
3. PowerTap hubs/wheels
Polar heart rate monitors measure heart rate, speed, cadence and altitude. Some of them measure power output, but I didn't receive any data at tourtotals.com with power output.
SRM and Power Tap, measure the above (except no altitude) plus power output and energy expenditure.
All three systems are downloadable to computers, laptops, PDAs (possibly) and mobile phones. As far as I'm aware, only Polar HRMs do this with specific Nokia phones.
Additionally, SRM and Polar have the ability to transmit data back to the team car (or TV) so that others can see the data in real time (see main story). When Power Tap was originally introduced, the company had a system that could do this, and indeed showed the data from the women's HP Classic stage race in the US.
Many of the riders transmit data to team cars and also use their handlebar-mounted displays to view the data. Riders such as Servais Knaven (Quick Step), Jens Voigt (CSC), Salvatore Commesso (Lampre) and some T-Mobile riders have a transmitter in the seat pack to relay live data to the public.
The data was updated every five seconds and made available at a web site (see www.livebiodata.de) and direct to German television.
SRM has four different cranks fitted with the power measurement system: it's own SRM Crank; the 10-speed Dura Ace crank introduced at last year's TdF; the Cannondale 'Hollowtech' version and it's understood a new carbon-fibre version will be made available in conjunction with FSA.
Power Tap offers a Shimano or Campagnolo freehub that can be laced to any rim with the obvious exception of disc-wheels or something like a HEDd three-spoke wheel. Floyd Landis (Phonak) uses the Power Tap system and accuracy between the PT and SRM is said to be very good.
And the extra weight? Well, some riders supposedly used these systems to increase the weight of their bikes to the required UCI limit of 6.8kg.
Live on TV
Photo ©: ARD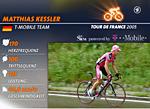 SRM inventor Uli Schoberer
Photo ©: Anthony Tan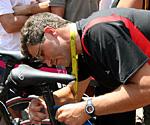 The GPRS modem
Photo ©: Jon Devich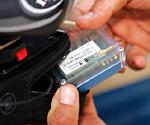 Looks like a toolbag, but it's actually the compact transmitter
Photo ©: Anthony Tan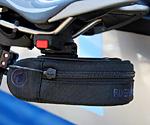 The display unit
Photo ©: Anthony Tan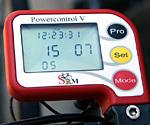 Quick.Step's Servais Knaven
Photo ©: Anthony Tan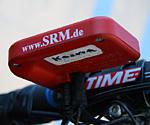 The SRM crankset
Photo ©: Jon Devich
Uli attends to the display unit
Photo ©: Jon Devich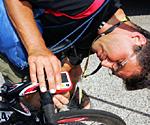 Not for the first time in this year's Tour de France, we've heard riders and their machines compared to Formula One, motor-sport's megabucks technology parade. There are similarities in aerodynamics and tyre selection - crucial in time trials - and perhaps in the domination of one person - Lance Armstrong and Michael Schumacher.
However, cycling teams have now started to use telemetry, just like the F1 cars (or rather, as F1 cars did until FIA banned telemetry last year). But that's about where the parallels end. Where the telemetry systems in F1 allowed engineers to actively alter the car's set-up throughout the race, the use of telemetry in the Tour de France is not being used - yet - in any tactical way.
It would seem that for the time being, its use was limited to pumping out data that helped inform German television broadcasts on ARD and manufacturers' web sites, but not the team staff in the following vehicles.
However, according to cycling coach Ric Stern, who was paid by Polar to analyse HRM data from a group of riders, it's only a matter of time before it is.
What is it?
On some bikes in the Tour, observant readers noticed the "little black bag under the saddle" and asked, "What is it - a toolkit?" about bikes belonging to riders like Servais Knaven from Quick Step. Well, no it wasn't a toolbag and if they looked further, they may have noticed that the crankset was not standard Dura-Ace issue, but a Dura-Ace version of the SRM power-output crankset.
The SRM (Schoberer Rad Messtechnik) system features a special crankset that measures the actual power produced by the rider at the crank - providing a highly accurate means of monitoring performance - matched to a receiver unit that is usually mounted on the handlebars or under the saddle.
In fact, power-based training, especially in conjunction with heart-rate monitoring, is considered the training method (see the Cyclingnews articles Power Up! and Power to the coaches on training with power measurement). Many professional riders use power-based training in the off-season, as they can record the data on their systems and then download the data to a laptop/PC, and then email it to their coaches for further analysis.
But providing the data in real-time takes it to another level. To achieve this, the "little black bag" under the saddle of one such 'wired' rider, like Servais Knaven, contained a GPRS modem, pumping out data such as his heart rate, power, cadence (pedaling speed), road speed and time.
SRM developer and principal, Ulrich 'Uli' Schoberer, told Cyclingnews the GPRS modem had a range of 1000 metres and provided connectivity for up to 80 percent of an 'average' stage of the Tour.
Schoberer told Cyclingnews before the start of Stage 13 in Miramas that riders from T-Mobile, Lampre, Gerolsteiner, Quick.Step and CSC were 'wired', with an unidentified Discovery Channel rider also getting 'wired' after the word spread around the Tour village.
"The sender under the saddle is a GPRS modem that sends all power control data to an internet server, where first the German TV broadcaster (ARD) can get it for live coverage," Schoberer said.
He said the data was also shared with the teams and the SRM web site. The key component was the tiny GPRS modem, developed by T-Mobile and SRM, as well as the better-than-expected GPRS connectivity.
"The team did not use the data in the race, it was only for TV and internet," he said. "Some use the downloaded files after the race."
The extra weight, including the SRM unit, was around 250 grams. He said the modem "was about 80 grams. I think no one uses it to get the bike at the correct weight. Most bikes are more than 6.8 kg."
Let's get tactical
Of course, pro riders are not like F1 machines, and short of inserting retractable pins into saddles, there's not much a team director can do to make a rider go faster other than shout at them.
However, the power that a rider thinks he or she is producing - compared to what they are actually producing - can vary enormously. Active monitoring of a rider's output can avoid a rider 'blowing up', or conserving too much energy.
According to Ric Stern, the active HRM and power data could be used during a team time trial.
"In the TTT they could get the riders to put down more power or take a rest earlier before blowing. Or, they could use it to make the rider do more.
"For example, 'you've done better in training, (so) shift your arse', or words to that effect. But I'm not sure how effective this would be.
"Along with HR monitoring (heart-rate) it could be used to see if anyone is suffering with anxiety (HR increases with anxiety). This could possibly occur if riders thought that it would be 'weak' to admit to being anxious," he said.
Stern also believes it has a role to play in nutrition and weight management. "It's possible to estimate quite well how much energy is being expended on each stage. By knowing this, riders can be given the correct amount of food to aid recovery."
However, Stern recommends the best use of a power meter is to record the data, analyse it, "and then know where you have to be the following year so that you can be better than where you were the previous year.
"For example, say rider X gets shelled on Alpe d'Huez riding at 400 watts after 10 minutes, so next year you know you may need 420 watts to stay in contact. If you know your speed this year and the speed of the winner or whom you want to stay with, then simple maths will allow you to ascertain your target power output," he said.
And on a final, sobering note, the data produced by the TdF riders can be viewed by mere mortals and then compared to their own performance if they also decide to tackle a stage of the Tour and have the same technology.
Then again, that may not be such a good idea. It's better to dream.
See: www.srm.de