Tour de France Tech – July 15, 2005
Edited by John Stevenson
Got tech? Send press releases, news, and tech questions to the Cyclingnews tech desk.
Chris Horner's Saunier Duval-Prodir Scott CR1
Photo ©: Tim Maloney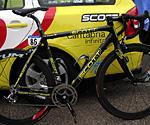 Campagnolo Record transmission
Photo ©: Tim Maloney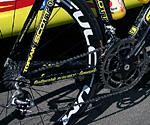 Ritchey post with extra setback
Photo ©: Tim Maloney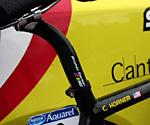 Anti weight-saving
Photo ©: Tim Maloney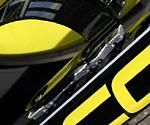 Elliptical chainrings
Photo ©: Tim Maloney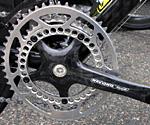 In the pits at Saunier Duval-Prodir
By Tim Maloney
Saunier Duval-Prodir's American rider Chris Horner told Cyclingnews that he thinks his Scott CR1 team bike is "the best road bike on the market today" and he's already won a Tour de Suisse stage this year to prove it. Scott's CR1 frame weighs in at just 880g without fork, which makes it easy to build into a bike that hits the UCI weight limit of 6.8kg. In fact, as Saunier's mechanics have found, it makes it too easy - we'll get to that in a moment.
Horner's medium frame Scott CR1 sports Campagnolo components, with Campagnolo Record Carbon 172.5mm cranks and front & rear derailleurs. Saunier Duval-Prodir uses a Fulcrum carbon fibre wheelset (manufactured by Campagnolo and a dead ringer for the Bora model) and Ritchey WCS carbon fibre handlebars and seatpost, with a Ritchey aluminum stem and Selle Italia Flite saddle.
Horner is also using new version of Ritchey's WCS carbon fiber seatpost, with extra setback - 45mm instead of the usual 25mm. The post, known internally as Ritchey as the 'wayback' was developed in response to requests from some of Ritchey's sponsored riders and will be available to everyone else in 2006.
The weight is under
The team mechanics at Saunier Duval Prodir are probably the most friendly wrenches that Cyclingnews has encountered at this year's Tour de France. Not only are they happy that the team is doing its first ever Tour, but since pro wrenches love working on good equipment, the SDV guys are quite happy to wrench those lightweight Scott CR1s.
Saunier Duval's Leonardo Piepoli one of the smallest men in the Tour and therefore rides a size S frame. That means his frame is lighter than most and grams also drop off because he's also using shorter cranks and stem, a narrower handlebar and so on. It's only five grams here and five grams there but it adds up. Or rather, it subtracts, and the practical upshot is that, with Campagnolo's lightweight Record carbon group on the bike, Piepoli's machine ends up well under the UCI's 6.8kg weight limit.
Since the UCI's regulations don't specify what constitutes a bike for the purposes of the weight rule, various inventive ways have been found of getting bikes to hit the target over the last couple of years. We've heard, for example, of mechanics dropping chains down the seat tubes of bikes belonging to female track cyclists to get them up to the weight. The Saunier Duval mechanics are even more blatant - Piepoli's bike has 140g of lead strips bolted on under the water bottles!
Not just Bobby
CSC's Bobby Julich isn't the only rider in the peloton experimenting with elliptical chainrings. Saunier Duval Prodir rider David Canada is using these non-round chainrings, which have multiple drillings to allow a wide range of positions on the crank so the orientation of the ellipse can be tuned to the riders' taste.