First Edition TdF Cycling News for June 30, 2005
Edited by John Stevenson
Godefroot: "Ullrich much better than in last years"
Jan Ullrich (T-Mobile)
Photo ©: AFP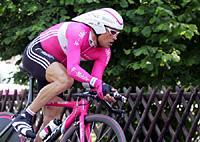 T-Mobile team manager Walter Godefroot, who has been known to speak quite frankly about the condition of any of his riders, has declared himself "full of enthusiasm", as far as the pre-Tour shape of Jan Ullrich is concerned. "Ullrich is much better than in the last years," the Belgian told his country's radio station Sporza. "His build-up has taken a long time and was not interrupted. Let's hope that his high level is of duration."
Asked whether he wasn't feeling nervous after the Tour de Suisse, where his team leader wasn't yet on top, he replied, "No. Iban Mayo peaked too soon last year [when he won the Dauphiné Libéré, then did not perform well at the Tour - ed.]. Ullrich will be fit just in time."
Tour 2004 runner-up Andreas Klöden, meanwhile, "will be a helper again", Godefroot said. "He's not up to the pressure yet. As for Alexandre Vinokourov, his abilities in the mountains and in the time trials aren't as good, but he makes up for it through his aggressive riding."
Mixed feelings at Liquigas
Expectations and hopes for the Tour de France are quite varied for the Italian Liquigas-Bianchi team. Three days before the first stage time trial in Fromentine, Garzelli, Cioni, Pellizotti and Bäckstedt have spoken about their aims and ambitions for the Wold's biggest cycling race.
Stefano Garzelli, who abandoned the Giro d'Italia on the difficult mountain stage 13 to Ortisei, has no particular aspirations for this year's Tour de France. "I can't pinpoint a precise objective for this Tour," he said. "I won't be a man for overall classification, since there will be riders who have been training solely for this race while I'm back from abandoning the Giro d'Italia - I will have to perfect my condition during the first week and hope to be competitive in the last eight or nine days."
Dario Cioni, on the other hand, is feeling confident about his form. "After the Giro d'Italia [where he finished 13th - ed.], I feel quite ready. In this phase I've particularly worked my time trialling position," said Cioni, who made a very good appearance at the Italian Time trial Championships, where he placed third. "I've made the final refinements to my form," he concluded.
Tall Swede Magnus Bäckstedt will be lining up in Fromentine feeling especially ambitious. "Every stage in the first week will be like a World Championship to me," he said, explaining, "I haven't won this year yet and I really want to make amends. I've worked hard since Paris-Roubaix, and I felt very good in the team time trial in Eindhoven. I'm quite hopeful."
Finally, Franco Pellizotti feels confident especially since his teammate Garzelli will also participate, which he sees as an asset in the mountains. "The presence of Garzelli makes me serene: we will help each other," he said. "If I win one stage, it will already be a wonderful Tour. If I achieve a good overall result, even better!"
Quick.Step to control first week
The Belgian Quick.Step team sees itself as the squad who will largely control possible mass sprint finishes during the first, flat week of the Tour de France. As team director Patrick Lefévère told the official site of the Tour, letour.fr, Tom Boonen will be the squad's leader until the race gets to the mountains, which also brings about responsibilities inside the peloton.
"In fact, it is a setback for us that Petacchi won't be there," Lefévère said, contrary to the thought that his absence would mean one rival less for Boonen. "Fassa Bortolo is a team that takes its responsibilities when it comes to leading the peloton to catch breakaways. They are good companions on the road. This year, however, I'm afraid we will be forced to work alone and it will be very hard to control the race if the others don't play ball." Lefévère, who confirmed that Boonen will be a "serious candidate" for the Green jersey if he's in top form, added that the squad's ambitions nevertheless included the time trials, as well as the mountain stages.
"Michael Rogers has ambitions of his own," he continued. "He is the reigning time trial world champion and he intends to show that he deserves that title. The first stage should suit him well, as 19 km is the right distance for specialists like him. What's more, he showed on the Tour of Switzerland that he could perform on several types of terrain. He's a rider who can be very consistent and he has a role to stick to in this Tour de France."
Rogers will also lead the team over the mountains, together with young German Patrik Sinkewitz, winner of the "very tough" 2004 Tour of Germany. "He's a young rider with bags of ambition who likes to attack. Sometimes he even overdoes it a little, but that's better than being the other way," Lefévère concluded.
Breukink: "Menchov can aim for top five"
Rabobank's team manager Erik Breukink believes his rider Denis Menchov to be ready to aim for a top five placing at the upcoming Tour de France. Menchov had won the Best Young rider classification at the Tour in 2003, and has been designated the squad's leader for general classification this year. "I feel that with the qualities and maturity he has acquired, he now has reason to aim for a top five placing. That's how good he is," Breukink said. "While he may not have finished [the Tour] last year, that whole season was a bit of a non-starter for him," he added.
Because of the non-participation of Oscar Freire, who would have been a major player for sprint finishes in the first week, Breukink remodeled his strategies to aim for the hillier stages. "For the intermediate stages, where the breakaways can sometimes lead all the way to the finish, we have several possibilities with Erik Dekker and Karsten Kroon, for example, who are very experienced Tour riders. Another option, once we reach the mountains, will be to let Michael Rasmussen take his chances, as he is truly a good climber," he explained to letour.fr.
Click here to see the full Tour de France team roster start list.
(All rights reserved/Copyright Knapp Communications Pty Limited 2005)