First Edition TdF Cycling News for June 29, 2005
Edited by John Stevenson
Armstrong: "I feel strong"
Six down; one to go - Lance Armstrong in yellow after the final stage of the 2004 Tour de France
Photo ©: Roberto Bettini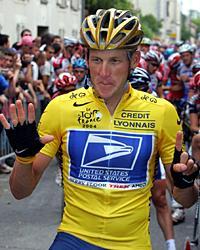 Lance Armstrong says he has lost weight and improved his fitness since finishing fourth in the Dauphiné Libéré earlier this month. ``I feel strong on the bike,'' Armstrong told the Associated Press, saying that he had lost more than 3 pounds since the Dauphine. "I feel a lot better than I did in the Dauphiné," he added. "I'm recovering well."
Armstrong expects to need that weight loss in the Tour de France because he thinks the crucial battle ground in this year's race, as in 2004, will be the Alps and Pyrenees. "This year, the Tour will be won in the mountains," he said.
As usual, Armstrong has thoroughly reconnoitered the Tour's climbs, and spent some time in the Alps after the Dauphine riding the climbs of stages 10, 11 and 12. Armstrong said he found the ascents chosen for this year's Alpine section "much harder than I expected" and thinks stage 12 will be particularly tough. "There are no big climbs but it's going to be a hard day. There will be some surprises for a lot of people, especially if it is very hot," he said.
Leblanc: T-Mobile is the challenger
Tour boss Jean-Marie LeBlanc says the greatest threat to Lance Armstrong's hopes of a seventh consecutive victory comes from the T-Mobile team. "The opposition seems to be richer than in previous years," LeBlanc told AFP. "I see first the coalition of T-Mobile. This is not Armstrong against Ullrich, but against a trio that also includes Klöden and Vinokourov. The addition of Vinokourov is very important to me, he is a complete racer and a fine tactician. Then there is the Landis-Botero tandem, two racers that have nothing to lose if they play their cards. Basso is an interesting racer. It's a pity that Cunego won't be there, I would have liked to have seen him in this company."
Reflecting on Lance Armstrong's imminent retirement, LeBlanc said that he had brought to the Tour a new level of professionalism in his reconnaissance of the course, choice of equipment and team discipline. "On the whole, it was a previously unknown level of commitment for him and his team-mates."
Asked if there were any negatives to Armstrong's domination of the Tour in the last six years, LeBlanc said, "The repetitiveness of his six victories is not his fault if his challengers were mediocre in their behaviour and the balance of their cycling season," said Leblanc, "He made the Tour more a priority and ipso facto he gave less importance to the other races. There is a huge interest [in the Tour] because of his choice. But he has roots and commitments in the US and it was therefore hard for him to spend nine months in Europe. He chose to carry out his work in a hard way and I understand that it has become harder and harder."
An interview with Levi Leipheimer: Everything's in place
One contented camper
Photo ©: Russell Standring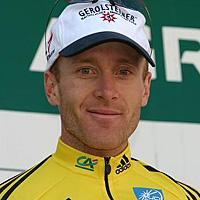 Levi Leipheimer's Grand Tour stocks have risen in 2005, as he joined the Gerolsteiner squad and became their GC focus for Le Grand Boucle in July. After wearing yellow and taking a third place finish at Dauphiné Libéré, Leipheimer is part of most observer's calculations for overall honours or at least a podium finish in Paris come July 24. Here Levi analyses his current situation, his team and his chances of success at the Tour de France.
CN: Levi, you have described the three years you spent at Rabobank as "good preparation" at the beginning of the season. What are the differences between previous years and now - and what makes you think you will achieve your goal of a top five (or even podium) placing this year? Will 2005 be your best year?
LL: Changing teams to Gerolsteiner was sort of a new beginning to me. I'm starting here with a clean slate, but with the experience and the knowledge I took from my three years at another top level team. I'm more confident in my abilities now because of what I've learned in my years with Rabobank. At Gerolsteiner, I have more freedom to put my experiences into practice and go my own way.
I don't know if 2005 will be my best year - yet. The team change and taking up training with Max Testa have done me a lot of good. I train much more intensively since Max advises me. Through his advice, I know exactly what I'm doing every time I go out the door - and that makes training to that intensity much easier mentally, because I don't doubt my training for a second.
Click here for the full interview.
White tips Armstrong
Cofidis rider Matt White, set to make an at-long-last Tour debut this year, believes Lance Armstrong is still the man to beat in the Tour - but won't be beaten in his final appearance.
"He's changed cycling, he's changed the way people prepare for a Tour de France and the way people prepare their teams for a Tour de France . . ." White told Melissa Ryan of The Age, "There's no weak link in that team, and there's no weak link in Lance Armstrong. He's definitely the one to beat, and I honestly can't see him being beaten."
White will ride his first Tour this year alongside friend and team-mate Stuart O'Grady - provided, that is, nothing goes wrong. White earned a strong nomination for the title of '2004's unluckiest rider' when he crashed and broke his collarbone just before the start of last year's Tour. In 2001 he was expected to ride the Tour as part of the US Postal team but did not make the final team selection and in 1999 his Vini Caldirola team had its Tour invitation withdrawn when Sergei Gontchar failed a haematocrit test at the Tour of Switzerland.
After that run of bad luck, White is a shade fatalistic about starting the Tour. "Nothing's final until you actually roll down that ramp," he said. After his crash three weeks ago, when he hit a truck that pulled in front of him then suddenly braked for a traffic light, White must be hoping that he has used up his lifetime allocation of pre-Tour problems.
Despite the hoopla surrounding the Tour, White is taking his Grand Boucle debut in his stride. "You get to the point where, not that you don't care, but it's just another race and you've just got to treat it that way," he said. "Obviously it's a very important race, but it's nothing new to me . . . I've done four Giros and four Vueltas, so it's not like I'm new to three-week stage racing. I'm really looking forward to playing in the biggest show on earth."
Simoni explains
Gilberto Simoni has explained his reasons for asking his Lampre-Caffita team to drop him from its line-up for the Tour de France: he is still tired from his efforts in the Giro d'Italia last month. Simoni spent the mountain stages of the Giro in an epic battle with Jose' Rujano (Selle Italia-Colombia) for the second spot on the podium.
"It's clear that I have muscular fatigue," Simoni told Italian sports newspaper Gazzetta dello Sport. "Going to France would have been useless. It would have been a disaster for me."
Quick-Step confirms
The Quick Step-Innergetic team has formally announced its riders for the Tour de France, confirming the line-up already widely rumoured. Of the ten riders announced by Quick Step on June 15, Rik Verbrugghe did not make the final cut, leaving a Tour team of Tom Boonen, Michael Rogers, Patrik Sinkewitz, Wilfried Cretskens, Kevin Hulsmans, Servais Knaven, Bram Tankink, Guido Trenti, and Stefano Zanini.
Armstrong uses final Tour as LAF fund-raiser
Lance Armstrong is inviting his fans and supporters to sponsor him in his final Tour de France to raise finds for the Lance Armstrong Foundation which supports cancer research and survivorship.
"Since my battle with cancer, I've been riding with a deeper purpose," Armstrong wrote in an email to LAF supporters. "I want to do everything I can to help others win that battle. I ride knowing millions of people living with cancer are cheering me on. They inspire me. That's why I'm asking you to join Team Lance and sponsor me as I ride in this year's Tour de France."
To make a donation to the Lance Armstrong Foundation go to www.livestrong.org/donate/e-05june1.
Fantasy Tour first prize: Discovery Channel team issue Trek Madone 5.9
Trek Madone 5.9 - Fantasy Game first prize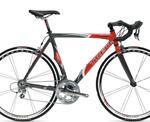 The Trek Madone 5.9 is the bike of Lance Armstrong's Discovery Channel team, and it's the first prize in this year' Cyclingnews Fantasy Tour Game. The Madone was designed and built by Trek to answer Armstrong and the team's need for the ultimate road racing bike. It combines Trek's Tour-proven road geometry with time trial aerodynamics to create the ultimate performance package.
Built in Waterloo, Wisconsin, the Madone 5.9 you can buy in your local bike shop or win in the Cyclingnews Fantasy Tour Game is constructed right alongside the bikes ridden by Lance Armstrong and the Discovery Channel team in the Tour de France.
High-performance design features include "A-Stay" seatstays for greater strength and stiffness when pedaling out of the saddle or descending at high speed; and one-piece, bonded dropouts that make every pedal stroke more efficient - creating a structure that's up to 50% stiffer than more commonly used two-piece dropouts.
The Trek Madone 5.9 has been acclaimed by cycling publications worldwide as a superlative road racing rig; Cyclingnews described it as "a tool for winning races" and "a platform for turning training into trophies".
Enter now
This year's Fantasy Tour Game is now underway. You can begin building your teams now! There will be over 25 opportunities to win prizes in this year's game. Be a professional team manager for the 2005 Tour de France. Based on the live racing action, you will take up the challenge of using your knowledge and tactical skill as a race team manager to compete with managers from around the world. Follow the races live and use your skill and knowledge to win prizes. Follow the races live and use your skill and knowledge to win prizes. For more info go to the fantasy site.
Prize list
As well as thefirst prize TREK Madone Discovery Team bike detailed above, the following great prizes have been confirmed, with more to come.
Stage by Stage Prizes : Specialized - 21x pairs of sunglasses
Runnerup Prizes:
Bontrager - 2x pairs Bontrager Race X-Lite Aero wheels, 1x Race X Lite OS handlebars, 1x Race XXX Lite OS carbon stem, and 1x Race X Lite Pro saddle.
DMT - 3x pairs of Flash shoes
Speedplay - 4x pairs of CSC pedals
CTS - Signature coaching package
fi'zi:k - 5x Team issue Arione saddles
New Rules
In conjunction with feedback and suggestions from players of the game over three years, we have developed a new points system for the Tour games. We've awarded more points to a greater number of riders and given back more emphasis to GC placings. Thanks to all of you who helped us develop the new points system. Have a look for yourself in the points section.
How to Play
You can begin creating your team/s now. You can play the first 8 stages for FREE! We will be adding additions to the startlist on a daily basis. The Tour games are easy to play, all you need to do to manage your own team is select 15 riders from the live start list then select 9 of these riders to race each day throughout the Tour. You score points according to how well each of the riders place each day in the Tour. So try your team today and see if it's for you. It's a great way to follow the Tour. Create your teams now at fantasy.cyclingnews.com.
Good luck!
The Fantasy Cyclingnews Team
(All rights reserved/Copyright Knapp Communications Pty Limited 2005)