First Edition TdF Cycling News for June 23, 2005
Edited by Jeff Jones
Discovery's nine for the Tour
Lance Armstrong (Discovery Channel)
Photo ©: AFP

Lance Armstrong will begin the final race of his career on July 2 in the 92nd Tour de France with a powerful Discovery Channel team behind him. The winner of six Tours already, Armstrong has shown recently that he is in the right form to peak for July, and in just over four weeks we will know whether he will take an amazing seventh Tour title.
Discovery Channel's team management Tailwind Sports named the eight teammates that will join Armstrong on the start line in Fromentine in 10 days: American George Hincapie, Spain's Jose Luis Rubiera, Manuel Beltran and Benjamin Noval, Pavel Padrnos of the Czech Republic, Portugal's Jose Azevedo, Italian Paolo Savoldelli and Ukrainian Yaroslav Popovych. Giro winner Savoldelli and Popovych, third in the 2003 Giro, are first year team members.
"I think we have fielded our strongest team ever with this formation," said Armstrong. "It has many consistent elements from years past, like the Spanish armada for the climbs, strong guys like George, Pavel and Benjamin, the Giro winner in Savoldelli plus a guy like Popo (Popovych) with a very bright future. I look forward to leading this team and attempting to give the great folks at Discovery a yellow jersey. I'm more motivated than ever."
The Discovery Channel team's sports manager, Johan Bruyneel, who has directed Armstrong to all six Tour victories, said the roster has great experience and familiarity to the Texan. "I wanted an experienced team for Lance's last Tour and that was the determining factor," said Bruyneel. "I want him to be surrounded by guys who have always been around him. It's a team with just two new riders with the rest returning from last year. All are ready or are getting ready.
"It wasn't difficult to choose. The group that rode at the Dauphiné Libere (Azevedo, Beltran, Hincapie, Noval, Popovych and Rubiera) showed me they are at a good level, while Paolo and Pavel did a great job in the Giro. Paolo was never in doubt (to ride the Tour), especially when he won the Giro, and is such a great rider. Pavel did a very good job in the Giro riding for Paolo and is very strong. For me, it was an easy selection."
Of the eight teammates, only Hincapie has raced alongside Armstrong for all six Tour victories. Next highest is Rubiera with four (2001-2004) and Padrnos with three (2002-2004). Beltran has taken part in Armstrong's last two Tour victories while Azevedo and Noval raced with the team for the first time last year.
"When making the selection, it's a matter of finding a balanced team," said Bruyneel. "I think we have guys for everywhere - the flats, those that will work in the hard stages and guys for the mountains."
Is this the best team behind Armstrong ever? "I'll confirm that on July 24," said Bruyneel. "On paper, it's a super team. But of course, we are missing (Viatcheslav Ekimov) - he would definitely be on the team if he was healthy."
Ekimov - a member of the last five Tour winning teams and possessing 14 Tour finishes - severely injured his back in training crash in late April and is hoping to race again before the end of the season. "I will miss Eki dearly this time around but I plan on riding the race with all the toughness he has shown over the years," said Armstrong.
T-Mobile supporting Ullrich with age and experience
By Susan Westemeyer in Bonn
The T-Mobile Tour team:
Photo ©: Mani Wollner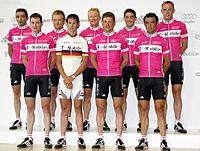 Team T-Mobile has announced a mature and experienced team with which it hopes will help captain Jan Ullrich finally beat Lance Armstrong and win the Tour de France next month. "Ullrich is our clear number one," said Team Manager Walter Godefroot, clarifying a major question.
Ullrich will be supported by two former podium finishers, Andreas Klöden and Alexander Vinokourov, the latter who said, "The most important thing is that one of us wins yellow." In the mountains, Ullrich will be backed up by veteran Giuseppe Guerini and team newcomer Oscar Sevilla. Matthias Kessler, Tobias Steinhauser, Daniele Nardello and Tour-debutante Stephan Schreck complete what Director Sportif Mario Kummer calls "the best team we could bring." It is definitely not a young and inexperienced team - the riders average 30 years old and have ridden a total of 36 Tours de France.
Click here for the full report and photos
T-Mobile notes
Alexander Vinokourov, whose contract expires at the end of the season, confirmed that he has "a number of offers from other teams," with rumors circulating that he has already decided on Cofidis. He is flying back to Kazahkstan for the national championships this weekend, a decision greeted by team management with little enthusiasm. "It's a long trip," says T-Mobile spokesman Luuc Eisenga, shrugging his shoulders.
Jan Ullrich will not be competing in the German championships. "With 200 riders, the risk of crashing is too high," he notes. Andreas Klöden will be riding the road race this weekend, although the flat course is expected to favor a sprinter.
Fantasy Tour de France is go!
The Fantasy Cyclingnews team is pleased to confirm that TREK will be the main sponsor for our third Tour de France Fantasy game. TREK is giving away a Madone Discovery Team bike to the lucky winner of this year's game. More details of this and many other prizes will be announced soon.
A provisional start list for the Tour de France has been uploaded to the game site, and that means that the Tour de France game is officially under way!
Thanks to a number of suggestions from players of previous games we will be changing the rules slightly for this year's game. In short we plan to return the game to focus more on the GC points (similar to last year's games model) but open up the field a little more so lesser known players become more important in points scoring. The Rules section of the site will be updated soon to reflect these new changes.
Create your teams now at: fantasy.cyclingnews.com
(All rights reserved/Copyright Knapp Communications Pty Limited 2005)