First Edition TdF Cycling News for June 22, 2005
Edited by John Stevenson
Cunego to skip Tour
The Lampre-Caffita team has announced that Damiano Cunego will not ride this year's Tour de France as he is recovering from mononucleosis. Cunego's diagnosis was confirmed shortly after the Giro and a blood test on June 17 indicated he still has antibodies to the Epstein-Barr virus which causes the disease.
"The levels are now showing (170 U.A.) compared to the 580 U.A. which was taken immediately after the Giro d'Italia, so we can see that the levels are getting to there normal stage," said a team spokesman. "However it is still a long way to go until it gets to the normal levels of between 0-20 U.A."
Team management and medical staff therefore decided with masterful understatement that, "it would not be a good idea" for Cunego to take part in the Tour, and he will not return to racing until he is fully recovered.
Robbie McEwen: The psyche of a sprinter, Part II
A short stint in yellow
Photo ©: Sirotti

In the second part of our interview with the Davitamon Lotto sprint star, Robbie McEwen tells Anthony Tan about his expectations and ambitions leading up to the world's biggest bike race, and the struggles he's had with the now very heavily-contested points competition - as well as a few thoughts on the departure of Lance Armstrong.
CN: For the Tour, your goal is obviously to win as many stages as you can and to worry about defending your green jersey. Is the green something you aspire to win again - you've won it twice now - does it still motivate you?
RM: Still love to win it, but the brutal honesty is that it's the most over-rated points competition in cycling. It's not always won by the best sprinter, but having said that, in 2002 and 2004 when I won it, I was the best sprinter of the Tour.
Click here for the full interview
Liquigas-Bianchi for the Tour
The Liquigas-Bianchi team has announced what it describes as a "four-wheel drive" squad for the Tour de France, built around Stefano Garzelli, Dario David Cioni, Franco Pellizotti, and Magnus Backstedt. The team believes these four will be stage win contenders in all situations, with Garzelli and Cioni also going for general classification honours.
"I'm sure we will leave a mark on the Tour," said general manager Roberto Amadio who will lead the team together with Dario Mariuzzo and Roberto Damiani. "Indeed, the group is well-balanced and is ready to fight for victory in all the stages. Moreover, Stefano Garzelli and Dario David Cioni are going to climb the overall ranking. The rider from Varese, who is back from an unlucky Giro d'Italia, is especially longing for revenge."
The full Tour line-up is: Stefano Garzelli, Dario David Cioni, Franco Pellizotti, Magnus Backstedt, Luciano Pagliarini, Michael Albasini, Kjell Carlström, Mauro Gerosa, and Marcus Ljungqvist. Patrick Calcagni is the first reserve.
Davitamon-Lotto finalises Tour team
The Davitamon-Lotto team has also finalized its line-up for the Tour de France. The team's nine-man squad will comprise: Mario Aerts, Christophe Brandt, Axel Merckx, Wim Vansevenant, Johan Vansummeren, Cadel Evans, Robbie McEwen, Leon Van Bon and Fred Rodriguez.
Hell On Wheels coming to more cinemas down under
An unusual view of Rolf Aldag in Hell on Wheels
Photo ©: Aztec International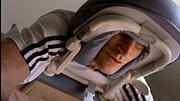 Over the next few weeks, More Australian cinemas will be showing German cycling documentary Hell on Wheels, which follows the Telekom team through a very tough 20003 Tour de France.
Hell on Wheels has had positive reviews from ABC TV's At The Movies and the Sydney Morning Herald as well as on Cyclingnews, and as a result is now showing in Sydney's Valhalla Cinema; the Cinema Nova, Melbourne; Brisbane's Schonell Theatre and Palace Centro; the Warrawong Gala Cinema and Perth's Luna Leederville.
On June 23 the film will start at the Electric Shadows cinema, Canberra and a week later on June 30 at the State Cinema, Hobart. It will then get a short run (July 7-10) at the Star Cinema (Eaglehawk), Bendigo.
(All rights reserved/Copyright Knapp Communications Pty Limited 2005)