First Edition TdF Cycling News for June 21, 2005
Edited by John Stevenson
A little more Cadel
By Anthony Tan in Switzerland
Finishing in 14th place on the final stage of the Tour de Suisse, Cadel Evans can now go home content his form is on the rise in the lead-up to La Grand Boucle, the Tour de France.
The 28 year-old Davitamon-Lotto leader for the Tour de France rolled into Ulrichen in a small three-man group that also included Française des Jeux's Bradley McGee, 4'17 behind stage and eventual race winner Aitor Gonzalez (Euskaltel-Euskadi), with the result seeing him finish the race 15th overall.
"It's not normal for me to be getting dropped from these guys on the climbs, but all things considered, one month ago, I was lying on the side of the road with a fractured collarbone," said Evans to Cyclingnews. "[The form's] not too bad; I just have to be patient... I'm not there with the front guys at the moment, but it's coming."
"Originally, I had Dauphiné down and to do the [ProTour team] time-trial with the guys. But things happen; I had to change the program and I've been happy with it. [My form's] just good enough to race - I'm not competitive - but I can race, and use it for the Tour."
Asked about his plans for the next 10 days leading up to the La Grand Boucle, Evans had a similar answer to that of fellow Australian McGee: rest first, before a little fine-tuning later in the week.
"Yeah, first recover and then train a little bit, which is good," he said about the slight change in dates, which saw the Tour de Suisse moved forward a little in the 2005 cycling calendar. "You get nearly all bases covered in getting ready for the Tour here. It's good to sort of fine-tune a bit; just in training, fine-tune what you're missing out on before the Tour starts, so it works out well, it's good preparation."
Robbie McEwen interview - The psyche of a sprinter
McEwen has established himself as one of his generation's best sprinters, as seen in this year's Giro d'Italia.
Photo ©: Sirotti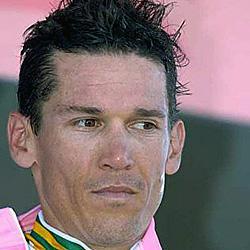 He was once considered brash, arrogant and awfully quick, all at the same time. But after 10 years in the peloton, when one describes the best road sprinter Australia (and on some days, the world) has ever seen, Robbie McEwen seems to have lost those first two adjectives - though certainly not the third, as Anthony Tan saw with his own eyes on a stage of the Tour de Suisse this week, a race he's using as final preparation for his ultimate goal: the 2005 Tour de France.
For over three years now, ever since he won the coveted Australian Open road title and his first of two Tour de France points jerseys, Robbie McEwen has been at the top of his game.
And in his ten years since turning pro for Rabobank back in 1996, his palmarès is one of the most impressive out of today's - and yesterday's - generation of sprinters. So is the 32 year old - who confesses that he's turning 33 in less than 10 day's time - simply getting faster and faster?
"I don't think I'm really faster, but I can do it more consistently; I'm a bit stronger, but also consistently stronger," he says to Cyclingnews, lying on his four-star hotel bed in Bad Zurzach the evening after winning the fourth stage of the Tour de Suisse. "I've found over the last three or four years, I'm better at building up to an event and knowing I'm going to be good there."
Click here for the full interview.
Carmichael on Armstrong: "100 percent ready"
Lance Armstrong's coach Chris Carmichael believes the six-time Tour de France winner will be "100 percent ready" to win a seventh and last Tour de France when the Grand Boucle rolls out on July 2.
Carmichael's confidence comes from many years of monitoring Armstrong's form in the lead-up to the Tour. "I typically see a 2-3 percent increase in Lance's sustainable power between the days prior to the Dauphine and the days immediately prior to the Tour de France," said Carmichael in team diary entry looking back on Armstrong's performance at the Dauphiné. "As a confirmation of his condition, he'll perform one more performance test about 10 days after the Dauphiné. I'll never forget looking at the results of a similar test seven years ago, just four days before the 1999 Tour de France began. He had reached the level where he was capable of winning the Tour de France, and he consistently returned to that level every year since."
Armstrong's performance at the Dauphiné always leads to speculation about his condition going into the Tour de France, but Carmichael says, "It's not necessary to win the Dauphiné en route to winning the Tour de France. Rather, the race serves to apply stress that leads to adaptation. Lance will take almost a week of rest following the Dauphiné, in order to allow his body to recover and adapt."
Armstrong has been concentrating on his time trialling in the last several weeks, after initially focusing on climbing. "Following the Tour of Georgia, where he was relatively disappointed with his time trial performance, Lance began working out on his TT bike at least twice per week," said Carmichael. "One of the benefits of a long career as a professional cyclist is the ability to rapidly adapt to training stimulus. Where it used to take 5-7 weeks early in his career, I've found that Lance's sustainable power can now move from a relatively under-trained state to race-ready within about three to five weeks."
The final performance test before the Tour will show where Armstrong's form stands, says Carmichael. "With his recent performance at the Dauphiné Libéré as a prelude, I'm confident the results of this last performance test will again show he's 100% ready to pursue a seventh and final Tour de France yellow jersey," he said.
Van Bon to the Tour
The Davitamon-Lotto team has ended several weeks of uncertainty by announcing the Leon Van Bon will wide this year's Tour de France. Van Bon had a good Ster Elektrotoer, according to the team. Directeur sportif Marc Sergeant said, "Leon has told me he is not yet 100 percent, but we still have time. He is a racer who can improve spectacularly in a short time."
The team will announce its remaining two Tour riders today.
Liggett and Phinney to speak at Parkinson's gala
Cycling announcer Phil Liggett and former pro Davis Phinney will speak and present awards at the second Sunflower Revolution gala August 19 at the Hyatt Regency, Cincinnati, Ohio.
Phinney, whose Davis Phinney Foundation is hosting the gala, will present Dr. John M. Tew, a neurosurgeon with the Mayfield Clinic and Medical Director of The Neuroscience Institute at the University of Cincinnati and University Hospital, with the Victory Award. The award recognizes a distinguished medical professional who has made a significant contribution to Parkinson's disease research or treatment.
Phinney also will present the Every Victory Counts award, which honours the contributions of a person or family touched by Parkinson's, to Peter and Kitty Strauss of Cincinnati in recognition of their courage, optimism, grace, and tireless efforts on behalf of others living with this incurable disease.
The Sunflower Revolution gala will feature a dinner and live and silent auctions. Phil Liggett will be the keynote speaker, and Local 12 anchor Rob Braun will serve as emcee. A Parkinson's Symposium & Expo for physicians, patients, and caregivers will follow on Saturday, August 20, at the Hyatt.
Bike rides of 25 and 62 miles in the Loveland-Morrow area will conclude the event on August 21. Riders will include Davis and his wife, Olympic gold medalist Connie Carpenter Phinney, Liggett, and the legendary bicycle frame builder Ben Serotta.
To request an invitation to the gala or bike ride, please contact Cindy Starr at 584-0879 or starrcm@healthall.com.
(All rights reserved/Copyright Knapp Communications Pty Limited 2005)