Latest TdF Cycling News for June 18, 2005
Edited by Jeff Jones
Chris Horner's Tour de France debut: "I did it!"
By Anthony Tan in Lenk, Switzerland
Chris Horner (Saunier Duval)
Photo ©: Anthony Tan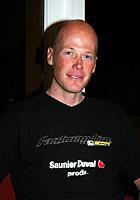 After his win atop Arosa two days ago, Chris Horner revealed to Cyclingnews the agony of not knowing whether he was on or off Saunier Duval-Prodir's Tour de France team is finally over... he's done it!
"I did it - they told me!" he said with a smile that was pure glee.
"You did it?" we asked Horner again, just to make sure what we heard the first time was indeed correct.
"Yeah, yeah... Machine [Joxean Fernandez Matxin], the director of the team, told me: 'Yeah, you're on the Tour list.' "So now it's official!" he giggled, like a child that got to open one his Christmas presents the night before.
Two weeks back in Philadelphia, Horner said to Cyclingnews' Mark Zalewski a spot on the Tour team was assured if he wins the USPRO Championships or if he's the first American rider to finish - both which would have seen him wearing the stars and stripes jersey. So when he rolled across the line in Philly as the third-best rider - and third-best American - how did he feel?
"Yeah, I was incredibly frustrated, because I wanted the jersey and I knew what the jersey meant; I knew it meant I was going to the Tour," Horner said. "Or I was pretty certain; I mean, no one had said: 'Horner, you get the jersey, you are going to the Tour' - but I find it hard to believe they would keep a national champion off the Tour team."
But it didn't even take getting back to the hotel before he realised what he then needed to do: "As soon as I saw [Chris] Wherry won it and I knew I wasn't getting the jersey, I thought: 'Okay, that was my second last chance - now I got to do something at the Tour de Suisse.'"
Which is exactly what he did on the sixth stage of the Swiss ProTour race, impressively leaving a select group of riders that included the likes of Jan Ullrich and the Aussie stage-race trio of current race leader Michael Rogers, Bradley McGee and Cadel Evans in a four-man breakaway, before soloing away for his first European stage-race victory.
"It wasn't just for the Tour - the win was a massive relief off the shoulders," he said.
"I was a little worried after the [Stage 2] time trial [Horner finished in 62nd place, 3'05 down on Ullrich - ed.]. But whether I have good form or bad form, there's always one time trial each year that I tank... and I was hoping that was it!" he joked.
"I thought it could be back-to-back days, or I thought it could be jet-lag too... so I had a lot of reasons to stay motivated. I was more thinking: 'Okay, just ride with the leaders in the mountain days, show the team the form is improving and the time trial was a fluke thing."
Coming to race in Europe this year was a big gamble for Horner. He took a 50 percent pay cut in his contract. He sold his house. He even sold items of clothing he'd owned for almost 10 years on eBay to support his three children, for which he is the sole provider.
Winning
Photo ©: Sirotti

"So I had banked losing all that money and going to the Giro, where I could go back to the team and say: 'Okay, let's fix the contract - it's not a real special one here,'" he said with a wry grin. "When I fractured the leg [in Tirreno-Adriatico - ed.], it added even more stress - financially, too. I was literally at a point: either I'm doing the Tour, or maybe I'm going to ask to get out of the contract and sign with a US team."
Fortunately for him, the former happened, and boy did he earn it. But boy did he leave it to the last minute to earn it!
"I could not end my career without winning something in Europe and the other thing is, I want to do the Tour de France. I've always wanted to do it and be a part of it at least one time during my career - especially since I was with Franšaise des Jeux three years and one year with Mercury, when they should have done it, too."
For a man full of confidence on his own abilities - although often walking the walk as well as talking the talk - Horner's expectations for his first three-week jaunt around France are rather modest.
"Right now, I just want to go... I just want to be part of the event. I'd love to go and have good form and win a stage or do something big there - but at the moment, just get me there... just get there first, and then we'll focus on the other stuff afterwards.
"But one thing's for certain: I'm 100 percent motivated to be there with the best form I could possibly have and I'd like to win something," he said.
Look out for an interview with Chris Horner soon on Cyclingnews.
McEwen out of Suisse
Robbie McEwen (Davitamon-Lotto) has decided, in agreement with his team and medical staff, that he will not start in the 8th stage of the Tour de Suisse. With both the weekend's stages not suited to the sprinters, there is not a lot in it for McEwen, who did manage to take a stage win and prove that his form is excellent for the upcoming Tour de France.
Tom Boonen in Playboy magazine
According to the press officer of Quick.Step-innergetic, Alessandro Tegner, the media are standing in line to get an interview with Tom Boonen. "Recently, the Spanish Playboy magazine contacted us," Tegner told Het Nieuwsblad. "He has decided to say yes to them. Not right now, but maybe during the Vuelta, in preparation for the World's in Madrid. No, he won't be seen in the nude, they will publish a good interview. Michael Schumacher talked to them before, or don't you read the mag?"
A gay magazine is also asking for an interview. "In the tour of Switzerland he did ten interviews, there's twenty more in line," Tegner added. "It's becoming a bit much. On the Thursday before the Tour he will attend a press conference; until then there's silence."
(All rights reserved/Copyright Knapp Communications Pty Limited 2005)