Tour de France Cycling News for July 3, 2005
Edited by Hedwig Kröner & Jeff Jones
Stage 1 wrap up
Zabriskie completes the set; Armstrong makes a big step forward
Lance Armstrong (Discovery Channel)
Photo ©: AFP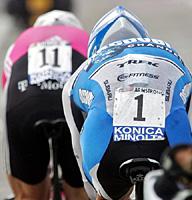 Americans shone in today's Tour de France opening 19 km time trial between Fromentine and Noirmoutier, with 26 year-old Dave Zabriskie (CSC) claiming the biggest win of his career and the maillot jaune of race leader, after beating six-time Tour winner Lance Armstrong (Discovery Channel) by two seconds. Zabriskie has now won stages in all three Grand Tours (Tour, Giro, Vuelta), and all of that in the space of less than 12 months. His winning time of 20'51 for the 19 km was an amazing average speed of 54.676 km/h, 0.15 km/h faster than his compatriot Greg Lemond's record average in the closing time trial of the 1989 Tour.
The stage victory could have easily gone to Armstrong as well, as the Discovery captain pulled out of his pedal at the start, but then found his rhythm and powered over the course, even catching his minute man Jan Ullrich with 5 km to go. At that stage, Armstrong was three seconds up on Zabriskie, but faded in the final kilometres to finish two seconds down. However, the blow that he dealt to Ullrich and the rest of his rivals, who were all more than 50 seconds down today, was more than psychological. For them to get that back and fend off Armstrong and his team in the mountains is already looking like a monumental task.
The best of the rest today was Alexandre Vinokourov (T-Mobile), who finished third at 53 seconds from Zabriskie. Because of his attacking style, Vino is one rider that can challenge Armstrong, but the American has always had the measure of the gutsy Kazakh rider in the past.
Also see:
Stage 1 full results, report & photos
Live report
Complete stage maps & profiles
Start list
Stages
News
Photos
An interview with the winner
Zabriskie means Zoom!
By Anthony Tan in Noirmoutier-en-I'lle
Zabriskie means Zoom
Photo ©: AFP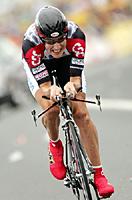 The 19th rider to leave Fromentine at two minutes to four this afternoon, America's TT top-gun David Zabriskie was always going to be one of the early men to watch. And the 26 year-old didn't disappoint, setting the best time that stood and stood and stood - going all the way to become the first maillot jaune of the 92nd Tour de France.
"Unbelievable...I really don't know quite what to say. I never thought this would happen, never, ever, ever," said Zabriskie with an facial expression that implied it still hadn't happened.
On whether there was a particular strategy he used before starting today's stage, he said the only strategy he used - and always uses - was to go as hard as he could for as long as he could. "[In time trials] you have to go hard the whole time, so the whole thing was hard."
Click here for the full interview
Post stage comments
Lance Armstrong (Discovery, 2nd at 0'02)
"I've already said that I want to have fun at this Tour. Jan was unlucky yesterday when he crashed. And when I saw him in front of me today I knew that nobody else had that kind of advantage, having his rival right there in front of him. Of course that's good and helpful when you can chase somebody down, it's very motivating."
Fabian Cancellara (Fassa Bortolo)
Photo ©: Sirotti

Fabian Cancellara (Fassa Bortolo, 7th at 1'02 and Best Young Rider)
On defending the white jersey of Best Young Rider: "It will be hard, but it's possible to change this jersey tomorrow and get the yellow jersey from Zabriskie."
Jan Ullrich (T-Mobile, 12th at 1'08)
"I went flat out, I gave all I had. Of course I'm not satisfied with the fact that Lance caught me. I don't know if it had anything to do with my crash yesterday. I did lose some blood. I didn't have the feeling of being so bad [on the road], so I'll continue fighting. It's not my lucky day getting overhauled by Lance. I would have liked to ride better, and gave it all - it wasn't a nice feeling when he passed me. I'm down over it at the moment, but the Tour lasts three weeks. We'll see what's in it in time."
Carlos Sastre (CSC, 29th at 1'32)
"It was a good stage for me; I felt good in the end." On his recent training, Sastre added, "Yeah, I did a big training [block] after the Dauphiné."
Tom Boonen (Quick.Step, 40th at 1'48)
"I think I've done a decent time, but that Zabriskie seems to be from another world!"
Scott Sunderland (CSC directeur sportif)
On the overall winning chances of Ivan Basso:
Ivan Basso (CSC)
Photo ©: Jon Devich

"Bjarne (Riis) told me the other day that Ivan (Basso) is ready for this, and I too believe very much in his chances for the overall win. Basso always works very hard to achieve his goals. Technically and mentally you can't get better a champion than Riis himself to coach you. Ivan did some very specific training, like some 180 km training rides on his time-trial bike, when you hear that you know that this guy is not kidding around. Also, for a three week tour, the frame of mind is important, Bjarne said that Basso's feeling good and radiates confidence . All elements for a successful campaign in France are present; and I think Ivan can bring it to a good end. I'll definitely put my pennies on him!"
What about young Australian Luke Roberts' role?
"I'm really happy that Luke's starting in his first Tour de France. Tell you, this guy has got a ton of talent and it's great to help him dig into it even more. Earlier this year, we were looking at him as a possible rider for the Giro. But we needed experienced and hard core climbers there in support of Basso, and that created a question mark. We weren't sure how Luke was going to tackle those mountains, his climbing abilities weren't at their best level yet. I know Luke was slightly disappointed to miss out on his first three week tour, but when I told him he was to have a rest and then get ready for a possible Tour de France start he went full out for that."
"In such a big team as ours it is a luxury to have more than nine riders ready to go to the Tour. And for some time it was undecided between Luke and Jacob Piil. In the Pro Tour Teams TimeTrial in Eindhoven both riders showed that their form was solid. Luke was ready and focused, but has not ridden a Tour before. Jacob is very much a team player and is a great rider, extremely experienced and also a former Tour de France stage winner, so it wasn't easy to make a decision. Riis waited until the very last moment to make this very hard call; I didn't envy him being put in that position. Riis asked them both to be patient and continue the hard work, after the national championships the final decision would be made."
"That's when Luke showed me again how professional he deals with things. Even though he only had a 50/50 chance of going to France, he kept going full blast in his preparation. I discussed it with Bjarne and called Luke over to my place for a couple of days of time-trial training. I can assure you, he did two days of hard yakka behind the scooter. I was impressed and informed Riis with his training data after every ride."
"Because Jacob had a bit of a lesser performance at the Nationals, Riis decided in Luke's favour. I'm pretty sure that Luke will be an ideal helper for Basso during the first ten days of the Tour and it will interesting to see how he goes in the team time trial."
Johan Bruyneel (Discovery directeur sportif)
"The analysis of the day is totally positive," Bruyneel told Belgian Sporza TV. "There was only one thing more we could have asked for: to win the stage and take the yellow. The Tour is three weeks long and a lot can happen. It's good to see that Lance gave the peloton a taste of his strength; some of the favourites already got a moral punch today. I knew Zabriskie was going to be good here, especially on a parcours like this. It was ideal for him. At the start there might have been a bit less wind, but that's no excuse. We have to be very happy with this result."
Walter Godefroot (T-Mobile directeur sportif)
"I had expected more, that's true, but we'll see," Godefroot said to Sporza "I don't know if this is a result of the crash. We can't say really what the consequences of the crash are; it didn't look too bad yesterday, but we'll have to wait and see. All in all Jan was lucky for it not to be worse. Yes, Armstrong is strong, he's at his top. But we had a good ride with Vinokourov."
Wilfried Peeters (Quick.Step directeur sportif)
"This is not a normal performance by Rogers," Peeters told Sporza. "He had prepared for this time-trial in peace, we expected a top five. I don't have any explanation for it; unless the wind was a factor.
"Zabriskie has ridden an incredible time-trial. His intermediate time is exceptional; I think there was a bit more wind in the back at that time.
Patrick Lefevere (Quick.Step team manager)
"This is the second time I have this happening with Rogers, that we expect great things from him and that he doesn't deliver," a rather annoyed Manager Patrick Lefevere commented to Sporza. "Probably he is not capable of dealing with the stress of the Tour. A topper needs to be able to do so though."
Lefevere was happier with Tom Boonen's ride, as the young Belgian finished in 40th, a few spots ahead of Rogers. "I followed Tom in the car and I didn't go underneath the 50km/h," he said. "That gives a clear picture. He gives a really good impression. He is strong. Tom had a bad night, tooth problem. He had to go and see the dentist at 11.30am this morning and had serious work done without anaesthetics. He's a top athlete and it is promising for the following days."
Roberts just enjoying the moment
By Anthony Tan in Noirmoutier-en-I'lle
The second-best of the Aussie contingent from yesterday's time trial, Luke Roberts, shares a few things in common with its stage winner, Dave Zabriskie. Not only are the two from the same team, but Roberts is also riding his first Tour de France, although his place wasn't assured until the eleventh hour.
"To all of a sudden be in the Tour de France.... I wasn't expecting it to happen [so soon] - and to be here [now], it's like, 'Oh, shit!'" he said to Cyclingnews with a smile from ear to ear.
Finishing 1'30 down on Zabriskie to claim 30th place, Roberts, one of the members of the gold medal-winning teams pursuit squad from Athens, said the 'prologue' of sorts was a little long for his liking, but felt positive about his ride. "19 kilometres is starting to get a bit long for what I like - I prefer a shorter and faster sort of course - but I felt okay, and I hope [my time's] up there with some of the best times," he said straight after his ride.
"Every time I looked down, I was doing 52 or 53k an hour. It was a really smooth, fast road and with the crowds out there, it was really noisy and the adrenalin was high. It [the stage] went a lot faster than I thought it would."
The 28 year-old, who now lives in Germany, added the much talked-about crosswinds experienced earlier in the week wasn't nearly as much of a factor as previously thought. "The wind was coming from the left side but also a little bit from behind, so it kept the speed really high. Sometimes it got a bit difficult, but if the wind stays like it is, it's going to be very fast for everyone," he said at the time.
Roberts also mentioned his team reconnoitred and rode Stage 4's team time trial parcours last Wednesday, and judging from today's performance, where six of the team's nine riders finished in the top 30, Team CSC are an odds-on favourite.
Baguet: Zabriskie no surprise
Belgian Champion Serge Baguet, left at home for the Tour by his Davitamon-Lotto team and a guest at the VRT sports studio discussed the results of the opening time-trial in the Tour. For Baguet, David Zabriskie was not a surprise winner: "I didn't think it was a surprise to see him win. I rode the ProTour team time trial in Eindhoven and CSC put in a great ride there. I spoke to their team director Scott Sunderland only a few days after and he commented on how Zabriskie was pretty much responsible for that result on his own. He was so strong, Scott tipped him for the win today so I sort of expected it."
Fantasy Le Tour - still time to join
The Trek Madone 5.9
©: Zapata Espinoza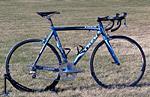 Bontrager wheels
©: Bontrager

Speedplay pedals
©: Speedplay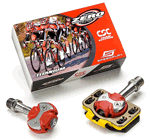 Discovery Channel Giro helmet
©: Giro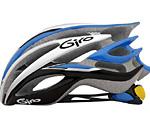 DMT shoes
©: DMT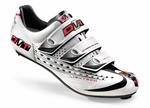 The prologue has been ridden and the Fantasy Le Tour game is now officially under way. There is still time to join this year's game, as you can join up until Stage 9. There is NO tactical disadvantage in joining after the Tour has begun. It's looking like an exciting game this year with more prizes than ever before, improved game play, more chances to win and score points. Have a look at what's on offer:
Daily Stage Prizes
Specialized is giving away a pair of its sunglasses every day to the manager with the highest Stage points. You can take part in this for FREE for the first 8 stages. Enter you team now! For more info go to the fantasy site
Grand Prize
We are pleased to confirm that TREK will be offering the lucky winner of this year's Fantasy Le Tour a Madone 5.9 team Discovery bike worth $7,700 USD. When Lance Armstrong challenged TREK to create their fastest bike ever, they answered with the Madone. The Madone family combines TREK's Tour-proven road geometry with the Time Trial aerodynamics to create the ultimate performance package. It's a fantastic prize packed with some of the best features that will be featuring in this year's tour bikes.
Prize list
There are over 49 prizes in this year's game. Be a professional team manager for the 2005 Tour de France. Based on the live racing action, you will take up the challenge of using your knowledge and tactical skill as a race team manager to compete with managers from around the world. Follow the races live and use your skill and knowledge to win prizes.
First prize - a TREK Madone Discovery Team bike worth $7700 USD.
Stage by stage prizes - Specialized - 21x pairs of sunglasses
Runner-up prizes
- Bontrager - 2x pairs Bontrager Race X-Lite Aero wheels, 1x Race X Lite OS handlebars, 1x Race XXX Lite OS carbon stem, and 1x Race X Lite Pro saddle.
- DMT - 3x pairs of Flash shoes
- Speedplay - 4x pairs of CSC pedals
- CTS - Signature coaching package
- fi'zi:k - 5x Team issue Arione saddles
- Giro - 9x Atmos Helmets in Discovery, Rabobank & Fassa Bortolo team colours
Tactics
Read some of our previous Le Tour game winners recommendations for your team selection strategy. Go to the downloads section to find out more.
How to play
You can begin creating your team/s now. You can play the first 8 stages for FREE! We will be adding additions to the startlist on a daily basis. The Tour games are easy to play, all you need to do to manage your own team is select 15 riders from the live start list then select 9 of these riders to race each day throughout the Tour. You score points according to how well each of the riders place each day in the Tour. So try your team today and see if it's for you. It's a great way to follow the Tour. Create your teams now at fantasy.cyclingnews.com
Good luck!
The Fantasy Cyclingnews Team
Previous News Next News
(All rights reserved/Copyright Knapp Communications Pty Limited 2005)