TdF Cycling News for July 2, 2005
Edited by Jeff Jones
An interview with Mick Rogers
The harder, the better
On the eve of the Tour's first time trial in Fromentine, Cyclingnews' John Trevorrow spoke with Australian World Time Trial Champion Michael Rogers (Quick.Step) about his ambitions for the Grande Boucle and the future.
Michael Rogers (Quick.Step-Innergetic)
Photo ©: Sirotti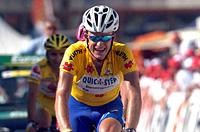 Cyclingnews: Michael, very exciting, with a couple of days to go before the start of what should be a special Tour de France for you. You obviously have the best form of your cycling career.
Mick Rogers: I am coming in here very confident and finishing second in the Tour of Switzerland has been good, and as I said, really looking forward to it. I think it will be a really hard Tour this year, just the competition and the amount of guys who want to finish in the top ten or top five is a lot higher this year, so I think it will be a great race.
CN: Switzerland was a bit harder than previous years, which was a great test for you for the Tour and you're climbing superbly, so it must give you great confidence for a podium finish.
MR: Yes that's right John, this year I have worked so hard in the mountains, that is what I was lacking last year and the work I have done has paid off and my time trialling is as good as it has ever been. Certainly you know I am aiming to finish in the top ten and if I don't finish in the top ten I will be somewhat disappointed.
Click here for the full interview
Liberty Seguros-Würth optimistic
The nine riders of the Liberty Seguros-Würth team passed the medical controls on Thursday and carried out their final testing of the time trial course on Friday, ready for tomorrow's Tour kick-off in Fromentine. On Friday evening, the team attended the official Tour team presentation, before travelling back to its hotel near Nantes. All riders are looking forward to the start of the race tomorrow.
Roberto Heras
"I am good and with the desire of doing well in the first test, tomorrow, because already important things will be seen there. The first aim is to get into the race, because last year I could not do it on any day. For me, the Dauphiné Libéré does not count, it was a mirage where we could not determine our real condition. Now, on the other hand, the sensations are good and I come with the same ambition that I do in all the grand tours, to fight for the general classification. I know that it will be very difficult against Lance Armstrong and Discovery. I have ridden with them and I know better than anybody that they always come very strong, but I won't give up because of that."
Joseba Beloki
"I am as nervous as if it was my first Tour. My objective, without any doubt, is to return to the same level that I was at, but without forgetting that I am working for Roberto Heras, who is our leader. Two years after my fall, it is very important to return after so much time battling it. To be tomorrow in the start will be a major satisfaction for me."
Alberto Contador
"I am a bit nervous and simultaneously desire that everything starts, because these days are becoming endless. I am living through the uncertainty of how I will be in the best race in the world and I would like that, by the end of the Tour, I have been useful to my team and they are satisfied with my work. Also, I hope to be in some situations of the race where people can see me, but the fundamental thing for me is to work and to gain experience."
Allan Davis
"I feel good, focused, and with the desire to start everything. I already have one year of experience and my aim is to obtain the best results for the team. Certainly I hope to win a stage, and I believe that I don't have any excuses: I have trained very well and I feel strong."
Jörg Jaksche
"Before the start it is difficult to talk, it's like when you do an examination at school: you have done all your homework, but it is necessary to verify it on the road. I feel good, but you never know what is going to happen, you can have the three best weeks of your life or not do anything. If I am OK, I will go for a stage, win, but I will work for the team."
Igor Gonzalez de Galdeano
"I come to the Tour with desire, with a lot of strength to dispute it, but for the present time, my aims are the general aims of the team, because my form is a mystery after a long time without being able to get good results at a high level."
Luis León Sanchez
"Manolo Saiz asked me before coming if I was feeling motivated to do the Tour, and the truth is that I am, because this is the best race for being motivated. My aim is to help Roberto in every way I can and, personally, what I want most is to make it to Paris. Everybody says the Tour is very difficult, so for me it is enough to finish it."
Marcos Serrano
"It is my eighth Tour of France and I believe that I am coming to the start in good condition after preparing for this race the whole year. In spite of the fact that I have not had good results previously, I have confidence that, after two bad years, we will finally manage to find the same level her that we have in the Vuelta a España".
Ángel Vicioso
"I am coming to the start in good shape and with the idea of helping the team, but also I want to take advantage of the opportunities to win a stage. It is my third Tour and clearly, I have many desires to finish it after having abandoned because a fall both of the previous times."
Bertogliati in for Cuesta
Saunier Duval-Prodir has made a last minute change to its Tour line up, bringing Swiss rider Rubens Bertogliati in for Spaniard Iñigo Cuesta. The latter, who won the mountain time trial in the Volta a Catalunya, is sick and can't race. Bertogliati sprang to fame in the 2002 Tour when he won the first stage and the yellow jersey.
Also see: Tour start list
Live Coverage
Cyclingnews will be providing its usual coverage of the Tour de France live from start to finish. Stage 1 starts at 15:40 CEST/09:40 EDT (USA East)/06:40 PDT (USA West)/23:40 AEST (Australia East).
Spotted in France: White wristbands
Lance Armstrong's Yellow wristbands aren't the only ones seen on the arms of cyclists, cycling fans and 'normal' people anymore. The Global White Band Day on July 1 has chosen homologues to the fashionable band as a symbol of the Global Call to Action against Poverty (GCAP) week of action, during which campaigners and the public in 72 countries will call for an end to poverty.
Vino still waiting
T-Mobile rider and Kazakh champion Alexandre Vinokourov is still waiting for his new jersey to arrive, writes French daily L'Equipe. The squad's clothing sponsor Adidas is producing a special garment for the 31 year-old: to the colours of the Kazakh flag (light blue) will be added a Yellow stripe featuring the name of his team.
"Live like Lance" with PowerBar
Food supplement company PowerBar has announced the "Live Like Lance" sweepstakes, a US online consumer promotion to celebrate the legend of Lance Armstrong as he embarks on his final Tour de France competition. PowerBar invites consumers to visit www.powerbar.com, where they can enter for a chance to win a Lance Armstrong prize package by correctly answering sports nutrition trivia questions. The sweepstakes will run throughout the 2005 Tour de France event and entries will be accepted until August 8, 2005.
Prizes include a trip for two to the Lance Armstrong Foundation's Ride for the Roses event in Austin, Texas this October, a coaching session ride in Austin with Armstrong's coach Chris Carmichael, a custom-fitted Trek Madone 5.9 bike, Ciclosport HAC 4 advanced sports computers and a cycling jersey signed by Lance Armstrong.
(All rights reserved/Copyright Knapp Communications Pty Limited 2005)