Tour de France Cycling News for July 25, 2005
Edited by Jeff Jones and Shane Stokes, with assistance from Sabine Sunderland
Magnificent seven for Armstrong
By Shane Stokes in Paris
Lance Armstrong (Discovery Channel)
Photo ©: AFP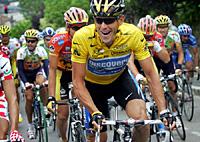 Lance Armstrong today rode into history when he emerged as the final winner of the 2005 Tour de France, sealing a record-extending seventh win in Paris. The Discovery Channel rider was confirmed as the race winner a full 54 kilometres from end of the stage, due to the dicey conditions caused by wet roads in the French capital. Although these dried up soon after the peloton started the ten laps of the Champs Elysées finishing circuit, the race judges had already made their decision vis-à-vis the rules and the Tour win was his.
While the final podium placings were decided early, the peloton continued to race in order to settle the stage honours. Fastest in the final kilometre was the fighting Kazakhi Alexandre Vinokourov (T-Mobile), who topped off an aggressive Tour with a superb stage win. He was clear with Brad McGee (Francaise Des Jeux) with two kilometres remaining and came by the Australian in the final sprint. McGee took second with Fabian Cancellara (Fassa Bortolo) third.
Armstrong ended the race with a clear 4'40 advantage over the Italian Ivan Basso (Team CSC). Jan Ullrich (T-Mobile) took the seventh podium finish of his career when he finished third, a further 1'41 behind, while Francisco Mancebo (Illes Balears) was fourth. Vinokourov's stage win bonus carried him clear of American rider Levi Leipheimer (Gerolsteiner), the two swapping their fifth and sixth places overall.
"It was hard for me, hard for my team of course," said Armstrong for the final time. "Jan has challenged us everyday. He's a special rider, and a special person. And Basso has been a great rival. It's tough to race against him, he's too much of a friend. He's perhaps the future of the Tour de France. So, Ivan: next year, this is your step; or Jan: this might be your step next year, I don't know, but I'm outta here, so..."
Points leader Thor Hushovd (Credit Agricole) placed seventh today and so retained his maillot vert. Michael Rasmussen carried off the King of the Mountains award, while Best Young Rider went to Discovery's Yaroslav Popovych, and the winning team was Jan Ullrich's T-Mobile squad.
Also see:
Stage 21 full results, report & photos
Live report
Complete stage maps & profiles
Start list
Stages
News
Photos
An interview with Alexandre Vinokourov
Upsetting the game plan for McEwen and co.
By Shane Stokes in Paris
Alexandre Vinokourov (T-Mobile)
Photo ©: AFP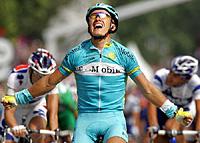 The predicted script for today's final stage of the Tour de France was that a bunch of riders would attack, tear up and down the Champs Elysées, make a gallant effort to stay away until the end, but be reeled in with one or two laps to go. Robbie McEwen, Stuart O'Grady and Thor Hushovd would then unleash the turbos and scorch down the cobblestoned finishing straight, settling the stage win and maillot vert between them. That's what we expected, anyway.
The thing is, a couple of guys never read that script. One of these was Francaise Des Jeux's Bradley McGee, a former world pursuit champion who wanted to use that speed to salvage a disappointing, injury-hampered Tour.
The second was Alexandre Vinokourov, the swashbuckling T-Mobile rider who has been one of the main animators of this year's race. He's had real high points and several low ones in the Tour, bursts of speed which dynamited the bunch in the mountains and also moments of weaknesses which saw him slip right back. The Kazakhi's unpredictable but exciting, a born attacker who rides on adrenaline and impulse rather than plans and logic. And it was that same aggression that paid off today.
Click here for the full story
The higher you fly, the harder you fall
By Hedwig Kröner in Paris
Finally, a blond Dane stepped into Richard Virenque's footsteps: Michael Rasmussen, the former mountain bike World Champion, will take his polka-dot jersey home to the Northern European, dead flat country of Denmark on Monday. He will certainly be remembered for his great performance at this Tour de France, not only winning the mountains competition, but also taking a stage victory.
Nevertheless, his accomplishments might make him feel bittersweet in the end: His third placing on GC slipped, just as he did in the time trial, down to seventh in just 55.5 kilometres. Still, in the bid to protect his podium placing against time trial specialist 'Kaiser' Ullrich, the 31 year-old may not have been the victim of too much pressure, but more so the victim of his own perfectionism. Accustomed to taking care of his technical setup in every detail, the man who has been called a 'maniac' by some wasn't able to deal with the unexpected: a sudden rhythm break caused by a crash, and a subsequent bike change.
"I went out and did the course in the morning," the Dane said on the 'morning after', just before leaving on the traditional stage 21 parade to the French capital. "I came back and was actually very happy about a time trial - for the first time! I thought I could do the time trial of my life...I certainly did," he added on a sarcastic note, denying that the reason for his personal nightmare was a nervous one.
"Then, a lot of things went wrong. The only good thing about it was that I'm still here today, that I didn't hurt myself more. Obviously, it wasn't an ideal start to crash only after three kilometres, but it wasn't because my nerves broke down or anything like that. I wasn't concerned about Jan Ullrich - I was convinced that I could do a good time trial and I started out in that frame of mind. Then, everything turned into shit, to say the least."
Asked how he dealt with the disappointment, Rasmussen, replied, "I talked to the sports directors to see what went wrong, because I had to talk to somebody about it after the race. It was a good decision not to talk to the press at that moment - I would have said a lot of bad things about people who have been doing a good job," Rasmussen alluded to the general observation that his team mechanic took too much time to help him out when his rear wheel punctured.
Another sharp observer of the race, Laurent Jalabert, was not too convinced as to whether the Rabo rider's wheel actually had a mechanical. "Obviously, he thought that his rear wheel had a problem because of the crash, and he became obsessed with it," the Frenchman told L'Equipe. "He focused on it more and more, eventually deciding to stop. His team didn't react badly, they just didn't understand what was happening. Rasmussen stopped even though his wheel hadn't punctured; therefore his mechanic got him a brand new one from the roof."
Jalabert, himself an expert on the mountains jersey, continued by saying that Rasmussen must have forgotten about the race for all of his distractions. "We saw Rasmussen change bikes again and again. In three hundred metres, he must have lost about a minute. In this kind of situation, you have to forget about the discomfort [of a different bike] and think about the essential. For example, when you crash in the finale of a stage, you don't go to the car to treat you injuries - you take care of it after the finish. It's the same here: You get another bike that works and go flat out. Who cares if it's the wrong one."
Rabobank DS Erik Breukink also spoke to the French daily paper. "There wasn't any particular problem with the [second] bike, but he yelled that he wanted his initial one back. He was out of it after the first crash," Breukink said, at least giving one possible explanation for the first crash by adding, "In training, he took that roundabout on the right hand side; but in the race he took the line of a motorbike in front of him, which was left. He lost his points of reference. I yelled out to him to keep calm, but he was a bundle of nerves."
After that disastrous experience, Rasmussen was seen riding alone on the highway after the finish. "Yes, that's right," he confirmed. "I needed a little time to clear my mind and to think about what happened. And about what could have been done differently. In any case, there is no need to blame anybody but myself for what happened," he concluded. Unfortunately, the memory of it might continue to stain his dotted jersey for some time, be it his own or the public's.
Medical communiqué
The following riders needed assistance from Dr. Gérard Porte on this Tour de France, one day before travelling home from Paris.
Walter Bénéteau (Bouygues): Digestive troubles
Matthew White (Cofidis): Digestive troubles
Manuel Quinziato (Saunier Duval): Pain in right hip
José Enrique Gutierrez (Phonak): Injury on left knee
Bradley McGee (Française des Jeux): Injuries on left hip, elbow and hand
Francisco Mancebo (Illes Balears): Injury on left hip
Luke Roberts (Team CSC): Right shoulder contusion
Paolo Savoldelli (Discovery Channel): Respiratory problem
Tour prizemoney
Discovery Channel has earned over half a million euro in the Tour de France (€545,640), of which €400,000 was the prize for the overall winner Lance Armstrong. Last year they earned a little more: €578.842.
Euskaltel only managed to collect €9.310 in prize money. If one knows it's a common rule to give 10% of the earnings to the staff, the riders earned a meagre 931 euro each for three weeks of hard labour.
Prizemoney breakdown (in €)

1 Discovery Channel     545,640
2 T-Mobile              258,730
3 CSC                   237,520
4 Crédit Agricole       107,420
5 Illes Baléars         105,180
6 Phonak                 99,360
7 Rabobank               96,120
8 Gerolsteiner           68,050
9 Davitamon-Lotto        65,210
10 Française des Jeux    58,040
11 Cofidis               57,070
12 Liberty               42,390
13 Quick.Step            33,660
14 Fassa Bortolo         32,860
15 Bouygues Telecom      27,710
16 Liquigas              25,120
17 Lampre                20,620
18 Domina Vacanze        18,020
19 AG2R                  17,000
20 Saunier Duval         12,070
21 Euskaltel              9,310

The Tour de France of give-aways and competitions
Don't miss out at Tour time!
Resident freebies expert, Rufus Staffordshire, sniffs out some competitions where up to $1 million in prizes are on offer as manufacturers clamber for your eyeballs. Woof!
Lucky 7 Sweepstakes'
Photo ©: Trek

The Tour de France is not only a reasonably popular bike race, ahem, it's also a great opportunity to win an incredible range of prizes and competitions on offer from manufacturers, publishers and distributors.
Many of our sponsors are offering Cyclingnews readers a schwag-fest of give-aways during the lap-around-France. The prizes on offer range from Volkswagens and vaccuum cleaners through to trips to Paris for the 2006 TdF, as well as actual kit being ridden by top pros in the Tour - including top bikes from Trek, Cervelo, and Avanti.
So that you don't have to go hunting around the Internet for all these goodies, we've assembled the Cyclingnews complete guide to Tour freebies and competitions.
(All rights reserved/Copyright Knapp Communications Pty Limited 2005)