Tour de France Cycling News for July 24, 2005
Edited by Jeff Jones and Shane Stokes
An interview with Lance Armstrong
No regrets
Lance Armstrong (Discovery Channel)
Photo ©: AFP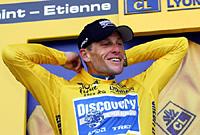 After finally getting a stage win in this Tour de France with victory in the 20th stage, Lance Armstrong has the general classification sewn up. He will wear the leader's yellow jersey into Paris tomorrow and step down from the podium as a civilian. He's looking forward to it. Tim Maloney, European Editor reports from Saint Etienne.
In his final Tour de France press conference, Lance Armstrong met with the assembled media on the eve of his final professional race Sunday, the 21st stage of the 92nd Tour de France. Fresh from his ninth Tour de France time trial stage win since 1999, Armstrong said, "Quite honestly, I wasn't absolutely sure I could (win today)...I thought Jan (Ullrich) would be strong, and then when I got to the first time check (after 17km), I saw that Ivan (Basso) was seven seconds up and I thought 'Oh boy, this could be an interesting day."
Armstrong added, "I ended up turning things around and winning. So, pleasant surprise."
Looking at the penultimate win of his fourteen year pro career, Armstrong said, "It's nice to finish your career on a high note. As a sportsman, I wanted to go out on top."
One key motivation for the almost seven time Tour winner is having his three kids there to see their dad. "It was a dream for me," he explained. "I wanted to ride in today and ride into Paris in yellow for them," Armstrong added. But Lance isn't looking back; he's looking forward to Monday, when his vacation starts. "We're going to fly to the south of France and go to the beach for a week, and play with the kids on the beach and drink wine and eat lots of food," said Armstrong. "This job is stressful, and this race is stressful, so hopefully the next week will be a preview of what my life will be like for the next 50 years, although I can't promise I won't show up at a few cyclo-cross events or mountain bike or triathlon races. I'm an athlete. I've been competing in swimming and running events since I was 12 years old."
Click here for the full story
Rasmussen falls to the curse of Saint-Etienne
Michael Rasmussen (Rabobank)
Photo ©: Sirotti

Few riders would have experienced a day as bad as Michael Rasmussen's in the stage 20 time trial in Saint-Etienne. Two crashes, one puncture, and three bike changes saw him lose 7'47 to Lance Armstrong and plummet from third to seventh on the general classification. Surprisingly, there was a precedent, as cycling historian and author Benjo Maso recalled on the rec.bicycles.racing newsgroup.
"It's the curse of Saint-Etienne that strikes again. The Tour de France of 1956, the TT starts in Saint-Etienne. Third on the GC: Wout Wagtmans. He's very optimistic, but after five minutes all his hope seems to be shattered when he crashes. 20 km later a second blow: he has a flat and loses a lot of time because the mechanic brings a front wheel instead of a back wheel. 15 km before the finish, he is overtaken by Stan Ockers, who started six minutes behind him. Wagtmans finishes 61st at 8'26 and the following day, drops to sixth place on GC."
Benjo also noted that both Wagtmans and Rasmussen were 11'33 behind the race leader after the time trial. Cue Twilight Zone music...
That's not to say Michael Rasmussen's Tour was a failure. On the contrary, he won the polka-dot jersey and took a very impressive stage win, both of which were his main goals coming into the Tour. He'll be back.
Aussies happy on eve of end of Tour
Cadel Evans (Davitamon-Lotto)
Photo ©: Luc Claessen
Cadel Evans came into this year's Tour aiming simply to see what he was capable of. He had only one Grand Tour under his belt prior to the race and, given that injury and other factors prevented him doing another three week event since the 2002 Tour of Italy, needed a new reference point.
The Davitamon.Lotto rider has ridden strongly throughout the Tour, finishing seventh in yesterday's time trial and looking set for eighth overall in Paris this afternoon.
"I didn't have a fantastic day, but it was good ... it was good," Evans said. "I wouldn't say I am a slouch in the time trial when I'm going good. First Tour, remember, not a bad start.
When asked how it feels to finish top 10 in the Tour de France, he didn't want to tempt fate. "I will be happy when I pass the Champs Elysées. It is not over until you get there."
Fellow Aussie Luke Roberts is also doing his first Tour but rode well in the time trial, posting the provisional best time early on and finally placing 17th. "It's good to be in good form at the end of your first three week race," he said. "It's good to finish with good legs. I am glad I have been able to show I was worth having on the Tour."
Stuart O'Grady (Cofidis)
Photo ©: AFP

Stuart O'Grady is currently scrapping it out with Thor Hushovd for the maillot vert. He needed to finish in the top 10 to gain some vital points, but it was not to be. "After being sick a couple of days' ago, I wasn't prepared to go full gas," O'Grady said. " It would have left me flat for the final stage and I would dearly love to win into Paris. The battle for the Green is almost over, but stranger things have happened. If I won on the Champs Elysées and Thor didn't run top six, I could win. Not likely, but not impossible." O'Grady added.
He and Hushovd are almost certain to settle the maillot vert between them, although two time winner Robbie McEwen has a slim chance if the other two riders finish far behind him on the Champs Elysées. "It was a surprisingly tough time trial," he said. "I couldn't get into the zone. As a matter of fact I couldn't find the zone was - wherever it was, I wasn't."
"The first hill was actually harder than the categorized one. It was one of those stages where you can't go too easy or you will get eliminated, so you have to dig in. I feel confident with my form for tomorrow, the biggest challenge is making sure it is a bunch finish."
Baden Cooke is another aiming to win on the most famous street in the world, but he'll need to rediscover sprinting legs that he has lacked in this year's Tour to do so. Still, he's staying optimistic. "Yeah, today was pretty hard, especially for a non time-triallist like me. You've got to dig in just to make it. If you don't mentally get into it, it psyches you out."
When asked his tactics for the final stage, his answer was simple. "Win the sprint! I have just got to get out there, get into it and get into the old scheme of things."
Young Simon Gerrans will complete his first Tour today. "Yes, still one day to go. They tell me it's pretty hard tomorrow" he joked. "My big objective in the race has been to get my minus points back. (Gerrans was docked 5 points for a slow bidon exchange from his team car) You don't want to finish a race with minus points. Anyway I got them back the day I ran third."
More from Cadel
"The boss was giving me all the information on Vino, Ullrich, Landis ... It feels as I have been doing maths for three weeks."
"I got a bit sloppy in a couple of patches but I would say it was close to the best I could have done at this level. There was a bit of head wind and a false flat, but that doesn't really suit my physique. The steeper it is, the faster I go. But of course when you are in the big gear, it is the heavier guys, with the more power who go better on the flat because of your power to weight ratio."
"I am just here to do a good Tour. See what happens and work on it next year. I just hope it doesn't rain tomorrow. That's all I hope. Because when the Champs Elysées gets slippery in the wet. That's my only thing to worry about for now. It's not so much your legs that are stuffed, you are concentrating so much for three weeks you get really tired in your head. When you are absolutely going full gas, it is easy to make a mistake. One little slip of the road and it is all over."
"I haven't seen the internet, read a newspaper or heard from anyone in Australia, I have just been focussing on my race. I have no idea of what I have done or what my ride has done. I haven't even realised it myself yet, because I have been focused, day by day, doing what I have got to do. It takes a lot of concentration. It will probably hit a week from now."
Luke Roberts
Luke Roberts (CSC)
Photo ©: AFP

"The hills were tough but I knew they would be. But it was good that they were more steady than steep.
That allowed me to get into a good tempo. It was nice to post the fastest time even if it won't last for long I wasn't surprised though. As I said before, it was a shame that the day I did get into a break happened to be a day when it had such a steep finish (Mende)."
The Tour de France of give-aways and competitions
Don't miss out at Tour time!
Resident freebies expert, Rufus Staffordshire, sniffs out some competitions where up to $1 million in prizes are on offer as manufacturers clamber for your eyeballs. Woof!
Lucky 7 Sweepstakes'
Photo ©: Trek

The Tour de France is not only a reasonably popular bike race, ahem, it's also a great opportunity to win an incredible range of prizes and competitions on offer from manufacturers, publishers and distributors.
Many of our sponsors are offering Cyclingnews readers a schwag-fest of give-aways during the lap-around-France. The prizes on offer range from Volkswagens and vaccuum cleaners through to trips to Paris for the 2006 TdF, as well as actual kit being ridden by top pros in the Tour - including top bikes from Trek, Cervelo, and Avanti.
So that you don't have to go hunting around the Internet for all these goodies, we've assembled the Cyclingnews complete guide to Tour freebies and competitions.
(All rights reserved/Copyright Knapp Communications Pty Limited 2005)