Tour de France Cycling News for July 24, 2005
Edited by Jeff Jones and Shane Stokes
Kerry Au Tour
By Tim Maloney, European Editor in Saint Etienne
Senator John Kerry
Photo ©: Jon Devich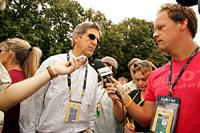 One thing US President George W. Bush and his opponent in the 2004 US residential race, Massachusetts Senator John Kerry have in common is cycling. Both Bush and Kerry are avid cyclists, although Kerry is more inclined towards road cycling. Cyclingnews briefly caught up with Senator Kerry in the Village Depart in Saint Etienne. He was accompanied by Floyd Landis's coach Alan Lim on his way to meet the Phonak rider.
"I just arrived at the Tour today and it's very exciting for me," Kerry said. "I've been a cycling fan for many, many years and a participant in cycling all my life. I've followed the Tour from a distance for a long time so being here is very special."
We asked Kerry if he came specifically to support Lance Armstrong in his final countdown towards his 7th straight Tour win. He explained that "I came to celebrate what I think has been an extraordinary career of Lance and it's one of the greatest sporting accomplishments of all time. We have a great stable of American riders now; I'm here talking to the coach of Floyd Landis, for example. Floyd worked for Lance for a long time; remember those mountain stages in the Tour last year. He's had a lot of help from a lot of good American riders."
We were astounded to hear that Kerry had time to follow the Tour De France in the midst of his presidential campaign last year. He revealed that "every night in July during the campaign, I got my tape of the Tour!"
Kerry rode behind Armstrong in his final Tour TT in an ASO car, as it was Armstrong's friend and foundation chairman Jeff Garvey who was alongside Johan Bruyneel in the Discovery Channel team car.
Good performances for CSC, Basso retains second overall
Bobby Julich (CSC)
Photo ©: Jon Devich

Three weeks ago David Zabriskie put Team CSC on top of the leaderboard when he won the opening time trial of this year's Tour. Today saw team riders fare well again against the clock, with Bobby Julich and Ivan Basso placing fourth and fifth in the 55 kilometre test at St. Etienne.
Basso had the best intermediate time at 17 kilometres, but towards the end the Italian ran out of strength. However his solid ride saw him hold onto his second place overall and, barring disaster tomorrow, he will finish the Tour in this position. With Lance Armstrong retiring in less than 24 hours time, the Italian is seen as the most probably successor.
"Ivan did well in this time trial and once again demonstrated that he has improved tremendously in this discipline," said CSC directeur sportif Bjarne Riis. "In hindsight you could say he came on too strong at the beginning, but he wanted to give it his all, too see how far it would take him."
Others riding well today were Carlos Sastre (12th) and first-time Tour rider Luke Roberts, who topped the leaderboard early on and finally finished 17th.
Saiz assesses Liberty's Tour
Jorg Jaksche (Liberty Seguros)
Photo ©: Luc Claessen

Liberty Seguros came into the Tour hoping for much, including a high finish by triple Tour of Spain champion Roberto Heras. Instead, Jörg Jaksche's sixteenth place overall and Marcos Serrano's stage win represent the highlights of their campaign. It's a change to what team boss Manolo Saiz was used to when he was running the team's predecessor ONCE, but he is nevertheless able to look on the bright side and remain philosophical as this Tour ends.
"As I have been saying during last fifteen days, the team did a very positive first week," he said. "The riders turned in a good team time trial (4th), even if this caused us to be over-optimistic about what we were expecting from the rest of the race. After that, the most outstanding thing has been the competitive attitude of the squad. The team tried to be part of the race at all times. Our only difficulty was that we weren't able to fight it out for the general classification, which was one of our pre-race aims. This was not a lack of commitment on Roberto Heras' part, but rather a consequence of things not going as well for him as he had expected."
Saiz takes encouragement from the showing of young riders Alberto Contador, Luis León Sanchez and Allan Davis. "For me the most important thing has been the aptitude demonstrated by the young guys with a view to riding well in future editions of the Tour. So too the attitude of the veterans," he said. "Last year we could not contest the general classification and we couldn't cope with the difficultly that presented us with. This time round, we didn't suffer the same level of crisis, because the team was able to react quickly, shift focus and try to get other good results."
Elaborating on the performance of the young riders, Saiz said that he can take encouragement from each one. "Contador came to the Tour to learn. It was good to see his capacity to recover, which showed this throughout the race."
"As for Luis León, he is still too young, the youngest on the team. I couldn't ask anything more of him than to finish the race, and he has done this. Contador showed greater recovery but Luis learned much about the Tour. These riders will benefit in future years from this, both in the Tour and also in the ability to focus their efforts in the shorter stage races of five to eight days. I think you only really learn about the Tour when you come and do it, as it is so different to other races. It's necessary to take part, to learn the difficulties and also learn how to cope with the fatigue it causes."
Heras's ride was a disappointment but, surprisingly for a manager who has a reputation for toughness, Saiz remains complementary. "I wish that there were more riders like Roberto," he said. "In spite of the sacrifices made to prepare for the race, he didn't manage to go well in the Tour. But he's already shown that he can move on from this. He hasn't done much in the Tour for the past couple of years but one option is that he could do the Giro next year. Some people have interpreted this as meaning that he will not come back to the Tour, but maybe after doing the Giro he could then come here with a better guarantee of doing well. We believe that Roberto is a man of good second efforts, as he has showing in the Vuelta in the past."
As for Joseba Beloki, he got it tough but tomorrow he will complete his first Grand Tour for quite some time. "This Tour has been his first big one after three years, because last one that he completed was in 2002. Joseba was lacking continuity of training and competition, but he has obtained that now. Still, it is too soon to speak about his future, but I hope that from the Tour he has got the necessary motivation to prepare well for the Vuelta. We'll see his level at that race and plan from there."
Saiz' strongman ended up being the experienced German Jörg Jaksche, who admits he is not a good enough climber to be with the very best in the high cols, but who was in good form during the race. He starts tomorrow's final stage sixteenth overall, his time in today's race against the clock just enough to hold off Bobby Julich (by a second!).
Saiz says he was impressed with what Jaksche did in the Tour. "He had highs and lows, due in part from the fact that he came here to work for the others. During the first 11 days he did that and all those efforts finally took their toll on him towards the end. But Jörg has demonstrated to me that he is an extraordinary team rider."
"He, Contador and Luis León will ride in the Tour of Germany. As we have seen in this Tour, when we have gone on to German territory there is a great public response. Apart from that, it is a very important race for the team due to our sponsors. We are going to try to do as well as possible there, while realising that we will be up against some very difficult rivals, including Ullrich."
Saiz concludes by talking about the Tour in general. He says that those who know him will understand he was hoping for more but, that said, he states that he goes away satisfied with his team and also of the general level of racing he saw this July.
He is excited by what the future holds after Armstrong's retirement. "It brings up the question as to who will be the next winner of the Tour. Racing will be more open compared to the last seven years and things will be a lot more interesting."
"I think it is hard to predict his successors now. What is clear is that it will not be those who are now on the podium, as they will only be there as part of the transition. To see possible inheritors of his mantle, it is necessary to consider riders such as Valverde, Cunego, Contador and Rogers. These are riders who will be around for quite some time, but who still need a couple of seasons to reach full maturity."
High speed train takes riders North
The final transfer from St. Etienne to the last stage of this Tour de France, over 500 kilometres distance, will be done by French high speed train TGV on the morning of July 24. The riders, as well as three accompanying persons per team, will be taken to the local train station in special "Tour de France" branded buses - except German Gerolsteiner team, who will be walking from their hotel nearby.
The special train will depart at 8.50 am, and arrive in Corbeil-Essonnes at 11.50. The teams will enjoy a warm lunch in the train before starting the final stage to Paris at 13.30 pm CEST.
The Tour de France of give-aways and competitions
Don't miss out at Tour time!
Resident freebies expert, Rufus Staffordshire, sniffs out some competitions where up to $1 million in prizes are on offer as manufacturers clamber for your eyeballs. Woof!
Lucky 7 Sweepstakes'
Photo ©: Trek

The Tour de France is not only a reasonably popular bike race, ahem, it's also a great opportunity to win an incredible range of prizes and competitions on offer from manufacturers, publishers and distributors.
Many of our sponsors are offering Cyclingnews readers a schwag-fest of give-aways during the lap-around-France. The prizes on offer range from Volkswagens and vaccuum cleaners through to trips to Paris for the 2006 TdF, as well as actual kit being ridden by top pros in the Tour - including top bikes from Trek, Cervelo, and Avanti.
So that you don't have to go hunting around the Internet for all these goodies, we've assembled the Cyclingnews complete guide to Tour freebies and competitions.
(All rights reserved/Copyright Knapp Communications Pty Limited 2005)