Tour de France Cycling News for July 24, 2005
Edited by Jeff Jones and Shane Stokes
Stage 20 wrap up
Armstrong gets his stage; disaster for Rasmussen
By Shane Stokes
Lance Armstrong (Discovery Channel)
Photo ©: AFP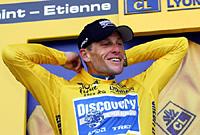 Lance Armstrong took his first win of 2005 on today's penultimate stage of the Tour de France, racing to an impressive victory in the 55 km Saint Etienne time trial. The Discovery Channel leader recorded a time of 1:11:46 for the distance, beating T-Mobile duo Jan Ullrich and Alexandre Vinokourov by 0'23 and 1'16 respectively.
"I was ambivalent (about getting the win)," said Armstrong post-stage. "I wanted to go as hard as I could, as I always like to do, I wanted to represent the yellow jersey and prove that I was the strongest in the race. But quite honestly I wasn't absolutely sure I could do it. I thought Jan would be strong, and then when I got to the first check I saw that Ivan was seven seconds up. I thought, 'Oh boy, this could be an interesting day.'"
Bobby Julich (Team CSC) was fourth, while team-mate Ivan Basso protected his second place overall in finishing fifth. Michael Rasmussen (Rabobank), who started the day third overall, had a disastrous time trial and finished 77th, 7'47 down. He punctured once, crashed twice and had three bike changes in all.
Barring disaster tomorrow, Armstrong looks set to bow out in style with a record-extending seventh Tour win. He's now 4'42 ahead of Basso in the overall standings and 6'21 up on Ullrich. Francisco Mancebo (Illes Balears), Levi Leipheimer (Gerolsteiner) and Vinokourov complete the top six. Rasmussen plummets four places to seventh as a result of his misfortunes today.
Also see:
Stage 20 full results, report & photos
Live report
Complete stage maps & profiles
Start list
Stages
News
Photos
Roberts uses the force
Luke Roberts (CSC)
Photo ©: AFP

Cyclingnews Anthony Tan caught up with CSC's Luke Roberts minutes after he set the early fastest time of 1h15'33, his time 21 seconds faster than Fassa Bortolo rider Fabian Cancellara, who will joining him at CSC next season. It was eventually good enough for 17th on the day.
The 28 year-old hadn't ridden the course until today, but judging by his time, you wouldn't have known it. "Bjarne [Riis] drove 'round it last night and took some notes; I had a radio in and was going on what he was telling me," Roberts said. "I just had to trust him on a few of the corners - some of them he said you can take it full gas, and I was thinking, 'You reckon?!'
"I knew I had pretty good legs at the start of the race, so I wanted to go hard today, I didn't want to roll around. Tomorrow's the last day, so no point going home tomorrow night with anything left in the tank," he said.
Roberts' objective was to give his manager Bjarne Riis some time splits for team leader Ivan Basso, other than those provided by the race organisation, but the Australian added he wasn't under a great deal of pressure today. "I could've taken it easy if I wanted to; I joked to Bjarne I wanted to finish in the top 100 on GC," he said with a grin. "I was 106th at the start of the day, so I needed to take six minutes out of some guys to make it."
Quizzed on the difficulty of the parcours, Roberts said that climbs weren't overly difficult, but mentioned was important to maintain a steady tempo in order to really go for it on the other parts of the course. So does he think it's a course that will see Der Jan on der podium?
"Yeah, for sure," he said without hesitation. "The course does get pretty tough, and on some of the earlier parts, it feels like you're going up the whole time. So someone who's got good legs can go a lot quicker than someone who might struggle on it."
Big day for Rasmussen
Michael Rasmussen (Rabobank)
Photo ©: Sirotti

Although Michael Rasmussen had a disastrous final time trial to drop to seventh overall, he can consider this year's Tour a big success. Prior to the race he pinpointed a stage win and victory in the King of the Mountains competition as his goals; he achieved the first on stage 9, then secured the latter this week.
"Of course it is very satisfactory to obtain the two things I came for, first of all to win a stage, and after that to win the mountain's jersey," he wrote on his website www.feltet.dk/michaelrasmussen. "It can hardly be much better."
Rasmussen said that lying third overall has been a further boost. He was however disappointed to lose 37 seconds on Thursday's stage to Mende, a loss that ultimately didn't matter for the purposes of the podium. Speaking about the stage, he said it was tough all the way. "It was an insane and hard start. We rode two mountains and still did 48 km/h. I had two fights; first of all I had to keep an eye on Pereiro [for the mountains], but at some point he didn't bother any longer. I still kept an eye on him, though. Then all of a sudden we were at the back. We were riding cross wind and 25 men had escaped. Discovery started chasing and then the whole peloton rode in the right side of the road. It may be possible that I lost some power by that. But there is not much to say about it. I wasn't strong enough when it came to it. There is no excuse for that.
"I was on Ullrich's wheel, but I just wasn't good enough. Undeniably, it would have made things a little different if the cards had been dealt the other way around, if I had taken half a minute on him instead. Now, it will be difficult, no doubt about that. It hasn't been easy at any time, but now it will be extra hard. But it won't be impossible."
Unfortunately, it proved to be too impossible for Rasmussen, who had the worst day on the bike of anyone in the stage, crashing twice, puncturing once and having three bike changes. In the end he finished 7'47 behind Lance Armstrong in 74th place,
More from stage 19
Reported by John Trevorrow
Cadel Evans (Davitamon-Lotto)
Cadel, how were the legs today after yesterday's workout? "A bit sore, but not too bad. Got a bit hard towards the end, but I just had to keep going. Credit Agricole didn't want to chase. They weren't worried about their classification, just about Robbie. A couple of our places on GC were of concern, so we had to chase and once they started chasing, whoa, it wasn't so easy.
Big day in the time trial tomorrow? "Tomorrow - we will see what we can do.
You have done a few good ones on the past? "Every now and then I seem to be able to do a good one, so tomorrow I will see what I can do. Third week on a tour is always different.
Robbie McEwen (Davitamon-Lotto)
"I survived, I actually felt pretty good today. No problems on the climbs, even when Discovery rode pretty hard on the Cat 2, when the break as away, I was still there, it was OK. We just had to chase at the end for Cadel's GC because Pereiro was away, again, and he was going to be a threat so, with Gerolsteiner and Illes Balears, we pulled some time back on 'em, and then I had a little sprint at the end. Bit of a practice for Sunday.
Start quotes
Luke Roberts (Team CSC)
How are the legs this morning? "I will know very shortly. It was a great out there yesterday, it was just a shame after trying to get in a break for a few days I picked the one that suited me least.
"It will be a tough day today. I am sure it will be on from the start and I will probably be back on bottle duty, today."
Your role with CSC must be fairly diverse? "Yeah, that's right. Sometimes it is loading up the pockets with bidons, other times chasing down dangerous breakaways, occasionally like yesterday, getting up the road and of course, my main job, when I am not doing any of the above, is to look after Ivan. Riding along side of him, keeping him out of the wind, making sure he gets the easiest ride possible."
Paris is only a couple of days away, looks like you will be definitely be finishing your first TdF? "Yes, it's just been awesome, even better than I could have imagined."
Simon Gerrans (Ag2r)
Simon, nearly there only one hard ride to go. You won't be able to keep saying only one day at a time anymore. "You're kidding! There are two hard days before the final day. Today is really tough and if you got spat early, you would have trouble making the time cut, so I will say, one day at a time."
Stuart O'Grady (Cofidis)
How are you feeling this morning, Stu? "Yep, a bit better, I feel okay actually."
A pretty tough day coming up today... "Yeah, it's been really easy over the past two weeks."
Well, I mean last chance to close that gap and get close enough before Paris. "Yeah, I plan to give it a real bash today and it has to be hard enough to get rid of Thor, Robbie and for me to finish high up in the stage. It's not over until the fat lady sings or until you are interviewed by John Trevorrow."
Robbie McEwen (Davitamon-Lotto)
Chance for a stage win today? "Don't think it will be a sprint finish today. It's a hard day with a Cat 2 and sure to be aggressive again. There will be breaks going all day."
So your battle for green is over? "Well, I have been saying that for over a week. Without that disqualification I would be in front. Evidently, it was a decision of one man and it still doesn't seem fair that there is no way to appeal."
The Tour de France of give-aways and competitions
Don't miss out at Tour time!
Resident freebies expert, Rufus Staffordshire, sniffs out some competitions where up to $1 million in prizes are on offer as manufacturers clamber for your eyeballs. Woof!
Lucky 7 Sweepstakes'
Photo ©: Trek

The Tour de France is not only a reasonably popular bike race, ahem, it's also a great opportunity to win an incredible range of prizes and competitions on offer from manufacturers, publishers and distributors.
Many of our sponsors are offering Cyclingnews readers a schwag-fest of give-aways during the lap-around-France. The prizes on offer range from Volkswagens and vaccuum cleaners through to trips to Paris for the 2006 TdF, as well as actual kit being ridden by top pros in the Tour - including top bikes from Trek, Cervelo, and Avanti.
So that you don't have to go hunting around the Internet for all these goodies, we've assembled the Cyclingnews complete guide to Tour freebies and competitions.
(All rights reserved/Copyright Knapp Communications Pty Limited 2005)