Tour de France Cycling News for July 20, 2005
Edited by Jeff Jones, Shane Stokes & John Stevenson, assisted by Sabine Sunderland
Stage 16 wrap: Pereiro gets his stage win, Evans jumps up GC
By Shane Stokes
Oscar Pereiro (Phonak)
Photo ©: AFP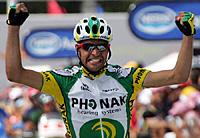 Oscar Pereiro avenged his defeat at the hands of George Hincapie two days ago when he won today's 16th stage of the Tour de France in Pau. The Phonak rider outsprinted breakaway companions Xabier Zandio (Illes Balears-Caisse d'Epargne), Eddy Mazzoleni (Lampre-Caffita) and Cadel Evans (Davitamon-Lotto) to the line at the end of the mountainous 180.5 kilometre race.
Philippe Gilbert (Française Des Jeux) led in a five man chase group 2'25 later, with the main bunch finishing a further 59 seconds back. Today's effort moved Evans from 11th to 7th overall, overtaking Floyd Landis (Phonak), Alexandre Vinokourov (T-Mobile Team), Christophe Moreau (Credit Agricole) and Andreas Klöden (T-Mobile Team) in the general classification.
Motivated perhaps by the tragic death of Australian rider Amy Gillett in Germany yesterday, Evans went clear in a breakaway group of 11 inside the first 30 kilometres. He attacked alone on the Hors Categorie Col d'Aubisque and was joined after the top by Pereiro, then Mazzoleni and Zandio. These four worked together all the way to the finish, with Evans doing most of the work inside the final few kilometres.
Pereiro was very satisfied to pull off the win after the near miss on Sunday. "I am delighted to get this after my disappointment the other day," he said. "This is a victory for Phonak. We have had a good year, myself and Floyd (Landis) and the other riders, and worked hard to get ready for the Tour."
When told he had moved right up into the top ten Evans was, predictably, very pleased. "That's nice to hear because it was a pretty hard way to go about it. I just wanted to move up in GC, so I said to the other guys 'work with me, work with me, it's in your interests as well as mine.'"
Also see:
Stage 16 full results, report & photos
Live report
Complete stage maps & profiles
Start list
Stages
News
Photos
An interview with Oscar Pereiro Sio
Finally on the winner's step
The 16th stage of the Tour between Mourenx and Pau saw Phonak's Oscar Pereiro win a four man sprint to take the team's first stage win of this year's race. In doing so, he had to bridge a five minute gap to leader on the road Cadel Evans, forming a group with Evans, Zandio, and Mazzoleni that made it to the finish. Cyclingnews' Hedwig Kröner reports from Pau.
Oscar Pereiro (Phonak)
Photo ©: Sirotti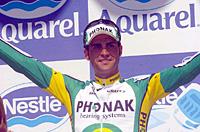 Oscar Pereiro Sio stayed true to the promise he made when the Spaniard lost the previous stage to Discovery's George Hincapie before rest day. "I'll continue trying and one day I hope to be rewarded," he had said - but that he would have the legs to try again so soon is truly remarkable.
The Spanish climber, who stayed on the winner's podium longer than usual to savour the moment, was very satisfied that he was able to make amends for his disappointment on Pla d'Adet. "I am delighted to get this after my disappointment the other day," he said. "This is a victory for Phonak. We have had a good year, myself and Floyd and the other riders, and worked hard to get ready for the Tour." Later, he admitted that he had also thought about his wife, Maria, and their little baby boy which will be born in about three months time as he crossed the line, kissing his wedding ring.
Click here for the full interview
Evans: "The old Cadel coming back"
Cadel Evans (Davitamon-Lotto)
Photo ©: Mitch Clinton

Cadel Evans went so hard on stage 16 that he said after the finish that he couldn't remember his middle name. [It's 'Lee' - Trivia ed.] The tactic paid off, however, with the Davitamon Lotto rider finishing fourth on the stage and, more importantly, moving up four places to seventh overall.
"This morning I thought it might be an opportunity to get in a break. I didn't know if T-mobile would let me go, but took a chance," he told Cyclingnews' John Trevorrow after the finish.
"The other mountain stages were only for the top GC riders, of which I'm not one this year. It's my first Tour after all. But I saw an opportunity today and you've got to grab them when you can. When you get the chance, you've got to run with it."
"I couldn't see another opportunity where I could take four minutes out of Armstrong. So I had to take my chance today, and I did the last five kms on the front by myself. Obviously I wasn't thinking about the stage. I wasn't thinking about the sprint too much.
When a reporter put it to Evans that today's ride was unusually aggressive for the Australian, he said that he's finally putting some tough times behind him. "It's the old Cadel Evans coming back. I've a lot of emotions today. I've had two bad years and a lot of people have forgotten what sought of rider I am."
"I've always believed in myself and some people really believed in me and I thank them for that. Mark Sargeant, the Davitimon Lotto team, my girlfriend, my family, my really good friends who have always held strong over the last two years. It hasn't been a very good two years for me, but now you've seen the old Cadel come back."
Part of his motivation this morning was to prevent Stuart O'Grady getting points for the green jersey competition, thus helping his team-mate Robbie McEwen to stay in touch. He says there was an element of luck involved, too. "I'd hoped it would work out. It's a good thing I'm sponsored by the Belgian Lottery because it looks like I got the right ticket today. I told the guys in the break to just work with me. It is a long way to Paris and it felt like I was out there for a long time today."
"I wanted to get in the break. We didn't want O'Grady to get any points in the first sprint. I saw the move go and so I joined it and it was the move that stayed away. Freddy was great today. He's not a climber, he's here to do the final 500 metres for Robbie but he's helped me so much. Every time someone's got me to position on the climbs, it's been him. It means a lot that the guys believe in me."
Happy with his place in the top eight, Evans is hoping to ride well all the way to Paris. He's not certain yet how the race against the clock will go, however. "Of course I want to have a good TT. But it's my first Tour and my first third week of a stage race," he said.
O'Grady still hopeful for green
By Anthony Tan in Mourenx
Stuart O'Grady (Cofidis)
Photo ©: Jon Devich

Cyclingnews caught up with Cofidis' Stuart O'Grady this morning, who, like his fellow Australian riders at the Tour de France, was sporting a black armband as a mark of respect for Australian team rider Amy Gillett. "I'm sure all their families and everyone will want us to keep going, and it's a sign of our support as well to keep on racing," he said.
Speaking about the points competition, the South Australian made his intentions known by saying he doesn't care if he doesn't get to wear the maillot vert until the final podium in Paris - so long as he wins overall. "I don't want to wear it and ride around in it - I actually want to win the competition. I've worn it once on the Champs Elysees - been there, done that - this time I prefer to win it.
"I think we'll know a lot more after tomorrow night. The next couple of days are going to be very important; if Thor has a bad day in the next couple of days, I'll hopefully be there to pounce on it, and vice versa. There's not too many sprints now, so it's basically who's climbing the best. Even today, there's not many points for the first sprint, but I hope I'm climbing good enough to get over [the climb] and try and get some points, somewhere," O'Grady said with a small chuckle.
With a very hard final week of racing, the competition is, at least on paper, in Stuey's favour. "I think the harder the better, for sure. I'm actually quite happy where I am. When you're actually wearing the green jersey, there's actually a lot more stress, a lot more pressure."
On the tactics of current points leader Thor Hushovd, O'Grady said the Norweigan from Credit Agricole has been riding very defensively, although it's to be expected. "He's trying to neutralise me out of the race, the same as pretty much whoever's had the green jersey in the past," he said.
"Zabel did the same to me, I did the same to Zabel, Robbie did the same to Zabel... you try and neutralise the other competition out of the race and try and concentrate on actually beating them instead of winning."
Youngest Tour rider Lövkvist: "Watch and learn"
By Hedwig Kröner in Pau
The youngest rider of this year's Tour de France is Francaise des Jeux' Thomas Lövkvist. The 21 year-old Swede is also riding his very first Tour, and as expected, he finds it difficult. "It's hard, really hard," he told Cyclingnews before stage 16's start in Mourenx. "Everything is just more than in any other race; more people, higher speed... I expected it to be this hard, but now I realize how hard it actually is and that's still a different feeling."
Nevertheless, the youngster is getting through the race quite well, fortunately healthy but of course not as fresh as before the three-week torture. "Overall, I'm a bit tired, but I hope to make it to Paris," he said. "It's hard on the whole body, especially the climbing which gets to your knees. Other than that, it's just this deep fatigue but I guess that's the same for everyone."
Lövkvist, who placed second at the Tour de l'Avenir and won the Circuit de la Sarthe in 2004, got over the high mountains in the later groups, and is particularly impressed with the stages' starts. "The starts of these breakaway stages are very nervous, and very fast. During the first hour, we're really on the limit of how fast you can actually ride a bike - I mean, we do something like 70 km/h in those moments. Before the break goes, everybody wants to stay in front, and it's like a sprint, only not at the end of a stage, but in the beginning. You need to have a really good day to get in the break. But you have to find a moment when the bunch stops a bit so you can get a gap, otherwise it's impossible," he explained.
Wondering what he thought about the timing of his first Tour de France, we asked Lövkvist if he thought that he could have done it earlier, too, or if it was just the right year now? "I don't know," he said, taking the time to reflect on the question. "I don't really feel myself developing, I just get closer to the big guys. I mean, the steps I take to get better are so small, I don't really notice them. But I have probably progressed the last two years - I guess I could have followed a couple of stages before but I wouldn't have been able to do the whole Tour."
The long-term goals of the Swede are high at the Tour de France, but interestingly enough, one doesn't get the impression that he overestimates himself when he talks about them. "I'm only 21 now, but my aim is to be up there one day, and try to win this Tour. But there are still a lot of years to go before I'll be at that point. The next years I just have to get through it again and again, to get the hardness in my body. Right now, I just want to get the experience, get to Paris. Watch and learn, that's what I do." Lövkvist gives a focused, dedicated impression - surprisingly serious for a 21 year-old. His directeur sportif was right: he's not too young for the Tour.
Leipheimer saving his bikkies
By Anthony Tan in Mourenx
Levi Leipheimer (Gerolsteiner) in stage 15
Photo ©: Sirotti

Cyclingnews also caught up with the next best-placed American on GC, Levi Leipheimer, who is currently sitting in sixth overall, 7'35 behind his countryman Lance Armstrong. The 31 year-old Gerolsteiner rider looked well-rested at the start in Mourenx this morning, and said yesterday was a much-needed rest day in Pau after two of the most difficult mountain stages in this year's Tour.
"I feel a lot better than yesterday. I was pretty tired after the stage the other day [Stage 15]; getting to the hotel took three hours, it was a long day, so I needed a rest," he said.
Leipheimer said each of the back-to-back mountain stages last weekend were simply a race of survival, but he survived each one well, finishing fifth on Stage 14 and thirteenth the following day to Pla d'Adet. However, he said he will approach this final week of the Tour somewhat differently, knowing how important the penultimate stage in Saint-Etienne will be.
"Well, the final part of the Tour is all about the time trial; it's a hard one, and there's going to be some big gaps," he said.
"I mean, I have to pay attention the next few days, but I don't expect to gain so much on Mancebo unless he has a bad day, or Rasmussen or whoever, but we're just going to have to try and stay with the guys around us. I'll be saving everything for the time trial."
Leipheimer believed today's hors categorie climb of the Col d'Aubisque won't be decisive for the riders aiming high on GC due to its distance from the finish, but the stage from Albi to Mende with the mountain-top finish atop the Cote de la Croix-Neuve two days from now could be more telling. However, as he said earlier, he'll be saving all his bikkies for the final TT, where he hopes for a top-five finish in Paris.
"One minute from fifth is a lot, but I think it's possible," he said.
Klöden in doubt for tomorrow
Andreas Kloden (T-Mobile) in stage 14
Photo ©: Sirotti

T-Mobile riders Andreas Klöden and Matthias Kessler were both involved in the crashes that marked the early kilometres of stage 16, Klöden hitting the deck after jus 11 kilometres of the race. He finished the stage from Mourenx to Pau but was taken to hospital in the evening for x-rays after complaining about severe pain in his right hand; after his crash, he had been unable to hold the bars when the road surface got at all rough. As it turned out, Klöden had raced nearly the entirety of stage 16 with a broken scaphoid bone, the bone between the wrist and the thumb.
Matthias Kessler also finished the stage, but complained afterwards of headache and spinal pain and was found to have a mild concussion.
Andreas Klöden and his team management will decide tomorrow if he can continue to race. A narrowing of the road had caused the crash, as Klöden had to brake and another rider jammed into him.
The Tour de France of give-aways and competitions
Don't miss out at Tour time!
Resident freebies expert, Rufus Staffordshire, sniffs out some competitions where up to $1 million in prizes are on offer as manufacturers clamber for your eyeballs. Woof!
Lucky 7 Sweepstakes'
Photo ©: Trek

The Tour de France is not only a reasonably popular bike race, ahem, it's also a great opportunity to win an incredible range of prizes and competitions on offer from manufacturers, publishers and distributors.
Many of our sponsors are offering Cyclingnews readers a schwag-fest of give-aways during the lap-around-France. The prizes on offer range from Volkswagens and vaccuum cleaners through to trips to Paris for the 2006 TdF, as well as actual kit being ridden by top pros in the Tour - including top bikes from Trek, Cervelo, and Avanti.
So that you don't have to go hunting around the Internet for all these goodies, we've assembled the Cyclingnews complete guide to Tour freebies and competitions.
(All rights reserved/Copyright Knapp Communications Pty Limited 2005)