Tour de France Cycling News for July 19, 2005
Edited by Jeff Jones and Shane Stokes, with assistance from Sabine Sunderland
Discovery Channel and Team CSC: Two teams, two styles - one leader
Discovery's press conference
Photo ©: Anthony Tan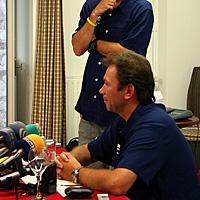 On the second rest day in Pau, the teams of Discovery Channel and Team CSC were separated by less than 20 kilometres, but their press conferences were in stark contrast with one another. Anthony Tan reports.
Over at Discovery, where Lance Armstrong and his team were staying at the luxurious Hotel Navarre, it was essentially a one-man band with Johan Bruyneel fronting for question time, while down the road, at the far more modest Novotel Lescar, CSC came to the table with their remaining eight men, team director Bjarne Riis, and a complement of personnel.
"We are a team, this is the way we do it," said Riis rather tersely.
"When there's a press conference with Lance, you have Lance and that's it, or if Lance doesn't want to be there, there's Bruyneel. But we are a team, this is the way we do it - it doesn't mean we have to be the same or opposite - he does what's best for him, and we do what's best for us, and nothing else."
Click here to read the full story
Bruyneel: Life after Lance
Lance Armstrong may be about to retire but Johan Bruyneel, the other half of a highly successful seven year collaboration, has no intentions of following suit just yet. Speaking to Dutch TV on the rest day, he said that he was going to carry on in the same role for at least the next couple of seasons.
"Well, I myself have got another two year contract with the team and after that I'll see," he stated, before paying tribute to his star rider. "If it weren't for Lance I don't think I would have become a team director to start with. It was because of his idea to work together in '98 that I am where I am today."
Bruyneel thinks that the future is solid for the Discovery Channel squad. "To be a good team director first of all you need a team of good riders. You need to stand close to them and understand their different situations. The team looks good for next year. With Popovych and Savoldelli we have great men for the coming seasons. I really think that Popovych is a great talent. Sure, I would like to have a Vinokourov but I've heard he's likely to stay where he is. For him it would be a hard decision to leave, I think."
Rasmussen aiming for good time trial
Jan Ullrich has said that taking third place from Rabobank's Michael Rasmussen is now his goal in this Tour. The Dane is not about to hand over a podium slot, though, and will be looking extend his 2'49 lead in the next few days, if possible.
Even if he doesn't increase his buffer, Rasmussen is relatively confident that he can pull out a good ride. "I've never had the pressure on me for a time-trial, so I never pushed myself to ride well in them," he told Dutch TV. "Now it's different and I know I will be able to perform well on Saturday. Tomorrow, I worry about tomorrow and the day after about that day. I have almost three minutes to the fourth place; the course on Saturday suits me very well."
Rasmussen's team director Erik Breukink was quoted in an interview with De Telegraaf as saying, "The parcours of the time trial in St-Etienne is far from flat. On Saturday, Michael has nearly three minutes on Ullrich to play with. I don't know if it's enough, but I'm certainly convinced that he can do a very good time. There are still other chances."
Breukink also commented on Rasmussen's future in the team - whether he would become Rabobank's main GC rider ahead of Denis Menchov, who is having a poor Tour this year, and has been sick. "Menchov remains our most important classification rider," said Breukink. "I don't see Rasmussen becoming someone who can fight for yellow. This year, the parcours was in his favour. If there was, like normal, a long, flat, time trial before the mountains, he would have lost five or six minutes.
"I don't think that he can win back a lot of time, à la Ivan Basso, through training specifically for the time trial. Rasmussen should keep his focus on where he can shine: that is climbing. I compare him to Richard Virenque. The mountains classification is made for him and therefore he has to race aggressively. Virenque also won nearly every year and ended close enough to the top riders in the Tour. Believe me, Virenque worked on his time trialling for many years but couldn't make any progress."
Boogerd on Rasmussen
Michael Boogerd has had a solid Tour, riding well two days ago when he got into the winning break. "It's a shame I didn't win but it was three kilometres too much," he explained on the Belgian TV1 Tour show.
The Dutchman's main role this year is not as an aggressor, though, but as a helper to the rider currently in third place overall. He says that the KOM leader is sometimes misunderstood. "My teammate Rasmussen is not an odd character as some suggest; sure he's a bit fanatical, a perfectionist, yes. But a lot of athletes are in one way or another. Michael's a very social person.
"And Pieter Weening has a lot of potential; he indeed has a good future ahead of him.
"I've been taking this Tour day by day; I've been working for Rasmussen but have been able to do my own thing too. It's not like there is pressure on me. There was a lot of criticism being voiced about the team's performances before the Tour; but I don't quite understand, the team has not done badly. I mean we were up there in the Pro Tour rankings. The Dutch press was hard in their comments, but the team kept their cool and until now it's been going well."
Boogerd says he'll try again if his legs are good. "I don't know how I'll come out of this rest day. Tomorrow we get another stage in which I can do well, but I hope I will be good the days after too."
"The worst German"
Unlike the first rest day, Gerolsteiner's Robert Förster got to sleep as long as he wanted yesterday, until 10.30, when he had to get up for the team's press conference. There he ran into a reporter who could use some lessons, not only in cycling, but in tact. "There were lots of nice journalists there," he wrote in his diary on www.radsport-news.com. "It's always comfortable to work with the guys from the press, for example the German tv and radio. They ask the right questions and it's clear that they know something about cycling.
"An hour and a half later, as I was going to go change clothes for training, some guy with his notebook in hand came after me. He wanted to ask me a few more questions. Sure, no problem. He had to write something about "the worst German," he said. Me: What?? Well, Becke is the second-worst German and I am the worst. Wasn't it "degrading" to be so far down in the rankings, and wasn't it my goal, to overtake Becke..... I tried to explain to him that I wasn't being paid to do well in the GC. For what then, he asked? That was enough for me - they also don't pay me to explain the ground rules of cycling to a journalist during the Tour. Besides, the "worst German" had to go train..."
Current standings:
151 Daniel Becke, Illes Balears-Caisse d'Epargne 3.16.09
153 Robert Förster, Gerolsteiner 3.18.44
Courtesy of Susan Westemeyer
McEwen not ruling out green jersey
Robbie McEwen knows that it's going to be a tough task to win a third green jersey this year. He's currently 22 points behind maillot vert leader Thor Hushovd and eight adrift of Stuart O'Grady. Still, never say never. When asked by Belgian TV1 if he was thinking about the green jersey immediately after taking his third stage win on Friday, he had this to say:
"After a win like the other day I don't really think about anything; but it's true, there's 6 stages left still - 5 without the time trial. So anything can happen really, but I'm not counting on it!"
His team-mate Mario Aerts is motivated to ride well for the rest of the Tour. He says there will be a change of tactic as regards the points jersey. "I'll be trying to show myself in the coming stages; as far as that will be possible. Tomorrow we have some more climbing to do. The Green jersey is still a goal. We will be going for every intermediate sprint from now on."
McEwen prepared for his important final week push with a relaxing rest day. "I rested today," he said yesterday. "I trained for an hour and stopped in Pau for an hour to have a coffee and eat something. Then I returned to the hotel and ate some more. That's what today was all about; eating and resting."
Blood tests on Tuesday
The UCI carried out blood tests on 35 riders on Tuesday morning, from Bouygues Telecom, Francaise des Jeux, Phonak, Cofidis and Saunier Duval. All riders were given a clear bill of health.
The Tour de France of give-aways and competitions
Don't miss out at Tour time!
Resident freebies expert, Rufus Staffordshire, sniffs out some competitions where up to $1 million in prizes are on offer as manufacturers clamber for your eyeballs. Woof!
Lucky 7 Sweepstakes'
Photo ©: Trek

The Tour de France is not only a reasonably popular bike race, ahem, it's also a great opportunity to win an incredible range of prizes and competitions on offer from manufacturers, publishers and distributors.
Many of our sponsors are offering Cyclingnews readers a schwag-fest of give-aways during the lap-around-France. The prizes on offer range from Volkswagens and vaccuum cleaners through to trips to Paris for the 2006 TdF, as well as actual kit being ridden by top pros in the Tour - including top bikes from Trek, Cervelo, and Avanti.
So that you don't have to go hunting around the Internet for all these goodies, we've assembled the Cyclingnews complete guide to Tour freebies and competitions.
(All rights reserved/Copyright Knapp Communications Pty Limited 2005)